Definition
What is Shrinkage?
Shrinkage is a call center term for the period that people are paid for when they are not available to answer calls. Shrinkage is the difference between the actual amount of working employees (budget) and those required to perform the primary duties (work) by which they are employed.
Several reasons can induce shrinkage. This includes some unknown ones that are not as apparent as some that are outside your reach.  Make consideration about shrinkage percentage scheduling the number of agents required to manage incoming call volumes. Call centers that regard shrinkage as a major predictor of labor management (WFM) while recruiting and scheduling strive to reach a high quality of operation at a lower rate.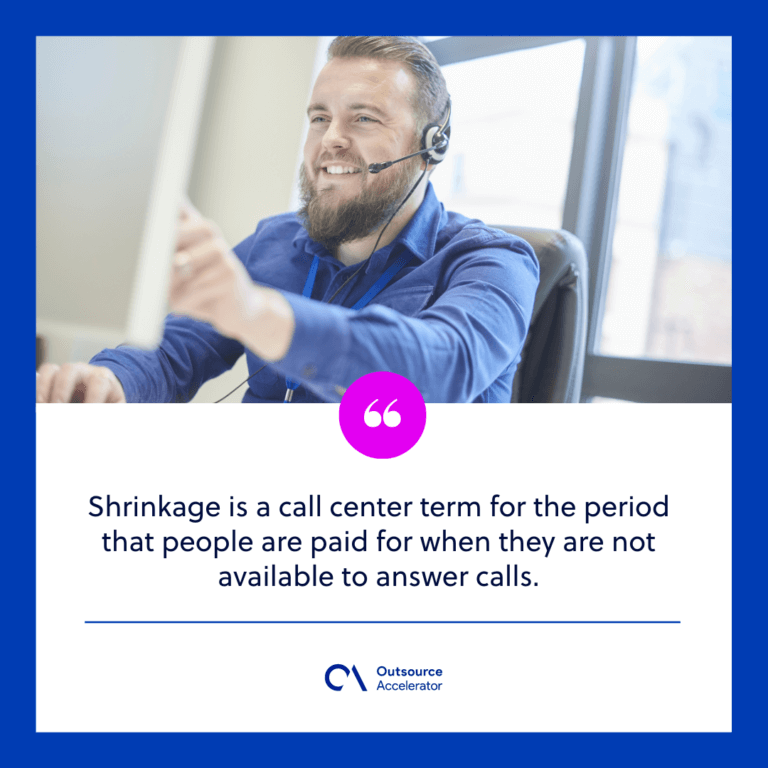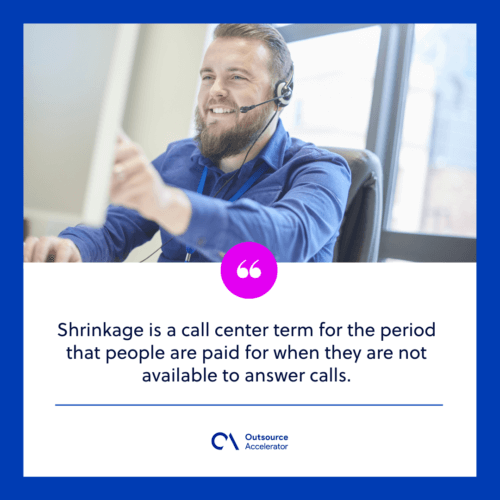 Why is it necessary to measure shrinkage?
Calculating the shrinkage predicts the average number of employees who would not answer calls over the interval. This volume can vary, but the normal range is between 10% and 40%. For this figure, you should now split your base personnel requirement by the consequence of arriving at the number of employees you should schedule.
Call centers that take shrinkage criteria into account of their planning and scheduling reach higher service levels at lower operational costs. They also do this by incorporating all call-related tasks in the forecasting and scheduling process.
How to calculate call center shrinkage
To get the shrinkage, add the total hours of external shrinkage to the total hours of internal shrinkage. Then, divide it by the total hours available. Then, multiply it by 100.
During slow times, agents can take longer breaks or spend more time talking with their colleagues. And if these extended periods of unavailability exist at times when your company does not accept a lot of consumer requests, you will need tests to assess the degree of shrinkage.
How to control shrinkage in the call center
Shrinkage can be tracked manually or by using cloud-based call center software. This helps in examining when and where shrinkage occurs. 
In addition, the software can help decrease shrinkage in your call center. It's important to remember that shrinkage is uncontrollable or unavoidable.
Here's how to control shrinkage that will assist you in maintaining a solid strategy for shrinkage reduction and regular monitoring.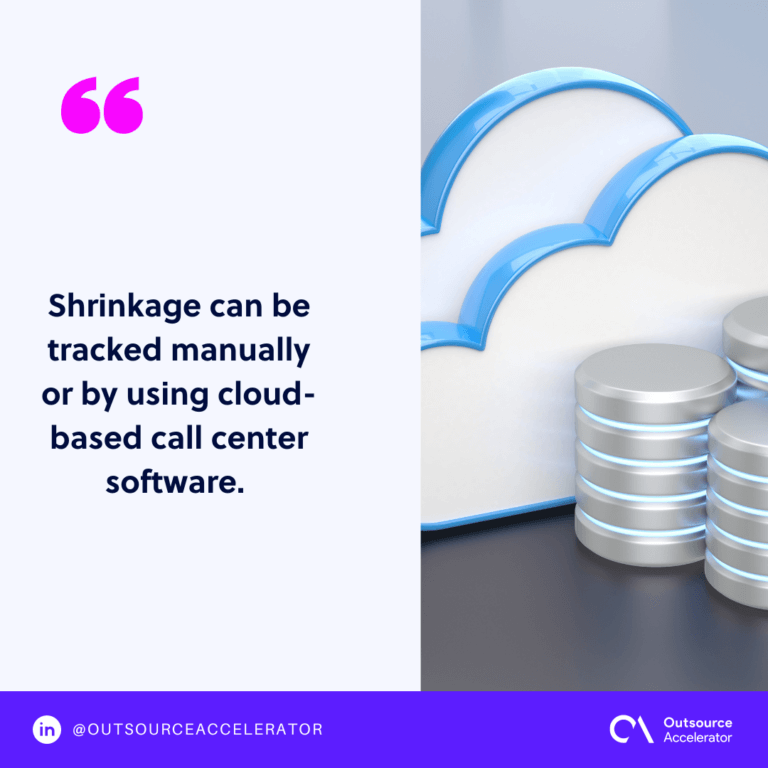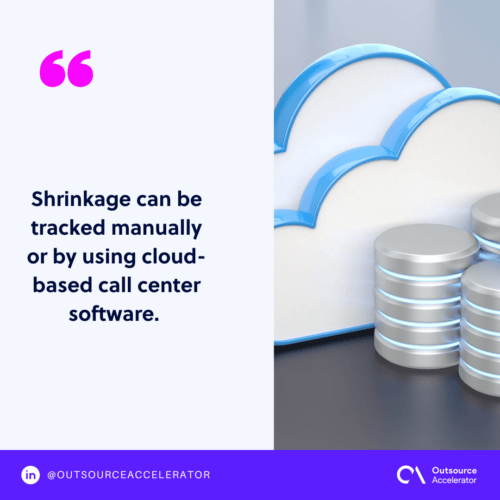 Make use of Workforce Management (WFM) tools
Workforce management features are now included in almost all call center software. The software can automate the shrinkage monitoring process, making it far easier and more efficient than the traditional spreadsheet method.
You may schedule agents and even allow them to create their schedules within a defined boundary using WFM tools. Skill-based routing is available in a few WFM solutions, which can improve the agent's job experience.
Measure shrinkage continuously
Rather than being an annual or monthly effort, shrinkage monitoring should be a continuous process. Since shrinkage is a characteristic that adds to your call center's overall efficiency, you won't be able to improve performance without keeping a near-constant shrinkage rate. 
This is only feasible if you measure it regularly, which new-age call center solutions may help you do. Shrinkage may be measured using various criteria such as call volume, service level objectives, and average handling time. 
Variations in these measures have a direct impact on shrinkage. However, tracking fluctuations can help you pinpoint the elements that influence shrinkage.
Address absenteeism
One aspect of shrinkage that you can manage is absences. Managers can recognize agents who take frequent vacations and handle the problem. Managers should interact with agents regularly to learn about their problems and frustrations.
Absenteeism is generally caused by dissatisfaction with the work they're performing, which you may address by providing them with suggestions on how to improve it.
Keep your agents competitive
Dealing with customers' repetitive questions might exhaust your employees, so it's critical to keep them engaged. You may set up a rewards program to recognize them for their efforts in addition to offering training and mentoring.
Another approach to keep them competitive is to offer incentives. Recognition on leaderboards, badges, or actual presents such as trophies is all possible rewards for achieving a goal.