Definition
What is the Average Response Time?
The Average Response Time (ART) is the standard measure of time consumed by the agent to respond to social media messages with consumers.
Customer loyalty is directly influenced by the average response time, and demands are also very high. The average response time for the majority of the brands is 24 hours.
Average response time is crucial for customer service reports to figure out how agents are performing. When you measure the average response time, you can also see how each customer service agent operates on an individual basis relative to the rest of the staff. 
Fast response time leads to happier clients, less clutter, less pressure, and much more time to compose quality replies.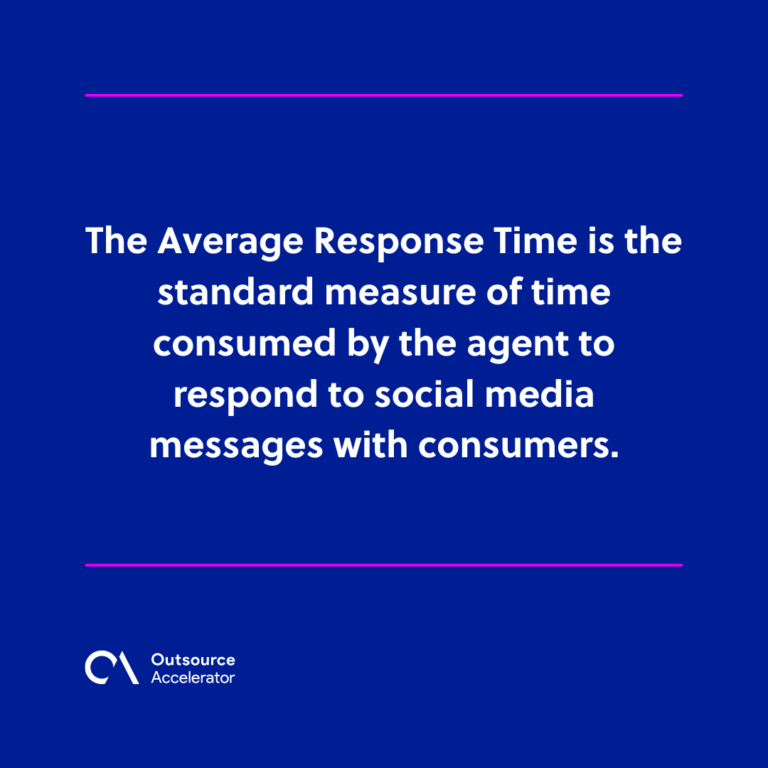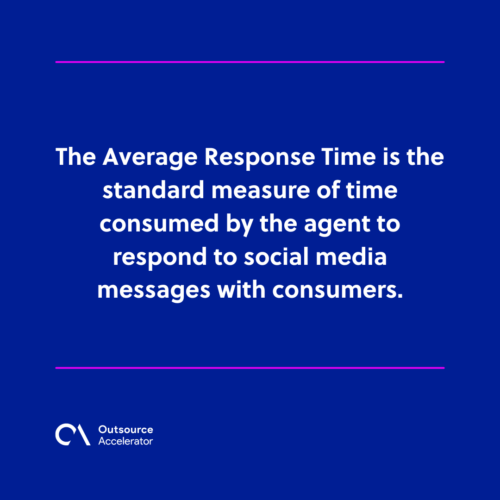 Average response time vs. Average first response time
Average response time and average first response time (FRT) both measure the time elapsed between when a customer initiated contact and when an agent responded.
However, some differences make these two key performance indicators (KPIs) distinct from one another.
Average response time measures how long an agent takes to respond to customers contacting customer support.
Average FRT measures the same thing. However, the average first response time calculation is specifically for a customer's first touch point. That is, the average FRT only calculates response time for a customer's initial contact.
Following the first contact, the average response time will be the KPI in use.
How to calculate average response time
There are two main sets of data that you'll have to gather from your customer service team to understand the average response time:
The overall time it took over a selected time to respond to emails.

The total number of responses submitted within the chosen time.
The usual formula for calculating the average response is to total all the time taken to respond within the selected time, divided by the number of responses. Always check if the time for both metrics matches.
What is a good average response time?
Different industries will have varying benchmarks for what is a good average response time. For instance, business-to-business (B2B) vendor companies can take longer to respond compared to e-commerce businesses due to the technicalities involved in their processes.
Even within the same sector, the average response times still vary depending on which communication channels customers use.
For example, an email response can generally be considered a fast response if it's within 24 hours. However, taking the same amount of time to respond to a query on social media platforms will likely be considered slow response times.
The table below shows the average response benchmarks for different communication channels.
Average response times per communication channel*
Communication channel
Average response time
Response time rate

Email

1 hour

Best (Fast response time)

12 hours

Average (Average response time)

Multiple days

Below average (Slow response time)

Social media

15 minutes

Best

1 hour

Average

Multiple hours

Below average

SMS

40 seconds

Best

15 minutes

Average

More than 1 hour

Below average

Live chat

Instant response

Best

48 seconds

Average

More than 1 minute

Below average
*These figures are based on average response time calculation from Gorgias, an e-commerce software solutions provider.
Call center benchmarking can help businesses gauge their niche's ideal average response times. Moreover, it helps them know if they have a low average response time compared to their competitors or if they have faster responses.
How average response time affects customer satisfaction
The response time of your customer service team can significantly affect your customer's experience. 
An infographic released by Comm100, a customer engagement software company, shows that the majority of millennial consumers think that quick response times "drastically improve customer experience."
Relatedly, results from a HelpLama survey showed 60% of the respondents cited "long wait time" as a reason for considering ending relationships with businesses. Of this number, 45% concluded their business relationships within the same day due to poor customer experience.
While the ideal average response time varies per industry, keeping this metric low should be a priority for companies aiming to provide great customer service. In particular, call center managers should aim for faster customer service response times.
If possible, businesses should consider setting up chatbots that can give automated responses to frequently asked questions (FAQs).
Being able to give an immediate response helps lower the average response time, especially if a customer's query can be answered with automated and canned responses.
However, call center managers should keep in mind that faster customer service response times can only do so much for customer satisfaction. Effectively resolving customer problems is an entirely different matter.