Definition
Definition of Complaints in the Call Center
In the BPO industry, complaints are statements from clients to express their dissatisfaction with a certain situation. 
Customer complaints range from people who are slightly irritated to those who are in a panic. Call center agents are trained to resolve and deal with the client's complaints. 
Agents in a customer service team are qualified to handle customer complaints and negative feedback.
Handling complaints is vital to increase customer satisfaction. Trying to come up with a solution to complicated customer complaints should not make the client feel uncomfortable. 
Instead of being transferred repeatedly from agent to agent, a customer would prefer to work with one knowledgeable agent.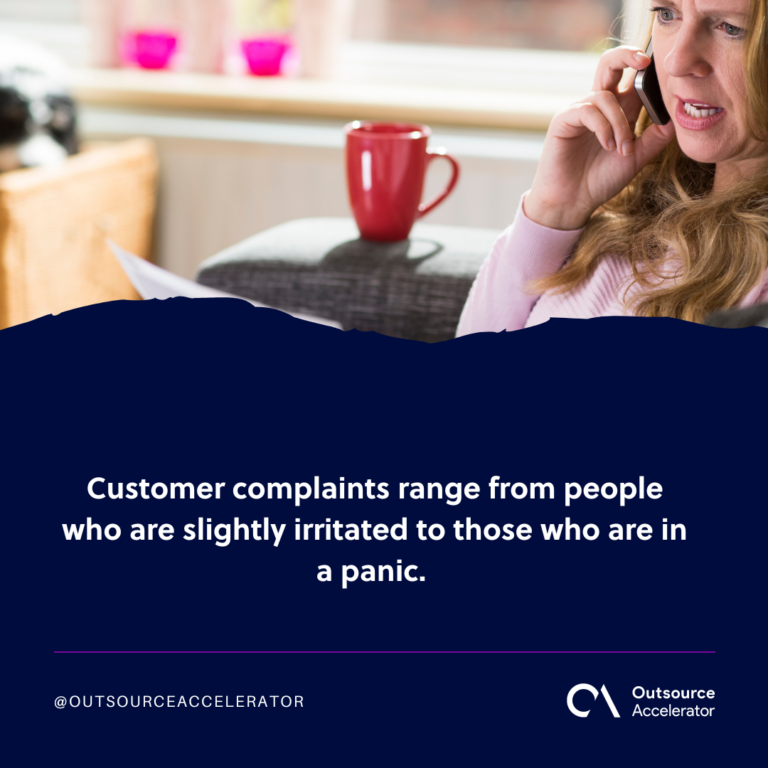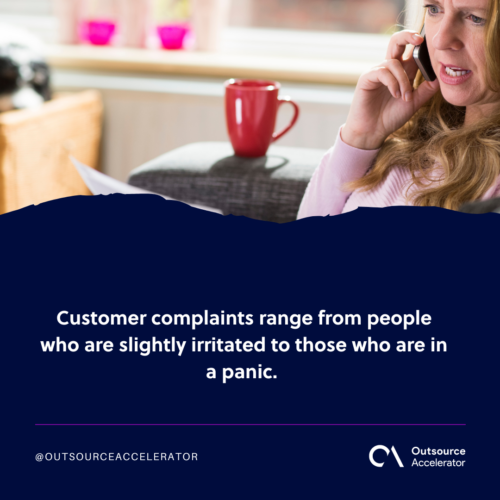 Types of customer complaints
There are various reasons why customers complain. Here are some of the common customer complaints to expect in call centers: 
Poor product or service
An unsatisfactory product or service is the most common reason for customer complaints. When the product breaks, the customer calls the customer service team to complain. In some cases, the customer does not understand how to use it.
Long while on hold 
Average Hold Time (ATH) is one of your most essential call center metrics. Clients want quick answers, and they can not spend their time with a phone.
A total absence of follow-up
When you should have to follow through on a scenario, clients may also have standards about follow-ups. Any consumers will demand a constant sequence of alerts, while others will be more patient.
Inconvenience
The customer was inconvenienced in some way. This might include problems with shipping and delivery, billing errors, or getting through to a company on the phone during normal business hours.
Unclear policies
If you have unclear policies regarding returns and refunds, this can lead to unhappy customers who want their money back but can't get it easily. This frequently results in customer complaints. 
It's also important to ensure that all policies are clearly stated on your website so there aren't any surprises when someone goes online shopping with you.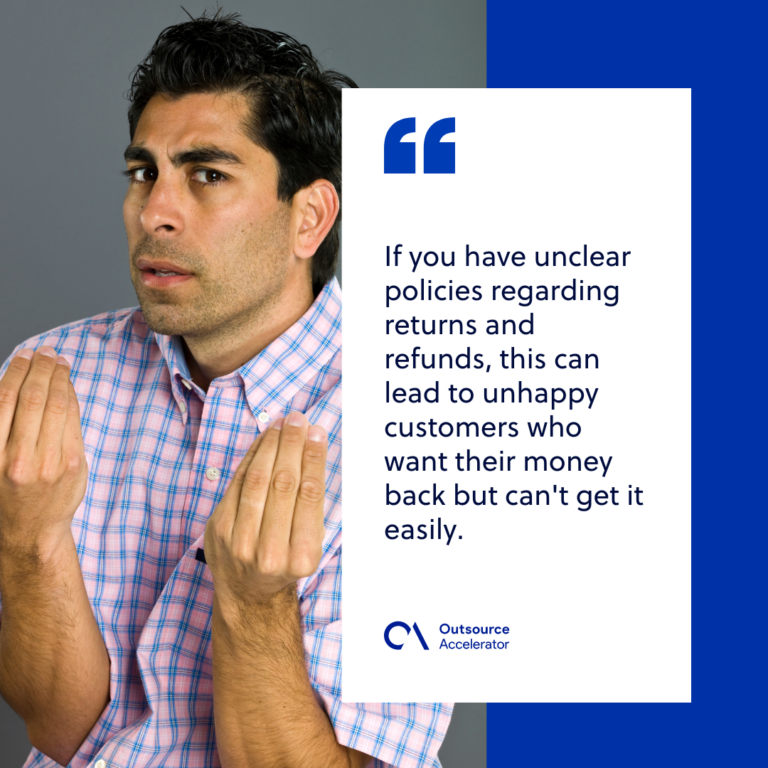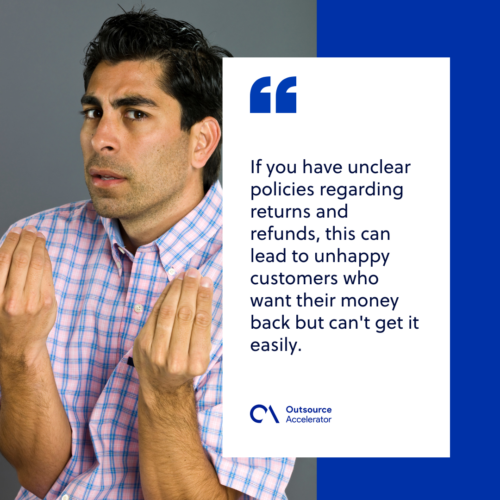 How to respond to customer complaints
Customer complaints can come across a variety of mediums, have varying degrees of dissatisfaction, and involve different solutions to address the problem. 
There are two common actions to resolve the customer's complaint. The first is to listen to the perspective of the client in its entirety. The second is to apologize.
When you have a customer complaint, the agent's first duty is to listen to the matter and reflect on what the client is feeling. 
The complaint of the dissatisfied customer should still be considered as real, as many people should feel the same way. Lend full attention and compassion to the complaint of the client.
Ask questions if necessary. If there's something you don't understand about what they've said, ask them for clarification before continuing with your response. 
This shows that you're interested in helping them out rather than just trying to get rid of them quickly.
Offer solutions where appropriate (but don't force it). If they've given their side of the story, ask if there's anything else they need help with at this point — if there isn't, then offer up some solutions based on what you know about similar situations that have been successfully resolved.
Take a minute to deal with the feedback and decide what steps you need to resolve the complaint. Check back to see if the client is satisfied with the outcome. Finally, incorporate improvements from client reviews.
The value of customer complaints 
Customer complaints can be an excellent source of information for your business. There will always be a reason for people to make customer complaints, and it's up to you, as the business owner, to find out what that reason is.
A good way to think about customer complaints is as an opportunity for growth. If you're not growing, you're dying. And if you don't know how to grow, then you're more likely to die. 
When you receive customer complaints, use them as an opportunity to improve the quality of your products or services. 
Tips to effectively handle customer complaints
You may not always be able to solve every problem that comes up, but if you analyze customer complaints, you'll have a better chance of improving things in the future.
Identify problems early 
Customer complaints can alert you to potential problems before they spiral out of control and become a bigger problem than they need to be. 
This gives you time to find solutions before they cost you money or damage your reputation.
Improve products and services 
When many customers complain about something, it's often because they want it fixed or changed. 
By paying attention to customer complaints, you can learn what needs improving so that future customers don't have the same experience. 
This keeps costs down by eliminating problems before they occur and improves customer satisfaction by meeting their expectations
Build trust with customers 
When you respond quickly and effectively to customer feedback, it shows them that their concerns matter to you and that their business matters to you. 
You'll create loyal customers who are more likely to come back and recommend your brand or product to others. Customer loyalty means they can trust your company to provide and improve good service every time. 
In short, complaints should be viewed as valuable feedback about how well your company is performing — both from the perspective of the customer and from yours as well.