Call center benchmark: A brief guide to call center success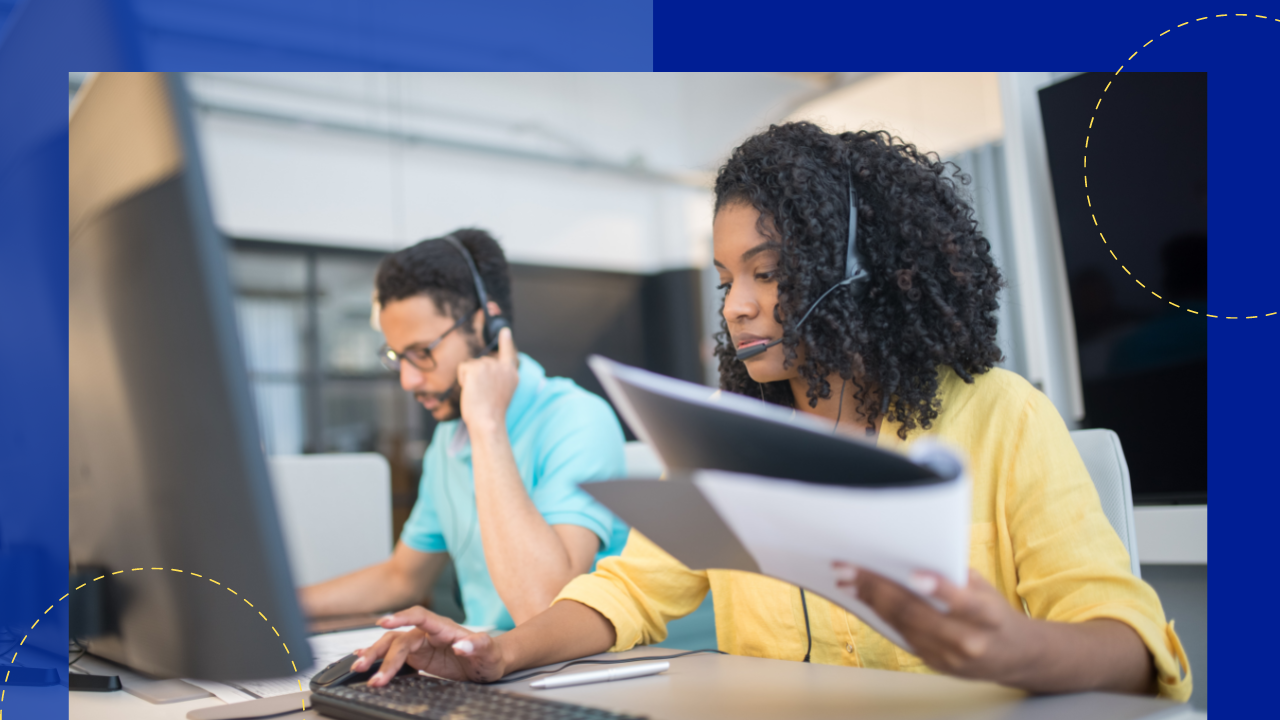 The business process outsourcing (BPO) industry's success has led to a surge in the number of BPO firms worldwide.
These firms offer various services across a wide range of industries.
Among the most well-known services of BPOs is call center functions, which include customer service, technical support, and other call-related services.
BPO firms strive to ensure that their call center services are always top-notch and better than their competitors.
To achieve this, BPO firms often use a call center benchmark to improve their overall performance.
What is a call center benchmark?
A call center benchmark is a standard used by call centers or BPO firms to determine whether their operations are up to international industry standards.
These benchmarks are used in a process called call center benchmarking.
In this process, a call center or BPO firm compares its process's performance against its competitors or similar organizations.
BPO firms use key performance indicators (KPIs) and other metrics as benchmarks in these measurements.[1]
Doing this lets them gauge how well (or worse) they're faring against their competition.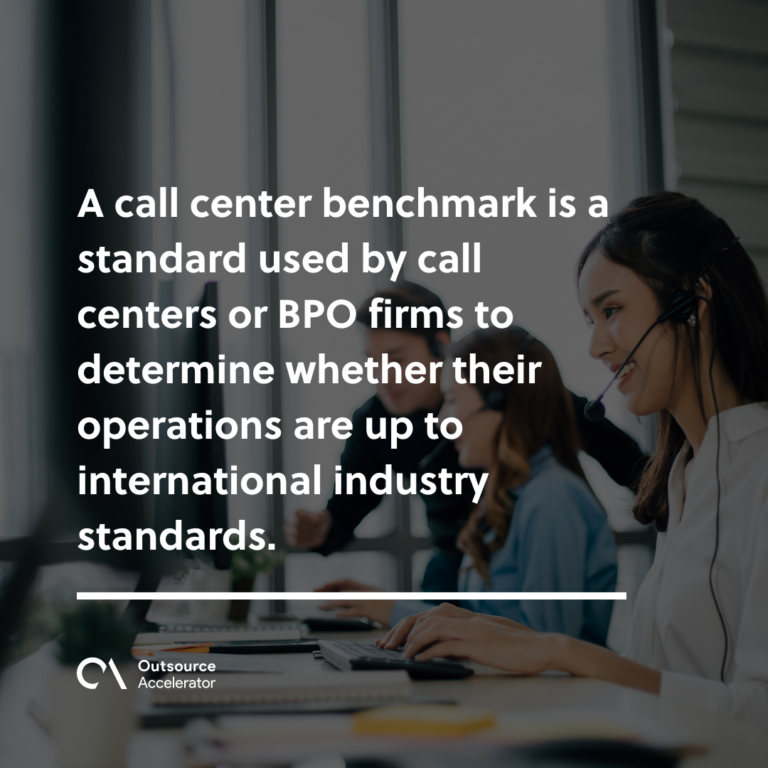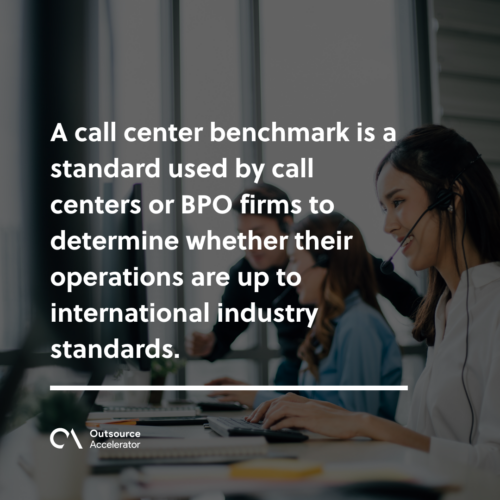 2 types of call center benchmark
There are two types of benchmarks that call centers use to measure their performance:
Competitive benchmarking
In competitive benchmarking, a BPO firm pits its call center operations' performance against others in the same industry (e.g., a call center in the health industry vs. another health industry call center).
This intra-industry comparison[2] helps call centers see how they compare to others – where they need improvement and excel.
More importantly, competitive benchmarking gives call centers insight into how they can outperform competitors.
Process benchmarking
This type of benchmarking compares call center processes with similar processes from businesses outside the call center industry.
For example, a call center firm in the health industry may compare its inbound call processes against that of a financial firm or vice versa.
In this case, the process being benchmarked carries more importance than the industry itself.
Benefits of using call center benchmark
Like all process efficiency assessments, call center benchmarking is advantageous for firms that use it.
Below are some reasons why call centers will benefit from this process:
Helps identify areas of improvement
By using a call center benchmark, BPO firms can ascertain the weakest points in their operations.
Since this process evaluation is done by comparing with intra-industry call centers, its results are unbiased and can be assessed impartially.
Some of the benchmarks BPOs can measure are:
Complaint calls percentage

Resolved in first call percentage

Average sale value of calls

Agents attrition rate

Agent productivity

Cross-sell and up-sell rate in calls

Customer satisfaction

Calls that turn into sales percentage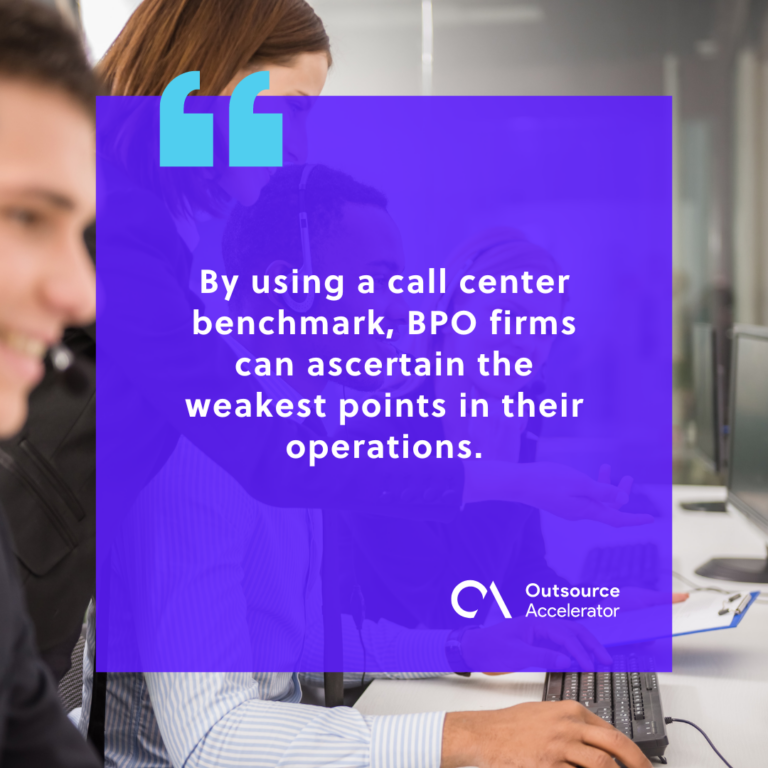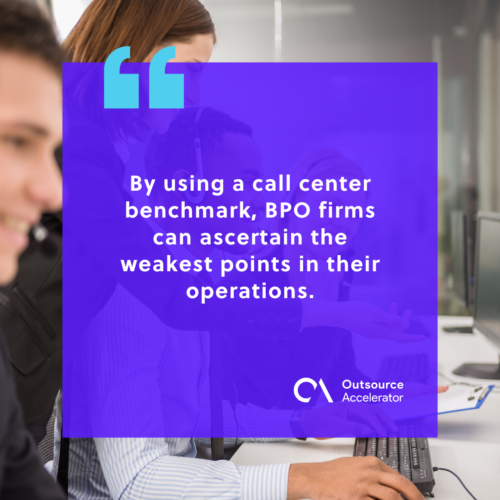 Speeds up call center improvement efforts
Utilizing intra-industry data on successful and unsuccessful launches can significantly accelerate a call center's improvement by using the learnings of others.
With this approach, BPO firms can avoid wasting time and money on campaigns that other call centers in the industry have already proved unsuccessful.
Conversely, BPO firms can incorporate successful strategies of other call centers and speed up their own improvement process.
Serves as team motivation
BPO firms can use their superior standing against their competitors as a motivator for their employees and to show that their hard work pays off.
Instead of just vague words of encouragement, call center managers can use solid data to demonstrate how their team outperformed their counterparts in other similar companies.

On the flip side, lackluster data can be used to encourage the team to do better and on which areas they need to work on.
Call center benchmark KPIs
There are plenty of call center benchmarks that BPO firms can use to measure their performance.
However, not all of them are necessarily helpful or can give insights that BPO firms can utilize.
Below are five of the most popular – and helpful – call center benchmark KPIs used in various industries:
Abandonment rate
This pertains to the percentage of callers that hang up before an agent can answer their call.
The abandonment rate indicates a call center's availability to customers. Naturally, less accessible call centers lead to more negative customer experiences.
Although the number may vary depending on the industry and types of customers, call centers with an average abandonment rate of less than 5% are considered doing well.
Global abandonment rate benchmark KPI: ~9%
First contact resolution
This KPI refers to the percentage of callers with issues resolved during their first call without needing escalation, call transfer, or calling at another time.
Measuring the first contact resolution (FCR) rate across industries can be hard. Additionally, looking at different channels may make it more complex.
However, establishing a call center's FCR is a surefire way to increase other KPIs, as well.
Global FCR benchmark KPI: ~70%

Service level
Despite being arguably the oldest call center benchmark, there is no industry standard for measuring call center service level.
Service level needs to be unique among each industry, and having an industry-standard may be detrimental to process improvement.
However, this KPI is still widely used and is worth including in this shortlist.
Global service level benchmark KPI: 80% of calls answered within 20 seconds
References
[1] … benchmarks in these measurements. Goncharuk, A.G. et al. (2015). "Benchmarking as a performance management method." Polish Journal of Management Studies, 11(2), pp. 27-36. Available at: https://www.infona.pl/resource/bwmeta1.element.baztech-2e7994a3-f0d3-419a-9cce-20b12ce6f041/content/partContents/f47efb0c-5b1e-34c5-8ac2-75ded39d432c
[2] intra-industry comparison. Cukrowski, J. & Aksen, E. (2003). "Perfect competition and intra-industry trade." Economics Letters, 78(1), pp. 101-108. https://doi.org/10.1016/S0165-1765(02)00170-2