Definition
What is live chat support?
Live Chat Support, also called live help or live chat, refers to a web service for industries that allows communication, wherein visitors send a real-time chat to the business's website.
A chat happens between the customer and an operator, whom both will input texts into the live chat box to start a conversation. It promotes efficiency by having real-time agents simultaneously handle multiple chats.
Live chat support applications allow the administrators to respond to text chats from several customers who visit the website.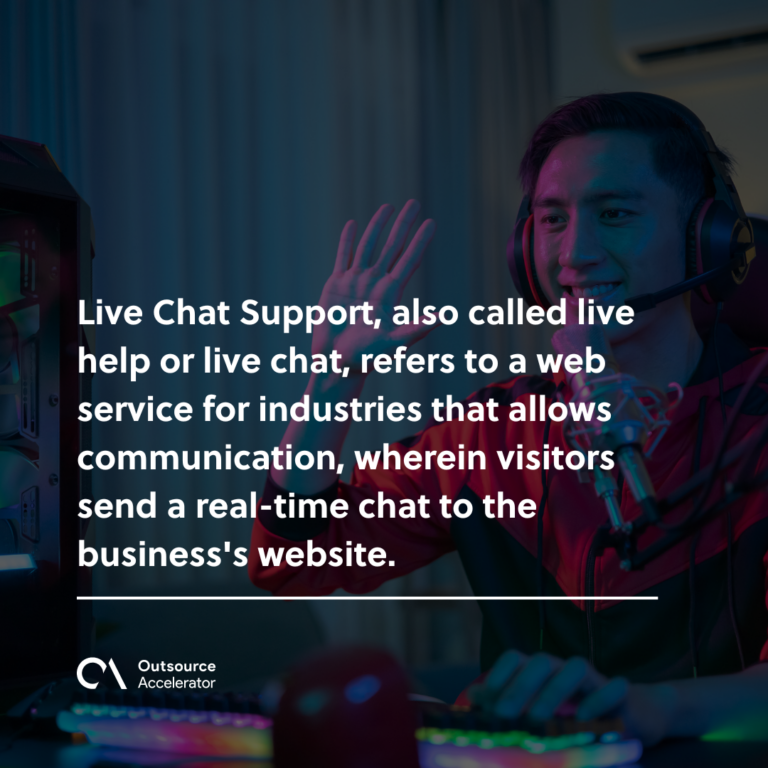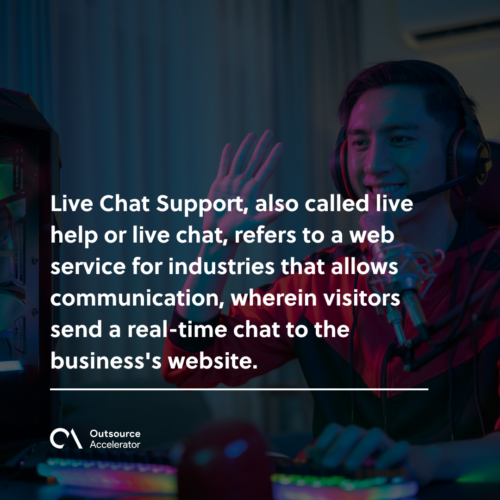 Live chat support allows multiple options for distribution and utilization with instant messages. Typically, chat applications open a window then connect the user to an administrator. Some applications put an order by enabling users to be in a queue.
This makes sure that the admin deals with one user at a given time. Afterward, it may proceed to the next user when the present chat has ended. Users can have the chance to view their status in the queue.
Live chat support allows companies to provide direct website visitor engagement in a manner that promotes increased interactivity and trust with website visitors, increasing customer satisfaction.
Benefits of live chat outsourcing
Customers love live chat support. A study from customer service software firm Kayako showed that 38% of customers are more likely to purchase from a company that offers live chat support. 
Unfortunately, if you belong in a small company, it is impossible to cater to customers immediately and around the clock. This is where outsourcing could help your business.
Live chat outsourcing refers to the process of hiring professional sales and customer service teams to monitor and answer various customer service inquiries about your products and services. 
Partnering with specialized outsourcing companies can help you gain access to skilled customer service representatives who can run your live chat anywhere and in real-time.
Customers usually seek fast replies and prompt solutions. Outsourcing can provide this service and through offshore centers that work in different time zones.
Aside from that, live chat outsourcing is cost-effective. Agents work on a contractual basis that contains the exact services needed by the company. Thus, the work is done according to the agreed guidelines.
Live chat outsourcing helps you save a lot in terms of expenses. It is estimated that companies save more than half of their money by hiring outsourcing providers for their live chat services.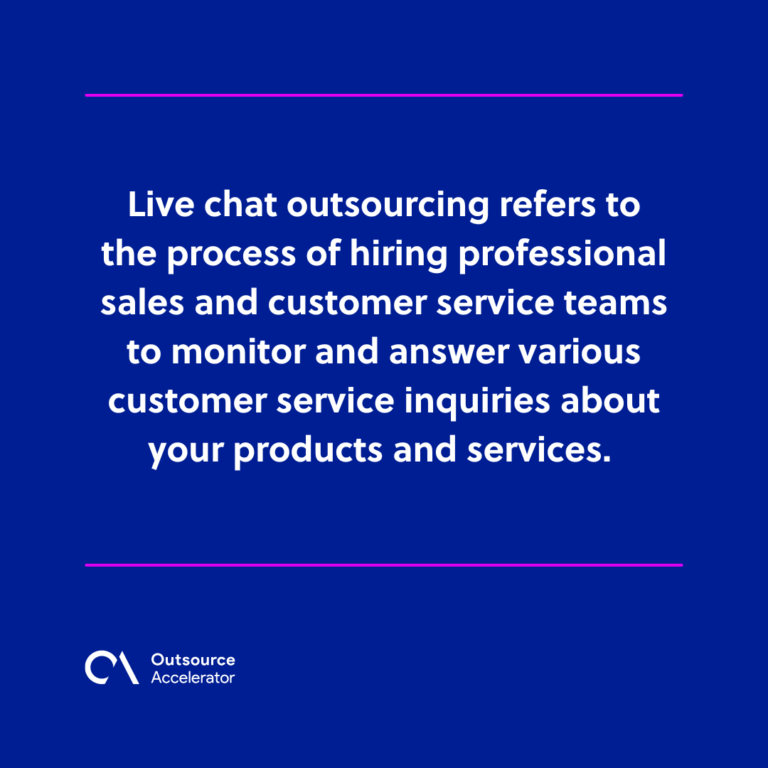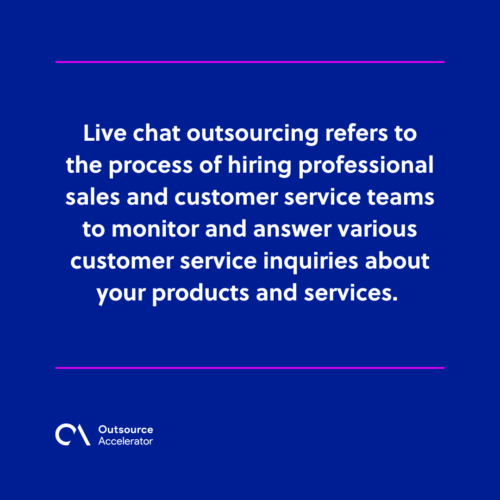 Outsource live chat
Outsource Accelerator provides you access to great chat support agents that you can outsource from the Philippines starting from $6 per hour, where you can save up to 70% on staffing costs.
We have over 5,000 articles, 350+ podcast episodes, and a comprehensive directory with 2500 BPOs… all designed to make it easier for clients to learn about, and engage with live chat support outsourcing.