Top 25 IT recruitment firms in Poland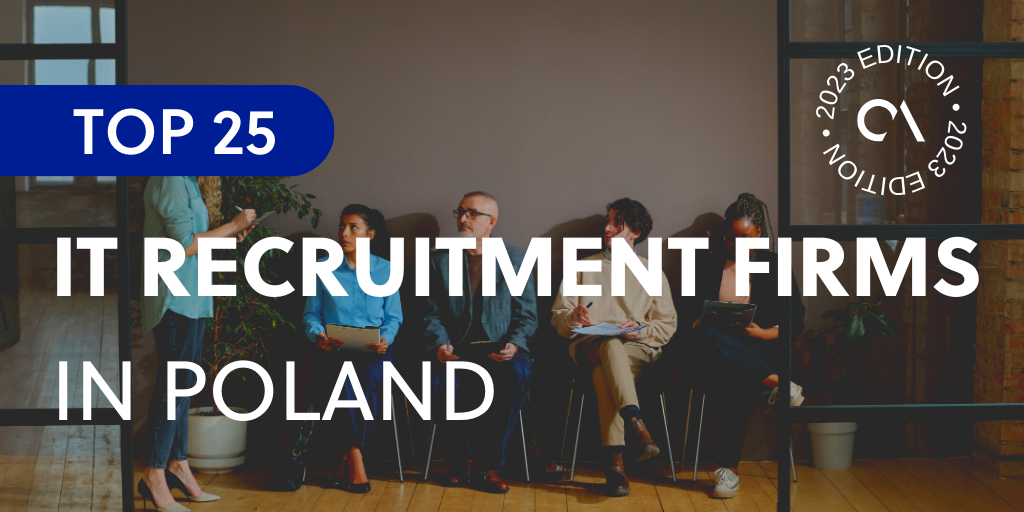 List of IT recruitment firms in Poland
Poland has become a hotspot for IT professionals. The country has been one of those privileged few to carry the title of "Silicon Valley of Eastern Europe" due to its robust tech industry and talented workforce. 
As the country continues to witness rapid growth in its tech sector, the demand for skilled IT professionals has never been higher.
To address this, numerous IT recruitment firms have risen to the challenge of sourcing top talent for companies around the country. 
Join us as we go through the top IT recruitment firms in Poland.
Poland's IT industry 
Poland's IT industry has been experiencing significant growth and recognition in recent years. The country has emerged as a leading destination for IT outsourcing and has a robust domestic market for technology products and services.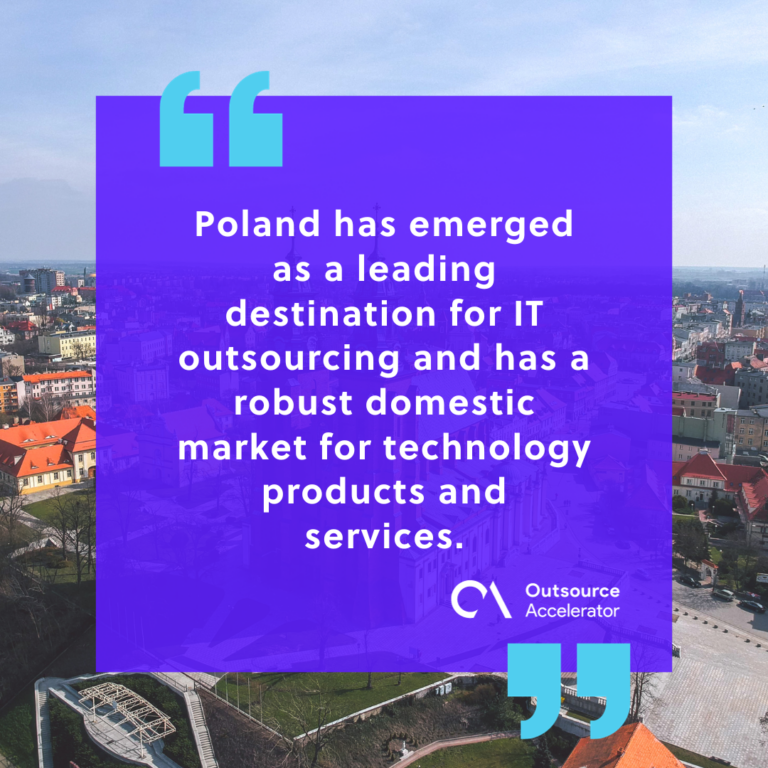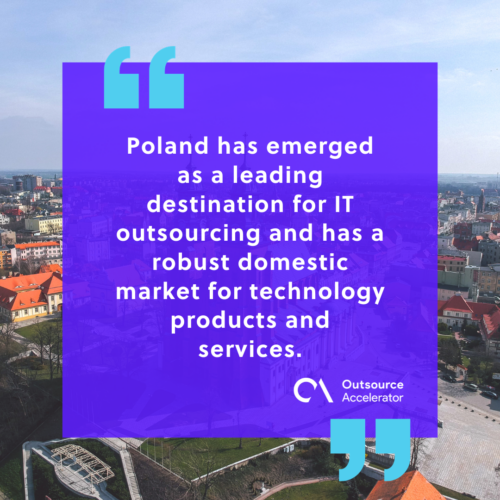 Poland has become a key player in the rapid IT development within Central and Eastern Europe. The country brings a large pool of talented IT professionals and benefits from favorable factors like:
State budget compensation

Rapidly developing market

Availability of specialists
Accodring to Statista, Poland's IT outsourcing market is powerful and projected to result in a market volume of 2.70 billion USD by the end of 2023. Revenue is expected to reach 11.14 billion USD by 2028. 
Popular IT roles 
Poland's IT industry attracts a wide variety of roles, including: 
Software developer/engineer 
Software developers and engineers design, code, and test software applications, systems, and websites. They use various programming languages like Java, Python, and C++. 
Data scientist/analyst 
Data scientists and analysts integrate statistics, data analysis, and machine learning to extract insights from large data sets. This information is used to make strategic recommendations to businesses. 
Network administrator 
Network administrators manage an organization's computer networks. They ensure network security, optimize performance, and troubleshoot connectivity issues. 
Cloud engineer/architect
A cloud architect or engineer designs and manages cloud infrastructure. They work with platforms like AWS, Azure, and Google Cloud to ensure scalability, availability, security, and reliability. 
Cybersecurity specialist
Cybersecurity specialists work to protect organizations from unauthorized access, attacks, and theft. They monitor security systems, implement security measures, and investigate and respond to incidents. 
DevOps engineer
DevOps engineers fill the divide between development and operations teams. They automate deployment processes, manage infrastructure as code, and ensure efficient software delivery. 
Full-stack web developer
Full-stack web developers are proficient in both front-end and back-end development. They can work on all aspects of a web application, from user interfaces to server-side logic, using coding languages like HTML, CSS, and JavaScript.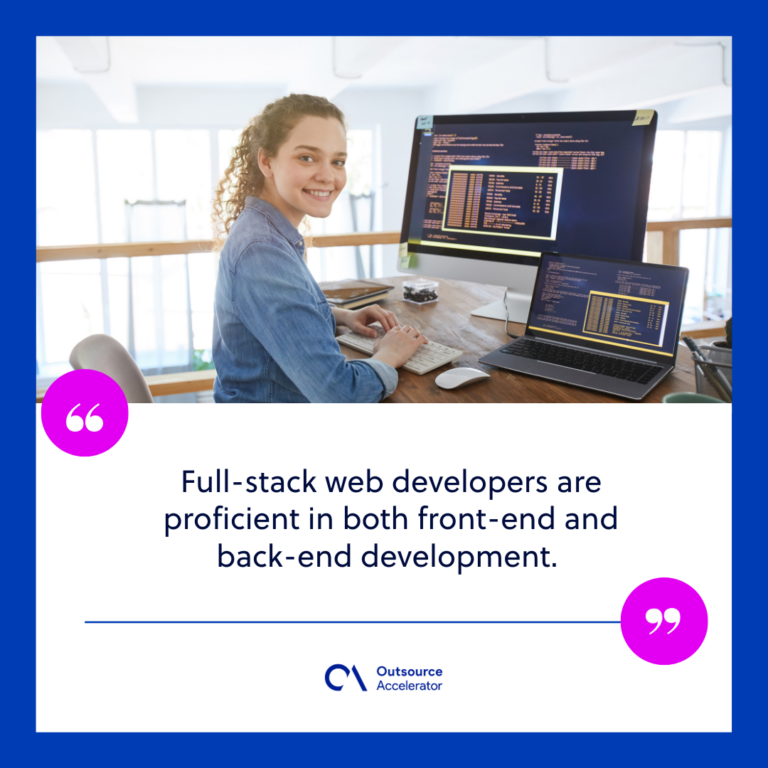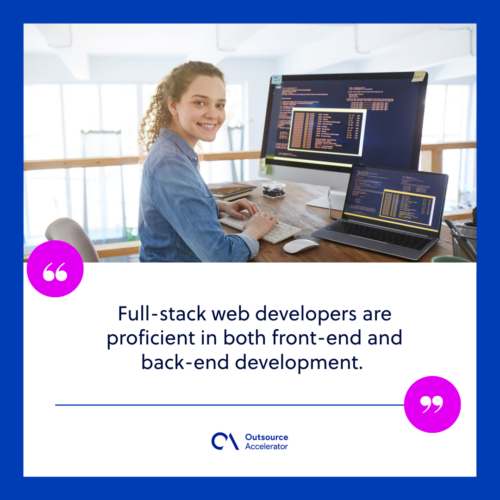 Top global outsourcing lists 
Outsource Accelerator is the world's leading outsourcing marketplace and advisory. We list over 3,000 BPO firms located across the globe in our global directory, and we provide detailed information, price guides, and reviews.
Whether you're a solopreneur, SME owner, or a corporate executive, we can help you find the most suitable outsourcing provider for your business.
Explore our outsourcing directory now. You may also check out our Top recruitment lists here:
Top 25 IT recruitment firms in Poland
Check out 25 of the leading IT recruitment firms in Poland:
Location: Warsaw, PL
Next Technology Professionals is an IT recruitment firm and outsourcing company. It has been operating in the market since 2015 and has successfully completed over 700 recruitment processes.
The firm has received positive recommendations from clients. They highlight the company's fast and efficient contact, ability to attract excellent employees, and transparent recruitment process. 
You may also visit its page on our website here. 
Location: Łódź, PL
Team Up IT Recruitment is a specialized IT recruitment agency. It offers a range of services, including permanent recruitment, IT body leasing, consulting, and training. 
With its expertise in the industry, it aims to reinforce teams with top IT talent to help companies develop efficient long-term recruitment strategies. 
Location: Gdańsk, PL
RemoDevs is an IT recruitment agency with a talent for sourcing and hiring the best software developers for companies. It aims to reduce recruitment costs by 50% while increasing the chance of finding the perfect candidate by 800%. 
RemoDevs highlights its track record of successful placements, efficient candidate presentation, and ability to find skilled applicants quickly. 
Location: Kraków, PL
dotLinkers is a leading IT recruitment agency in Poland, specializing in serving startups and software product companies. It offers innovative IT staffing solutions and helps build top-notch teams. 
dotLinkers understands the unique tech needs of each business and tailors its recruitment solutions accordingly. The agency values communication, proactivity, and flexibility to ensure successful collaborations.
Location: Kraków, PL
Talent Place is an innovative recruitment agency that stands out by leveraging crowd staffing and talent pooling methods. With an international community of over 200 HR experts, it effectively connects candidates and employers to realize their full potential.
The agency prides itself on its high effectiveness in attracting candidates and project implementation. 
Location: Warsaw, PL
Devire Group is a full-stack HR tech solutions and IT recruitment firm. It's known for going beyond immediate HR and IT horizons, providing innovative services to help forward-thinking businesses. 
With a team of over 250 consultants, it has the expertise to deliver measurable results and sustainable advantages to its clients. 
Location: Poznań, PL
Bee Talents presents itself as a hive for hiring top tech talent. It's been active in the IT talent job market for years, boasting a 92% success rate in one-off placements and a 98% satisfaction rate from its clients. 
Bee Talent strives to become a part of every company they work with, always offering innovative ways to build new IT teams. 
Location: Kraków, PL
NTIATIVE is a high-performing IT recruitment agency that specializes in filling mid to senior positions in IT infrastructure, software development, and data science. 
With a strong focus on the Polish tech sector, the company has in-depth industry knowledge and insights. It works with local, regional, and international employers to connect them with the best tech talent in the country. 
You may also visit its page on our website here. 
Location: Warsaw, PL 
TeamQuest focuses on recruiting IT professionals and connecting them with job opportunities. With over 15 years of experience, it has a database of over 57,000 candidates in the IT market. 
TeamQuest has successfully placed nearly 200 IT professionals in various roles, such as programmers, network administrators, testers, and even CTOs. 
Location: Warsaw, PL
DevsData Tech Talent connects top Polish software developers with job opportunities in the IT industry. With a strong focus on IT staffing, it has an impressive track record of matching professionals with the right positions. 
DevsData Tech Talent stands out in the market due to its commitment to maintaining transparency and solving non-obvious problems. It has a database of over 40,000 candidates, ensuring a wide talent pool for its clients.
Location: Warsaw, PL
Znojdziem offers a convenient service for firms seeking highly professional staff in the IT industry. Holding trusted territory within the EU, it has optimized its team of 50+ recruiters to build a strong reputation in finding the right candidates for its clients. 
Znojdziem knows the IT sector inside and out and works as promptly as possible to deliver the best results. 
You may also visit its page on our website here. 
Location: Kraków, PL
Sowelo Consulting has over 15 years of experience in offering reliable IT recruitment solutions tailored to the specific needs of its clients. It has expertise in various industries, including IT, telco, renewable energy, finance, and banking. 
Through its knowledge, experience, and strategic tools, it effectively matches the right people to the right projects. Sowelo Consulting is the preferred choice for IT recruitment in Poland.
Location: Warsaw, PL
DNA325 is a prominent IT recruitment agency based in Poland, good at helping companies hire top-notch IT specialists.
It has over ten years of experience in the IT software and advertising industries. DNA325  has assembled a team of skilled practitioners who can understand the specific needs of its clients. 
With its focus on technical and soft skills, DNA325 is dedicated to helping businesses effectively scale their teams. 
Location: Kraków, PL
MOTIFE focuses on helping businesses scale up their teams with high-quality tech talent. It offers a range of tailored solutions, including IT recruitment services, employer of record (EOR) services, and setup and operations management. 
Its location in Poland, known for its vibrant cities, tech talent, and academic excellence, makes it an attractive partner for companies looking to write the next chapter of their growth story. 
Location: Kraków, PL
Hire the best tech talent in the US and Europe through StaffingPartner. The firm specializes in fast and effective IT recruitment. 
88% of their clients would choose them again to fill their IT teams. StaffingPartner goes above and beyond to ensure that IT recruitment needs are met. 
Location: Kraków, PL 
itMatch prides itself on being a culture hub. It strives to build IT organizations that have a positive impact on the world and do so better than anyone else. 
At itMatch, they believe in promoting autonomy, independence, and psychological safety in the workplace. This is in the pursuit of allowing individuals to excel and reach their full potential. 
itMatch's success lies in its ability to understand the unique cultures and requirements of its clients, ensuring successful long-term partnerships. 
Location: Poznań, PL
hireplace.it offers comprehensive services to clients in the technology sector. It focuses on providing personalized guidance and expert navigation of the IT job market. 
The company aims to shape people's futures and assist companies in finding exceptional talents in the fast-paced world of technology. 
Location: Gdańsk, PL
CandidFuture offers recruitment and employer branding services. It has a strong understanding of the IT industry and specializes in identifying and attracting top IT talent for its clients. 
It has a unique IT community that helps to increase the visibility of client brands amongst IT engineers. 
Its approach to IT recruitment is transparent, keeping candidates and clients updated throughout the entire process. 
Location: Mikołów, PL
Dorwij Nerda is an IT team and recruitment agency based in Poland. It offers many services to clients, including recruitment, employer branding, and technical evaluation. 
It prides itself on its technical knowledge and understanding of the IT industry. This is also reflected in the recruitment process it offers. 
It also helps train recruiters in technical matters, giving them the required skills to help bridge the communication gap. 
Location: Poznań, PL
KINGIT specializes in providing comprehensive support in IT recruitment for various positions. These range from software developers, to IT and business hybrid roles, to even managerial positions. 
KINGIT ensures mutual success by operating on a success fee basis, eliminating financial risks for its clients. 
Location: Kraków, PL
MagicHire connects businesses around the world with top tech talents from Poland, Ukraine, and Eastern Europe. It has seven years of experience and a track record of successfully filling over 500 vacancies. 
MagicHire understands that the best candidates may not be actively seeking jobs and utilizes its expertise to attract both active and passive candidates. 
It manages the entire recruitment process, from sourcing and screening to scheduling interviews and negotiations. 
Location: Wrocław, PL
Talenger is an IT recruitment firm that concentrates on hiring top-notch developers for different positions within the IT industry. It has an exceptional team of recruiters who utilize their IT education and network to match people accordingly. 
Talenger aims to create a perfect connection between clients and candidates, believing that this can create complex solutions. 
Location: Kraków, PL
Antma IT offers a range of services to empower projects and connect talented professionals with businesses. It specializes in IT outsourcing, project management, and supplying skilled developers. 
Antma IT aims to complement its clients' teams with the right specialists and accelerate the delivery of value to their businesses. 
Location: Poznań, PL
16bit Recruitment is a boutique IT recruitment agency located in Poland. Founded by a former developer and architect, the firm specializes in attracting top talent for tech companies. 
The agency prides itself on its skilled and truly technical recruiters and sourcers, ensuring they have the expertise needed to find the right candidates. 
Location: Kraków, PL
ITSELECTA is a client-centric IT recruitment agency that brings in-depth consultation and customized strategies to ensure success. Find top tech talent in Poland with its tailored guidance. 
ITSELECTA delivers qualified candidates in two weeks or less. It makes sure you receive a perfect fit for your software needs.