Top 20 recruitment firms in the UK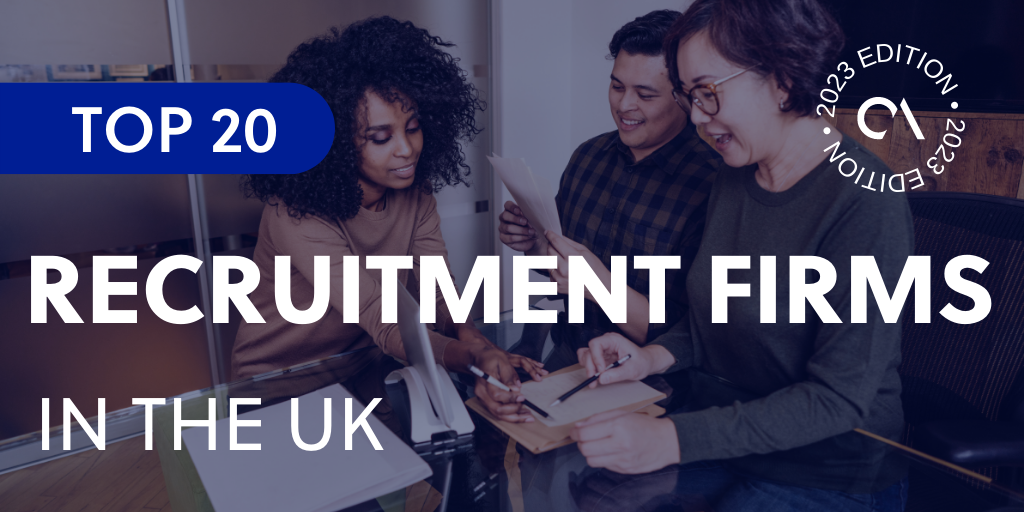 Finding high-quality talents has become more challenging, especially with the high skill and talent shortage in the UK.
According to the Office for National Statistics from the OECD, the UK recorded more workforce dropouts than it had before the pandemic. For the first time, employers in the country have advertised more job openings than its current jobseekers, being at least a million workers short.
Hiring local and remote staff is easier with a reliable recruitment firm on your side. For starters, we have listed some of the top recruitment firms in the UK you should consider right away.
Why your company needs a recruitment firm
With the high staffing costs and labor shortages in the country, you need a recruitment and consultancy firm that will help you get through the complicated hiring process. Further, a reliable staffing firm helps you achieve the following.
Negotiate better salaries and benefits

. Recruitment firms can help you negotiate better salaries and benefits for your employees. This is since you can save more on staffing services compared to in-house recruitment.

Wider staffing options and backups

. Admittedly, your first choice of talent would not always say 'yes' to your offer. With a recruitment firm, you get to have backup options that would still fit your requirements.

Industry insights

. At the same time, recruitment firms can provide an in-depth insight regarding recruitment in your industry. This can help you form more data-driven decisions for your next hires.
What makes up a good recruitment firm
Each recruitment firm is different in terms of approach, methodology, and credibility. You cannot simply rely on a "one-size-fits-all" strategy if you want to succeed in building a quality team for your roles. Only a good recruitment firm can help you do that.
Some of the traits you should look for in a good recruitment company are as follows.
Knowledge and interest in your company

. A good recruitment firm takes time to get to know your company culture, goals, and requirements. They will use this information to vet the most appropriate candidate possible.

Clear hiring strategies

. A good recruitment firm also provides the best hiring strategies based on the data you provide, giving you a better chance to hire quality staff.

Quality recruiters

. Recruiters make an agency function to its best. They should showcase their industry expertise and knowledge, helping you find out the trends and projections in each role you need.

Technology

. Aside from the recruiters, good recruitment agencies also know how to use technology to your hiring advantage. They invest in the

best recruitment tools

to automate and streamline the hiring process as much as possible.
Top global outsourcing list
Outsource Accelerator is the world's leading outsourcing marketplace and advisory. We list over 3,000 BPO firms located across the globe in our global directory, and we provide detailed information, price guides, and reviews.
Whether a solopreneur, SME owner, or corporate executive, we can help you find the most suitable outsourcing provider for your business.
Explore our outsourcing directory now. You may also check out our Top recruitment firms lists per country here:
Top 20 recruitment firms in the UK
DevsData is comprised of expert contractors and Google-level engineers focusing on quality and understanding. Focusing on technology companies, they deliver both staffing and digital products that can lead their clients to the best services.
DevsData aims to maintain the highest level of transparency and service to its customers through regular updates and communication.
Michael Page UK provides specialized solutions in 25 disciplines to various verticals. They recruit permanent, temporary, contract, and interim staffing and match them with businesses of all sizes.
Michael Page's UK offices are armed with a track record in handling recruitment and job searches for businesses and candidates across the UK.
Huntress Group is an independent, local recruitment firm driven to connecting employers and candidates quickly. Since 2000, the firm has been connecting thousands of companies and employees each year.
Huntress Group believes in building lasting partnerships with its clients. This pushed them to deliver optimal services and solutions to all.
Manpower has been a global leader in recruitment workforce solutions for decades. They help people connect with meaningful work while getting organizations the best talent.
At the same time, Manpower helps organizations maintain their workforce over the changing business demands, market changes, and the future of work itself.
Reed is a leading UK recruitment agency with thousands of new candidates each week. They cater to recruiters and employers looking for top talents across the UK and building their brands.
With Reed, organizations can either post a job opening through their website or browse for thousands of CVs to look for staff. They cater to a wide range of roles and verticals covering all regions of the country.
Morgan Hunt is an established recruitment firm with over 150 consultants across the UK. they have been known to connect talented staff with known institutions in the charity, education, government, construction, and healthcare sectors.
More than simply recruiting, Morgan Hunt intends to connect individuals and companies looking for their sense of purpose.
Propel prides itself in hiring and developing the best talent consultants capable of overcoming any challenges their clients face. The firm's strength lies in building lasting relationships and successful teams that make a difference worldwide. 
Another leading global recruitment firm, Randstad UK is comprised of specialists with expertise in the local market. They operate in over 70 branches across the UK.
Randstad UK relies its strength on people, helping contractors and consultants unlock their potential while providing clients with top-class support.
PSD Group uses its unique expertise and international capacity at play when it comes to executive recruitment. Established in 1991, the firm is proud to become a trusted partner for most successful companies today.
PSD Group is committed to excellence and professionalism at work.
Nolan Recruitment provides a market-leading service to companies within the engineering and technical sectors in the UK.
The firm takes time with its clients to understand their goals and concerns and match them with their candidates according to their requirements. Their strength lies in constant communication throughout the recruitment process.
As an award-winning office specialist recruitment agency, Tate Recruitment ensures a watertight guarantee when providing staffing services to clients. They strive to find the perfect candidate that will help a business thrive.
Brite Recruitment bases its services on its principles: simplicity, honesty, and passion. They are armed with a loyal client base and a large database of candidates across the UK.
Brite Recruitment ensures to send relevant candidates to a client's job post. They understand both their candidates' and employers' requirements to match them accordingly.
Tiger Recruitment is a renowned London recruitment agency with a global reach. They are comprised of six divisions, each serving different sectors and providing matching support for each.
Tiger Recruitment prefers to tailor its solutions to each client's requirement, ensuring the employers' values are reflected in each candidate they assign to a specific role.
Hudson RPO thrives in delivering recruitment process outsourcing (RPO) and related solutions throughout a company's entire recruitment process. They are known to deliver innovative and customized recruitment outsourcing services to clients worldwide.
Hudson ensures to become a trusted partner that helps in developing creative, flexible, and cost-effective talent solutions.
Deerfoot IT Recruitment works with a diverse range of organizations and institutions to deliver IT recruitment services. 
The firm has helped established names find staffing and build lasting relationships, some of them include Capgemini, Emirates Airlines, and The London Stock Exchange.
Hays helps empower people and companies to succeed through specialist recruitment and lifelong partnerships.
The firm offers an unmatched suite of recruitment and workforce solutions that transform businesses. Whether clients look for permanent, temporary, or contract employees, Hays can cater to each of their needs.
Trusted by jobseekers and employers alike, Search Consultancy helps make a difference to their clients.
The firm caters to small and large enterprises in more than 20 industries. Their strength lies in connecting talents with opportunities in different organizations and developing them through their award-winning training programs.
Having more than 3,000 people in 32 countries, Robert Walters is known for delivering staffing, consultancy, recruitment process outsourcing (RPO), and managed services for the UK and global firms.
The firm is armed with talents that are experts in matching highly-skilled people with top organizations through traditional recruitment and end-to-end management.
Silicon Milkroundabout's approach sets them apart from its competitors. They host free events in the heart of the UK's technology hub so businesses can meet and hire their next engineering, product design, and marketing experts.
Starting in London's startup community in 2011, Silicon Milkroundabout now holds larger events twice a year and looks forward to expanding to more cities worldwide.
Prospectus is a specialist recruitment agency with services designed for the public and non-profit sectors. The firm connects talents with non-profit organizations and institutions across the UK.
As the country's first B-Corp recruitment agency, Prospectus takes pride in having a top-tier recruitment team that makes its operations successful. 
Outsourcing as another form of recruitment
The listed top recruitment firms in the UK are guaranteed to improve your recruitment strategies and get you the best local talent. Meanwhile, you can outsource your services if you prefer to expand and scale your operations easier.
Hiring offshore teams through a BPO company gives you wider options and flexibility in running your business. You can hire quality talents at a lower rate than their in-house counterparts, giving you savings on labor costs.
In the end, you don't have to restrict your hiring options to a single location anymore. Through outsourcing, your recruitment and hiring options become wider and limitless.