Top 10 SaaS recruitment tools for efficient hiring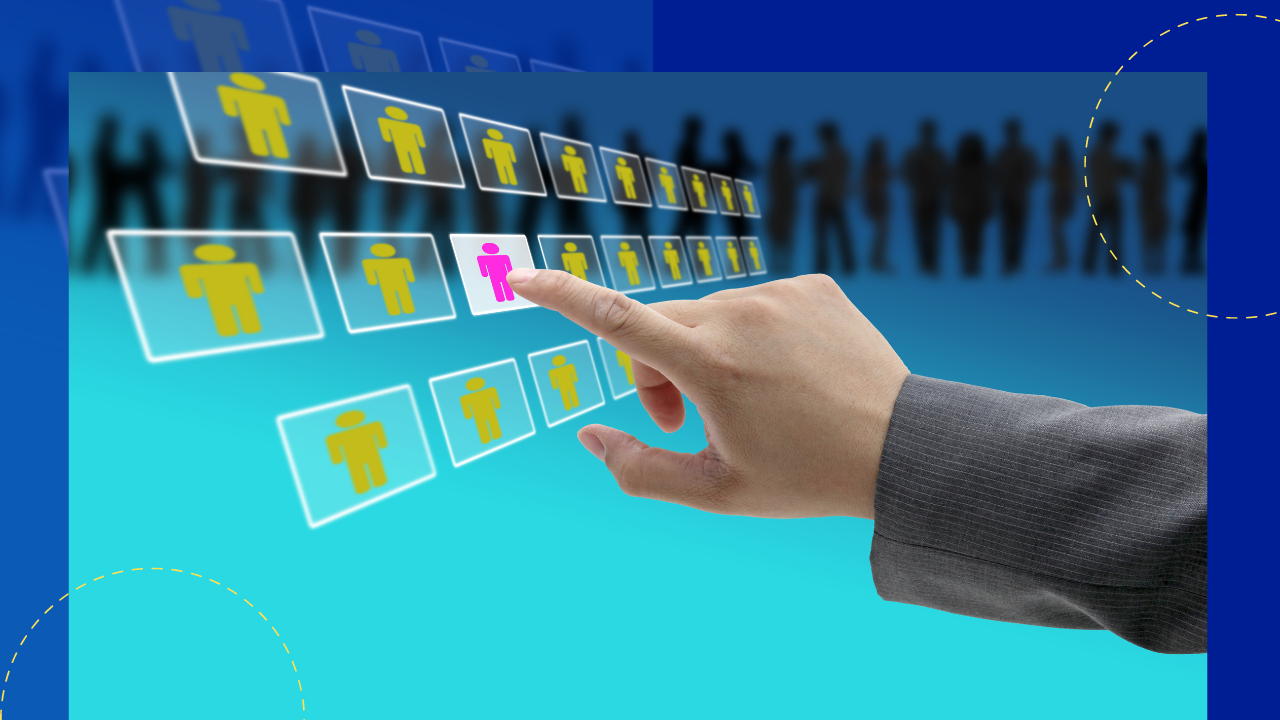 Recruitment and the whole human resources (HR) aspect of businesses have gone a long way from the days of cold calling and face-to-face interviews.
As the corporate world turns ever more digital, outdated practices and processes are thrown out and replaced with more efficient and often digital alternatives.
The digitization and digitalization of many business processes have led to overhauling core operations, including the entire recruitment process.
Successful companies have modernized their HR departments and equipped them with SaaS recruitment tools to streamline end-to-end recruitment.
This digital makeover helped acquire talents best-suited for particular positions in less time and using fewer resources than traditional methods.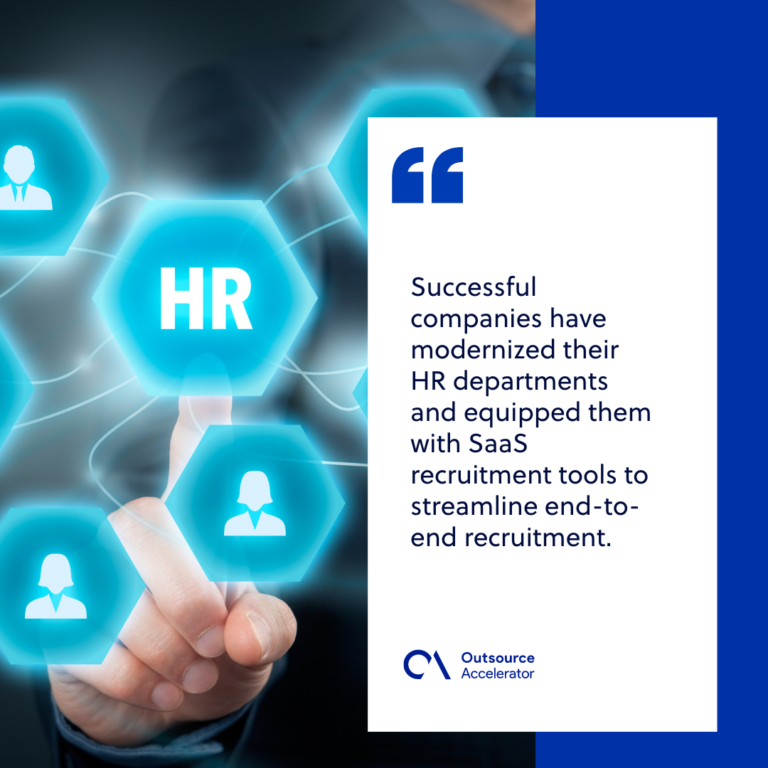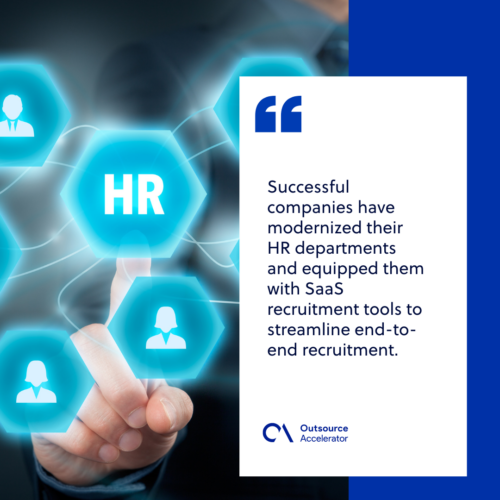 SaaS recruitment tools: What are they, and why are they popular?
Software-as-a-service or SaaS recruitment tools are a type of software used by an increasing number of recruiters worldwide.
This software enables cloud storage of databases and features. Being cloud-based, recruiters can access SaaS recruitment tools from virtually anywhere, even on their mobile devices.
SaaS recruitment tools are often on a subscription basis, with the back-end requirement costs covered by the subscription fee.
Subscribing to SaaS recruitment tools is often more cost-effective than using an on-premise recruitment software that requires you to have additional staff for maintenance and an existing IT infrastructure.
Aside from being more cost-effective, SaaS recruitment tools require only a minimal amount of testing. It also allows easy transfer of your existing data and can be used almost immediately after subscribing.
Moreover, you can easily download data using these tools and seamlessly integrate them into other systems.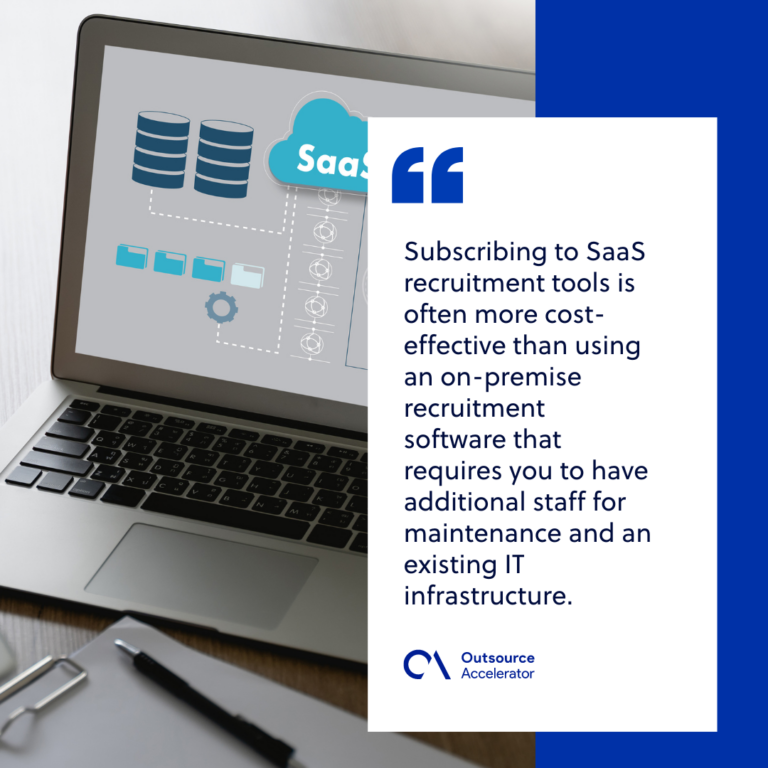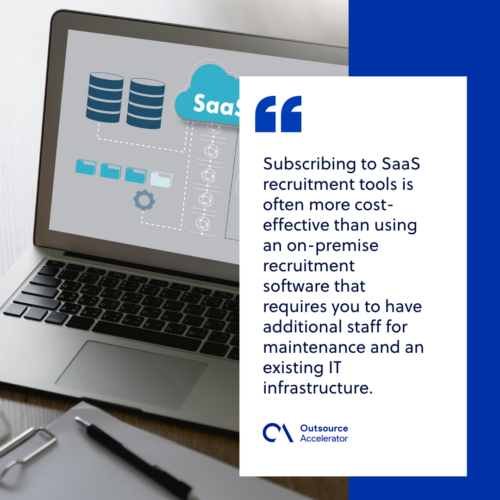 What makes SaaS recruitment tools effective?
A SaaS recruitment tool subscription is well worth the investment, owing to the various benefits these tools provide.
Among the most touted benefits of SaaS recruitment tools is the added process efficiency.
By integrating different recruitment processes involved in end-to-end recruitment and letting artificial intelligence (AI) take over the bulk of these processes, recruitment time is reduced by at least 40% to 70%.
Moreover, SaaS AIs run this streamlined recruitment process 24/7. This means that you get more from the process by using SaaS recruitment tools than relying on human resources alone.
Aside from more efficient recruitment, the cloud-based feature of such recruitment software lets you access data on the same platform from multiple locations.
This cloud-based storage removes the need for separate IT infrastructure and staff for each of your recruitment team's locations.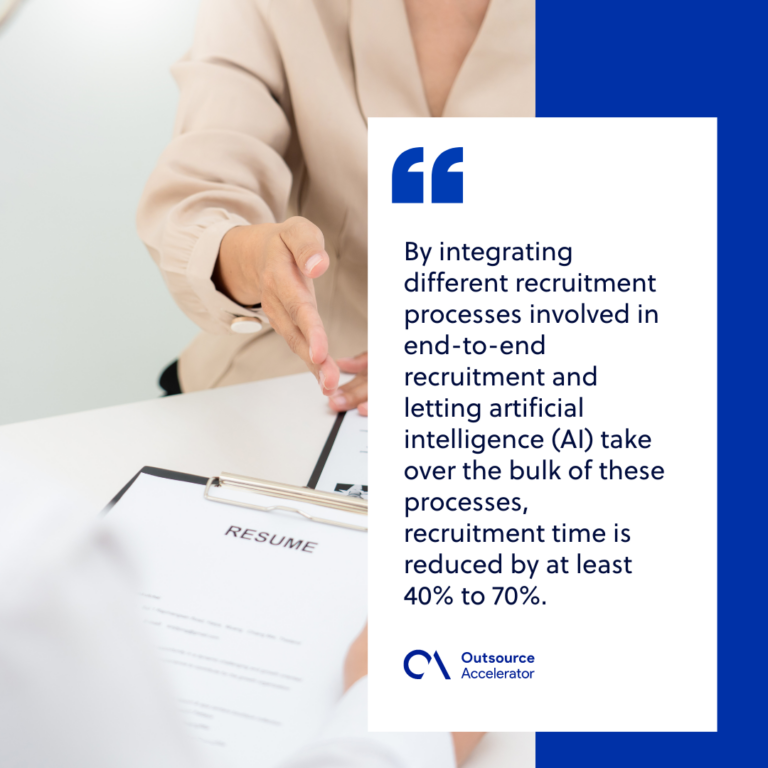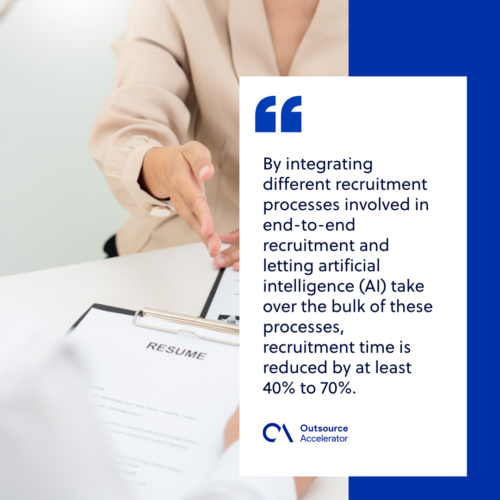 Top SaaS recruitment tools in 2023
Although the global market is replete with many SaaS recruitment solutions, some will inevitably stand out from the rest.
Below are this year's top SaaS recruitment tools:
Top SaaS recruitment tools
It isn't enough to say that the recruitment software programs we've listed are the best in the market – we also have to show you why.
Read on below to find out just why these SaaS solutions are a cut above the rest.
This end-to-end SaaS recruitment solution is made with small to medium-sized businesses in mind.
Regarded by Gartner as the best system in terms of customer satisfaction, Breezy HR makes recruitment a breeze by automating and eliminating mundane, repetitive tasks.
Among this SaaS recruitment tool's features are candidate organization, job advertisement, sourcing, reports and analytics, and team collaboration.
Bullhorn is an applicant tracking system (ATS) and a customer relationship management (CRM) platform.
This recruitment software caters to every type of business that requires tasks and candidate profile management.
Aside from recruitment automation and applicant tracking, Bullhorn also boasts onboarding, reports and analytics, and marketplace features.
If you're looking for a flexible and adjustable SaaS recruitment software, Chameleon-i is the tool for you.
This cloud-based platform gives you access to all the tools you'll need for an end-to-end commission process, as well as a portable database to assist you in selecting the best talents.
Among Chameleon-i's notable features are geolocation, API, software and app integration, and candidate tracking.
Designed for small to medium-sized businesses, Cloudrecruit is a lightweight and user-friendly platform.
This SaaS tool's features include report and analytics, candidate tracking, job marketing automation, job and candidate organization, and automated email and message sending.
Recruiterflow is the best applicant tracking and recruiting CRM software purpose built for recruiting agencies, staffing agencies and executive search firms.
It combines simplicity with powerful features that helps you save hours everyday and make more placements.

With Recruiterflow you can manage & maintain your candidate and client pipeline,  post jobs across multiple job boards and track candidates, write personalized well-crafted email sequences, deliver candidate experience without extra efforts and get a detailed insight about the performance of your team and recruiting effort.
JazzHR's SaaS recruitment system allows you to streamline your entire recruitment process using powerful tools like employee branding, collaborative hiring, and talent sourcing.
Moreover, this recruitment tool partners with LinkedIn, SalesForce, Exchange, etc., giving you access to a bigger pool of potential candidates.
It also allows custom branding and white labeling.
Jobvite offers an end-to-end SaaS recruitment solution suited for a wide range of purposes – from restaurants and food to education and government to media.
This recruitment tool gives you access to agile tools and services to ensure you're hiring the best recruits, whether for a small business with less than 500 employees or a large enterprise employing over 25,000.
Jobvite's features also include chatbots, onboarding, college recruitment, and virtual recruitment.
Jobsoid is an ATS and SaaS recruitment tool that helps identify the best candidates for a job and keeps your HR team productive.
It helps acquire the best talents by attracting candidates through social networks or job boards. These candidates are then sent personalized messages before being approached and given feedback.
Like other SaaS tools, Jobsoid offers reports and analytics, application management, team collaboration, and job advertising functionalities.
This online Saas recruitment solution assists in streamlining and automating companies' recruitment processes.
RecruitmentWorx's recruitment database software is designed to be used by recruitment agencies of any size.
Its features include candidate management, insights and analytics, job posting and advertising, and communication tools.
SmartRecruiters' SaaS recruitment solution provides you with a powerful and intelligent cloud-based recruitment platform.
With this recruitment tool, you can reach out to talents globally and engage them with your HR team.
Among SmartRecruiters' features are talent sourcing, candidate tracking system, recruitment analytics, collaborative hiring, and mobile recruitment.