Top 20 recruitment agencies in the Philippines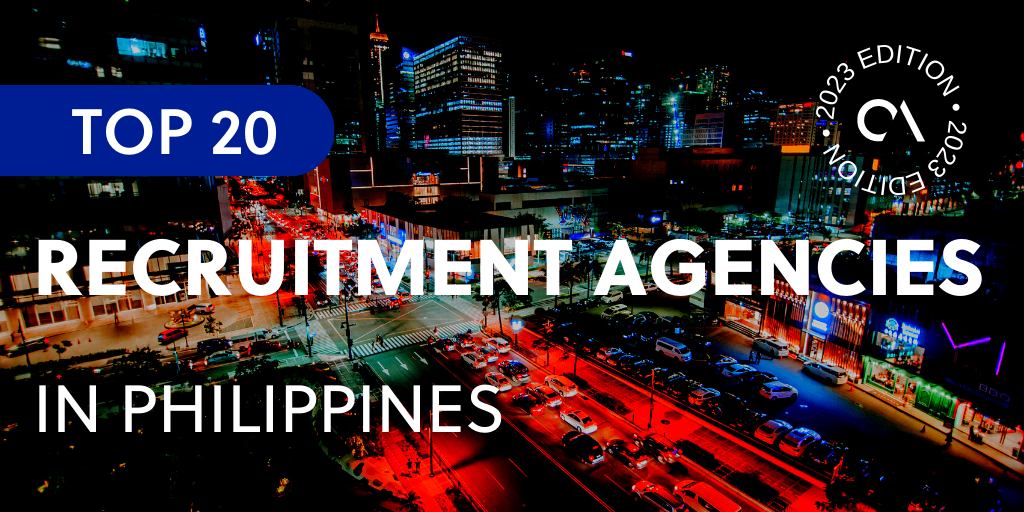 Recruitment agencies or staffing agencies offer recruitment outsourcing services to companies looking to hire new talents. Some agencies focus on specific industries, although many cater to a variety of sectors such as logistics, office support, IT, and healthcare. 
Recruitment is a billion-dollar industry according to research. In 2022, the estimated revenue of global staffing agencies was around 650 billion USD. 
In the Philippines, the number of recruitment agencies is growing. The following are some of the best agencies that you should consider if you need assistance in vetting and selecting top talents.
20 best recruitment agencies in the Philippines 
Benefits of partnering with a recruitment agency
There are many good reasons why small and big companies choose to outsource their recruitment processes to agencies. Here are some of them:
Uses the best recruitment platforms 
Offering positions with competitive salaries and benefits isn't enough to attract top candidates. You need to ensure that the qualified professionals are seeing them. 
Recruitment agencies know the right tools and platforms to use for job ads and find the right people for the job. 
Takes the hassle out of sourcing and sorting applicants
According to Glassdoor, a typical corporate job post can attract 250 applicants on average. That means if you have more than one opening, you will need to sort and evaluate hundreds and thousands of applications. 
A recruitment agency can take care of this step and shortlist the candidates for you. This is how they can help you save your precious time and money and let you focus on what you do best. 
Utilizes the latest assessment tools
Staffing agencies are updated with the latest and most efficient assessment tools. They can ensure to evaluate the right skills and knowledge that you are looking for in candidates.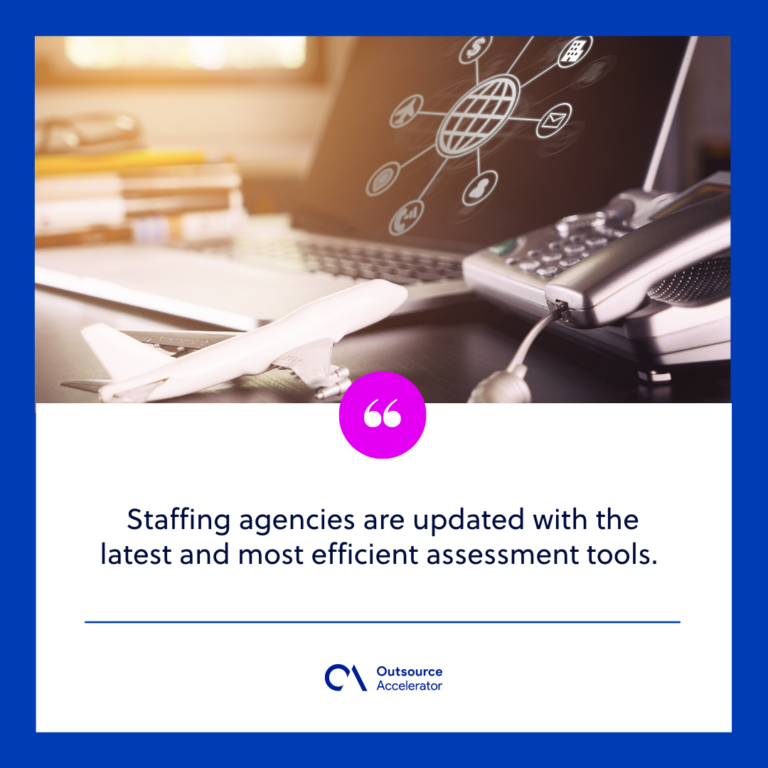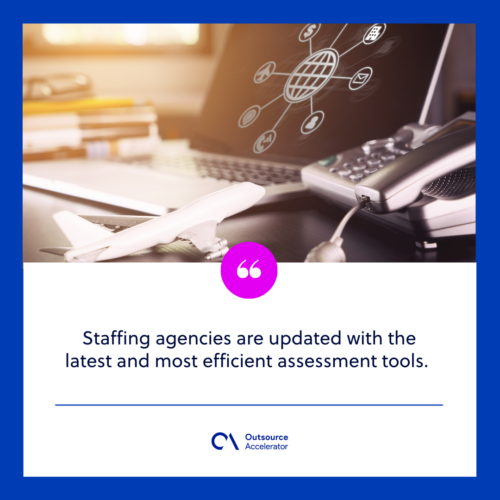 Top global outsourcing list
Outsource Accelerator is the world's leading outsourcing marketplace and advisory. We list over 3,000 BPO firms located across the globe in our global directory, and we provide detailed information, price guides, and reviews.
Whether a solopreneur, SME owner, or corporate executive, we can help you find the most suitable outsourcing provider for your business.
Explore our outsourcing directory now. You may also check out our Top recruitment firms lists per country here:
Top 20 recruitment agencies in the Philippines
Staffhouse International is a multi-awarded recruitment agency based in Cubao, Quezon City. Founded in 1999, it specializes in telcom, mobile applications, and skilled worker deployment.
The agency has partnered with different companies across the globe. It ranked number one as the best overseas recruitment agency in 2018.
Camox has been a trusted staffing agency in the Philippines for over three decades. Headquartered in Makati City, it provides global HR solutions to companies in the oil and gas, hydropower, power distribution, and other industries. 
Aside from partnering with hiring companies, the firm is also working with Filipino nurses and other workers who aspire to get their dream jobs abroad.
Remote CoWorker in Taguig is focused on sourcing virtual assistants for companies here and abroad.
They offer their services to various companies needing remote workers. VA tasks include data entry, chat support, telemarketing, and even bookkeeping. 
Abba Personnel Services Inc. is a reputable recruitment company based in Mandaluyong City. It is awarded by POEA as one of the best-performing recruitment agencies in 2002. 
Since its establishment in 1998, it has deployed workers to more than 20 countries, including the US, UK, Saudi Arabia, and UAE. The firm specializes in assisting nurses and other healthcare professionals.
Organizations looking to build their offshore technical team in the Philippines can reach out to Technology Elite.
Based in Clark, Pampanga, the agency has recruited top talents for their clients in Australia, New Zealand, the UK, and the US. 
As part of its comprehensive IT outsourcing solutions, it also offers consulting services to create the right recruitment strategy.
Jedegal International is a licensed POEA agency located in Quezon City known for its top-notch recruitment services. The company was launched in 1999. 
Since then, it has helped various organizations from all over the world find the most qualified healthcare workers and other professionals in the fields of IT, finance, engineering, and more.
Pride Consulting is dedicated to serving organizations in the real estate and construction industries.
Pride Consulting is responsible for finding skilled and experienced professionals for jobs related to property, development and construction, architecture, design, and hospitality.
It also helps companies hire executives and offers strategic advisory and HR consultancy. 
Monroe Consulting is an international staffing agency that has an office in Taguig, Philippines as well as in other Southeast Asian countries.
The company works for companies in the industrial, consumer, health, legal, real estate, and IT sectors among many others.
Besides headhunting services, it also offers payroll services, and talent mapping, among others.
This recruitment agency based in Malate, Manila provides hospitality, tech, business, and creative professionals who are ready to relocate abroad. 
Premierlink Placement has a large pool of skilled, unskilled, and professional individuals. It offers full recruitment services and deployment processing assistance.
Circa Logica Group was founded in 2015, but it immediately rose as one of the leading and award-winning staffing, advisory, and training companies. 
It provides comprehensive HR solutions, including headhunting, executive search, volume hiring, as well as payroll services. It also offers in-house training and HR certifications.
Manila Recruitment offers talent sourcing and headhunting services for small to medium businesses. Their professional team can hire for junior, expert, managerial, and executive roles. 
The recruitment agency focuses on the medical, consumer products, and IT industries. They also recruit ex-pats residing in the Philippines.
If your company requires staff for your warehousing, logistics, management support, and other related operations, call Topserve Service Solutions, Inc. in Makati. 
The company was established in 1997. It has partnered with different aviation, manufacturing, retail, hotels, fast food chains, BPOs, and administrative companies in the country.
The company was first established in Bahrain in 1979 before it began its operations in the Philippines in 1989.
It was the recipient of POEA's Outstanding Performance Award for three years.
EDI-Staffbuilders International currently offers overseas recruitment as well as processing and dispatch. It assists Filipino professionals by coordinating with embassies, securing workplace permits, and more.
Based in Makati, Ikin Solutions Asia caters to businesses in the hospitality, healthcare, tech, engineering, construction, and oil and gas sectors. 
It offers client-oriented recruitment solutions with its vast network of talents. While Ikon recruits Filipino workers, it also hires talents from across Asia. 
This recruitment agency in Quezon City started in 1971. With its decades of proven experience and expertise, it is indeed one of the most trusted recruitment agencies in the Philippines.
The company hires Filipino farmers, maintenance engineers, nurses, and more.
It has been awarded by POEA with an award of excellence. In 2010, it also received a presidential award of excellence, a prestigious recognition for any recruitment agency.
This family-owned recruitment company was founded in 2012. It has offices in Manila, Cebu, and Davao. It recruits the most qualified skilled, semi-skilled, and unskilled talents across the country for companies in African Countries and the GCC Region.
Universal Staffing Services partners with companies in different parts of the world, including Europe, the United States, Southeast Asia, South Asia, and Africa. 
The company works with both employers and job seekers, helping them find the best match according to their skills and specific qualifications. It also offers services related to human resources, placement, and consulting.
KC Global Talent Solutions is among the most reliable recruitment and HR consulting companies located in BGC. It helps companies source and evaluate professionals from rank-and-file and middle management to senior management and C-level positions. 
They have extensive experience in recruitment, executive search, staff leasing, and payroll services. 
Organizations looking to hire executive posts can rely on Curran Daly and Associates. It has global clients, offering them comprehensive recruitment services. 
These include executive search, retained search, and offshore recruitment solutions. The company is currently headquartered in Makati City. 
If you are looking for a trusted recruitment firm outside the metro, choose Jane Town Recruitment Services. Based in San Pablo City, Laguna, the company provides headhunting and coaching services. 
The staffing agency can assist companies in searching for qualified office staff, production operators, sales staff, managers, as well as executives.