Offshore recruitment: Accessing global talent
Hiring labor from outside one's own nation has been practiced for decades. However, as globalization has increased, offshore has grown more widespread.
Offshoring is often utilized as a backup option for most business process outsourcing companies that are unable to recruit qualified staff in their own nation or area.
Global companies would always need help especially when it comes to hiring personnel. Good for them, offshore staffing has become more reliable and widely-known than ever.
These days, global firms don't need to worry about labor shortage as offshore recruitment is here to save the (working) day.
The low unemployment rate and towering costs in developed countries that also ventures to business process outsourcing hinder their chances of expanding and maximizing their business's potential growth.
Along with the ongoing skill gap that happens in several countries, businesses should expect strict competition in their local employment market.
Fortunately, offshoring recruitment processes boost their edge in this competition. Learn about having offshore recruits and how it can work for companies here.
How does offshore recruitment work?
Offshore recruitment allows a certain organization to delegate some or most of its recruitment processes to offshore service providers.
They can either assign a few tasks such as job posting, screening, and exam preparations or the entire department to an offshore team.
The offshore recruitment team will take care of finding, screening, and hiring the most suitable staff for each role.
Most of the time, the offshore team works on the additional aspects after employees are hired. This includes their salaries, benefits, training, and employment requirements.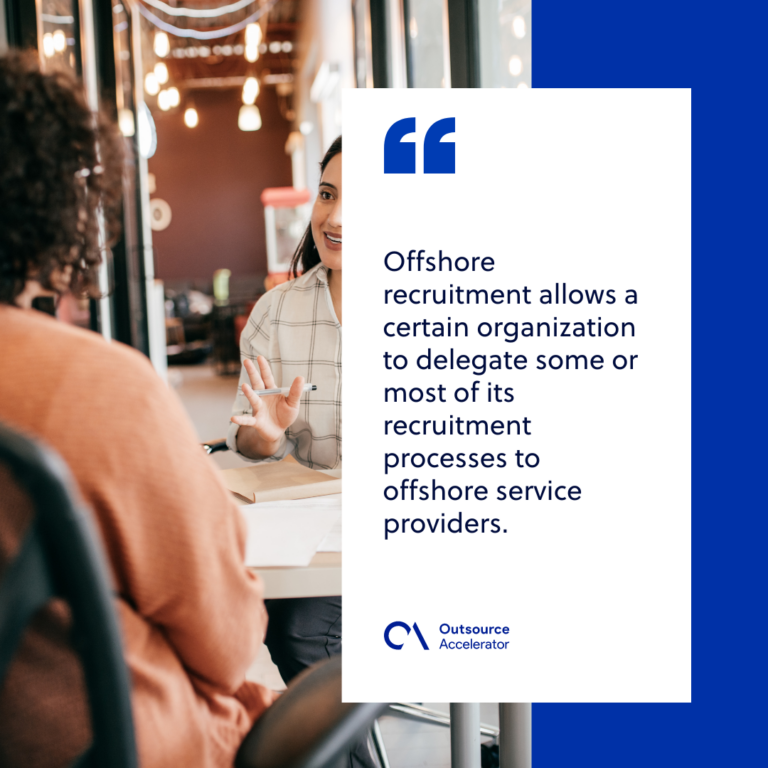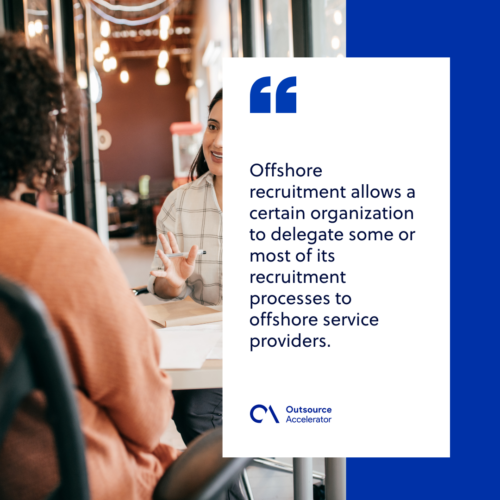 How will offshore recruitment help your business?
Among the main challenges that companies face when hiring employees include attracting the right talent.
With low employment in developed countries, the competition becomes tight within hiring in the business process outsourcing sectors to the point that it becomes more like marketing.
Companies that employ offshore recruiting team do so in order to lower costs or locate potential candidates that are not available locally.
Offshore recruitment fills this need and helps organizations take advantage of several benefits such as:
Establishing employer brand
Setting up a leading offshore recruitment agencies helps a business reach potential talents outside their home countries.
This raises more awareness about a company, its services, and its work culture. Through this opportunity, they get to establish their brand globally in no time.
Filling up talent and skills gap
It also helps them fill their skills gap, whether with remote or in-house employees.
In the United States, for instance, with less than 10% unemployment rate, recruiters are having difficulty in looking for employees with the skills and experience needed at work.
Their offshore recruitment team has years of experience in recruiting, screening, and matching suitable employees for their clients. With this, they get to somehow provide the talents that lacks leading offshore recruitment agencies.
Access to new markets and services
Offshoring a service, in general, allows companies to tap into a new market. They can create market research through their outsourced employees on what services they can offer in a specific location.
Such as the case of big companies such as Google and Amazon. Offshore recruitment not just helps them expand their workforce, but also enables them to offer their services to a new market.
Focus on more crucial projects
As always, outsourcing recruitment processes to an offshore company can help them free their time and effort to more important tasks. This is since a recruitment expert will handle this task more professionally and with full focus.
Common misconceptions in offshore recruitment
Despite the popularity of offshoring, misconceptions still arise, especially in recruitment services.
These misconceptions affect companies' motivations to delegate this role, causing them to hesitate and grow doubts about the reliability of this offshore projects.
Here are some misconceptions about offshore recruitment and the truth that debunks these claims.
"I won't have control in my offshore operations"
Most companies might feel like they will lose control of the recruitment process once they delegate it offshore.
The truth is: they won't. RPOs now forge partnerships with the clients instead of taking over most of the process control.
Offshore operations also provides a scalable recruiting process that increase the level of service you provide to your consumers.
Established and experienced offshore professionals will work to pre-defined KPIs and metrics to guarantee providing you with valuable insights. Doxa7 is one firm that supports you through this.
The offshore recruitment teams will also ensure that they surpass the high profile offshore projects you've set, while keeping the quality and service levels you expect.
Because of this, clients still have a say in most aspects including applicant screening, conducting interviews, and online job postings.
"Offshore recruitment does not guarantee high-quality recruits"
Some companies tend to apply a popular trope in outsourcing: "If the deal is too good to be true, then it probably is."
They have also heard of nightmare stories about some businesses not getting their expected results, particularly in recruitment. However, those who have successfully outsourced recruitment would say otherwise.
Offshore destinations such as the Philippines and India offer great savings and low fees due to their low cost of living and abundance of resources.
As for the quality recruits, the best solution is to work closely with their offshore partner. Communicate their expectations on their proposed outcome and don't always let them work on their own.
"An offshore recruitment team will replace my current in-house team."
Contrary to this, offshore recruitment teams should not replace their in-house counterparts.
Rather, they should supplement them. A company's in-house recruitment team works closely with several internal departments including human resources, legal, and marketing.
As much as possible, the offshore team would need these connections with the help of the in-house team for proper coordination in terms of processing applications and resumes. In return, they get to help the in-house team in processing volumes of applications.
"Offshore recruitment solves all of my recruitment problems."
Despite the benefits it can bring, offshore recruitment won't always solve all of a company's recruitment problems.
One thing they can do before delegating recruitment is to look at what problem they need to solve by offshoring.
For instance, their offshore team can help them find the right talent for them. However, they need to plan the next steps in retaining their employees and applicants long-term.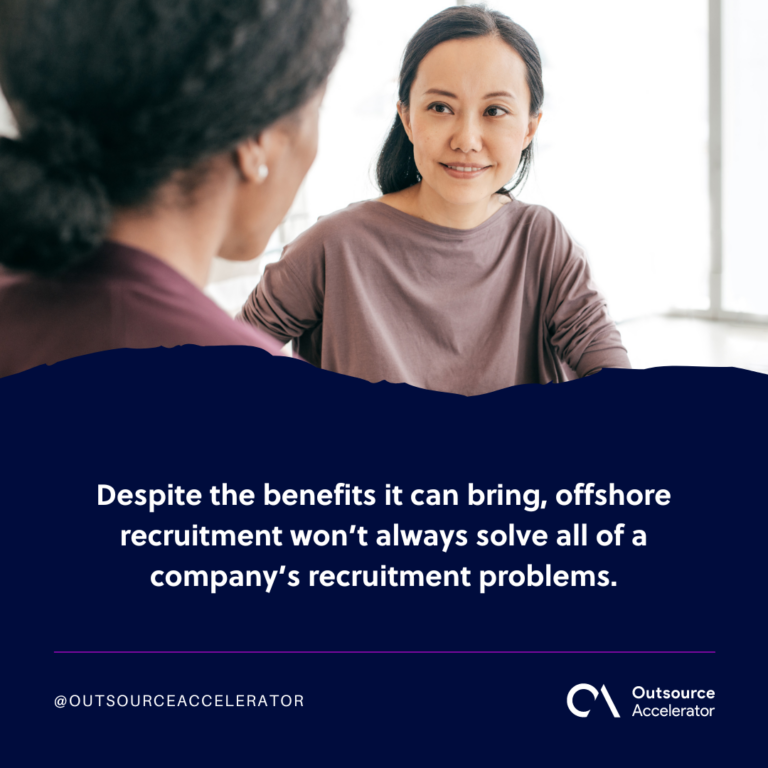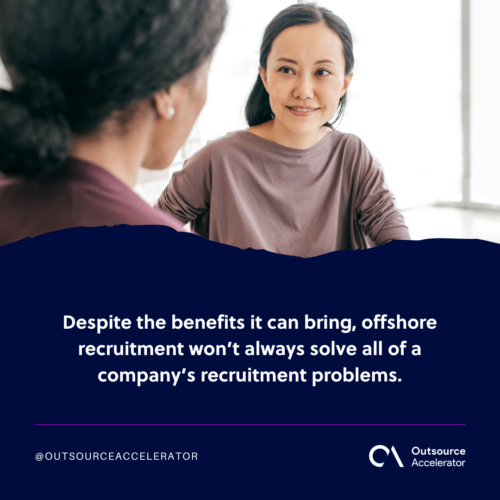 Finding the right offshore recruitment company
Stating a company's purpose in delegating recruitment offshore is the basic step in finding the right offshore company for them.
Remember that not all recruitment woes can be solved through offshore recruitment. Aside from this, they should determine their specific offshore partner needs in terms of:
Firm size
Large- and small-scale RPOs differ when it comes to their strengths and weaknesses.
While large-scale firms have established methodologies and strategies, small-scale firms can be more flexible and are open to some modifications in their operations.
Specialization 
Some firms can help in hiring applicants in more specialized and professional fields. This can be practical for organizations filling more complex roles that won't require mass hiring.
Technology 
RPOs use a vast range of tools and equipment when hiring and screening applicants. Companies can coordinate with their offshore partner whether they prefer to use more advanced cloud technology for faster application processing, for instance.
All in all, offshore recruitment can help them successfully recruit suitable talents as long as they put their trust in their offshoring partner.