Top 25 recruitment firms in India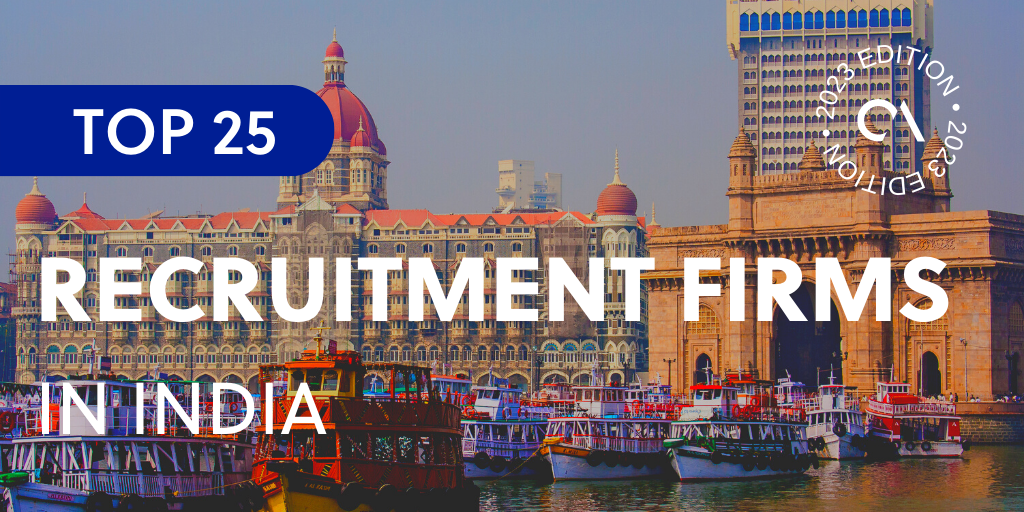 List of recruitment firms in India
The demand for outsourced services is vastly increasing, and India has been at the forefront of the outsourcing industry for decades. One of its remarkable fields in terms of outsourcing is recruitment. 
Its population and technologically-inclined workforce helped in securing this feat. In this guide, we'll break down 25 of the leading recruitment firms in India. 
The recruitment sector in India
The wake of COVID-19 has put the salience of technology and software services at the fore. This has precipitated an increase in demand for IT and software professionals.  
India, in particular, experienced a huge boom in their workforce. With its technologically inclined workforce and educational system, most Indian talents have entered the global workforce to fill the demands brought by the digital gap. 
With the industry's projected growth, the higher demand for talent has increased tech salaries by 50% of the usual workforce. 
This has created a rush to secure talents and bring the cream of the crop to their services. 
In fact, Tata Consultancy, a leading IT and outsourcing company, is ramping up its recruitment to meet the growing demand of its clients.
Why partner with Indian recruitment firms?
For decades, India has dominated the outsourcing market. One reason is its competitiveness in terms of labor price compared to its neighboring Southeast Asian and Southern countries.
Not to mention, India is the second-largest nation in terms of sheer population alone. Public and private sectors aim to bring opportunities for the workforce to be brought in the international scene. 
Other factors that make India a viable option are: 
Talent sourcing
The workforce's proficiency on the internet made it an advantage for them to dominate most social professional networks, internet job boards, and online resume databases. 
This has enabled Indian nationals to be seen by multinational companies better than their contemporaries in other countries.

Branding
Most Indians have become influencers in their own regard. Their channels have become a major source of marketing and advertising promotion for most businesses.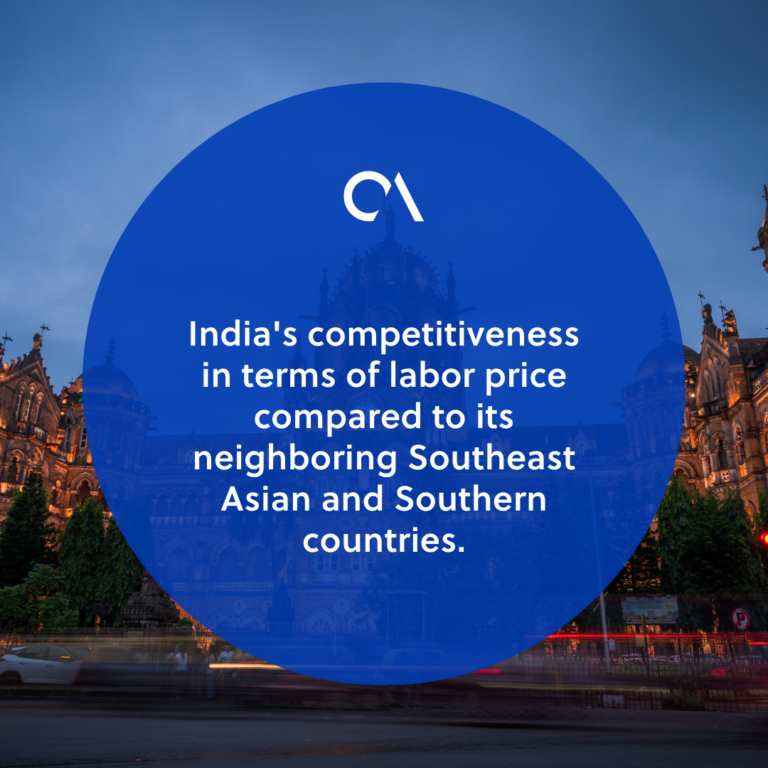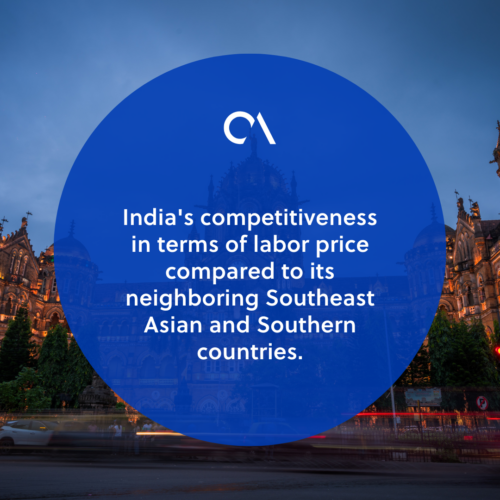 Top global outsourcing list
Outsource Accelerator is the world's leading outsourcing marketplace and advisory. We list over 3,000 BPO firms located across the globe in our global directory, and we provide detailed information, price guides, and reviews.

Whether a solopreneur, SME owner, or corporate executive, we can help you find the most suitable outsourcing provider for your business.

Explore our outsourcing directory now. You may also check out our Top recruitment firms lists per country here:
Top 25 recruitment firms in India
Here are the leading recruitment companies in India:
Location: New Delhi, India
Founded in: 1969
ABC Consultants has grown to be one of the leading and respected recruitment firms. 
Dominating most of the key industries in India such as IT, BFSI, and Telecommunications, it has set the standards in terms of determining quality workforce. 
Some of the solutions offered include executive search, recruitment process outsourcing, and talent management. It has a global presence in the US, UK and Middle East. 
Location: Banglore, India
Founded in: 1999
Adecco India is a subsidiary of world's largest HR recruitment company, Adecco Group. Being at the forefront of HR solutions, it has dominated the finance, healthcare, and hospitality industries globally. 
In India alone it has 60 satellite offices with over 900 employees working all the time. With its experience and technology, it has integrated data analytics with HR functions making it easier and faster to tap and recruit talents. 
Location: Mumbai, India
Founded in: 1993
Operating in 30 companies, including India, Antal International is a global executive and recruitment firm specializing in executive-level hiring across different industries. 
Some known industries it operates under are finance, healthcare, and IT. As an established Indian company, it ensures that its talents are professional and committed to providing quality services to its clients. 
Location: Mumbai, Chennai, Bengaluru
Founded in: 1982
Aon Hewitt specializes in talent assessment, recruitment, and talent management.  Providing the necessary insights to its clients, it tailor fits its talent pool depending on the needs and trends per industry.  
In achieving this, they are creating a lot of optimization and enhancement in their technology to ensure that the right talent matches the correct company. 
Location: Mumbai, India
Founded in: 1948
ManpowerGroup is one of the leading HR companies in the world that conducts an extensive search of talents to match the demands of its global clients. 
With its range of services including permanent and temporary staffing to executive search, it has successfully matched various talents using the latest technologies and analytics. 
The range of their influence spans from food, IT, and hospitality industries. 
Location: Mumbai, India
Founded in: 2009
Being in the Indian recruitment market for years, it has built a significant influence in the IT, engineering and healthcare sectors. 
Believing in the capabilities of Indian talent to dominate the global market, they capacitate and provide technical and soft skills training to make them more competitive. 
Catching up with the trend in recruitment, the company also uses technology to select and match talents.
Location: Chennai, India
Founded in: 1992
Randstad has been in the market for 40 years. As a subsidiary of the global renowned Randstad holding, it has proven its mastery and competence in recruitment solutions. 
With India's rise as a global leader in workforce recruitment, it has dominated the booming industries of IT, construction, and telecommunications. 
To stay competitive, it conducts executive search and grassroots workforce pooling by partnering with various universities and colleges in India. 
Location: Bengaluru, India
Founded in: 2002
TeamLease Services is a staffing solutions company in India heavily centered on using technology to enhance the overall recruitment process. 
From the selection of candidates to the skills assessment, all of these are conducted using modern applications and software. 
With its state-of-the-art HR software, it can pinpoint the right candidate with a lesser turnaround time, ensuring that companies can scale and meet their deadlines on time. 
Location: Bangalore, Chennai, Coimbatore, Gurugram, Hyderabad, Lucknow, Mumbai, Noida, Pune
Founded in: 1999
Awarded the great place to work from December 2022 to December 2023, CareerNet Consulting is an equal opportunity employer that provides career paths for women and members of the LGBTQI++.
It is a partner of well-known brands such as Ford, Mercedes Benz, and Amazon. Other popular brands from the Fortune 500 have become their staple clients as well. 
Some of the services it provides include RPO, talent branding, and  leadership hiring. 
Location: New Delhi, India
Founded in: 1969
An industry leader in terms of driving business transformation through AI data-driven solutions. It has successfully matched executive and leadership positions with conglomerates and large multinationals. 
Since its inception, Korn Ferry has continuously grown and innovated to adapt in modern recruitment practices. Its mother company is based in Los Angeles, USA. 
Location: Mumbai, Maharashtra
Founded in: 2008
Founded in 2008 by Waqr Azmi, Sutra HR has established a huge brand from its headquarters in Mumbai to the rest of India. 
The company started with humble beginnings by only managing 500 clients, but this has soon expanded and grown to different companies and talents globally. SutraHR now has locations in South East asia countries, UK, and Middle East. 
Notably it has an annual revenue of $8.6 million. 
Location: Ahmedabad, India 
Founded in: 2012
Uplers is a recruitment firm that specializes in providing marketing and advertising professionals. Through its rigorous vetting process, developers, designers, and marketers are all considered highly skilled that can meet the demand of various international brands. 
This has allowed them to offer their services to almost 7,000 clients over 52 countries. Some of the notable brands it worked with include Disney, Meta, and National Geographic. 
Location: Mumbai, Delhi, Chennai, Gurgaon
Founded in: 2010
With a steady global presence that ranges towards 25 countries and 50 industries, Alliance recruitment agency has dominated the recruitment industry for decades by establishing a solid global network in India, South Asia, and several African countries. 
In 2020, it was recognized and awarded as one of the 10 most reliable HR solution providers globally. 
The company excels in offering end-to-end recruitment solutions from selection towards strategic manpower pipelining.
Location: Bangalore, India
Founded in: 2013
Another end-to-end recruitment firm based in India. What distinguishes this is that it helps in establishing solid employer branding through data analytics and tailor-fitted recruitment services. 
The personalization of services helps their clients to reach the optimal ROI by achieving the goals and results they need. 
Multi Recruit has dominated various niches and collaborated with several companies in their permanent and temporary staffing needs. 
Location: Mumbai, Maharashtra
Founded in: 2015
Acumont specializes in multicultural workforce hiring. Be it rank and file of key leadership positions, its network of expats and local talents is technically equipped to meet the requirements of multinationals. 
Some of its notable services are recruitment, HR outsourcing for  IT, non IT and ITES companies, and basic HR operations such as payroll, benefits, and compensations. 
Believing in the capabilities of Asians, it has dominated the Asian market and matches profiles with the right companies. 
Location: Ahmedabad, Gujarat
Founded in: N/A
A recruitment agency that operates in Australia, India, and the UK. It specializes in staffing permanent, contractual, and outsourcing solutions. 
Understanding the complexities of the demands and needs of their clients, they ensure daily success by augmenting the experience of candidates and employers alike. 
They prioritize delivering results more efficiently than just meeting the hiring quota requirements of its clients. This allows them to pinpoint the cream of the crop talents out of the talent pool they have. 
Location: Bangalore, India
Founded in: 2006
Exalt Consultancy is a recruitment consultancy firm that provides executive and mass talent search. 
Guided by its ethical and professional values, they dig deeper into the personal and professional profiles of candidates to ascertain their technical and behavioral competencies. 
Behavior is given more importance as it weighs more in collaboration and completion of projects. This has been the winning formula of the company in its series of success in staffing both small and large businesses. 
Location: Mumbai, India
Founded in: 2012
Hire Glocal is a leading global executive search firm in Mumbai, India. As an internationally acclaimed organization, it has gained an ISO 9001:2015 certification.
As a hiring firm, they boast of their competency in CXO Hiring, Turnkey Recruitment, and HR Consulting.
With a pan-India presence and knowledge, it is one of the most trusted agencies in Mumbai that can cater to IT and non-IT staffing needs. 
Location: Mumbai, India
Founded in: 1997
Being in the HR industry for 26 years, Prompt Personnel has mastered temporary and permanent staffing solutions and labor law compliance. 
Early in 2023 it was awarded the recognition as a great place to work in India. It is also an international accolade by the Economic Times as a Future Ready Organization under the large-scale industry category. 
Location: Mumbai, India
Founded in: 2011
New Horizon has dominated the HR industry scene in India for the last five years. Recognized as part of the prestigious Top 10 Consulting Companies in India, it offers a wide array of services and expertise that range from recruitment to varied HR solutions. 
For 20 years, it has established a foothold in 25 industries all over the globe. It has proven mastery and excellence in matters including payroll, executive search, and statutory compliance. 
Location: Mumbai, India
Founded in: 2006
TopGear Consultants aims to prioritize the needs and interests of its clients. Alongside this is the creation of value services through thorough assessments and top-level management resources. 
Banking on its business model of putting people first, the organization develops and empowers its talent pool and employees. The goal is to bring out the best in the Indian workforce, where they can dominate the international scene.
Location: Mumbai, Bangalore, Delhi, Chennai, Pune
Founded in: 1994
A leading recruitment firm based in India. It specializes in a wide range of services including RPO, executive search and staffing solutions. 
Focus Management Consultants Pvt Ltd. also offers tailor-fitted solutions based on the needs and demands of the company. 
Location: Chennai, Tamil Nadu
Founded in: 1998
With 4,000 FTE in the US, Philippines and India, Allsec handles the requests of 1 million customers on a daily basis. By using cutting edge technology, they ensure that their clientele can meet their targets and perform optimally. 
Allsec services most of the companies in the Fortune 100 by giving them outsourcing solutions and resilient business transformation models. 
Location: Noida, Uttar Pradesh 
Founded in: 2015
Considered as one of the young companies in the industry, but its perfect business model enables the firm to slowly gain a name for itself. 
Putting the needs of the client first through an in-depth review and mapping of its requirements, ways and works bridges talents and enterprises together through consultancy, training and recruitment. 
Location: Hyderabad, Telangana
Founded in: 2010
At 3G HR Services new graduates and fresh talents have a space to thrive. Through training and career path counseling, they help the Indian workforce by giving them strategic industry insights to pursue. 
Meanwhile, they also empower businesses by providing them macro and micro reports on new trends in the market. They are also suppled with fresh talents that can help propel their placing in the market.