Top 20 recruitment firms in Canada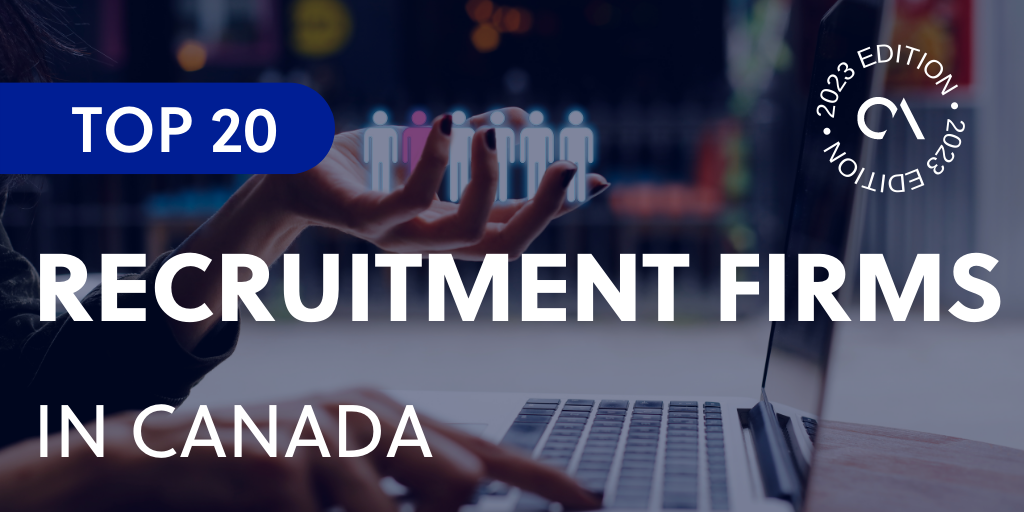 Landing a decent job is no easy task, especially in the present global economy.
On the flip side, even employers are having a hard time in the recruitment and hiring process.
Even before the entire world's economy took a hit from the COVID-19 pandemic, there has always been a gap between employers and job seekers.
Like all gaps, this presented a business opportunity that was seized by what is now known as recruitment firms.
This guide showcases the leading recruitment firms in the Great White North.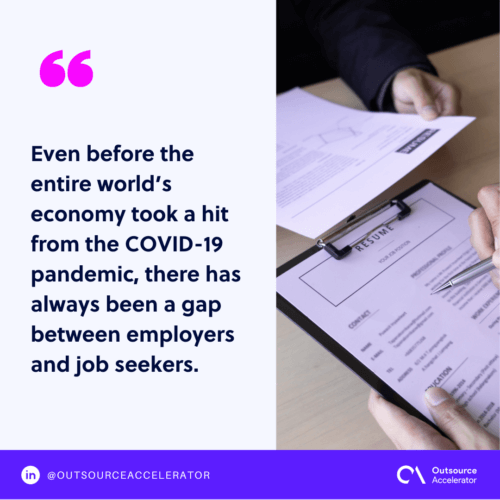 Top 20 recruitment firms in Canada
Top global outsourcing list
Outsource Accelerator is the world's leading outsourcing marketplace and advisory. We list over 3,000 BPO firms located across the globe in our global directory, and we provide detailed information, price guides, and reviews.
Whether a solopreneur, SME owner, or corporate executive, we can help you find the most suitable outsourcing provider for your business.
Explore our outsourcing directory now. You may also check out our Top recruitment firms lists per country here:
What are recruitment firms?
Recruitment firms are companies that bridge the gap between employers and job seekers.
These companies act as a sort of middleman between employers seeking to fill a vacant position and those applying for it.
Recruitment firms take over other companies' end-to-end recruitment processes – from planning, sourcing, and interviewing to role defining.
Despite taking over the hiring process of other companies, recruitment firms still work together with these companies' human resources departments.
Top 20 recruitment firms in Canada
Numerous recruitment firms have sprouted over the years.
The sheer number of choices makes it difficult for other companies to choose which recruitment firm to partner with.
To help with this situation, we've compiled a list of the top recruitment firms in Canada:
Founded: 2001
Location: Calgary, Toronto, and Vancouver, Canada; multiple locations in the US.
Specialty industries: IT, Engineering, Government, Healthcare, Sales, Accounting and Finance, Outsourcing
Insight Global is a leading Canadian recruitment firm serving a wide range of industries.
From its early beginnings as an entrepreneurial start-up in 2001, Insight Global has grown into a large purpose-driven company operating in over 60 offices across the US and Canada.
More than just supplying other companies with potential hires, Insight Global builds genuine relationships across its clients and consultants.
Founded: 1997 (Staffing division, Randstad Engineering itself was founded in 1975)
Location: Multiple locations in Canada and the US
Specialty industries: IT, Accounting and Finance, Call Center, Human Resources, Engineering, Healthcare, Life Sciences, Industrial, Marketing, Legal, Office & Administration
Randstad is the world's premier staffing firm with reported total revenue of USD 21.84 billion in 2020.
Its position as a global leader in the recruitment field is a testament to Randstad's high-quality service, recruitment effectiveness, and selection process.
Whether the vacant position is permanent, temporary, or a mixture of both, Randstad assures its clients that it will provide the talent they need.
Founded: 1983
Location: Multiple locations in Canada, Europe, the US, and the Asia Pacific
Specialty industries: Consumer and Industrial Products, E-commerce and Distribution, Government Services, Life Sciences, Transportation, Energy, Construction, Healthcare
Aerotek has been a leading staffing solutions provider across various industries for over 30 years.
Regardless of the sector it presently serves, this staffing industry stalwart always aims to partner top talents with outstanding firms and vice versa.
As a testament to Aerotek's excellent service, ClearyRated has awarded this firm with its Best of Staffing Diamond Award for both client and talent satisfaction criteria for five consecutive years.
Founded: 2001
Location: Multiple locations in the US and Canada
Specialty industries: Digital Marketing, Creative, Managed Services, In-house Studio Development
As gleaned from its name, Creative circle is a staffing firm that values creativity and individual diversity and talents.
This recruitment firm has been serving clients – from boutique businesses and budding startups to Fortune 500 companies – for over 20 years and still counting.
Founded: 1964
Location: Multiple locations in the US and Canada
Specialty industries: Finance, other industries in general
AppleOne's motto is "keeping the humanity in human resources and hiring made human."
Thus, this staffing firm's recruitment methods ensure that the employees it provides for its clients are vetted through a rigorous process that still enables connecting with them on a personal level.
With AppleOne, employees are matched with companies that align with their career goals, and companies are given employees that fit their talent and skills requirements.
Founded: 1989
Locations: Toronto, Canada, and multiple locations in the US
Specialty Industries: IT
Motion Recruitment is a trusted name at the forefront of the IT recruitment industry.
As of January 2022, it has also acquired MATRIX, another well-known name in IT recruitment.
As an established name in the IT industry, Motion Recruitment offers its clients staffing, managed staffing, direct hire, and VP-level or C-suite position search solutions.
Founded: 2000
Location: Quebec, and Toronto, Canada; Multiple locations in the US and Asia; Dublin, Ireland; Gordon, Australia; London, United Kingdom 
Specialty Industries: Aerospace and Defense, Financial Services, Manufacturing and Engineering, Pharmaceutical and Life Sciences, IT, Retail and Distribution, Telecommunications, Public Sector
USTECH Solutions is a global diversity supplier utilizing a combination of technology, talent, and a relentless commitment to success to deliver staffing solutions to its clients.
This Minority Business Enterprise-certified company proudly embraces diversity as a core part of its company culture.
Moreover, Diversity Business has rated USTECH Solutions as The Top Business in the US since 2011.
This multi-industry talent provider also counts 20% of Fortune 500 companies among its clientele.
Founded: 2015
Location: Vancouver, Canada; New York, US; London, UK; Warsaw, Poland
Specialty Industries: IT
Devs_Data is a boutique software agency that also provides IT staffing solutions through its vast network of over 20,000 pre-vetted software engineers.
Since its founding in 2015, Devs_Data has satisfied more than 50 clients across the globe.
Besides its top-notch software engineering talents, this tech firm also offers talent acquisition solutions for machine learning engineers, big data engineers, data scientists, Javascript engineers, UX/UI designers, and product managers.
Founded: 1996
Location: Toronto, Canada
Specialty Industries: IT, Cabling, Security, Fire and Life Safety, Mechanical, Human Resources, Sales and Business Development, Accounting and Finance, Legal Services
ARES is one of Canada's leading staffing solutions providers with a vast network of contractors, temporary, and full-time professionals.
It offers quality staffing solutions that can fit your budget, remain regulations-compliant, and delivered in a timely manner.
Among the areas ARES services are contract staffing, direct hires, back office staffing, government staffing, and executive search.
Founded: 2004
Location: Toronto, Canada
Specialty Industries: General Labor, Office Administration, Factory and Manufacturing, Warehouse Level
SUNSET STAFFING is one of the go-to staffing agencies for businesses operating in Toronto and the Greater Toronto Area.
This recruitment firm applies its over ten years of experience to provide clients with top talents in general labor, office administration, factory and manufacturing, and warehouse positions.
Founded: 2007
Location: Edmonton, Canada
Specialty Industries: Legal Services, Office Administration, Government, Accounting, Finance
KPM Staffing is an Alberta-based recruitment firm that prides itself on its ability to connect invested and talented individuals with trusted organizations in Alberta, Canada.
Over a decade of operations, this staffing firm has assisted in placing over a thousand employees for various businesses in Alberta.
Founded: 1999
Location: Mississauga, Canada
Specialty Industries: Insurance, Warehouse and Logistics, Finance and Banking, Accounting and Administrative, Call Center
Resolve Recruit Inc is a trusted recruitment agency in Mississauga and the surrounding Greater Toronto Area.
While it originally started as a call center recruitment agency, the firm has grown into a full-fledged recruiting company. It offers various industries a wide range of permanent, temporary, and contract placement solutions.
Founded: 1999
Location: Montreal, Toronto, Calgary, Vancouver, and Ottawa, Canada
Specialty Industries: IT, AI, Construction, Engineering, Finance and Operations, Payrolling Service, Science and Pharmaceutical, Marketing and Sales
Groom and Associates is a privately held Canadian recruitment firm headquartered in Montreal.
This premier Canadian staffing agency is a member of ENEX, a global Executive Search Partner. As such, Groom can provide its clients with top talents no matter where they are located through ENEX's vast global network.
Founded: 2003
Location: Calgary, Edmonton, Regina, Winnipeg, Toronto, Ottawa, and Halifax, Canada
Specialty Industries: Accounting and Finance, Agriculture, Business Products and Services, Construction, Environmental, Insurance and Financial Services, Industrial and Manufacturing, Medical and Healthcare, Oil & Gas and Mining & Energy, Pharmaceutical and Biotechnology, Professional Services, Public Sector and Not-for-profit, Real Estate, Retail and Consumer Goods, Transportation, Logistics, and Supply Chain
Summit Search Group is an inclusive recruitment firm and a member of the prestigious 30% Club, as well as Canada and Manitoba's respective LGBT+ Chambers of Commerce.
It is also an Employer Partner with the Canadian Centre for Diversity and Inclusion, giving the firm numerous benefits that support its journey toward inclusion and diversity.
Founded: 2009
Location: Vancouver and Toronto, Canada
Specialty Industries: Accounting and Finance, HR and Administration, Development and Construction Management, Insurance, Legal, Marketing, Operations, Property and Facilities Management, Trade Contractors
Impact Recruitment is a Canadian staffing agency striving to become the best in North America.
Since its establishment in 2009, Impact Recruitment has been the recipient of multiple awards. These include The Globe and Mail's Report on Business's Top Growing Companies for 2020 and 2021 and Canadian Business's Canada's Fastest-Growing Companies award from 2016 to 2020.
Impact's high-quality service has resulted in a 98% client repeat rate for the firm.
Founded: 2001
Location: Multiple locations in Canada
Specialty Industries: Accounting and Finance, Banking and Financial Services, Construction and Property, Human Resources, Technology, Legal, Logisitcs, Manufacturing, Marketing and Digital, Office Professionals, Procurement and Supply Chain, Resources and Mining, Sales and Marketing, Tax
This leading staffing firm is a wholly-owned subsidiary of Hays PLC, a British multinational recruitment industry giant.
Hays Canada provides contract, temporary, and permanent staffing services at all levels and helps fill more than 2,500 (and still growing) positions annually.
Founded: 2006
Location: Edmonton, Calgary, Vancouver, and Toronto, Canada; multiple locations worldwide
Specialty Industries: Food Service, Customer Service & Hospitality, Construction, General Labor & Trade, Trucking Services, Welding & Industrial Services, Manufacturing, Other Skilled Markets
Global Hire is a staffing firm specializing in local, national, and international recruitment for Canadian employers and other global affiliates.
As a global recruitment firm, it offers its services in various languages, including Arabic, Mandarin, French, Spanish, Croatian, Serbian, Tagalog, Hindi, and Urdu.
While it is a for-profit organization, Global Hire remains committed to providing excellent immigration services in a humane, caring, and professional manner.
Founded: —-
Location: Markham, Canada
Specialty Industries: Customer Service, Call Center, IT, Accounting, Help Desk, Manufacturing, Office Support, Renovation, Clerical & Administrative, Warehouse & Distribution, Banking
Canadian Staffing Consultants provides cost-effective full-time, part-time, contractual, and temporary staffing solutions to its clients.
This recruitment firm serves small and medium-sized businesses alongside Fortune 500 companies and government agencies.
Canadian Staffing assures its clients that it will never fill their vacancies with candidates that haven't successfully completed their thorough assessment process.
Founded: 2002
Location: Winnipeg, Canada
Specialty Industries: Engineering & Technical, Sales & Marketing, Logistics & Procurement, Accounting & Finance, Human Resources, Insurance, Manufacturing & Operations, Construction, Restaurant & Hospitality, Office Support & Customer Service, Industrial & Skilled Labor, IT
Pinnacle is a people-focused recruitment agency that believes great companies are built with great people who strive to make a difference.
Since its founding in 2002, Pinnacle has grown to become the largest recruitment firm in Manitoba.
Pinnacle's guiding principles – thinking big, believing in its people, thriving on competition, welcoming opportunities, and nurturing growth – are the primary drivers behind this firm's success.
Founded: 1948
Location: Multiple locations globally
Specialty Industries: Finance & Accounting, Administrative & Customer Support, Technology, Marketing & Creative, Legal
Robert Half is one of the global leaders in recruitment – trailing just a few places behind Randstad – and the oldest specialist firm in the world.
This industry household name has bagged several awards in its decades-long history, including the Fortune World's Most Admired Companies in 2022, Forbes World's Best Employer in 2021, and Canadian HR Reporter Best Recruitment Agencies in 2022.