Top 20 recruitment firms in the US to hire your best talent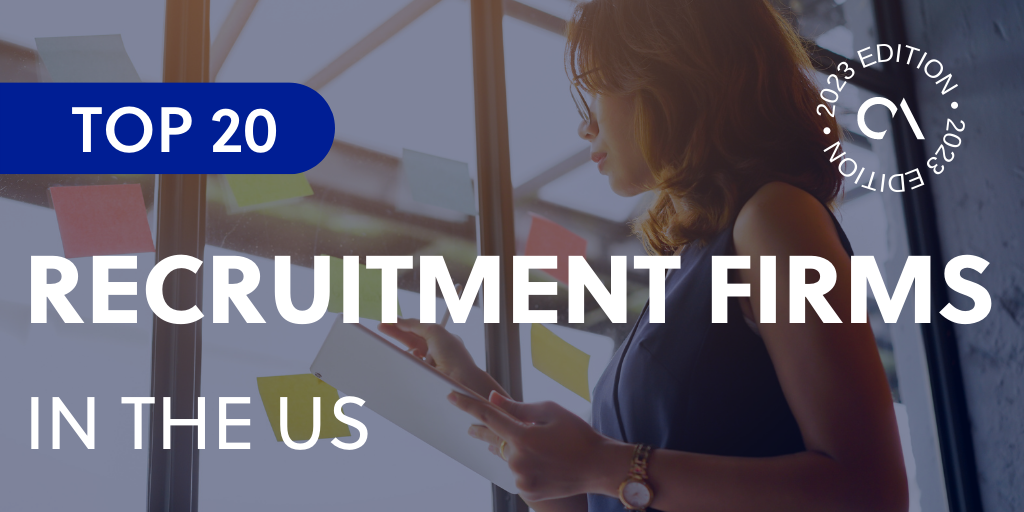 With the widening talent gap and increasing talent competition, finding employees in the US has become more challenging.
A 2022 National Federation of Independent Businesses (NFIB) survey stated that around 47% of small businesses had open positions they could not fill. Though some have found ways to hire staff, including raising their pay, many posts remain vacant.
In these times, you need a reliable recruitment firm that can help you get through. Compared to in-house recruitment, these firms can get you ahead of your competition and get you your next best talent.
With that said, we have listed the top recruitment firms in the US that you can consider.
How a good recruitment firm helps your business
Recruiting can be costly and time-consuming for employees. Per a survey by the Society of Human Resources Management (SHRM), the average cost per hire is around US$4,000. Not to mention the investment in talent development.
As a small business, investing in in-house recruitment won't be as practical as in medium and large enterprises. This is since you cannot always guarantee results from your efforts alone.
Having a good staffing firm on your side can help ease the physical and financial pressure of recruiting. Here are some practical ways a good recruitment firm is suitable for your company.
Extensive expertise in recruitment
Good recruiting firms are backed by their extensive knowledge in headhunting, screening, and hiring employees. This can help make hiring talents easier on your part.
Short turnaround time for hiring
You can shorten your turnaround time for hiring employees through recruiting firms since they can tap potential candidates faster.
A broader market reach
With a good recruitment firm, you can quickly narrow your choices depending on the market you want to tap. This also allows you to get a broader talent market in different places.
Better compliance handling
Recruitment can also be tedious in compliance. Hiring a good recruitment firm guarantees that every requirement needed in hiring talents is taken care of, from employment documents down to salaries and benefits administration.
Established credibility
Through a good recruitment firm, your organization will be armed and sought out by the top talents within or outside your location. This is a great way to establish your credibility as a brand to your customers and employees.
Qualities of a good recruitment firm
While delegating your recruitment to a particular firm does the trick, finding a good recruitment firm helps you achieve your hiring goals better. Some qualities you can consider when looking for a good recruitment firm include the following.
Full interest in your company. A good recruitment firm takes time to get to know your company, work culture, and goals in hiring talent.
Industry expertise. They demonstrate their knowledge by elaborating on the state of your industry, including recruitment challenges and possible solutions.
Retention rate. A good recruitment firm can also be seen through their employees. A high employee retention rate can signal that something is wrong with their services.
Processes. Good recruitment firms know how to streamline their processes in recruiting employees. They know how to keep their processes simple yet effective for your company.
Top global outsourcing list
Outsource Accelerator is the world's leading outsourcing marketplace and advisory. We list over 3,000 BPO firms located across the globe in our global directory, and we provide detailed information, price guides, and reviews.
Whether a solopreneur, SME owner, or corporate executive, we can help you find the most suitable outsourcing provider for your business.
Explore our outsourcing directory now. You may also check out our Top recruitment firms lists per country here:
Top 20 recruitment firms in the US
Not all recruitment firms are the same. Some can give you better services that would fit your requirements and needs.
Whether you are a first-timer in hiring a recruitment firm or are looking for another provider, the following recruitment firms in the US might be a good fit for your organization.
Since 1948, Robert Half has been helping global companies find highly-skilled employees at a cost-efficient rate. They have pioneered specialized staffing services and still provide unmatched quality work worldwide.
Robert half is best for employers looking to hire professional staff, whether temporary or permanent.
Kelly Services, meanwhile, was credited as the pioneer in "modern temporary help services" since its establishment in 1946. They cater to various institutions and enterprises in multiple industries such as education, healthcare, and public services.
Kelly Services takes pride in being the partner of choice for both employers and candidates looking toward the future.
Adecco is backed by more than 50 years of experience connecting staff and providing the right solutions for a company's staffing challenges.
With more than 450 locations across the US, Adecco provides scalable and technology-driven solutions in finding temporary and permanent staffing for professional services anytime and anywhere.
Korn Ferry is a global consulting firm and staffing services provider for building and strengthening competitive teams.
One of Korn Ferry's highlights in their services is their hands-on approach to their clients. The firm works with them to get an insight into their company, design structures, and roles, and understand their goals.
At the same time, they provide leadership and professional services when needed.
Headquartered in the Netherlands with offices in the US, Randstad is considered a global leader in the industry. They help employers and candidates keep up with the ever-changing work environment.
Aside from temporary and permanent placements, Randstad also provides professional services to firms looking to hire in-house and global staffing.
Lucas Group has been helping military personnel transition to become a civilian workforce since 1970. They have expanded to broader professional search and contract staffing with the help of Korn Ferry.
The company is backed by a team of recruitment industry veterans willing to help their clients anytime.
Kforce is committed to helping US employers build and manage teams with a strong technology and finance background.
Kforce caters to most Fortune 500 companies and provides over 8 million professionals nationwide. They are considered one of the country's best recruitment firms.
Manpower has been enriching employees' lives and connecting staffing with the right candidate for decades. They are committed to influencing businesses and candidates on how they work today and in the future.
Aside from staffing, Manpower provides its clients with knowledge and innovation to help them push their operations further.
AppleOne Employment has been driven to connect the best talents with the best companies since 1964. Letting clients work with their best consultants, they deliver a human approach to finding and hiring employees for a company.
Aerotek takes pride in helping companies match with skilled workers worldwide. They provide the best staffing specializing in construction, manufacturing, and other related verticals.
Aerotek believes that "people are everything" in recruitment. This is why they maintain a performance-driven culture that relies on people and their well-being.
Hirewell has been at the forefront of Talent Acquisition and Recruiting for over two decades. They are committed to helping companies attract top talent and improve their businesses.
Hirevell is hands-on when it comes to working with its clients. They make sure to get to know them and do not stop reaching their objectives.
Michael Page is a leading professional recruitment consultancy focusing on hiring top candidates with organizations worldwide.
In the US, Michael Page focuses on various verticals such as IT, human resources, healthcare, and real estate. They provide professionals in permanent, contract, or temporary positions.
Beacon Hill offers general staffing and project consulting solutions backed by extensive industry experience of executives from global professional services organizations, local boutiques, and large national firms.
Beacon Hill provides customized services whenever clients need them — from managed services to recruitment process outsourcing (RPO).
TEKsystems focuses on technology-driven recruitment solutions to spark change and deliver advanced strategies to their clients.
TEKsystems brings its recruitment and technology expertise to the forefront to ensure that clients can get the best service possible.
Pixoul is a consultancy and staffing firm helping businesses build and scale digital teams to deliver outstanding digital products.  They deal more with technology companies that produce digital products in the market.
Pixel sticks to its commitment to "making the world better, smarter, and more human." This is why they work with their clients in every aspect of their projects.
Soshace lets clients hire the top 1% talents to build the best remote team possible. They cater to startups and digital agencies in the US, Europe, and UAE looking for remote talent.
Soshace brings the top web developers and programmers through a thorough vetting process. Their professionals are passionate about working with their clients and taking on complex projects they can complete in the best way.
As an IT and engineering recruitment agency, Apollo Technical works to source and attract the best talent quickly and cost-effectively while helping engineers and IT professionals find great jobs.
Apollo Technical is committed to building long-term relationships with its clients, ensuring that the needs of both the employer and their candidates are met.
Headquartered in London with an office in New York, Tiger Recruitment provides staffing services to hospitality, finance, and technology verticals. 
They tailor their solutions to each client's requirement and ensure that the client's company values reflect in each candidate they assign to a specific role. The firm thrives in excellence, positivity, and integrity, some of the principles they apply at work.
H.I.M. Recruiters brings recruitment services for health information management agencies. They have built relationships with HIM employers in and out of the US for more than 30 years.
H.I.M. Recruiters supply temporary, contract, or regular employees in the HIM industry. They conduct a thorough screening and interview for each candidate and work with businesses to reach their hiring objectives.
ISG Partners brings the best teams in sales and marketing to emerging and established organizations in the US. Headquartered in Atlanta and Austin, the firm has a global reach in terms of its clientele.
Ease your recruiting woes through outsourcing
You would always need help in recruiting talents, especially with the skill shortage happening in the US. As mentioned, in-house recruitment can take a lengthy and costly process with little guarantee that you can get a suitable talent.
The top recruitment firms in the US listed above can already give you an insight on which firm you can go to in case you want to hire your first employees or expand your team, be it remotely or in-house.
Another way you can ease your recruiting woes is through outsourcing. You can tap a BPO company to hire experts in different roles such as data entry, accounting, and recruitment.
While your staff will report directly to you, your service provider will take care of everything needed to work. This includes the equipment, office spaces, salaries, and training on your processes.
Your company can hire recruitment process outsourcing (RPO) companies to help you find the best in-house and remote talents. You won't have to worry about your recruitment with access to extensive resources.