Top 20 Recruitment Firms in Australia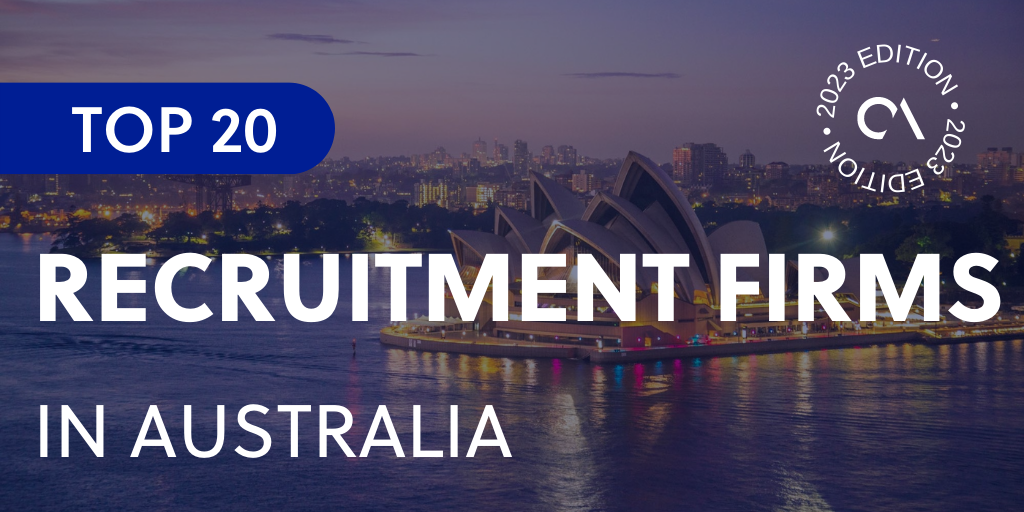 Filling job vacancies is an often arduous process in any organization.
Aside from taking weeks or months to complete, it slows down a business's productivity and decreases efficiency.
Thus, many businesses turn to recruitment firms to hasten recruitment and quickly fill vacancies without expending too much time and resources on their part.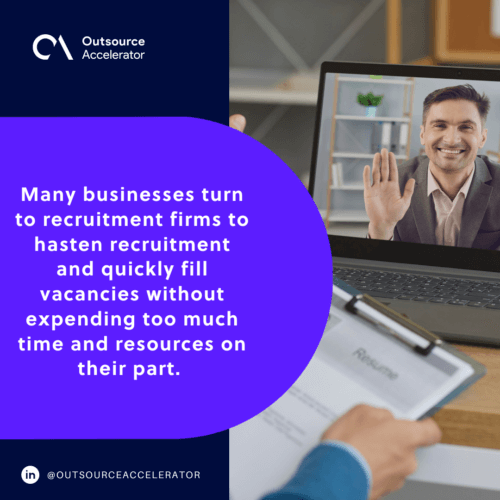 Top 20 recruitment firms in Australia
Definition of a recruitment firm
Recruitment firms are companies that take on the leg-work of recruitment for other organizations.
Other businesses trust these staffing solutions providers as they often know recruitment best practices better than them.
In addition to being more knowledgeable and experienced in terms of recruitment, staffing agencies also provide more cost-efficient solutions in a timely manner.
The high demand for these staffing firms' services birthed the still-booming recruitment process outsourcing (RPO) industry.
Top global outsourcing list
Outsource Accelerator is the world's leading outsourcing marketplace and advisory. We list over 3,000 BPO firms located across the globe in our global directory, and we provide detailed information, price guides, and reviews.
Whether a solopreneur, SME owner, or corporate executive, we can help you find the most suitable outsourcing provider for your business.
Explore our outsourcing directory now. You may also check out our Top recruitment firms lists per country here:
Top 20 recruitment firms in Australia
Here we have 20 of the best recruitment firms in Australia:
Founded: 2012
Location: Sydney, Australia; Ahmedabad, India; Amsterdam, Netherlands; California, USA
Specialty Industries: IT
Uplers started as an Indian outsourcing company in 2012, providing top-notch services to clients worldwide.
It eventually ventured into the recruitment industry to fill the gap created by talent shortage in the global market.
Today, Uplers has operations across four countries and serves over 7,000 clients, including such household names as National Geographic, Oracle, Amazon, Disney, 21st Century Fox, and Facebook.
Founded: 2000
Location: Gordon, Australia; Pune, Noida, Hyderabad, and Delhi, India; Dublin, Ireland; London, UK; Quebec and Toronto, Canada; Singapore; Multiple locations in the US
Specialty Industries: Aerospace & Defense, Financial Services, Pharmaceuticals & Life Science, IT, Retail & Distribution, Telecommunications
USTECH Solutions is among the largest and fastest-growing staffing firms around the world.
This global firm has established itself as a powerhouse in providing talent solutions not just to Fortune 500 companies but also to businesses of all sizes.
Its Minority Business Enterprise certification stands to prove USTECH Solutions' commitment to embracing diversity and inclusivity as a core value in its operations and company culture.
Founded: 1983
Location: Sydney, Australia; Multiple locations in Europe, Canada, and the US
Specialty Industries: Consumer & Industrial Products, E-commerce & Distribution, Government Services, Life Sciences, Transportation, Energy, Construction, Healthcare
Aerotek has been a trusted staffing firm by companies around the world for more than 35 years.
In its decades-long run in the industry, Aerotek's performance-driven culture has helped match millions of talents with leading companies.
For five consecutive years, 2018 to 2022, ClearyRated has given Aerotek its Best of Staffing Client Satisfaction and Best of Staffing Talent Satisfaction Diamond Awards.
Founded: 2013
Location: Sydney and Melbourne, Australia; London, UK
Specialty Industries: Accounting, Environmental, Legal Services, Property Valuations
ALRA boasts a unique and novel approach to recruitment.
Each of ALRA's consultants is a Partner and a business owner, meaning the talents they recruit work with the end decision makers even from the start.
ALRA's fresh perspective and unconventional approach to recruitment – breaking away from KPIs, 9-5 routines, etc. – reflect on this firm's core value of putting its people first, even before profit.
Founded: 2018
Location: Newcastle, Australia
Specialty Industries: Management & Administration, Sales & Marketing, Financial Services
A.I.R Recruitment is a boutique recruitment firm driven by its company mantra, "Attract, Integrate, and Retain."
A.I.R's extensive hands-on experience with recruitment across various industries gave it a deeper understanding of the skills, knowledge, experience, and other qualities necessary to deliver top-notch recruitment solutions to its clients.
With A.I.R, recruitment success isn't measured simply by the number of vacancies filled but by the quality of the talent and services they provide.
Founded: 2021
Location: Sydney, Australia
Specialty Industries: Psychological Services, Child, Youth & Family Services, Disability & Aged Care Services, Aboriginal & Indigenous Services, HR & Office Support
Curamoir's four pillars of Excellence, Integrity, Making a Difference, and Optimism are at the forefront of its recruitment services.
This recruitment firm is a progressive and people-centered organization that provides staffing solutions for businesses in the health and well-being industry.
Curamoir's passion for providing the best health and well-being talents in Australia has led to its partnership with many healthcare organizations, NGOs, and hospitals across the country.
Founded: 2018
Location: Darlinghurst, Australia
Specialty Industries: —-
BPR is a socially responsible recruitment firm highly trusted and recommended in Australia and New Zealand.
Its company tagline, "STAND OUT," reflects the firm's dedication to representing the interests of its clients and candidates in a competitive market.
Business Partners Recruitment has continually invested in new tools and strategies to improve its recruitment capabilities since its inception in 2018. As a result, it had a 40% better reach than its competitors.
Founded: 2020
Location: Melbourne, Australia
Specialty Industries: Property & Construction
Belkirk Group is a recruitment firm that's taken on the people first, transparent, and diligent characteristics of its director Kylie Kilpatrick.
Kylie has served as a trusted consultant for Melbourne's property and construction sector for ten years and has been nationally recognized for her recruitment approach.
With Kylie at its helm, Belkirk is well positioned to provide staffing solutions in a timely, efficient, and collaborative manner. 
Founded: 2019
Location: Sydney, Australia
Specialty Industries: —-
The Nudge Group describes itself as a disruptive force in the recruitment industry.
It focuses on providing staffing solutions for start-ups and scaling-up companies in various stages of the process.
Like other entities that focus on helping start-ups, The Nudge Group also accepts taking equities in lieu of payment for its services.
Founded: 2020
Location: Brisbane, Australia
Specialty Industries: Construction
Construction-Recruitment is a privately-owned staffing firm specializing in providing job placement services in the construction industry. It is well-connected with construction, development, subcontracting, cost management, and project management companies.
Its extensive experience in the construction industry allows Construction-Recruitment to provide custom-fit solutions to its clients.
Founded: 2019
Location: Melbourne, Australia
Specialty Industries: IT
AOS Recruitment is an IT-recruitment company providing staffing solutions across Australia and the surrounding countries in the Asia Pacific region.
This award-winning firm has extensive experience sourcing talents for highly technical positions like Cloud/SaaS, Data Analytics, and Cyber Security.
Founded: 2020
Location: Sydney, Australia
Specialty Industries: Social Welfare, Psychological Services, Allied Health Services, HR & Office Support
Brightside is a specialist agency that provides not just recruitment solutions but also consultancy and support services to organizations in the Welfare sector.
This firm's approach to recruitment is guided by its core values – collaboration, customer success, innovation, and quality.
Founded: 2019
Location: Brisbane, Australia
Specialty Industries: IT, Accounting & Finance, Contact Center, HR, Insurance, Business Support
Hinchen Resource is a boutique staffing solutions provider offering risk-managed, speedy results and quality outcomes.
This firm's expertise is backed by the extensive industry experience of its Managing Director, Louisa Hinchen, a veteran in the recruitment field.
Founded: 2020
Location: Melbourne, Australia
Specialty Industries: Automotive
Vroom Vroom Recruitment specializes in matching employers and job seekers in the automotive industry.
This firm's approach to recruitment – specializing in only one sector – has enabled it to garner quick results with optimal outcomes and reduce downtime for its clients and the talents they source.
Founded: 2010
Location: Melbourne, Australia
Specialty Industries: Buildings, Land & Infrastructure; Construction; Architecture, Planning & Design
Aptus Personnel is a staffing solutions provider for companies in the built environment sector.
Aptus believes in the importance of listening to talents and valuing their career aspirations to unlock their full potential.
This firm has provided life-changing career opportunities across Australia and New Zealand through its recruitment methods.
Founded: —-
Location: Subiaco, Australia
Specialty Industries: Energy, Oil & Gas; Industrial & Manufacturing; Mining & Construction; Accounting & Finance; Health; Business Services; Engineering & Technical
Mobilize is an independently-owned recruitment firm that caters to both blue-collar and white-collar industry companies.
Mobilize prides itself on being able to "connect good people with good people" through its people-first approach. It has successfully placed more than a thousand talents since its founding.
Founded: 2018
Location: Brisbane, Australia
Specialty Industries: IT & Digital
Nicola Steel founded JJP Talent Solutions after being disillusioned by many recruitment firms' lack of focus placed on values, people, and leaving a positive social impact.
JJP Talent follows Nicola's unique recruitment methodology, the Power of People Model.
Following this model's five solutions – Discover, Attract, Search, Secure, and Nurture – has resulted in a 99% retention rate of talents placed by JJP Talent Solutions. 
Founded: 2016
Location: Melbourne and Sydney, Australia
Specialty Industries: IT
Lloyd Connect is a boutique recruitment agency that connects hiring managers with the highest-quality talents in the industry.
This multi-awarded firm offers Talent-as-a-Service (TaaS) subscription services to its clients. Clients will pay a 12-month subscription fee and receive an agreed-upon number of permanent placements for the year.
Founded: 1960
Location: Multiple locations in Australia
Specialty Industries: Accounting, Administration & Office Support, Banking & Financial Services, Construction & Property, Customer Center, Defense, Digital, Education, Engineering, Government, Health & Social Care, HR, Industrial & Manufacturing, IT, Marketing & Communication, Sales, Trade & Labor
Randstad Australia is the result of the merger of recruitment giant Randstad and Vedior in 2009.
This staffing solutions stalwart provides specialized recruitment and HR solutions across various industries and skills disciplines.
Randstad believes that the human aspect of recruitment is the part that makes a difference. This aspect, combined with technological advances, create changes that help move people forward.
Founded: 1996
Location: Multiple locations in Australia, Asia, Europe, and North & South America
Specialty Industries: Accounting & Finance, Banking & Financial Services, HR, IT, Legal Services, Marketing, Resources, Engineering & Construction, Procurement, Logistics & Supply Chain, Sales, Secretarial & Business Support
Robert Walters has been specializing in permanent, contract, and temporary staffing since it began operations in Australia in 1996.
By putting industry specialists in recruiter positions across the various disciplines it caters to, Robert Walters ensures it has expertise in finding the perfect candidates even for the most obscure roles its clients may have.