Part I: A simple guide before you start outsourcing your business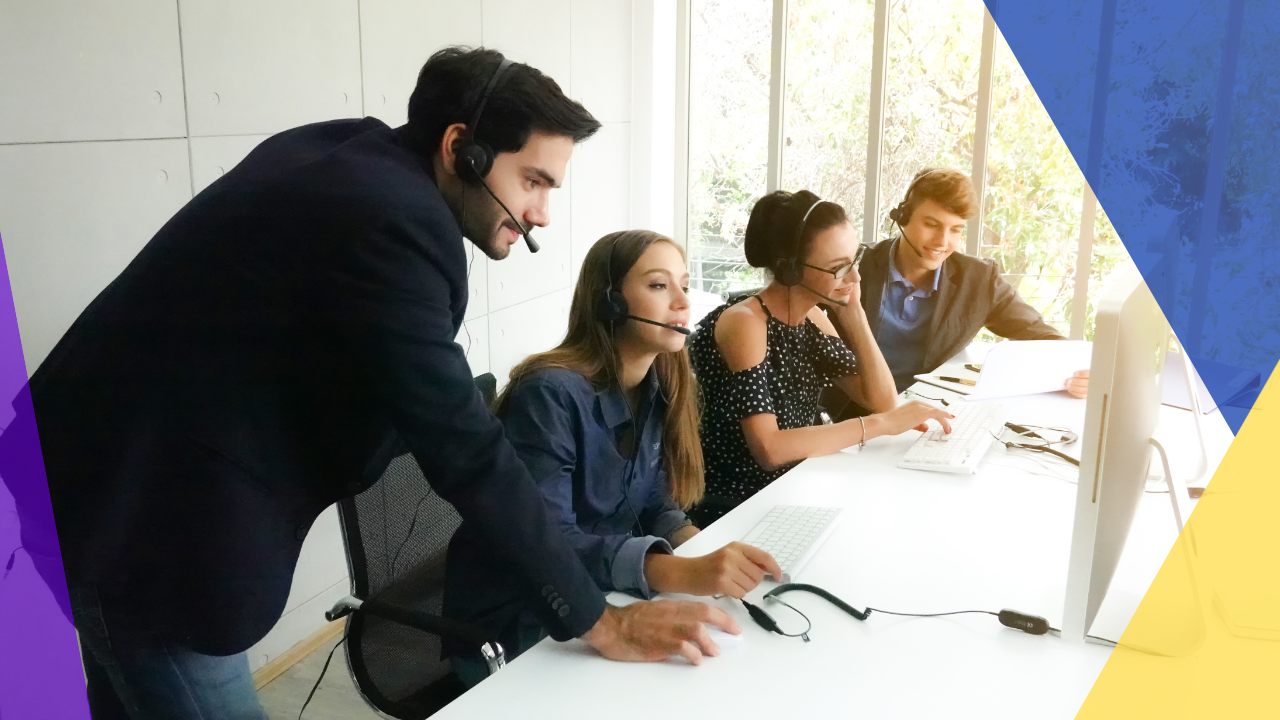 A simple guide before you start outsourcing your business
Part I: A Simple Guide Before You Start Outsourcing Your Business
The first part of this paper discusses some of the steps you need to take before to hiring an outsourcing service company. It is essential to think about these things first before deciding to continue with the process.
Merely hearing about the meaning of outsourcing services and benefits is not enough to fully dive into this valuable practice. You must first assess yourself and your team before making any conclusion. Preparation is crucial, and the steps below would guide you to make the right choices.
Following these steps will allow you to make the most out of the benefits gained from outsourcing your business. They would also help you avoid the trial-and-error stage that could lead to a lot of unnecessary expenses.
Identify the roles and responsibilities of your employees
The first thing to do is to identify and examine the roles and responsibilities of all your existing employees. Assess whether or not anyone could still cover the tasks you are planning to outsource.
This could be a meticulous step that may require a lot of your attention. Any misinterpretation may cause tension within your team.
Multi-tasking is a common practice in the modern corporate world. Rarely does one employee perform only a single task in the office. This is an advantage for employers as they gain extra savings by not having to hire someone else.
However, filling your employees' table with more than what they can handle has a lot of drawbacks as well. This is where business outsources processing comes in.
At first, a lot of your company's non-core functions could still be accommodated by some of your staff members. This gives you the opportunity to delay your major outsourcing plan.
For example, one of your machine operators may also be well-versed when it comes to the latest IT practices. Thus, he could also be assigned as the primary IT troubleshooter for some of the minor computer issues in your office.
Initially, it could be great. But as your business grows, so do the responsibilities of each of the members of your team.
In the said example, there will come a time when that particular machine operator may already be burdened by the bulk of his work and his other responsibilities. Adding another side task like fixing computers may eventually make him inefficient in accomplishing his primary function.
Ultimately, this dilemma would not be suitable for your company. As a business owner, you should know that employee health and satisfaction is also crucial factor in maintaining a business's success.
Taking the time to check the job description of each one of your employees would always be a worthwhile endeavor. Understanding the load of each of your team members allows you to adjust and make decisions for the welfare of all stakeholders.
If you think that everyone is already too preoccupied with numerous work functions, then it could be time to outsource some of the less critical tasks.
You may ask, what is the work of BPO companies? They help you relieve your employees of non-core tasks that are within the service provider's area of expertise. This is how the BPO industry works, and you should take advantage of it.
There is a two-fold benefit that you can get from outsourcing:
You maintain the high morale of your team as they can focus on the primary work you assigned them to do.
You get peace of mind by letting a team of specialists handle those minor tasks that are also important for the welfare of your business.
First, understand your employees' roles and the weight of their current responsibilities. Then you can arrive at a better and more sensible decision for your company moving forward.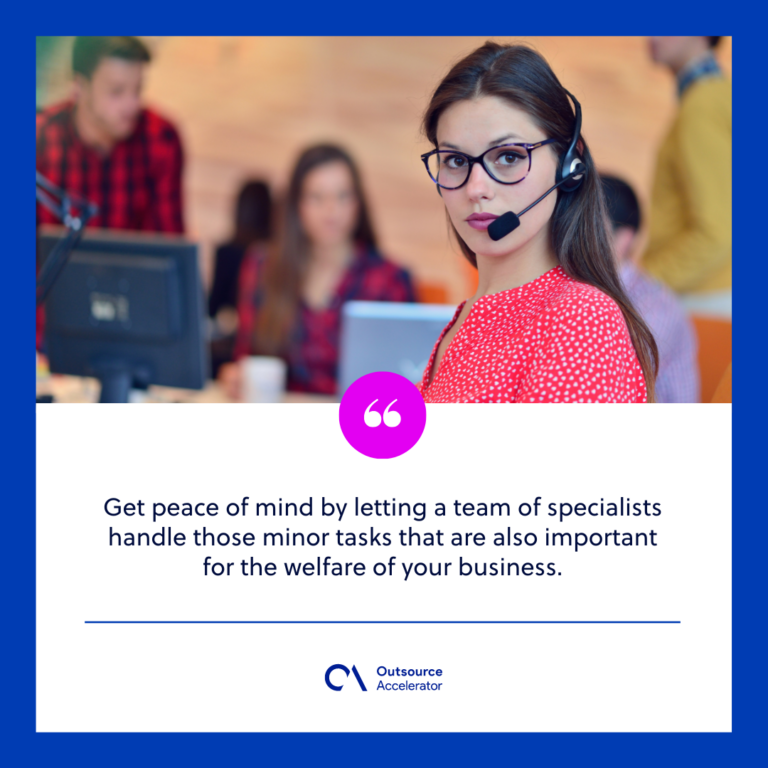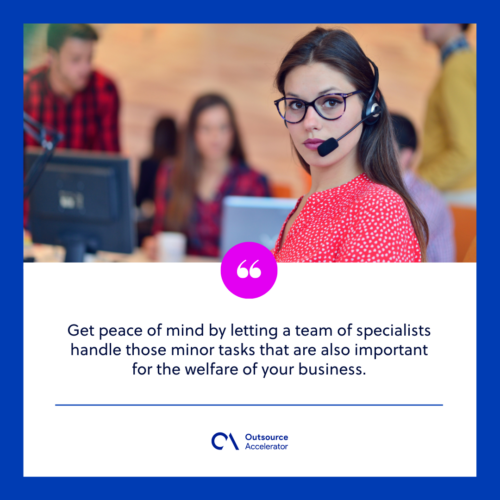 Identify your vendor: Know the services using the BPO directory
The next step after understanding what does it mean to outsource and assessing your team's current strength is to learn more about the BPO industry. A particular area to ponder is the different kinds of services BPO companies offer to their clients. This is mainly done by checking BPO directories online based on your company's specific niche.
BPO has become so wide-ranging these days that it presents various opportunities to businesses who need help in any particular field. Outsourcing was initially associated only with the manufacturing industry when BPO firms helped in many parts of the supply chain.
Today, outsourcing has grown to cover many other industries, including automotive and industrial, IT, banking, capital markets, energy, technology, communications and media, travel, and a lot more.
Even in the areas of health, public service, utilities, and retail, outsourcing for business development have become the trend. Identifying your vendor also means listing down a set of standards you want a specific BPO firm to demonstrate before you hire them.
Before writing these criteria, the very first question you need to ask yourself is why are you going to outsource? This question will be better answered once you finished step 1 as explained above.
You need to be clear about your purpose. You need to formulate a well-defined set of goals before you can list down your expectations on an outsourcer.
Aside from setting goals, you should also clearly define your business' unique core values and attributes. It is not enough to only know what is outsourcing in business, but more importantly, how can it effectively support your company in terms of fitting in with your team's own culture and purpose.
Each company has its distinctive characteristics. Yours have it, too. Finding the right vendor means hiring one that can seamlessly adapt to your principles and philosophies. You don't want a third party entity to taint the brand you have worked hard for all these years.
After creating these set of standards or criteria, it is now time to invite the vendors you have prequalified during research. Send each one a formal letter of invitation, which includes a request for information (RFI) regarding the BPO company's list of expertise.
Upon meeting up with each vendor, tell them your purpose, goals, and objectives. This is the perfect avenue to state all of your expectations before coming up with a final decision. You should be in control of the meeting, and you must be able to communicate what you want clearly.
Very often, vendors take the lead in these kinds of meetings. They present all of their plans and strategies on how does a company work, but forget to establish the needs of the client. Indeed, there is a time for that, but let them know and understand your agenda first before they suggest any ideas or opinions.
Of course, you also have the option to hire multiple vendors that would handle different functions. But contracting just one service provider would lessen your costs.
Finally, before making your final selection, do not forget to investigate and do more research on your vendor of choice. Find out if all their answers to your questions are valid. Seek service reviews online and discover their track record.
Find some of their former and current clients. Ask about the outsourcing firm's services and the results they are getting. Are they effective? Do they bring your desired results? Are they easy to get along with?
This part of the process will allow you to make a proper estimate of whether the vendor will fit into your company's culture or not. If the result of your final investigation is positive, then it is time to draft the contract between you and the chosen outsourcing group.
In summary, here are the steps to identify your vendor:
Search online BPO directories for qualified service providers in your niche.
List down a set of standards you expect from these BPO firms based on your company's mission, vision, and core values.
Invite each of the vendors for a meeting. Here, you can state all of your goals and expectations. Ensure that each vendor clearly understands what you need.
Make a final background check of your vendor of choice. If it turns out great, then finalize by signing a contract with them.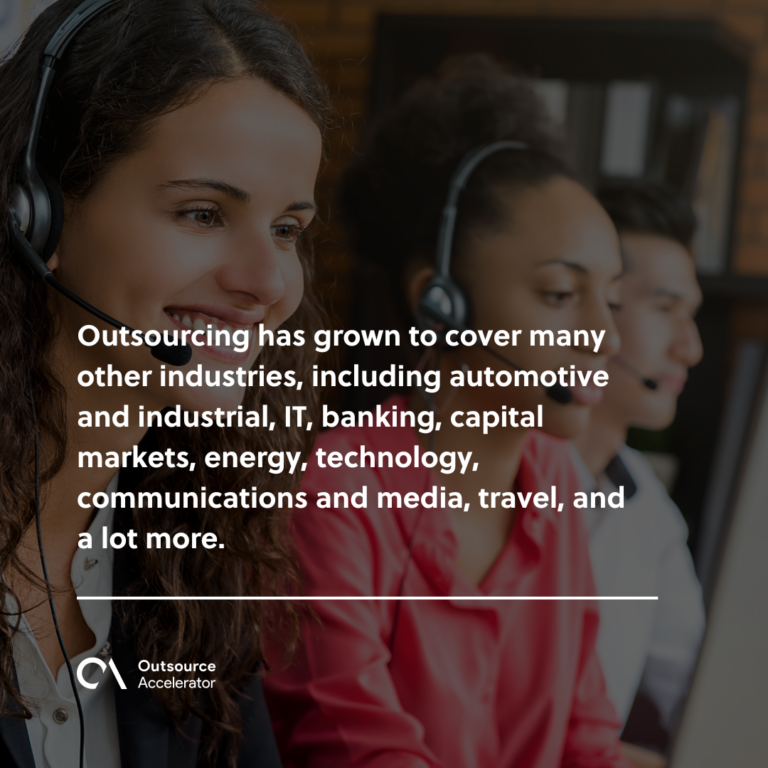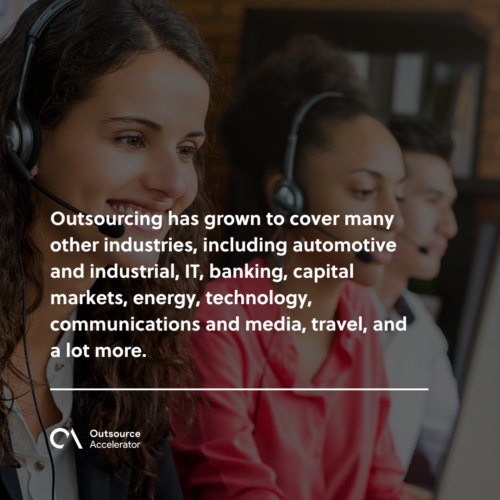 Consult and seek advice from experts on the field
If you are still confused about how to prepare for outsourcing, then it is wise to seek advice from a professional.
While this guide enlightens you with the basics of outsourcing, there is still a lot more to learn. Closely working with an expert to direct you every step of the way prevents wasted time, energy, and resources.
A consultant provides expert advice on the specifics of outsourcing, from the beginning of the process up to its implementation and even beyond completion.
Hiring one would help you understand all you need to know, from what outsourcing mean and what BPO companies do to guidelines on how to do outsourcing jobs.
Another benefit of hiring an outsourcing consultant is having access to unbiased, autonomous information and opinions about the industry. These experts provide all the know-how, tactics, and customized assistance that your business uniquely needs to outsource successfully.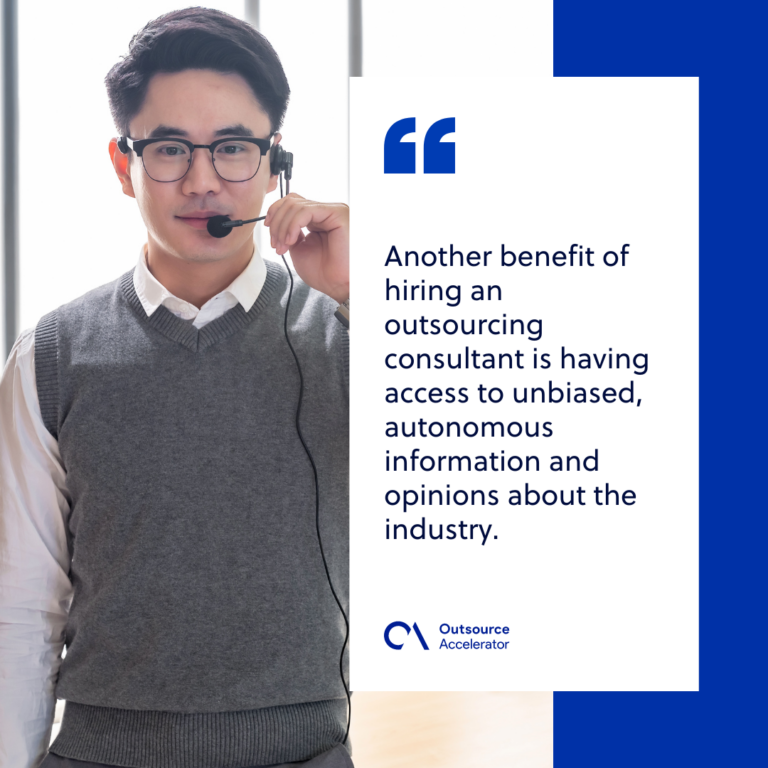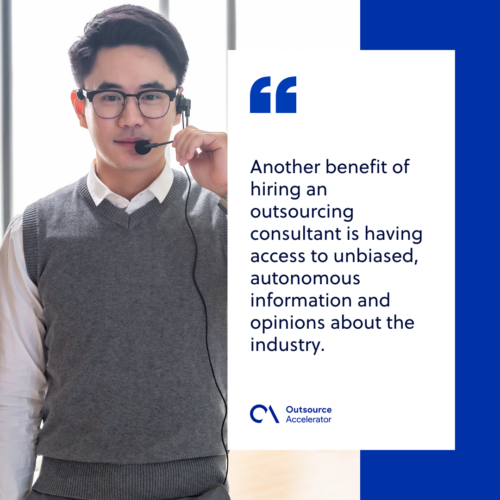 Outsource Accelerator consultation
One of the fastest growing outsourcing consultation firms right now is Outsource Accelerator (OA). The company offers unprejudiced resource and professional appraisal of outsourcing options in the Philippines.
Aside from being an outsourcing consultant, OA is also an outsourcing directory, which means that they are affiliated with a lot of BPO companies. OA covers almost all of today's industries and recommends BPO service providers that suit all your business needs.
OA focuses on startup projects and small to medium-sized businesses. These smaller types of companies typically have 2,000 employees at the most. Proper consultation has helped a lot of these businesses, particularly those in the Western markets, to reduce high labor costs through outsourcing.