Outsourcing Impact Review 2023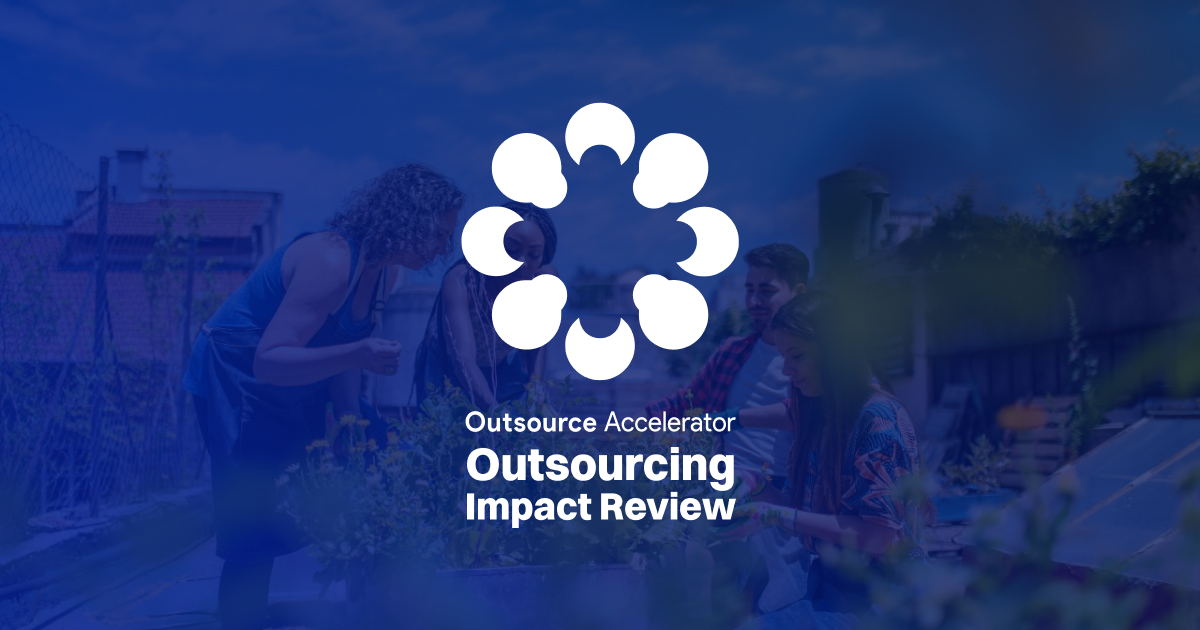 The Outsourcing Impact Review is a groundbreaking initiative by Outsource Accelerator, the world's leading outsourcing marketplace and advisory.
This project aims to redefine the outlook on outsourcing — an often misconceived business tool with untapped potential. 
List of Outsourcing Impact Review 2023 finalists
OIR finalists: Outsourcing Impact on Community Building
OIR finalists: Outsourcing Impact on Education
OIR finalists: Outsourcing Impact on Diversity, Equity, and Inclusion
OIR finalists: Outsourcing Impact on Health and Wellness
What is the Outsourcing Impact Review (OIR)?
The Outsourcing Impact Review aims to shed light on the positive societal impacts and transformative potential that strategic outsourcing can bring. 
This project has two parts:
Outsourcing Impact Awards

– This event recognizes the remarkable impact programs led by outsourcing companies. 

Outsourcing Impact Report

– It tells the powerful stories behind these initiatives.
The Outsourcing Impact Review will award a total of five companies across four categories, including the grand prize. The top firm will be hailed the Outsourcing Impact Champion for 2023.
Purpose of the Outsourcing Impact Review
The goal of the OIR is to create a deeper and more nuanced perspective of the outsourcing industry's potential to bring about positive change.
It records and recognizes outsourcing firms' corporate social responsibility efforts and their extensive effects on communities.
Outsourcing Impact Review finalists
This year's Outsourcing Impact Review has selected 26 finalists who have made significant contributions to their respective categories:
1. Pay it Forward by Outsourced
Outsourced's Pay it Forward program empowers communities through charity, donations, and engaged employees.
Supporting lasting initiatives like improving libraries and rehab centers sets an example of corporate social responsibility. This initiative has executed over 1,000 hours of volunteer work.
When the Ukraine war started, there was a need for contact centers to assist citizens and charities.
Simply Contact launched five contact center projects, which handled almost one million requests for shelter, food, medicine, and humanitarian aid coordination.
To reduce their carbon footprint, Sourcefit began by assessing each employee's impact with a Carbon Footprint Quiz.
The company partnered with similar organizations to lower their carbon footprint through sustainability webinars, tree planting, and sponsorships. This campaign has resulted in a 5.14% decrease in Sourcefit's carbon footprint score.
4. Workforce on a Mission by Instant Teams
Military spouses face challenges in employment due to frequent relocations and job gaps, especially in remote base locations.
Instant Teams addresses this by offering remote job opportunities that benefit both businesses and military families. As a result, around 200 military spouses were employed in August 2023, and $40 million was earned for veteran families.
5. Social Impact – Partnership with Humanility Empowering Children For A Brighter Future by DynaQuest
Since 2014, DynaQuest has been backing Humanility — a nonprofit that provides care and shelter for neglected, abused, and orphaned children.
With the support of this Outsourcing Impact Review finalist, Humanility has raised ₱620,000 for the Children Education Fund.
6. Impact Sourcing – Creating Opportunities In Our Community by 24/7 Secretary
24/7 Secretary's goal with Impact Sourcing is to provide jobs in the local community so fellow residents do not have to commute two to four hours daily to work. 
Through this campaign, the BPO firm wants to eliminate long commutes and give back family time. As a result, each agent has been given 500 – 1,000 hours of personal time.
7. The Buffalo City Project by 20four7VA
The Buffalo City Project, a collaboration between 20four7VA, Harambee Youth Employment Accelerator, and the Loomee Group, addresses high unemployment in Buffalo City in South Africa.
The project aims to provide sustainable employment for vulnerable young women by offering essential virtual assistant skills training.
8. ThinkNChange Our Community by ThinkNChange
ThinkNChange Our Community is a unique initiative that blends innovation, cultural adaptability, and a strong commitment to addressing our community's specific needs. 
This campaign prioritizes an inclusive and diverse workplace, values employees, and provides growth opportunities. ThinkNChange Our Community has helped over 200 people and children with education, meals, and foster care.
9. Circle of Care: A CSR Project to Support Vulnerable Communities by NEARSOL
Circle of Care strives to offer vital support to communities, including the private organization Tahanan ng Pagmamahal, which relies on donations to function.
By investing in these communities and collaborating with local organizations, NEARSOL helps bridge the gap for corporations to help areas beyond government reach.
This Outsourcing Impact Review finalist has helped build ₱2.5 million worth of shelter for ten families in New Lucena, Iloilo.
10. The Roving Community Pantry by Digital Workforce
The Roving Community Pantry project tackles food insecurity, a significant social issue. This campaign shows Digital Workforce's dedication to social responsibility and bettering society.
Through outsourcing and partnerships, this project effectively uses external resources to expand its impact and reach more people. Five villages in Angeles City, Pampanga were provided with access to basic necessities through this initiative.
11. Project Give Back by Compliant Business Processing
Project Give Back's goal is to raise awareness and resources to provide life-changing support for children and their families. This initiative brought together freight forwarding and logistics companies across Australia to contribute to the community. 
Project Give Back has raised AU $81,000 in Angeles City, Pampanga so communities can have access to basic necessities.
12. Community Partner Referral Program by iFive Global
iFive Global's Community Partner Referral Program connects underserved communities with job opportunities and supports small businesses.
The project leveraged localized advertising, community engagement, technology, and untapped talent to create a positive impact. So far, it has helped 14 individuals from underserved communities secure employment.
13. Our Social & Environmental Commitment by Booth & Partners
Booth & Partners' social and environmental initiatives aim to align its business with its core values and empower employees to make a meaningful difference in society and the environment.
This commitment program has supported 63 public schools and 2,500 students in the Philippines.
14. Talent Seed Program by Novacomp
Novacomp's Talent Seed Program highlights the company's dedication to helping young professionals grow through training.
This program empowers the next generation and demonstrates Novacomp's commitment to diversity and inclusion. 80% of Talent Seed Program beneficiaries have secured enhanced employment opportunities.
As a non-profit, Cognitus underscores the vital role of private companies in bridging talent gap and helping vulnerable communities. 
Cognitus Foundation, through digital transformation and social impact, has positively influenced over 300 young people in the last four years.
Arcanys Early Learning Foundation (AELF) was established in 2012. It aims to empower parents as the first teachers and role models.
The program provides free math coaching to three to five-year-old children and their parents in low-income communities in Cebu City, Philippines. AELF has helped around 5,000 families.
17. Boundless by PartnerHero
In 2023, PartnerHero concentrated its impact efforts on the countries with the highest number of employees — Honduras and the Philippines. 
Boundless' objective is to combat learning poverty by investing in essential needs in underserved communities. This initiative has provided 44,000 meals to children and young adults and 4,000 round trips for students unable to attend school.
From its inception in 2013, Eclaro Academy has grown into a full-fledged academic institution with over 3,500 students this year.
The academy now offers a comprehensive range of education, including its School for the Deaf. Around 30% of the school's graduates have gone on to work for Eclaro.
19. Corporate Social Responsibility Program by Innodata
Innodata's mission is to enhance the world through digital data's influence and facilitate informed decision-making.
The company's Corporate Social Responsibility Program focuses on three main areas –  education support, community resilience, and crisis aid. Over 32,000 people have benefited from Innodata's CSR efforts.
20. Children of Hope by NTT DATA PH
NTT DATA and ChildHope Philippines' Children of Hope initiative's goal is to rescue children from the streets.
Through comprehensive education, health, and social services programs, Children of Hope strives to support the overall development of Filipino street children in Metro Manila. This campaign has impacted around 500 street children and their families.
Remotify recognized a gap in the market where remote workers often lack proper employment arrangements. Project Freedom brings dignity and stability to these remote work opportunities.
Over 90% of employees stay with Remotify and say that it's a great place to work.
22. DiverseHorizons: Building a More Inclusive Tomorrow by SixEleven Global Services
SixEleven Global Services has been running the DiverseHorizons project for nearly a decade. 
The company wants to showcase a firm dedication to promoting diversity and inclusion, which it believes is a vital part of responsible outsourcing.
CRDLE's mission is to generate 10,000 jobs in Africa by linking local professionals with the global talent market. The firm's initiative emphasizes training, retention, and equitable compensation.
Instant Teams is dedicated to supporting military spouses — often neglected in hiring due to frequent relocations and employment gaps. 
This initiative is adjacent to the firm's Workforce on a Mission program, which offers remote job opportunities to military spouses and veteran families.
Innodata offers wellness programs designed to enhance the overall well-being of its employees, covering physical, financial, mental, and emotional health.
Over 90% of this Outsourcing Impact Review finalist's employees have been positively influenced by this project.
UNO has donated to organizations like Hospicio San Vicente de Paul, The Smiles Foundation / Fundación Sonrisas, and Fundación Luz y Esperanza por el Autismo.
These organizations support the elderly, the infirmed, those needing surgical and dental care, and autism-impacted families. Around 2,800 individuals across these three charities have been given holistic care.
About Outsource Accelerator
Outsource Accelerator (OA)  is the world's leading outsourcing authority. We connect top outsourcing providers with businesses worldwide.
Our mission is to assist companies in setting up and managing offshore teams. OA aims to revolutionize these businesses through outsourcing. This is further championed with its Outsourcing Impact Review initiative.
Access 5,000+ articles, 450+ podcast episodes, and an extensive directory of 3,000+ BPO companies by visiting the Outsource Accelerator website — www.outsourceaccelerator.com.