Outsourcing Impact Review: Supporting the Force Behind the Force by Instant Teams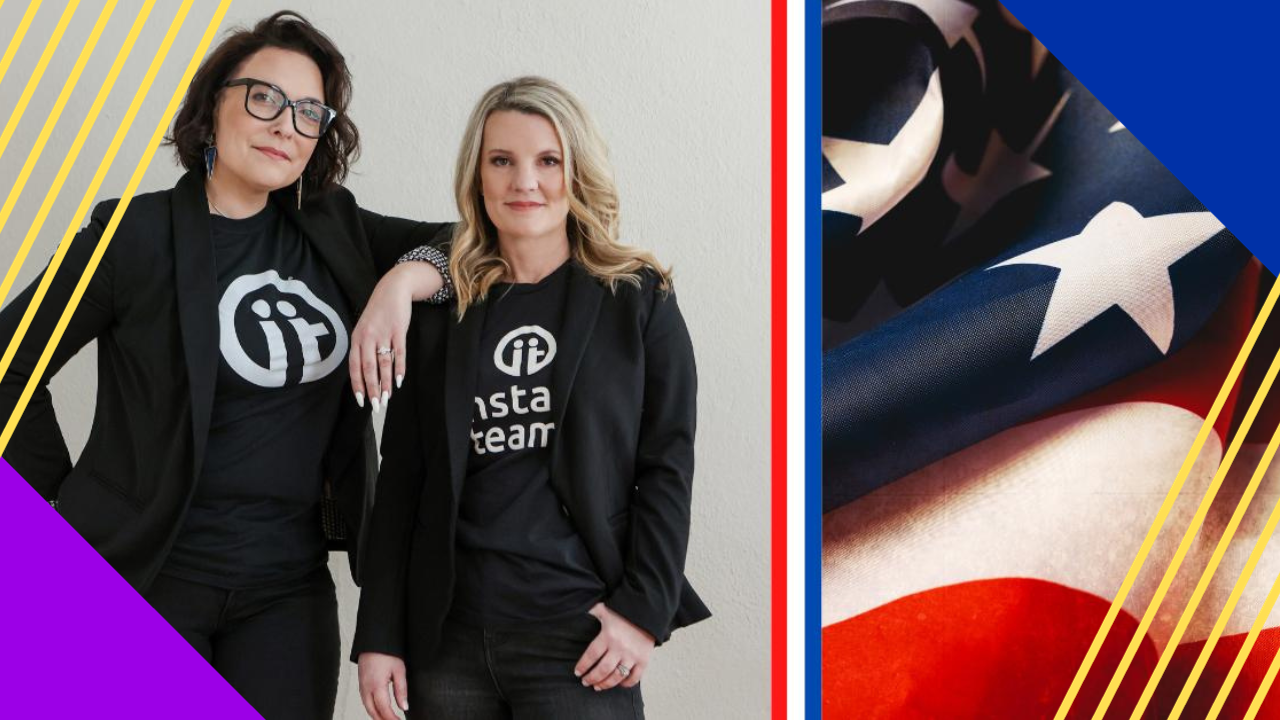 Outsourcing Impact Review: Instant Teams
Instant Teams is a testament to innovative thinking married with social responsibility. At its core, Instant Teams is a solution for the military spouse community that faces significant career setbacks due to their spouses' deployments. But beyond that, it's a pivot towards sustainability, inclusivity, and commitment to a greener world. Through a unique blend of remote work and creating opportunities, Instant Teams reduces environmental impacts while ensuring a steady, sustainable, and inclusive growth trajectory.
Harnessing Remote Work Benefits:

With the vast advantages of remote working, Instant Teams creates a dual effect—empowering military spouses and reducing the carbon footprint.

Commitment to the Military Community:

Pioneering the cause to become the #1 employer for military spouses, and thus reshaping the narrative around military spouse employment.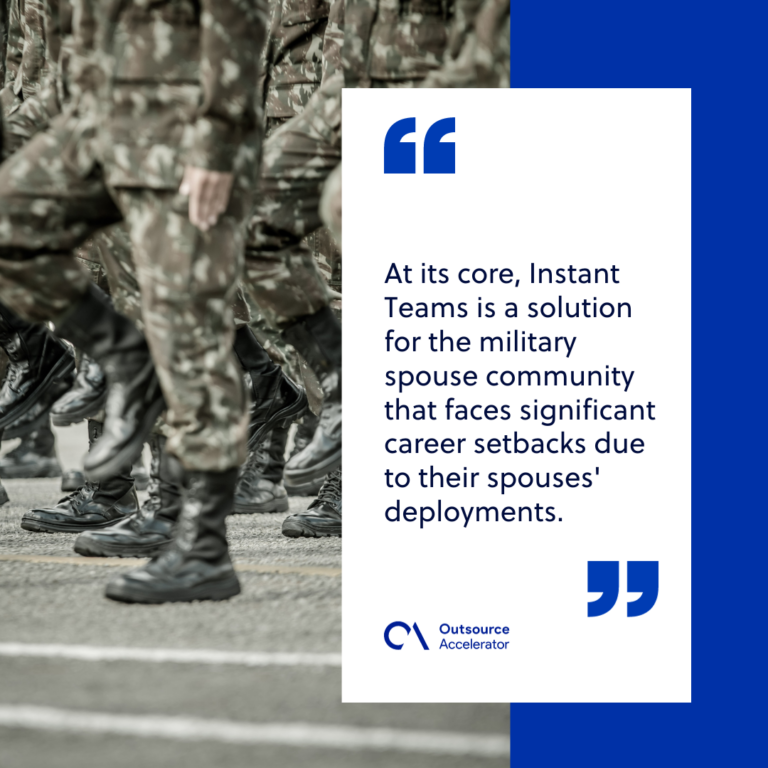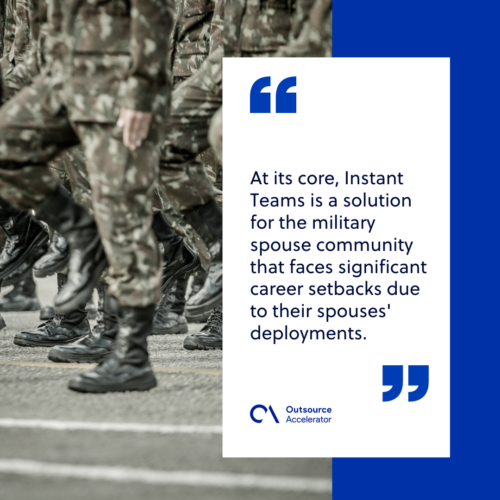 How Instant Teams Started: A Quick Background
Founded in 2016 by two army spouses, Instant Teams identified the unexplored talent reservoir within the military spouse community. Due to the constant relocations and uncertainty associated with military life, the female founders realized that these spouses were an untapped pool of potential remote employees. By connecting this community with organizations needing talent, they not only fulfilled corporate responsibilities but also impacted societal change.
This foundation was more than just business-centric. It was a vision to bring the myriad benefits of remote work to a community that deserved it the most, all while setting standards for sustainable and responsible business growth.
Relevant Statistics:
Facts and Figures
The growth and impact of Instant Teams are evident in these notable numbers:
From a two-person team in 2016 to over 500 employees in 2023.

A remarkable growth of over 2,572% in three years, ranking No. 208 on the annual Inc. 5000 list.

Instant Teams has generated an impressive 40 million dollars of economic impact for the military community through its operations.
Person In-Charge
Liza Rodewald – Co-Founder & CEO

Erica McMannes – Co-Founder & CPCO
Instant Teams' collective commitment, fueled by robust internal and external support, is its driving force. They've meticulously fused social and fiscal governance to create a sustainable and scalable model.
Positive Impact Created
Instant Teams is more than just a remote work platform. It's an endeavor to infuse sustainability in daily operations, acknowledge the sacrifices of military families, and provide deserving military spouses with fulfilling career opportunities. By embedding social responsibility within its core operations, Instant Teams is creating jobs and building bridges to a more inclusive and sustainable future.
A Real Impact
Imagine the plight of a military spouse: constantly relocating, pausing their career, and often settling for roles they're overqualified for. Instant Teams changed this narrative. Many military spouses, who once faced unemployment and its associated challenges, found solace in Instant Teams. By offering remote work opportunities tailored for their needs, Instant Teams ensured these spouses could pursue their career aspirations without geographical constraints. Each story from this community adds a chapter to the success story of Instant Teams.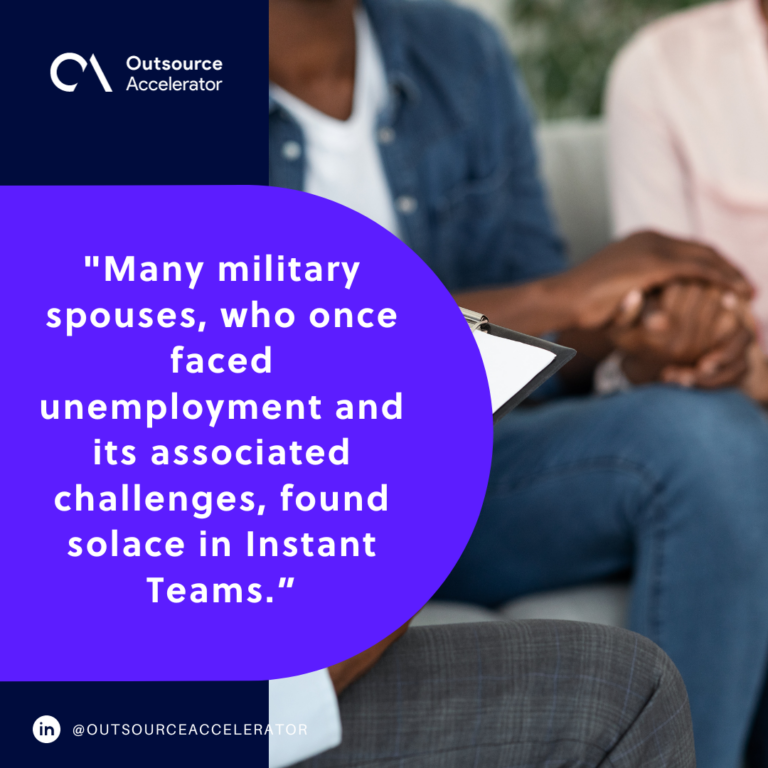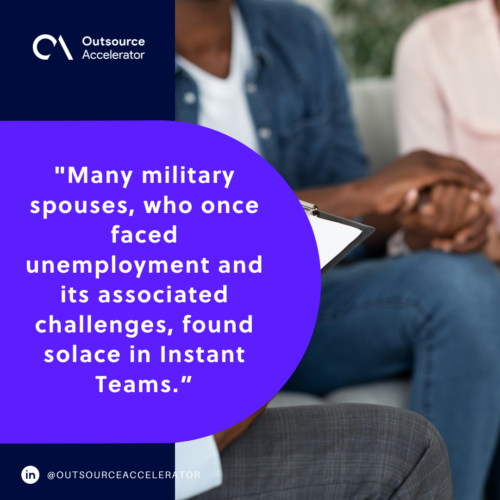 About the Outsourcing Impact Review
Instant Teams is the Outsourcing Impact Champion and, a forerunner in the Outsourcing Impact Review's Diversity, Equity, and Inclusion (Gold Award) and Community Building (Bronze Award) categories. Instant Teams stands tall as a visionary blend of innovation, social responsibility, and sustainability. Their ethos, deeply embedded in military community welfare, environmental responsibility, and sustainable business practices, sets them apart. It showcases how a visionary approach to business can simultaneously cater to societal needs, environmental concerns, and economic growth.