Outsourcing Impact Review: Ukraine Contact Centers by Simply Contact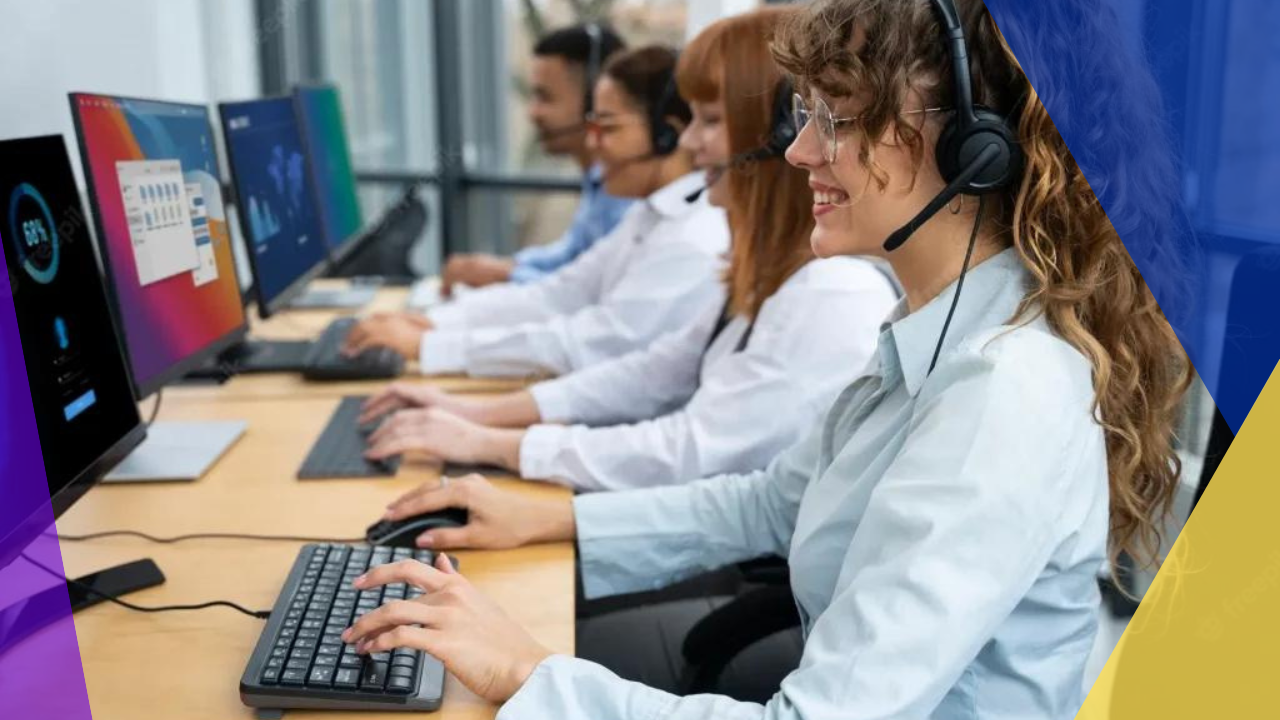 Outsourcing Impact Review: Simply Contact
Amid Ukraine's unprecedented crisis, Simply Contact, a leader in customer support outsourcing, rose above commercial imperatives to serve as a lifeline for countless Ukrainians. This initiative did not merely represent a business adapting to challenging times; it embodied the intersection of corporate responsibility, humanitarian aid, and national support. The difference Simply Contact made transcends any business model—it's about answering a nation's urgent call.
Immediate Crisis Response:

Launch vital contact center projects in record times, often in a day or two.

Beyond Business Boundaries:

Prioritizing citizen welfare and national stability over traditional business goals.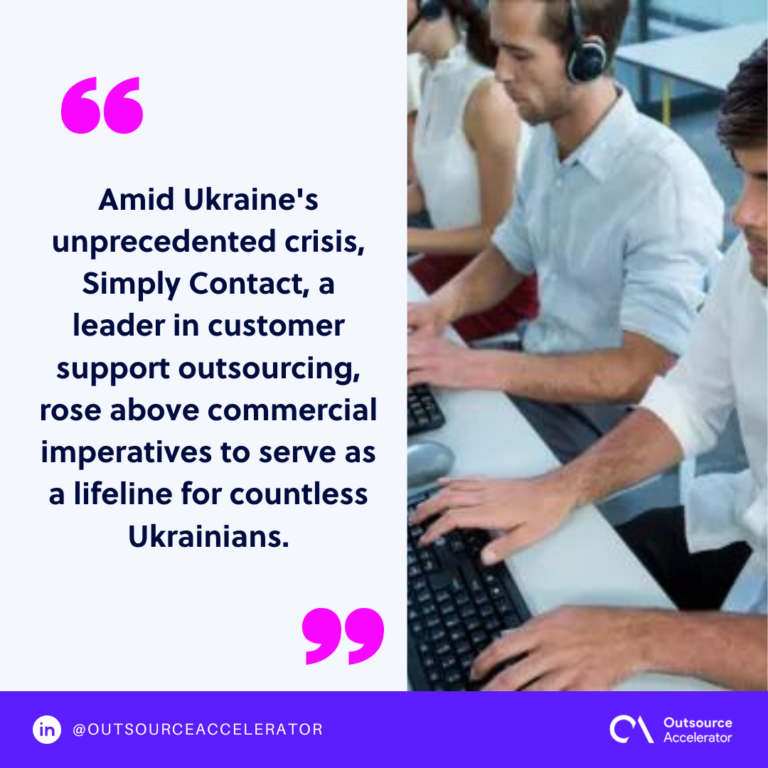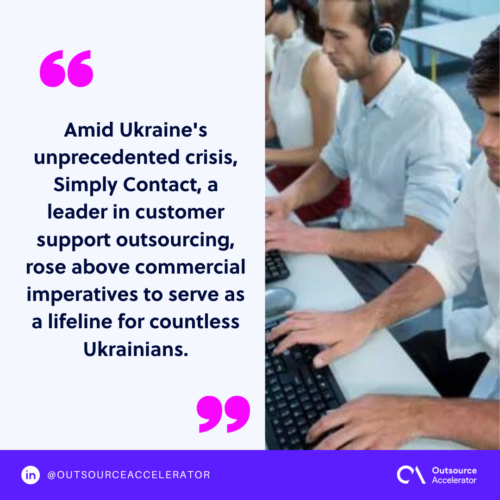 How Ukraine Contact Centers Started: A Quick Background
As war engulfed Ukraine, the sheer magnitude of citizens' needs became evident. From seeking shelter, food, and medicines to coordinating international aid, the demand for reliable communication channels skyrocketed. With neither the government nor NGOs having the immediate capacity to establish these centers, Simply Contact, with its deep-rooted presence in Ukraine, recognized the urgency and responded.
Their commitment stood out for several reasons:
Despite being at the epicenter of the crisis with all offices in Ukraine, they managed to maintain operational excellence and simultaneously answer this national SOS.

Shattering industry norms, they activated projects within 1-2 days, driven by the necessity to aid the Ukrainian populace.
Relevant Statistics: Facts and Figures
The humanitarian outreach of Simply Contact is best captured in these figures:
Five crucial projects

were launched, collaborating with government entities and civic organizations.

Collectively, they processed an astonishing 1 million requests. This number represents instances where critical aid or assistance reached a person, often impacting entire families or communities.
Person In-Charge
Konstantin Rhizov – CEO & Co-Founder

Julia Onishenko – COO

Nataly Padun – HR Director
From management to every single employee, they all played a pivotal role in the success of this initiative.
Positive Impact Created
Central to this initiative was a commitment to facilitating critical communication during a crisis. It wasn't just about running contact centers, but ensuring citizens had access to vital resources, information, and support during their most vulnerable moments. Simply Contact's approach exemplifies the broader role businesses can play in national emergencies.
A Real Impact
The Ukrainian Government Hotline -15-45 stands out among the many stories of impact. This helpline, operated by the Cabinet of Ministers of Ukraine, experienced a surge in requests amidst reduced staff capacity due to the crisis. Introduced as a dependable partner, Simply Contact's team joined this project, setting up the helpline in a record time of just one day. Approximately half a million requests were processed under this venture alone, each representing an individual or family receiving crucial support.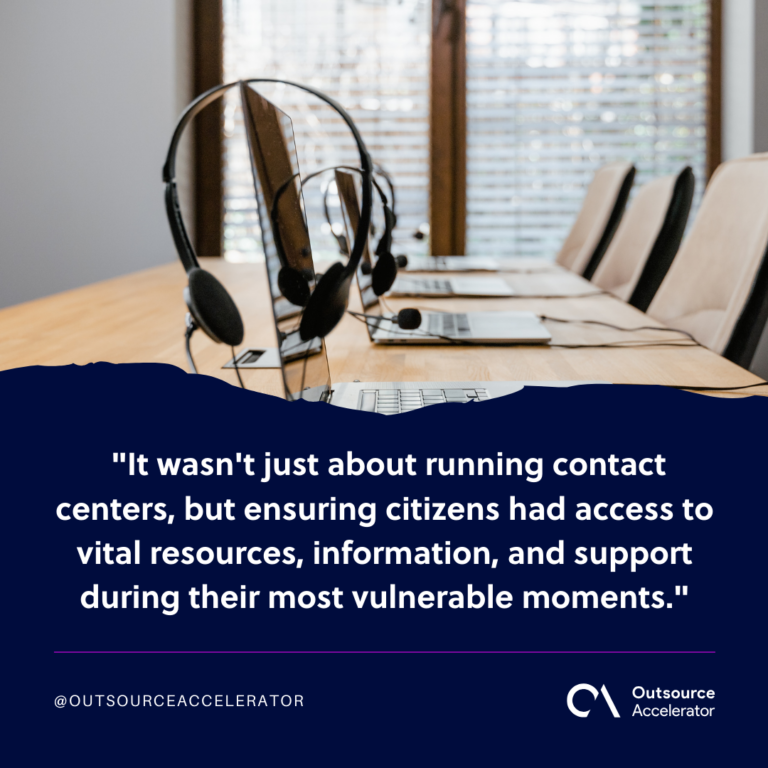 About the Outsourcing Impact Review
Simply Contact's Ukraine Contact Centers Initiative won the Silver Award for the Community Building category of the Outsourcing Impact Review, and deservedly so.
Simply Contact, traditionally acclaimed for its excellence in customer support outsourcing, is now gaining recognition for its humanitarian endeavor amidst the Ukrainian crisis. Their initiative exemplifies how businesses, driven by empathy and responsibility, can become pillars of community support, especially during challenging times.