Outsourcing Impact Review: Health & Wellness Program by Innodata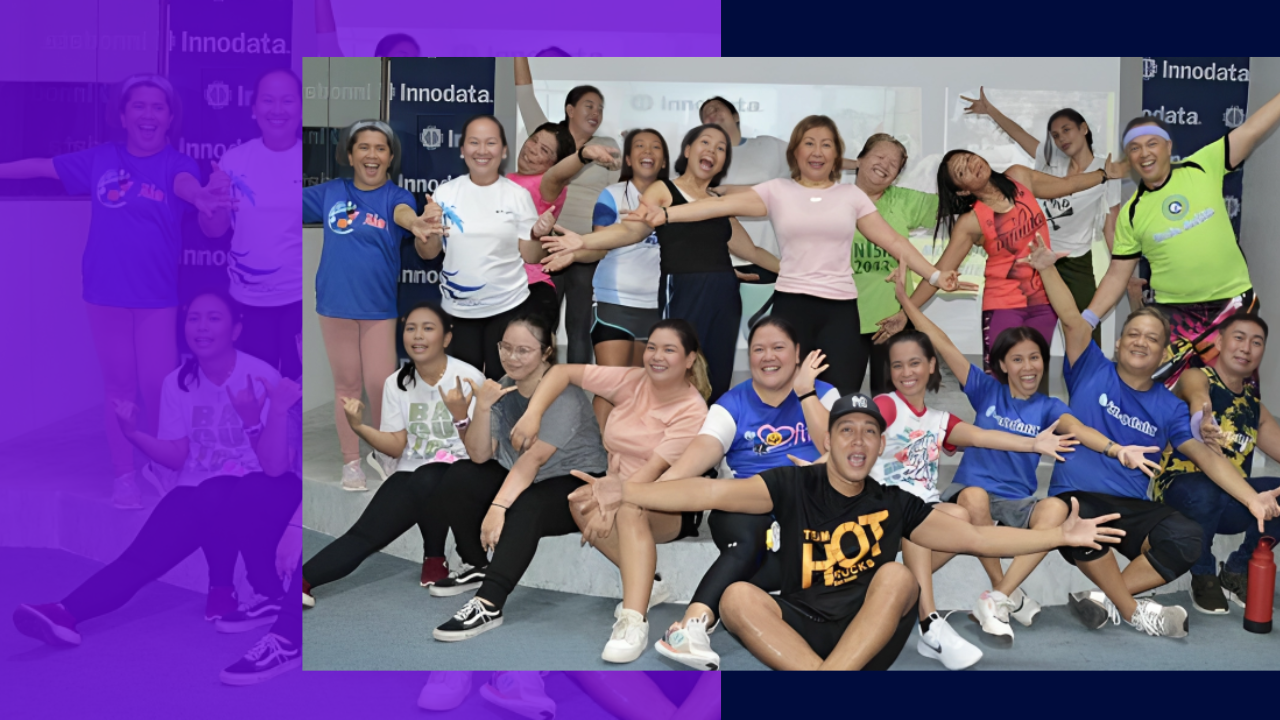 Outsourcing Impact Review: Innodata
From its foundation, Innodata, the world's premier data engineering firm, has consistently elevated the benchmark for corporate responsibility by integrating it seamlessly with employee well-being. 
A True Global Workforce

: Spanning eight countries the team at Innodata surpasses 5,000 members committed to delivering services and solutions that help the world make better decisions.

Engineering Masters

: Innodata combines advanced ML/AI technologies and a high-security infrastructure to constantly maintain a culture rooted in innovation.
These impactful steps have reverberated beyond the confines of Innodata, underscoring the company's enthusiasm for fusing operational prowess with holistic wellness.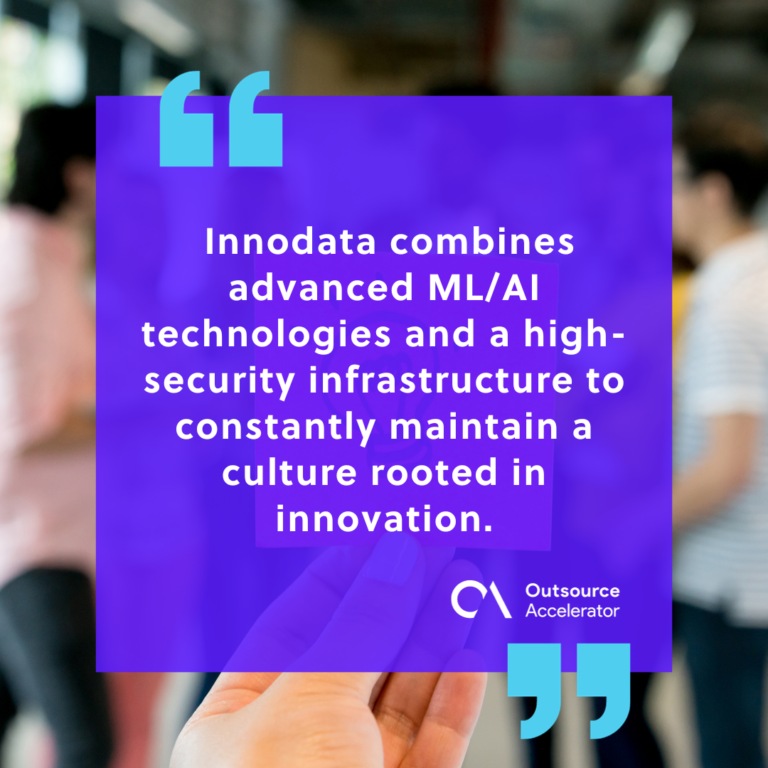 How Health & Wellness Program Started: A Quick Background
Innodata, with its foundational ethos rooted in innovation, quality, and service, embarked on this trailblazing journey of synergizing organizational objectives with holistic employee well-being.
The endeavor, derived from the company's unwavering commitment to physical, financial, mental, and emotional wellness, is a testament to Innodata's determination. Not merely content with excelling in the data engineering sphere, the company strives to invigorate the lives of its global workforce, ensuring both professional and personal enrichment.
Relevant Statistics: Facts and Figures
The Health & Wellness Program has birthed considerable, tangible benefits. Key achievements encompass:
A significant drop in healthcare-related expenses, optimizing financial health.

A 91% affirmation from employees regarding workplace safety, gender equity, and inclusiveness.

An encouraging 88% of the workforce attest to race equality and heartening onboarding processes.
Persons In-Charge
Jack Abuhoff – CEO & President

Ashok Kumar – COO

Marissa Espineli  – CFO
Positive Impact Created
Central to Innodata's wellness strategy is a holistic compass. Leveraging many wellness programs, the firm ensures that every individual's unique needs are met, be it physical fitness, stress management, mental health, or nutritional insights.
Moreover, this isn't a fleeting endeavor. The Health & Wellness Program has become synonymous with Innodata's fabric, championed enthusiastically by leadership and employees. Such collective vigor has not only heightened team unity but has also driven productivity to new heights.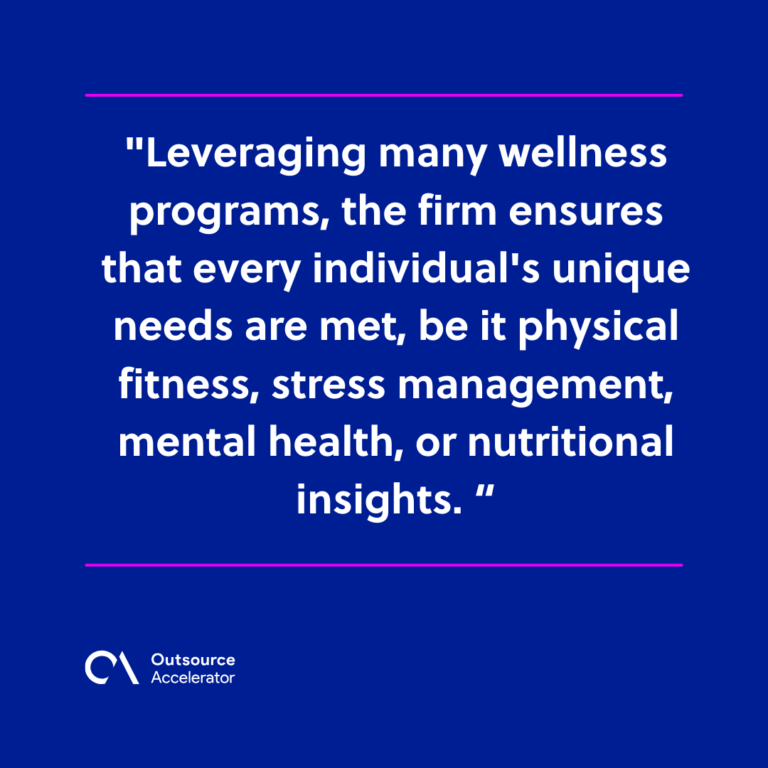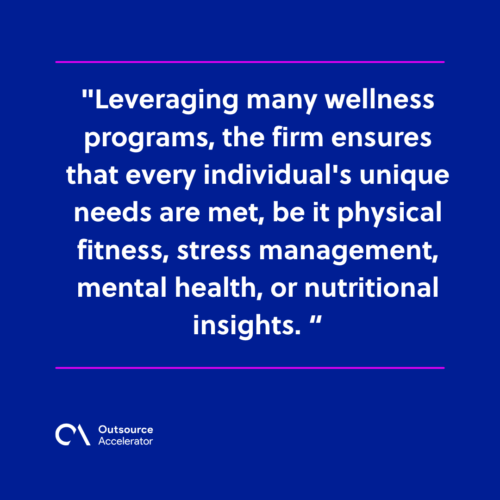 A Real Impact
Innodata's devotion to employee well-being manifested prominently when the company was honored with the Excellence in Health, Safety & Environment Program by the Cebu IT-BPM Organization (CIB.O) in 2021. During the trying pandemic times, this accolade spotlighted the firm's proactive and innovative wellness measures.
Furthermore, the Great Place to Work certification further amplifies Innodata's commitment. Such recognitions, beyond mere accolades, validate the transformative journey the company has undertaken – one where every employee feels valued, safe, and genuinely cared for.
About the Outsourcing Impact Review
Health & Wellness Program by Innodata won the Silver Award for the Health and Wellness category of the Outsourcing Impact Review. Innodata has been a beacon in the data engineering domain since 1988 and has always prioritized innovation. With an expansive team spread across eight nations, Innodata transcends the traditional confines of business. Beyond merely offering top-notch data solutions, they focus intently on the well-being of their workforce. And, as their recent foray into comprehensive health and wellness showcases, their vision encapsulates professional excellence and individual enrichment.