Why outsourcing finance services is an ideal strategy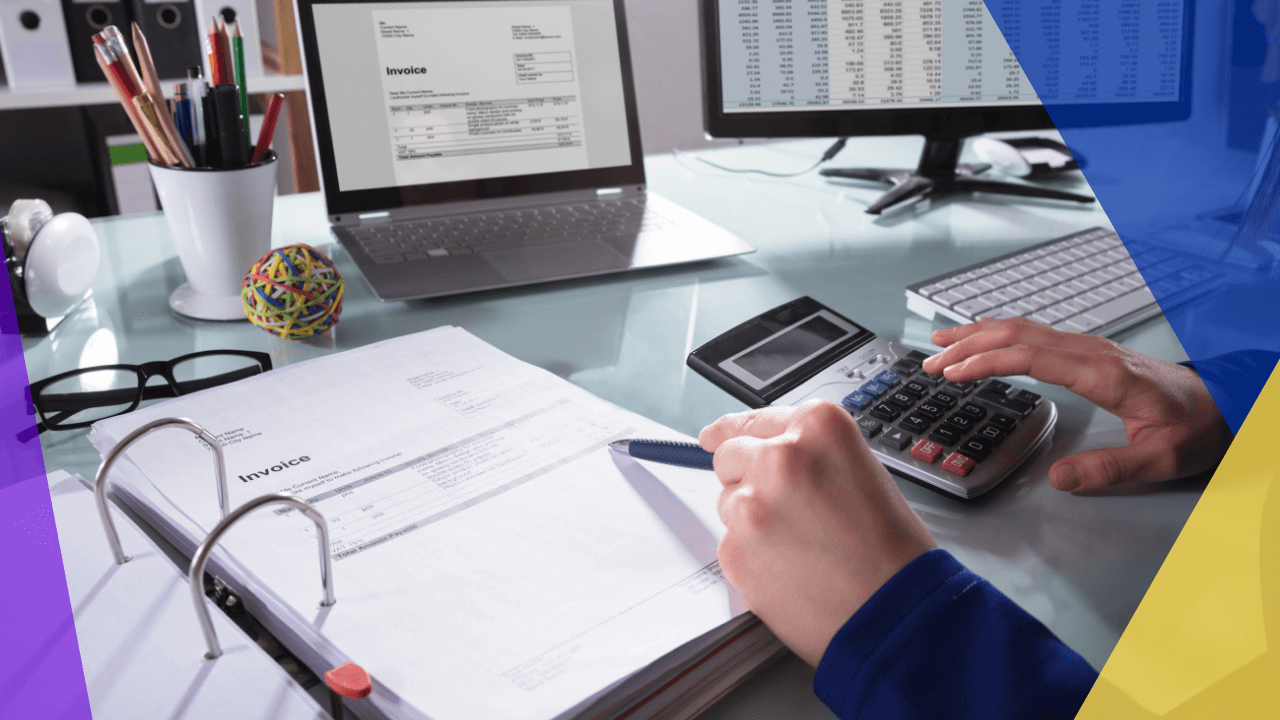 Finance is a booming subsector of the outsourcing industry right now. From freelance accountants to tax specialists, finance outsourcing is always in need of an extra set of hands.
As the industry grows at a fast rate, there is also an increasing need to outsource different financial tasks. Here's all you need to know about outsourcing finance.
Kinds of financial services to outsource
Below are just the most common services that external service providers have a good time finding business in. 
While the list isn't exhaustive, it's a great starting point for those who plan to offload tasks in finance. 
Accounting and bookkeeping
These practices go hand in hand despite their differences. Bookkeeping deals with administrative duties, while accounting requires more technical expertise. 
Accounting is concerned with the analysis of financial transactions. Bookkeeping is crucial in order to keep records organized and precise. 
More and more companies are outsourcing these financial services to vendors with a ready fleet of CPAs, independent bookkeepers, and other officers crucial to accounting.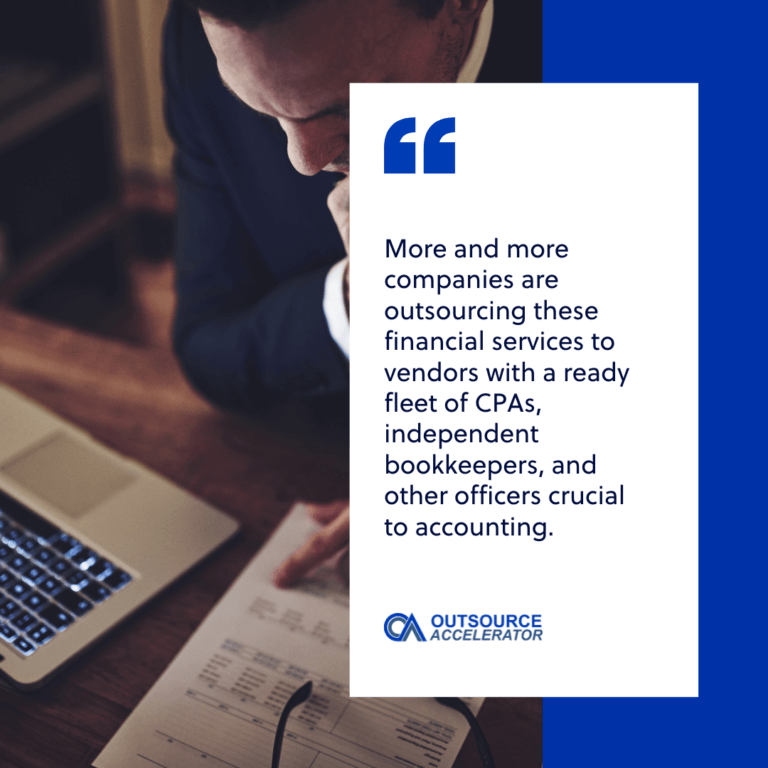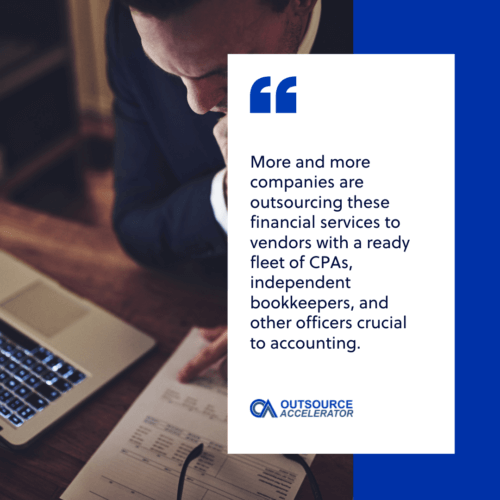 Payroll services
There are two ways to contract finance duties like payroll—one is through outsourcing companies and the other is through software-as-a-service (SaaS) platforms.
Outsourcing through technology isn't as new as other people may think. SaaS platforms have already been pioneering industries since the boom of cloud computing.
Tax auditing
Audits are a requirement for tax returns to verify that all your income and deductions are accurate and error-free. Even individuals have to audit their taxes to ensure that they've been filing the amounts correctly.
This is where external service providers come into play. Most people and businesses don't have time to crunch numbers, and they have to call experts to do their taxes for them.
Reasons to outsource finance
If you're still looking for a reason to start outsourcing finance activities, then look no further.
The list below may shed some light on why businesses outsource their internal activities and services, including finance.
Better workload delegation
When partnering up with outsourcing vendors, you may notice a decline in workload—but in a positive way. 
By delegating workload across in-house employees and outsourced teams, the department will be as efficient and proactive as ever. There would be no need for employees to push for overtime. Projects and deadlines would be met ahead of time.
Lower labor costs
Business process outsourcing (BPO) companies often take roots in countries with young yet flourishing economies. 
Developing countries such as the Philippines, Mexico, and India are a hotspot for BPO agencies.
This is because they have lower labor costs compared to developed countries. Despite this, their workforce can deliver just as well as their first-world counterparts.
Doxa is one of the outsourcing firms that offer quality services at a fraction of the price. Their highly-skilled offshore workforce ensures a competitive advantage for their clients, in any industry that they belong to.
There are different factors to why the labor cost is lower in developing countries, but that doesn't mean that the outsourced teams have lower standards of living.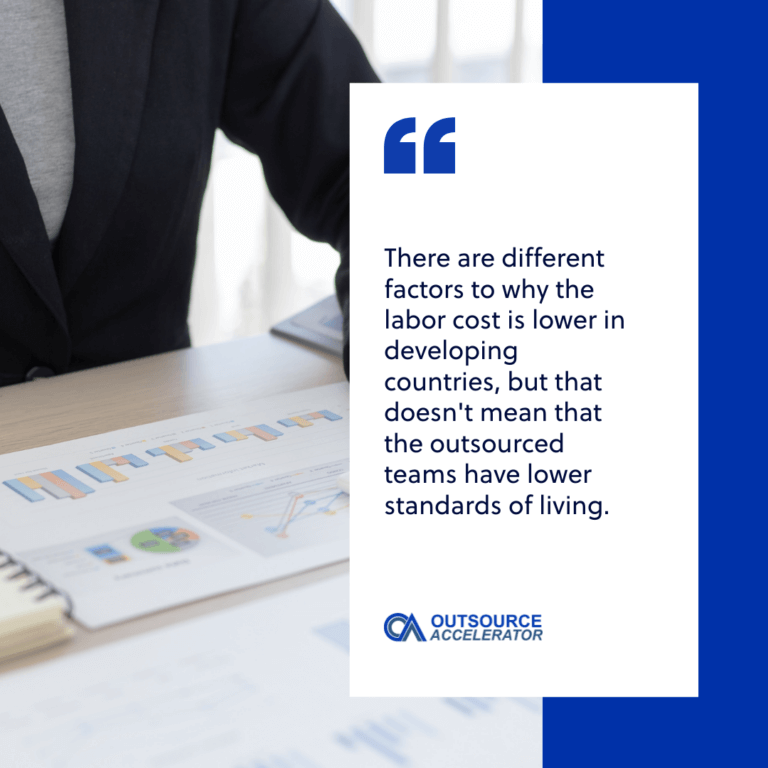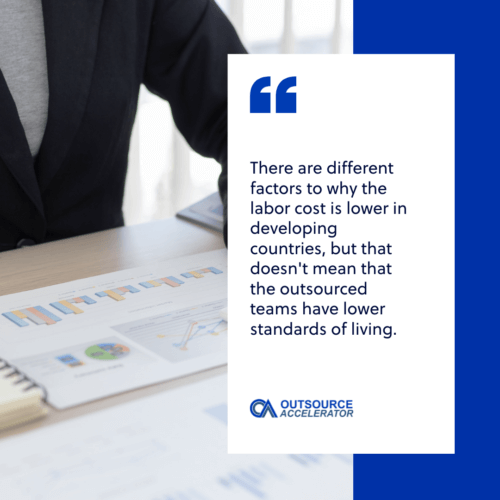 Faster delivery of outcomes
With more hands on deck, outcomes get delivered on time.
A hybrid team of in-house employees and a distributed workforce of outsourced staff can finish projects ahead of schedule. It would lessen the pressure on the in-house team and enhance the overall efficiency of the business —  all for a fraction of cost.
Lower overhead expenses
You might be thinking that with more heads on a team, there would be more facilities to pay for—more desks, more computers, more chairs, and so on.
But with outsourcing companies, you get the opportunity to expand departments without physically expanding your office. This means fewer overhead expenses for you.
While these kinds of ventures aren't exactly inexpensive, they will all be worth it in the long run.
Outsourcing: Connecting people with opportunities
Many companies have taken the leap into outsourcing finance for all the good reasons. Why shouldn't you?
Outsourcing, at its roots, is about making connections, widening people's viewpoints, and pushing boundaries.
The reasons and advantages of outsourcing boil down to the people. Without enough workers, businesses wouldn't have anyone to rely on to keep them afloat.