Outsourcing finance and accounting the right way
Last updated: December 22, 2022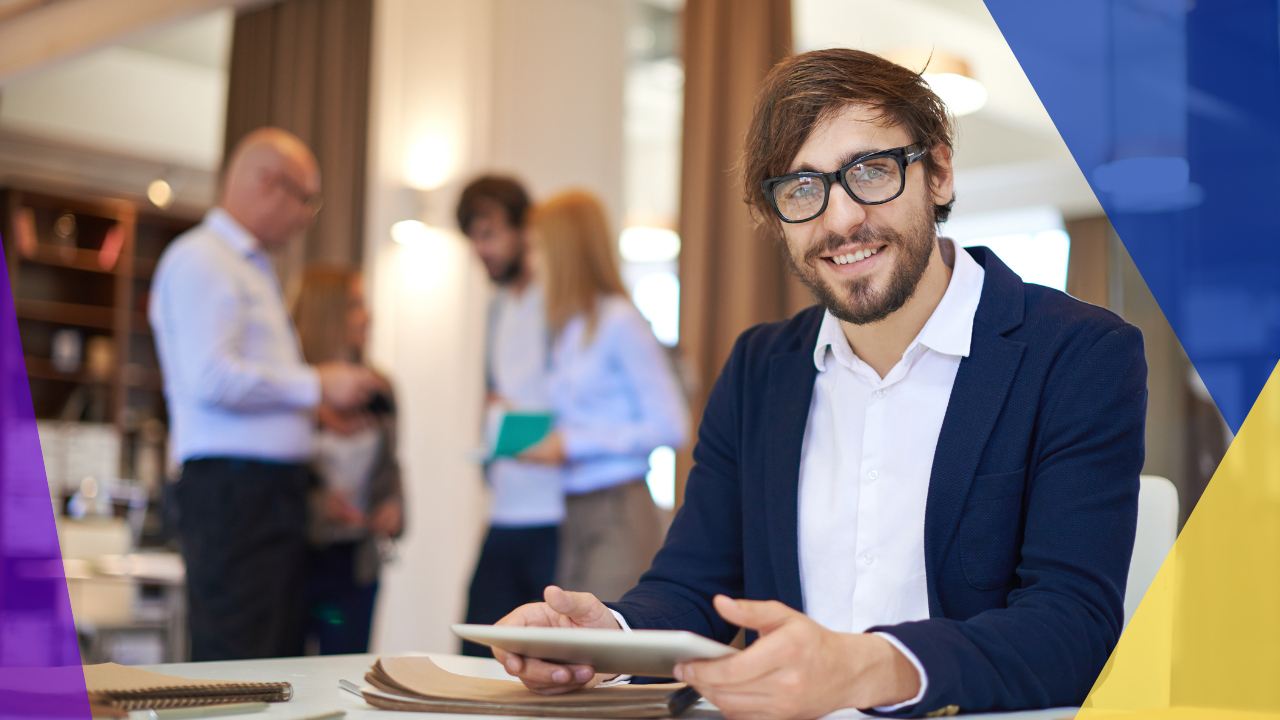 Over the years, outsourcing finance and accounting has become a major part of the specialized operation that a lot of companies and businesses carry out to improve their business functions.
Global Process Manager, a leading Philippines outsourcing supplier, shares their insights on this topic.
For every company, financial stability is one of the main goals in achieving company success. As such, it is absolutely necessary to have a proper and accurate financial accounting procedure to achieve the company's financial health.
However, a lot of businesses find running this particular process in-house a little taxing and expensive at times. In addition, the frequent updates on the compliance policies and regulations and the maintenance and upkeep of the company books have even become more difficult.
As an answer, some companies have developed an increased interest in outsourcing finance and accounting services. This move has obtained quite a lot of benefits for businesses.
Why outsource finance and accounting
What is finance and accounting?
Many businesses and entrepreneurs have embraced outsourcing various business functions, including finance and accounting.
But why should you consider outsourcing your business? Would known outsourcing benefits help your business achieve its utmost potential in the industry?
With the advancement of technology, the way we do business these days is far different from how things are done before, especially regarding financing and accounting.
Sometimes, it can even be hard to keep up with the changes in technology and the constant changes in accounting policies.
Outsource or do it in-house?
There is a reason why businesses outsource finance and accounting services from external service providers. For one, the biggest reason is the affordability of quality accounting functions.
Outsourcing accounting personnel for a specific task proves to be more cost-effective and often even cheaper compared to hiring a person in-house and building your own accounting team.
Another reason why outsourcing has become famous in finance and accounting is the already available and established processes that service providers have. They don't only offer personnel but also tried and tested accounting processes like invoicing, paying bills, and reconciling accounts that can make the entire process faster. It means that you can now avoid the regular headaches you get when organizing your business accounts.
Another reason to outsource finance and accounting is the availability of experienced people and staff from outsourcing companies. They offer services that are task-specific which require them to be trained, knowledgeable, experienced, and certified for it.
It means that when you outsource, you can get an expert to do your finance and accounting tasks, better than a regular in-house employee who is not an expert for the job.
Accounting involves a lot of organization from all processes and documents that come with it. Sorting everything out requires a lot of time and effort.
But, when you outsource this function, you can relax and give more focus on improving your core business functions.
Hiring experts for the job also give you a guarantee that it will be accomplished with little to no errors and discrepancies.
When it comes to a business' accounting documents, a CPA would always be a great help in sorting out and reconciling every data. However, hiring in-house can be extremely expensive.
Fortunately, you can outsource an accountant for your business. Outsourcing a CPA can greatly make your accounting issues so much easier.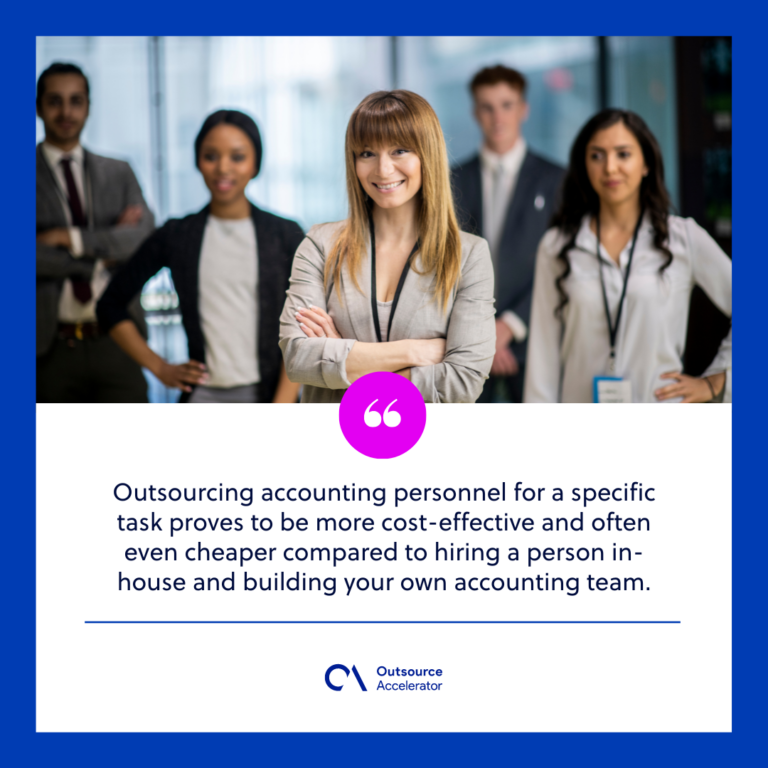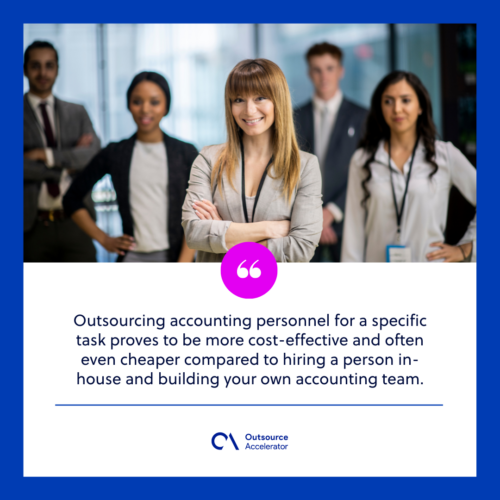 Outsourcing finance and accounting
One of the reasons why outsourcing finance and accounting services have become well adopted by a lot of companies is because it offers a certain level of reliability.
When you hire an outsourced accounting service, you get reliable support. Unlike when your in-house employee had a sick or vacation leave, service providers often have a secondary staff to fill in whenever one of their personnel is not available.
There are a lot of small yet extremely intensive tasks involved in keeping your business accounts organized and updated.
Fortunately, with outsourcing, you don't have to deal with the daily redundant and time-consuming finance and accounting tasks. You can let your outsourcing partner do the hard work for you, and you can give more attention to revenue-producing business functions.
Benefits of outsourcing finance and accounting
Companies and businesses benefit a lot when outsourcing their finance and accounting processes to an expert or professional of a third-party service provider, especially in the following ways:
Guarantee regular monitoring of accounting rules and their implementation
Finance and accounting require regular tracking to keep up with the changes, especially in accounting rules. This takes a lot of time, resources, and effort. Outsourcing this business function ensures constant monitoring of necessary accounting functions.
Allow strategic redeployment of staff
Manpower constraints can burden the accounting team as they must handle tons of data.
Outsourcing can help them relieve redundant and laborious tasks, giving them more time to focus on core finance and accounting functions.
Get experts in accounting and finance to do the job
Especially for small businesses and start-ups, it can be expensive to hire a complete in-house accounting team. Outsourcing helps you gain access to the best heads in the industry.
Reduce burden in companies during difficult economic situations
Keeping up whenever the economic situation changes can be challenging as well as resource intensive for a business. Outsourcing finance and accounting services can significantly help reduce the burden of such changes in the company.
Gain flexibility and scalability by hiring specialists in finance and accounting
Flexibility and scalability are one of the biggest advantages when outsourcing finance and accounting.
You can benefit from the customization that a service provider can offer based on your requirements.
Guarantee that finance and accounting data are handled and stored properly
High-quality finance and accounting service provider follows such strict standards and has their own functions to make sure that your data are stored securely.
Get a 24/7 external service provider.
Outsourcing finance and accounting functions from an external service firm can give you a time zone advantage as they can offer 24/7 operations.
It gives you a guarantee that accounting tasks and schedules will be met.
Significant cost savings
Outsourcing your finance and accounting processes can save you a lot of money. Accounting is extremely arduous. You can either hire an in-house specialist for the job or buy high-tech software.
But you can also outsource, which gives you access to various payment options.
Save time and effort through full automation of processes
Accounting is an extremely time-consuming task and requires full-time attention to achieve accuracy. When you outsource, you can expedite the process while also eliminating risks and errors.
Gain access to talent all over the globe
When you outsource finance and accounting processes, you get to work with the experts and specialists in the industry, and a fraction of the price at that.
Gain access to the latest finance and accounting technologies
Technology is extremely useful in accounting. However, it can be expensive, especially for small-time businesses. Fortunately, outsourcing can help you gain access to the latest accounting technologies that service providers use at a fraction of their price.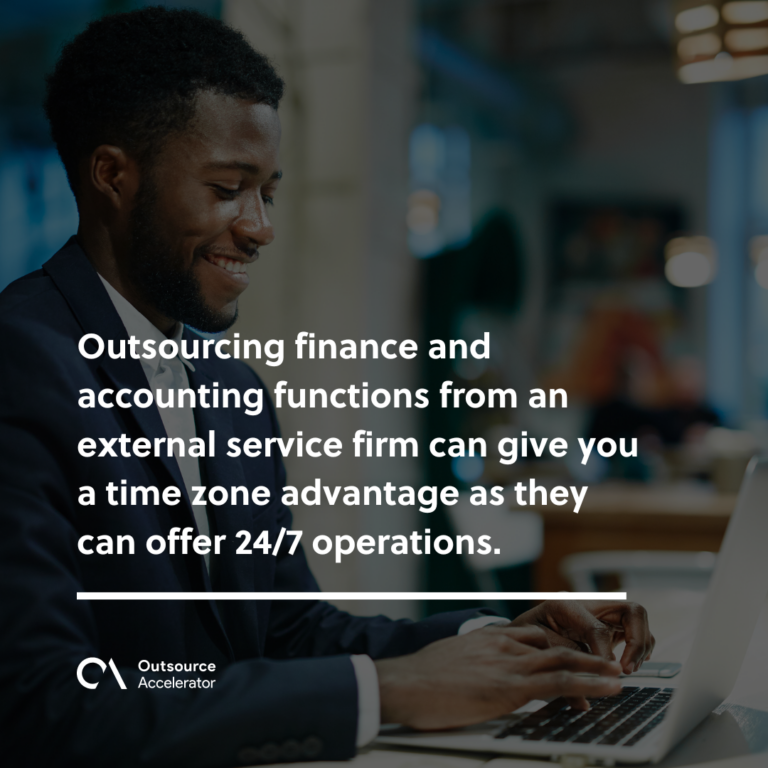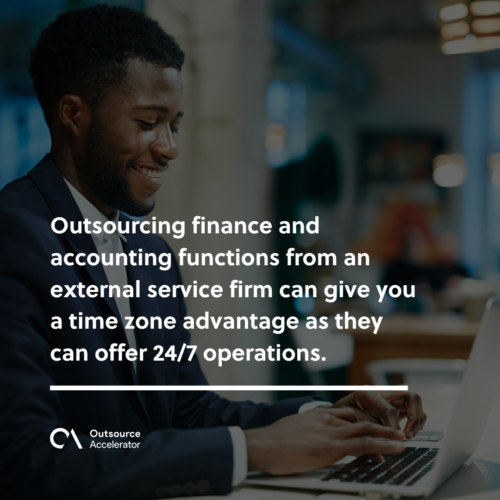 Outsourced digital finance and accounting jobs and roles
It isn't a secret that there are a lot of advantages and benefits a business or a company can get when outsourcing finance and accounting processes.
Once you have decided that outsourcing these business processes is the right move for your business, it can be a little confusing to determine where you should start with your outsourcing efforts.
Here are some ideas to help you with what finance and accounting processes you can easily outsource.
Accounts payable specialist
In business, there are a lot of transactions done from the past week, months, and years. If you want to have streamlined and organized financial details, it is necessary that you keep track of all these transactions and the papers that come with it.
It is also necessary to keep track of these things in case you have problems with the suppliers you have and issues with bad costs.
Specialists that handle accounts payable should have certain skills fit for the tasks they have.
They are responsible for doing various tasks, including maintaining company ledgers, securing the company's financial information, and helping prepare financial reports whenever necessary.
These tasks are quite comprehensive and would require a certain level of accuracy. Outsourcing this function to the best in the industry gives you a guarantee that you have someone competent and capable of accomplishing the job.
Account receivable specialist
Similar to accounts payable, the same amount of accuracy and thoroughness is needed for the management of a business account receivable.
A specialist who works in the accounts receivable process is responsible for processing payments to sync with the company's financial policies.
Account receivable specialists are required for daily transactions as they manage the business' right to collect.
Their tasks include computing, verifying, and posting all the accounts receivable data. This role is very specialized, requiring a specific set of skills.
Fortunately, if you work with an outsourcing company for an account receivable specialist, you can make sure that you have a competent and skilled individual to do the job for you.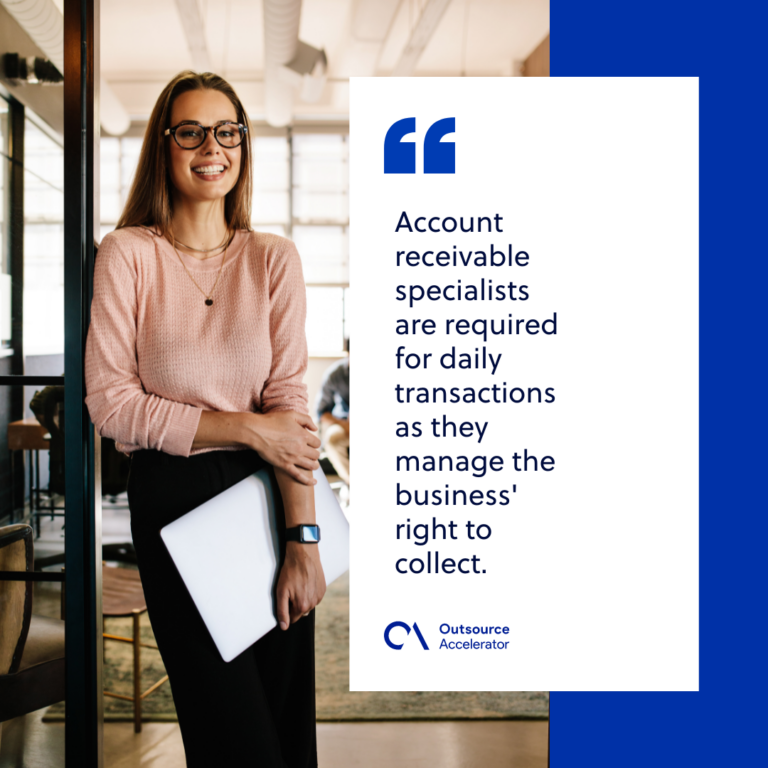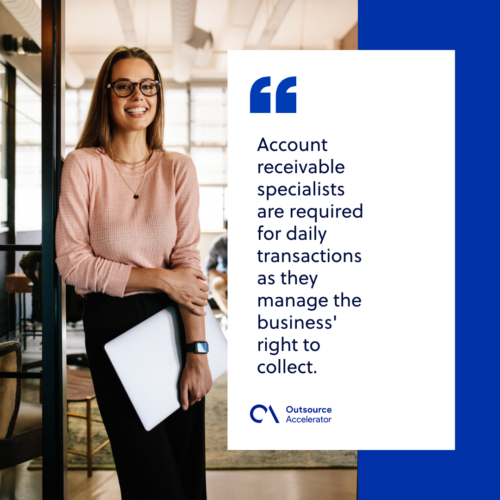 Cost of goods sold
The cost of goods sold is one of the data that the finance and accounting team is required to mine for various purposes. It is also used for making various financial reports.
Having organized data for the cost of goods sold is extremely necessary to give you a clear and comprehensive view of the profit margin of your business.
Accomplishing this task with utmost accuracy can often be effort and time-consuming. One who is responsible for doing this task should keep a tight schedule to gain accurate records, including regular updates about what is necessary to keep in line with the trends and changes.
Outsourcing this particular finance and accounting function can help the team get rid of redundant, laborious, and time-consuming tasks.
Bookkeeping services
One of the basic tasks that the accounting team usually has to accomplish is bookkeeping.
It includes various other tasks like looking after the company's cash flow, compiling tons of invoices, maintaining the books, and producing the business' basic financial reports regularly.
When you think of it, these tasks can be as simple as any organizational task. However, with the repetitive and continuous bookkeeping activity, it can often consume a lot of time of everyone on the accounting team.
Outsourcing bookkeeping services from a third-party service provider like Remote CoWorker can significantly free up the redundant work schedule of the accounting team, giving them more time to focus on their most complex tasks.
Further. outsourcing bookkeeping functions have become even easier for businesses with the popularity and availability of cloud bookkeeping software.
Payroll processing and reporting
Similar to bookkeeping services, payroll processing and reporting is one of the repetitive and usually time-consuming tasks that the finance and accounting team often faces.
It can take so much time and effort from the team that should have been used to focus on more core-important tasks.
However, there are now accounting software systems that provide integration to a business' payroll processing applications.
This kind of technology and software allows you to process your payroll automatically once you have input the required information.
But, preparing payroll information can still be time-consuming for the accounting team. Fortunately, this is something you can now outsource to an external service provider.
Inventory and procurement
Inventory and procurement are among the business processes that falls on the lap of the finance and accounting team. While some companies don't consider this as a core function, it is still one of those things that you need to be kept up regularly.
Keeping tabs on the remaining supplies and vendors in the company is quite an important task; one that also requires a certain level of accuracy and organization. It can also be laborious and time intensive at times.
As such, it often takes so much time and resources from the accounting team. Fortunately, inventory and procurement are among the things that you can easily outsource from external service providers.
Financial controller roles
Financial controllers help a great deal in making sure that your business processes and operation, especially within the finance and accounting team, are running to the best that they can.
Such controllers are essential in improving processes, removing obstructions, and helping you implement changes.
Financial controller tasks include preparation and review of performance indicators, overseeing overhead expenses, review of products and services line of efficiency, and implementing methods like cost reduction.
Transferring data to be used for financial controllers and communication has become easier over the years because of technology.
It's not faster and easier to mine and share process logs and maps, performance indicators, and any other necessary data.
But, this process often includes cloud applications, remote servers, and even ERP or enterprise resource planning software which can be quite expensive.
Outsourcing financial controllers can help you take advantage of such high technology and software as a function of its price.
Financial administration
For an accounting team in a business, a financial administrator is one of the essential persons that ensure and organize accurate financial details.
The financial administrator is in charge of processing both business income and expenditure as well as maintaining the financial records.
Financial administration is extremely rigorous but outsourcing this finance and accounting process can make the whole team focus more on the business revenue-producing tasks.
Outsourcing this function can also help a business take advantage of the technology that service providers use to make the entire process faster to complete.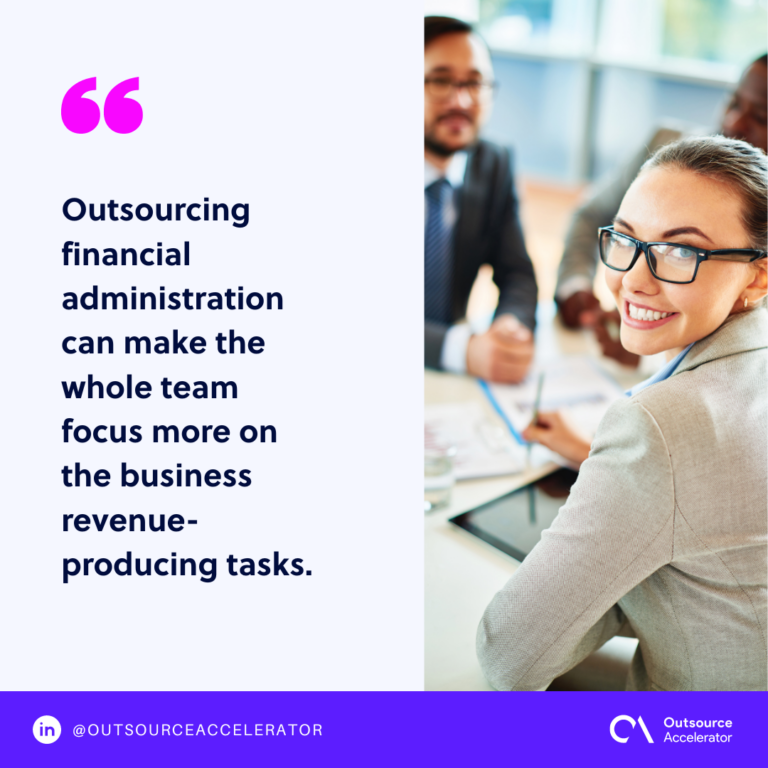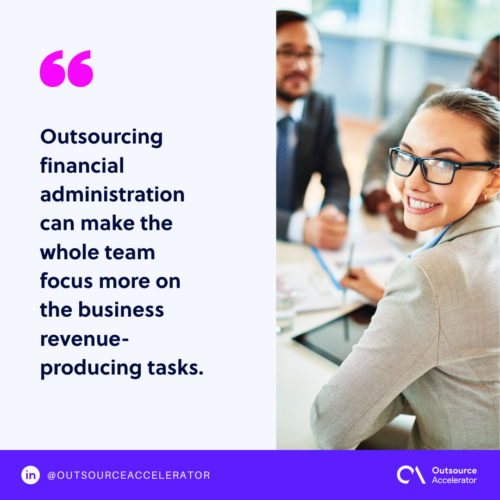 Pre-filling
The tax season is one of the busiest days or weeks for the finance and accounting team. There are a lot of things to be done; a lot of papers to prepare, sort out and accomplish.
These processes will also require a high level of organization and accuracy to make sure that you have everything sorted out and to avoid penalties.
Having an accountant in addition to your in-house accounting team can help you with the pre-filling of data to complete your requirements.
An accountant can make tax preparation more convenient for you and help ensure that you have accuracy on your documents.
Hiring an accountant in-house can be expensive. Fortunately, you can outsource one, and it would be more cost-effective for your business.
Compliance preparation
Preparing your company's compliance requirements whenever it is necessary is hard work for the accounting team.
There are a lot of things you have to do and go through, such as tracking every business transaction, reviewing statements, as well as updating yourself on all the compliance requirements to avoid having to pay penalties.
Such documents you need on hand during compliance preparation are your transactions for the past months or the past year, and this means you're dealing with a lot of paper works.
Sorting through tons of files can be absolutely time-consuming.
Fortunately, there are external service providers that offer outsourced compliance preparation. They can help you sort out the files you need and prepare the necessary documents for your business's compliance.
Tax preparation
Tax preparation is one of the hardest seasons for the finance and accounting part of the business.
Preparing your company's income tax returns can be tricky and usually involves a lot of discrepancies when not done with utmost accuracy.
Fortunately, your tax preparations can now be outsourced from a third-party service provider. It makes your job easier, faster, more efficient and accurate.
You can simply send your completed documents like income and expenses and other supporting information; then they can take care of the rest for you.
While you can purchase cloud accounting software for this particular task or for organizing your tax returns, it can be a little expensive. Hiring an external accountant would be more cost-effective.
Clearly, there are many reasons why outsourcing accounting services can help your business especially the finance and accounting department.
Accounting is truly a not-so-easy task, but there are a lot of finance and accounting functions that you can outsource to a third-party service provider.
All in all, outsourcing finance and accounting can be an excellent move for your business.
Global Process Manager is a leading outsourcing supplier, specialising in medical transcription services as well as other verticals.