Outsource to Iloilo: An emerging destination outside Manila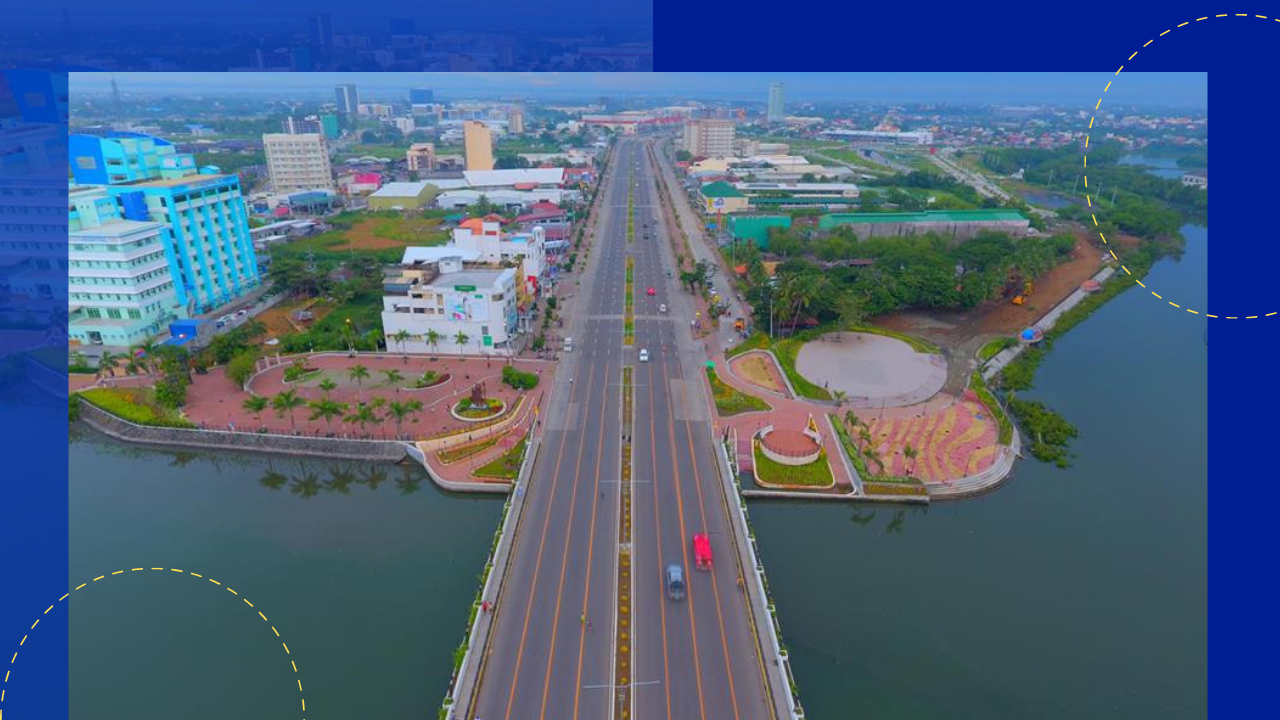 There's more to outsourcing to the Philippines than sticking to Metro Manila. 
With the capital's continuous overdevelopment, towering prices, and traffic congestion, local companies and BPOs alike take their operations outside of the Metro and into more viable areas in the country.
Situated in the heart of the Philippines, Iloilo has gained traction as a popular outsourcing city in the country. It was once included in the Tholons rankings but was dropped twice in 2017 and 2019.
Despite this setback, the local government and private entities are still optimistic about its rise to glory. Learn why companies should outsource to Iloilo in this comprehensive guide.
Iloilo's outsourcing climate
Iloilo first flourished as an outsourcing destination almost the same time the Philippines first gained recognition globally. It was one of the Next Wave Cities developed by the Commission of Informations and Telecommunications (now DICT) in 2009. 
Starting with two infrastructures for future BPO occupants, Iloilo instantly gained traction. It first entered the Tholons Top 100 Outsourcing Destinations in 2010, ranking 98th, and was one of the "50 Aspiring Cities" on its way to becoming an ideal BPO hub.
Iloilo continued to develop as its rank improved over the years. Along with Davao, the city was even named a "center of excellence" in 2016 due to its booming IT-BPM scene.
Iloilo experienced a few setbacks on the way like other emerging destinations. It dropped twice from the Tholons ranking in 2017 and 2019. To this day, it has yet to reclaim its place on the list.
Despite this, Philippine institutions are still positive that the outsourcing industry will continue to develop. BPO companies flock to locations outside of Metro Manila during the pandemic as a way to maximize their offerings, with Iloilo being one of the most sought-out places for this.
Iloilo statistics
Region: Western Visayas

2021 population: 477,695 (Iloilo City); 2,509,525 (Iloilo Province)

Regional employment rate: 93.26%

Literacy rate: 98.8%

Local BPO organization: Iloilo Federation for Information Technology (IFIT)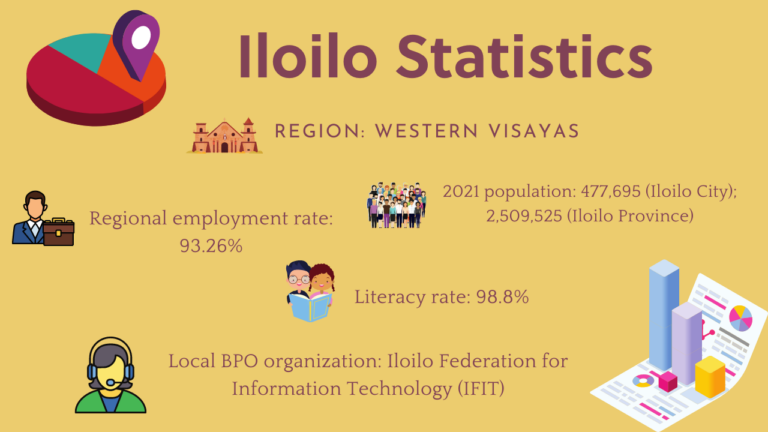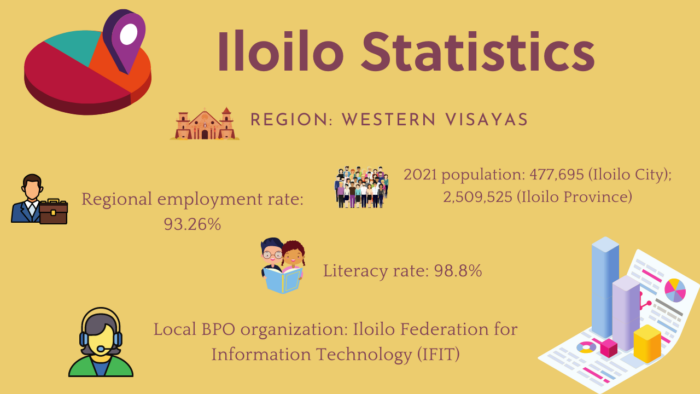 Why companies outsource to Iloilo (and why BPOs settle here)
Iloilo is widely known for its rich culture, warm people, and recognitions, whether local or international. Most clients that want to outsource outside Metro Manila usually find Iloilo as its "warmer counterpart."
At the same time, BPOs set up their operations in the city due to its good reputation in terms of infrastructure and workforce. In fact, it "took up the most BPO space in 2020" despite the pandemic, according to a renowned real estate firm.
The following are the reasons companies and BPOs want to outsource to Iloilo:
Less traffic congestion
Manila reportedly has the second-worst traffic congestion in the world, next to Bengaluru in India. Studies show that the country loses around PHP 3.5 billion (more than USD 68 million) a day due to this problem.
Imagine how much time BPOs and their clients waste with the extra time spent by their workers in traffic each day.
As much as possible, the Iloilo local government prevents this congestion by implementing measures such as "traffic discipline zones" to ease most of the congestion that happened in the city.
As a result, more citizens and businesses have flung to Iloilo to settle and expand their businesses.
Superb infrastructures
Iloilo also prides itself on its superb infrastructures. It can compete with Manila, Cebu, and Davao when it comes to technology hubs and connectivity. 
The outsourcing industry is one of the largest contributors to the city's thriving economy. Since 2017, it is already developed to be a premier "smart city," further establishing its status as a "center of excellence."
The two largest developers in the country, Ayala and Megaworld, contributed to building two of the largest BPO hubs in the city: Ayala Iloilo Technohub and Iloilo Business Park. 
Being award-winning hubs, they promote work and leisure for business owners and workers alike with their mixed-use environments.
An abundance of academic excellence
Iloilo has had the highest literacy rate in Western Visayas for years now, owing to its abundance of academic institutions. It even received a literacy award from the Department of Education in 2018. 
Iloilo houses eight large universities, including the University of the Philippines Visayas (UPV) and Western Visayas State University. These universities alone produce thousands of highly skilled and educated graduates entering the workforce each year.
Local and global companies won't have to go to Manila since they can find an exceptional workforce here.
Warm and empathetic people
It is said that Iloilo excels because of its citizens. Indeed, Ilonggos have a warm and welcoming presence to everyone, especially their neighbors.
Ilonggos are simply known for their resilience, compassion, and helpfulness. They also value their art, history, and tradition, further helping preserve their rich culture. 
These characteristics are translated into the workplace, especially in BPOs. With this, companies can expect to hire vibrant, high-quality teams that can help them achieve their goals and improve in the best way possible.
Strategic location
Located at the heart of the Philippines, Iloilo serves as "a gateway" to the island of Panay. It is connected to its neighboring provinces Antique and Capiz by land and to Guimaras Island by land and water. This makes Iloilo one of the centers for trade and finance in Visayas.
Much has improved in the city and the entire province. It was named the "most business-friendly highly-urbanized city (HUC)" in 2019 and has received special citations the following year.
Given its strategic location and business environment, Iloilo is deemed friendly to investors and local businesses who want to operate in the Visayas. The costs and situation in the city even make it more attractive for BPOs and clients looking to outsource to Iloilo.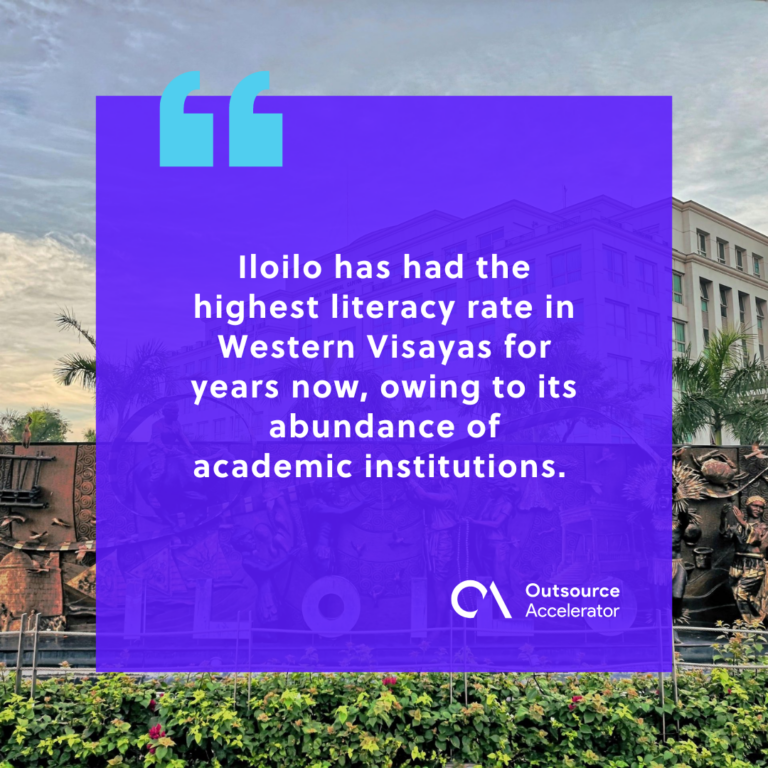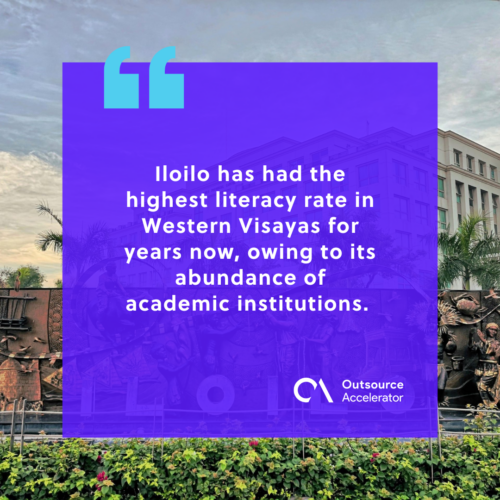 BPO companies in Iloilo
Through the years, large-scale BPOs have led the way to set up teams in Iloilo. Some of the notable outsourcing companies in the city are the following.
KMC Solutions
KMC Solutions is a renowned staffing and workplace solutions provider in the Philippines. Aside from top-of-the-line coworking spaces and private offices, they provide high-quality offshore teams without having to register a business in the Philippines.
iQor
iQor is one of the leading providers of technology-based outsourced solutions globally. They focus on customer support and analytics to provide optimized interactions for their customers and employees.
TeleTech
Teletech is deemed as the "worldwide digital leader in CX." They help clients achieve the highest satisfaction with their outsourced services by implementing digital solutions to improve their operations and functions. 
Transcom
Transcom, one of the leading BPO companies, focuses on providing the best customer experience possible. They pride themselves on being "CX fanatics," offering digital and staffing solutions to the leading brands worldwide.
TELUS International
Lastly, TELUS International helps companies brace for being a "business of the future." They cater to global brands and provide next-generation services fueled by digital solutions to help with their transformation.
Services you can outsource to Iloilo
The Philippines has been known for back-office support and customer services for years now. However, BPO companies have expanded their services to add more value to outsourced functions.
When companies outsource to Iloilo, they can delegate the following functions: 
Lead generation and sales
Sales cover a wider range of tasks related to selling a company's products and services. Before converting a customer, they first have to attract them and undergo a series of qualifications before finalizing their sales.
Not all leads are converted into paying customers upfront. With this, companies should invest in lead generation and sales efforts to make sure they get to increase their leads and sales over time.
Outsourcing takes the burden out of repetitive tasks in generating leads and sales. Through this, organizations can ensure that their sales functions are handled by highly-skilled talents, helping them maximize their sales over their target market.
Human resources
It's even easier for companies to delegate human resources offshore. As employee expectations increase, employers opt to have a hand in handling their workforce better.
An outsourced human resources team can handle functions such as recruitment, training, and payroll. One of the benefits of delegating this function is that employers can improve the benefits they provide.
As a result, they can enjoy lower attrition and turnover rate by keeping employees satisfied.
Customer support
Customer support, whether through phone or omnichannel services, remains to be a popular outsourced service. With the increasing number of channels for communication, businesses should maximize their means to connect to their customers for their convenience.
Outsourcing this function is a great way to improve customer experience and satisfaction. Most service providers, big or small, combine automation with human labor to optimize their performance.
What's more, the Ilonggo workforce can provide the utmost care and empathy to their clients, given their warm nature.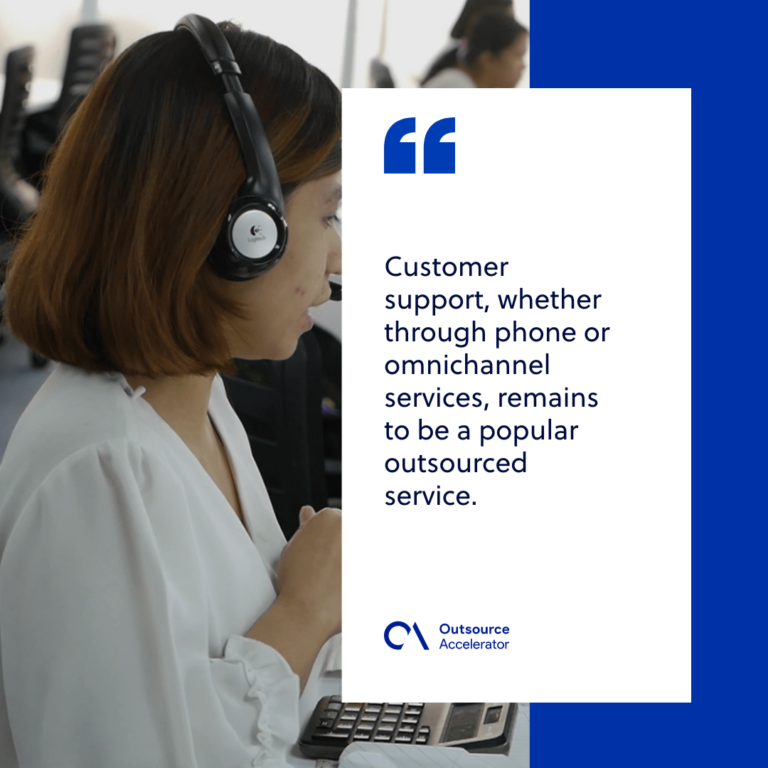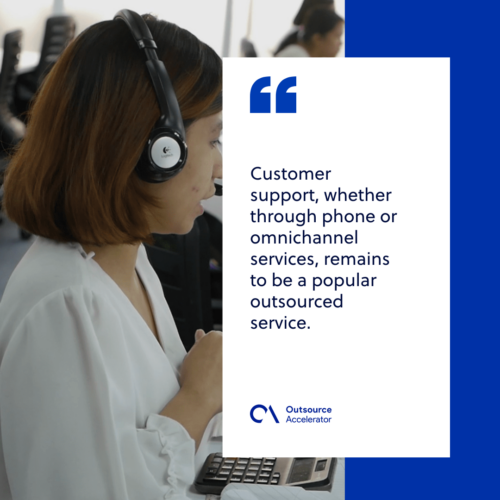 What to expect when you outsource to Iloilo
Given the reasons above, Iloilo is set to be one of the fast-rising outsourcing cities in the Philippines. It has the people, infrastructures, and support for investors that global businesses will surely get attracted to.
When you outsource to Iloilo, expect to enjoy better benefits such as:
Lower costs

. Since it is still a developing city, costs of living and investment in Iloilo are still low. This allows you to maximize your savings and profitability further.
Round-the-clock, uninterrupted services

. Iloilo also experiences fewer calamities compared to Manila. With this, you can have round-the-clock services provided to your customers without interruptions.

Rich culture

. Iloilo preserves much of its rich culture and traditions. Companies investing in Iloilo have the chance to experience this firsthand once they set foot in the region.
Despite these advantages, keep in mind that outsourcing does not have a fixed way for everyone. It works best with tailored solutions and services according to your needs and goals.
It's easy to start outsourcing right away: look for a suitable destination and provider for you and talk to them about your requirements.