Successfully outsourcing customer support in 2024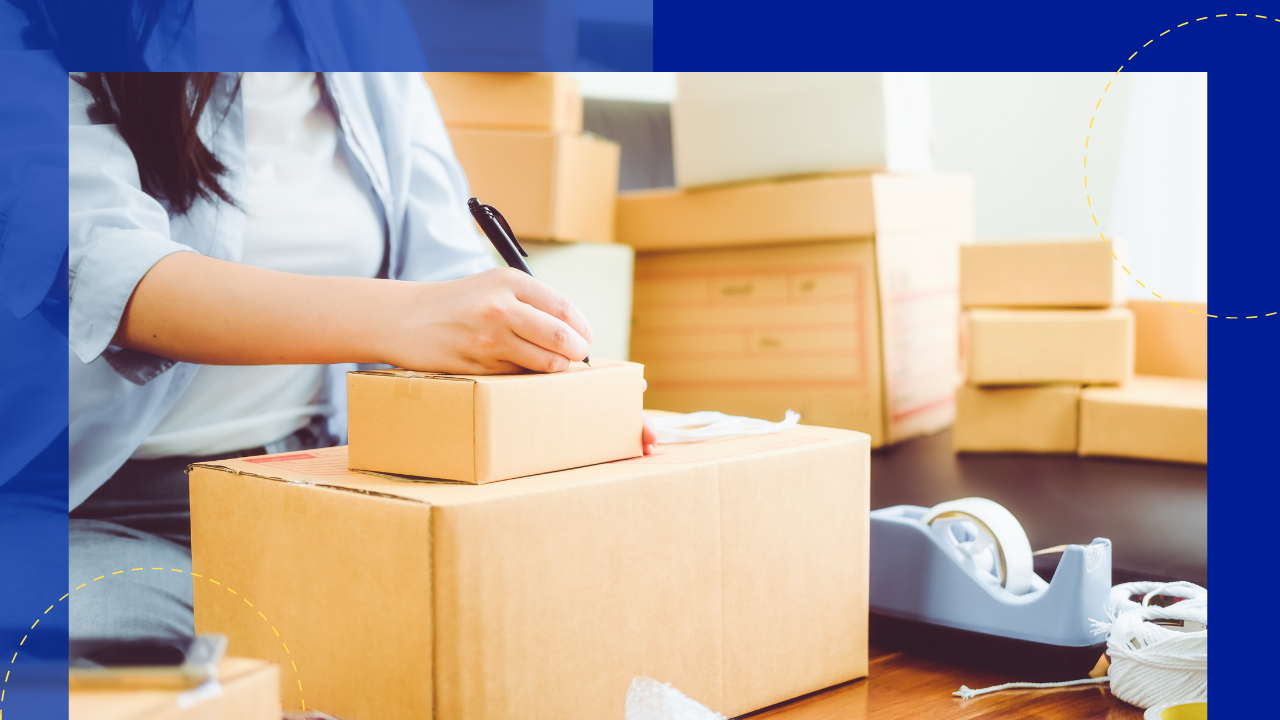 Worldwide outsourcing has become more common as technology advances. Organizations can hire third-party companies to carry out duties that would typically be handled by an entire department.
Outsourcing customer support is just one of these many popular services that businesses have been taking advantage of for years.
Thus, more and more businesses for all industry sectors and sizes will continue to do so in the future.
Outsourcing customer support for small businesses
Some companies that start small do not have the resources to hire a full customer support staff, even if they require it for business operations.
Outsourcing customer support helps make all of their customer service operation's needs possible, especially for small businesses.
An organization does not have to worry about additional office space, payroll, benefits, or even training by outsourcing a customer support team.
A third-party outsourcing company makes even a small business owner more profitable and efficient.
Plus, as Forbes notes, outsourcing customer service is one of the best uses of a remote workforce.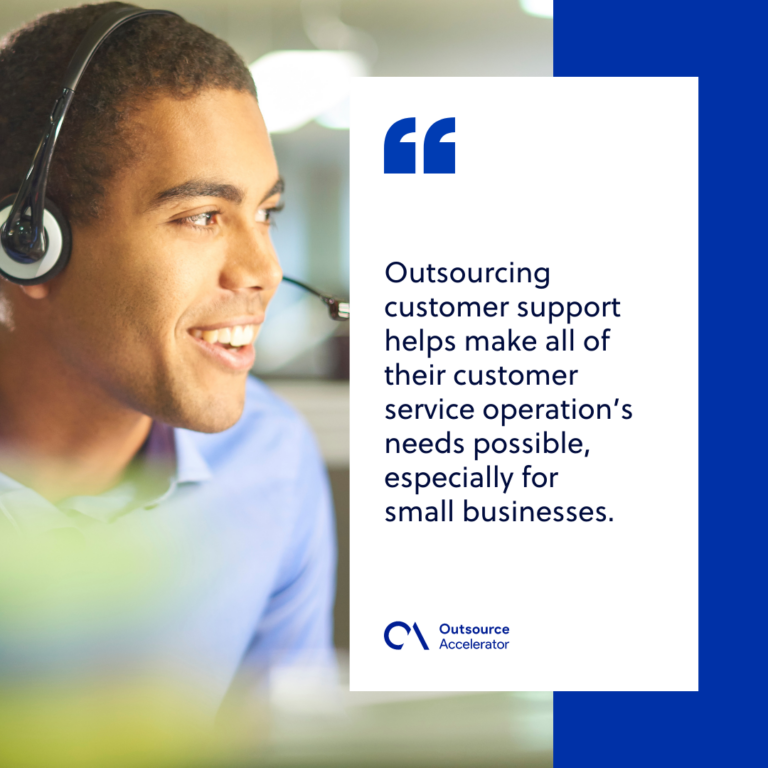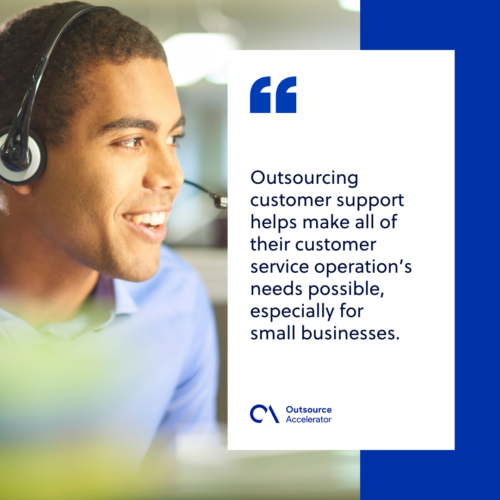 Outsourcing customer support: How your outsourced team can help
Having an outsourced phone support team for your organization can make all the difference. Individuals worldwide still prefer to talk to real people on the phone when they are looking for immediate help.
All customer-facing companies aim to attend to their customers' needs in real-time. And this is strongly possible when they enlist the help of a customer service outsourcing company.
Utilizing the help of BPO providers for customer service allows organizations to save a large amount of their financial resources.
Having the help of customer service outsourcing companies eliminates the need for a company to provide training, tools, and office equipment needed for their customer support team.
From avoiding increased office space to additional employee salaries and benefits, a business can hire this entire department out at a reduced cost, similar to companies that employ remote workers.
Using a third-party company for customer service can save an organization money and hassle annually.
Advantages and disadvantages of outsourcing customer support
As we've discussed how an outsourced team can help a business, let's further delve into its pros and cons.
Outsourcing customer service carries its own set of advantages and disadvantages, each with a distinct impact on customer satisfaction and operational efficiency.
Advantages of outsourcing customer service
Here's why you should consider outsourcing customer service:
Access to expertise
One of the primary benefits of outsourcing customer service is gaining access to a team of experienced professionals.
BPO companies specialize in customer service and often have a wealth of knowledge in handling various customer queries and issues.
This expertise translates into faster response times, effective issue resolution, and overall improved customer experiences.
Cost savings
Outsourced customer support can often lead to significant cost savings.
Maintaining an in-house customer service team involves expenses related to hiring, training, salaries, and infrastructure.
On the other hand, offshoring allows you to pay for the services you need when needed. This makes it a cost-effective solution for businesses, especially startups and small enterprises.
Scalability
Businesses experience fluctuations in customer support demands. Offshoring provides the flexibility to scale these efforts up or down based on seasonal or business-specific requirements.
This scalability ensures you can meet customer needs without overstretching resources during peak periods or having surplus staff during slower times.
Focus on core competencies
With an outsourced customer service team, your internal team can concentrate on core business activities such as product development, marketing, and strategic planning.
This division of labor allows employees to focus on what they do best, enhancing overall productivity and business growth.
Multilingual support team
Offshoring often allows access to multilingual support teams. This is particularly beneficial for businesses catering to a global customer base.
Multilingual support can break down language barriers, providing seamless customer interaction around the world.
Disadvantages of outsourcing customer service
There are also possible challenges to take into account for customer service outsourcing, including:
Lack of in-depth knowledge
Outsourced customer service agents may lack in-depth knowledge of your products or services compared to an in-house team.
This can sometimes result in less personalized or inaccurate responses to customer inquiries, equating to poor customer service.
Reduced control
When customer support is offshored, you may have limited control over the training and management of support agents.
This can impact the consistency of service and the ability to enforce specific customer service policies. Control is important to be able to cater to customer service tickets effectively.
Quality assurance helps your dedicated team provide customer support to the best of your business's ability.
Language and cultural barriers
Outsourced customer service may involve agents from different regions or cultures.
While multilingual support can be an advantage, language and cultural differences can occasionally lead to misunderstandings or miscommunications.
Potential for data security risks
Sharing sensitive customer data with external service providers carries inherent risks related to data security.
While reputable BPO companies prioritize data protection, customer information breaches or mishandling can occur. This could negatively impact customer loyalty and customer retention.
Ensure your outsourcing partner and external support reps care about the customer journey.
Time zone differences
If your outsourcing partner operates in a different time zone, it can result in challenges related to responsiveness. This is especially true for businesses requiring 24/7 customer support.
Coordinating support across time zones may require careful planning and management.
How outsourcing customer support works
Deciding to outsource customer support should not be taken lightly. The market is huge and there are many options to explore when an organization is searching for a third-party company for their customer service needs.
Some aspects to consider when examining outsourcing companies are:
Cost
Contract renewals or timelines
Language barriers
Out-of-country taxes or fees
Legal obligations with confidential information
Being thorough when looking for an outsourcing customer support service provider is essential for success.
Conducting ample research is necessary to ensure all contracts are well-defined and expectations are clear. This will eliminate any misunderstandings later as both parties work together.
What are the best outsourcing customer support services?
There are several roles included in customer support outsourcing services. Third-party companies may have a variety of services available to choose from or complete bundled service packages.
Some of these amenities can include:
Telephone support
Email support
Online Chat help
Social media help
Determining what an organization needs in terms of customer service will help when the final decision is made for outsourcing.
Some companies will want to have their customers reach a representative by phone or email. Others, on the other hand, may opt for only digital online chat help.
The best customer support outsourcing services will be the ones that fit an organization's necessities.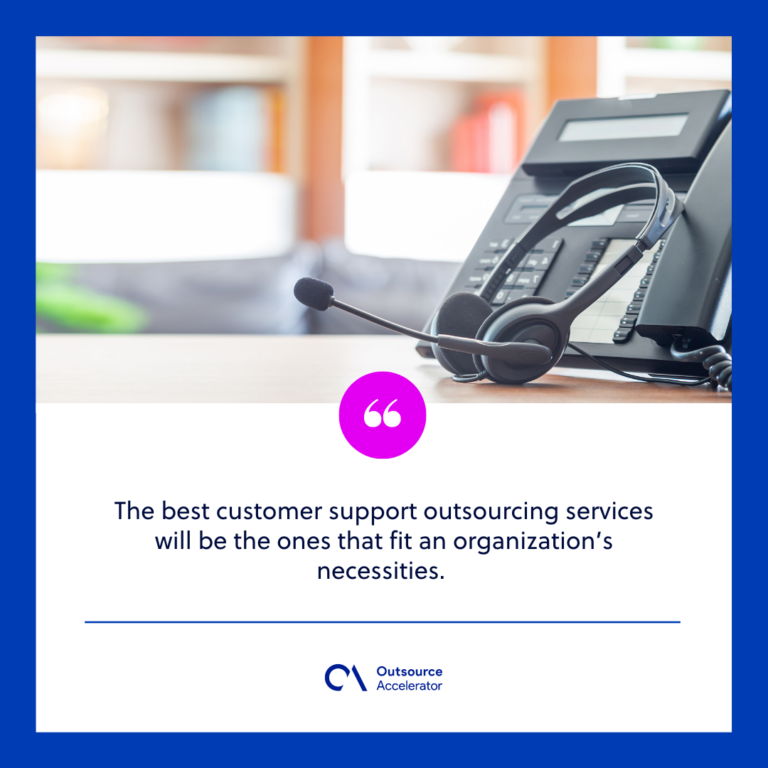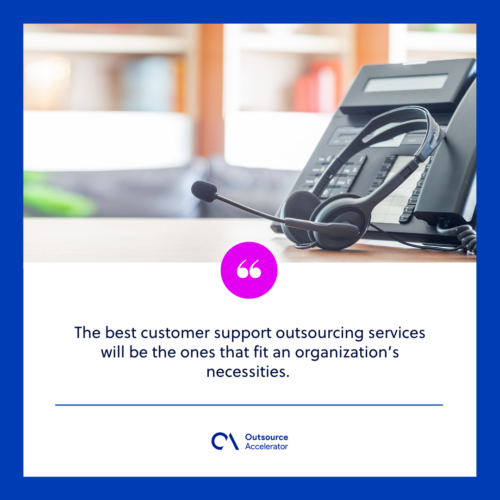 Outsourcing customer support in the Philippines
Customer support outsourcing plays a large part in the modern worldwide business market. Many organizations take full advantage of all the benefits when using a third party to head up their service department.
If done correctly, using an outsourcing company can give your business an edge against the competition.
When looking for outsourcing providers, one of the best sources for outsourcing customer support services is the Philippines.
The Philippines has remained the ultimate BPO power hub globally for decades.
Foreign companies from all over the world have been choosing to outsource in the country for a handful of reasons.
This includes its cost-effectiveness, the country's cultural affinity to Western culture, and its wide talent pool.
Outsourcing customer support in a nutshell
You need thorough research and preparation if you want to get started with outsourcing. As mentioned above, there are a variety of factors that you need to consider.
Cost should be one of the considerations but not necessarily the main one. By doing this, you might sacrifice the quality of your service which can affect customer satisfaction in return.
While your outsourcing provider will help you every step of the way, it's still an adjustment – especially if it's your first time to outsource.
You need to get yourself and your whole team prepared for any challenges and need for improvements you would face in the future.
Get the best out of your outsourced customer support by hiring a suitable outsourcing partner today.
BPO providers like Everise are dedicated to providing the best customer experience for you and your clients.