Virtual hiring events: Why organize an online career fair?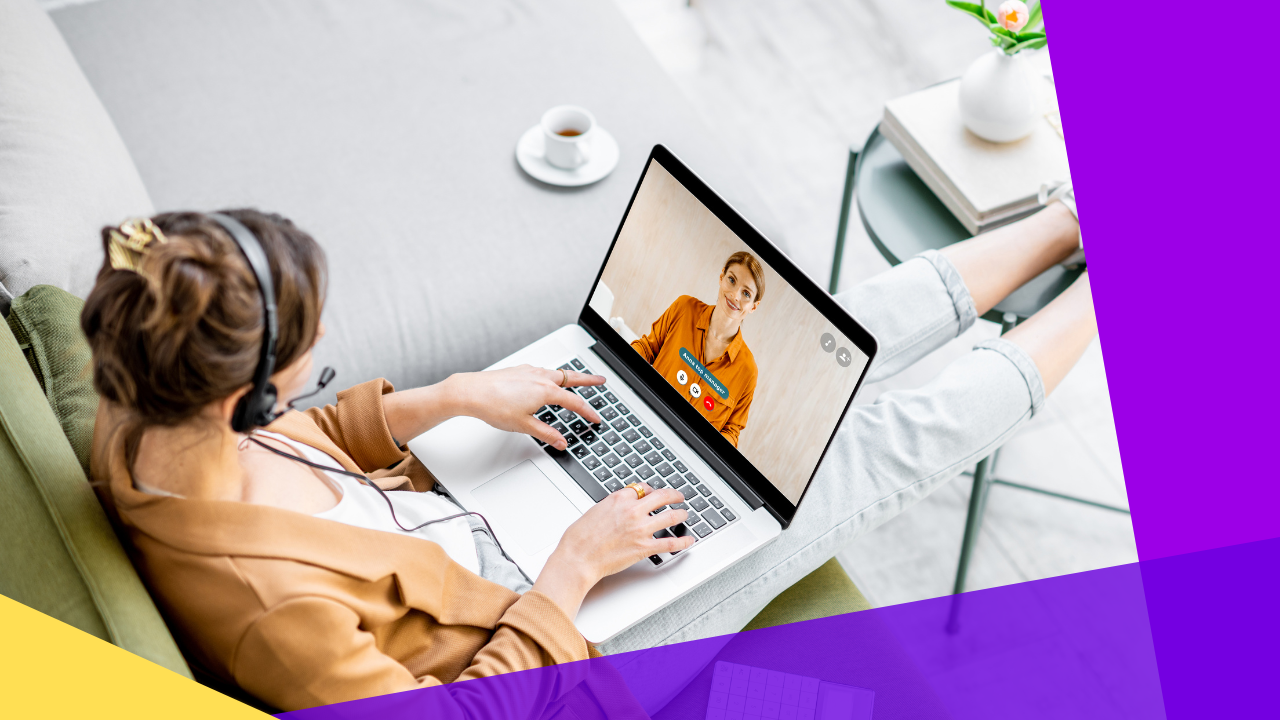 Over the past few years, virtual hiring events have gradually gained popularity as an ideal alternative to standard recruitment.
Career fairs done virtually offer a more convenient and effective solution for employers seeking qualified candidates around the globe. 
This article will cover every aspect of virtual hiring events you must know.  
What is a virtual hiring event?
Virtual hiring event is when employers accept applications and host group or individual interviews online.  
It enables companies to recruit several potential candidates, minimizing the waiting time without requiring physical presence.
Virtual interviews are usually conducted through video conferences or over the phone. Employers and candidates can determine their availability time and the best method for both.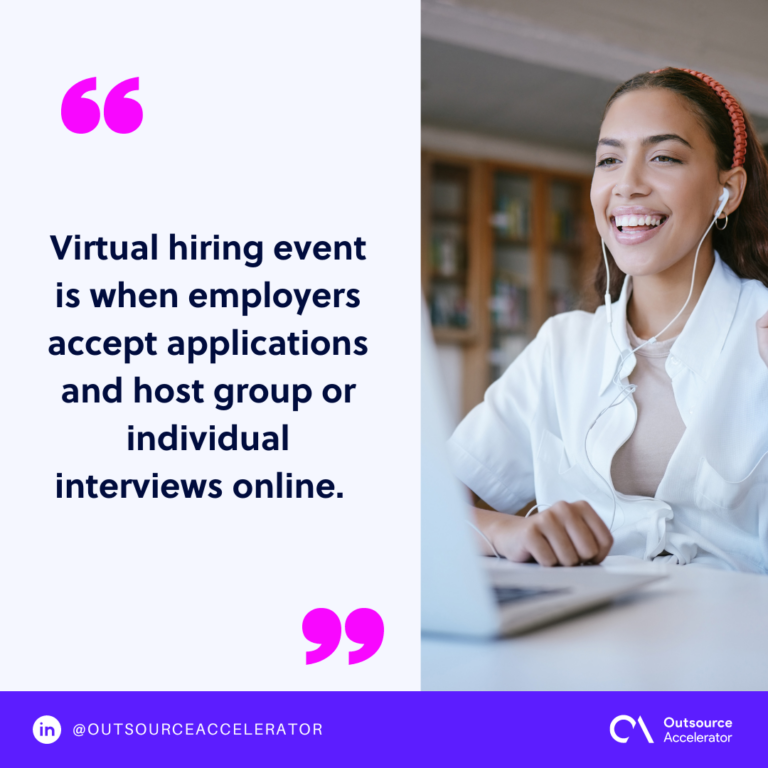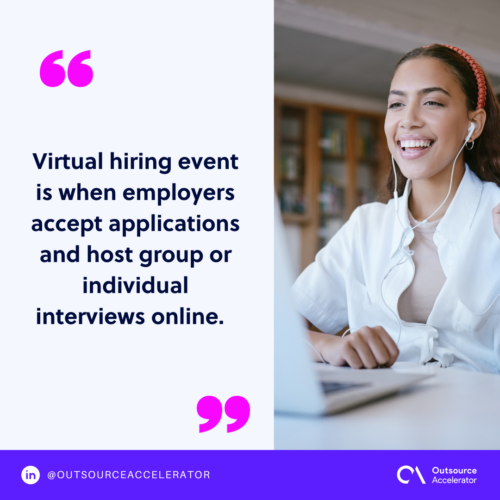 The rise of virtual hiring 
During the COVID-19 pandemic, this mode of hiring has gained popularity. A Forbes revealed that around 93% of employers have plans to switch to remote interviews, indicating they are willing to adopt virtual hiring methods.
Companies are prompted to adopt virtual hiring methods to ensure business continuity and meet their talent acquisition needs. 
During the crisis, organizations were allowed to continue recruiting virtually, and the process left a lasting impression on the world of human resources.
Virtual hiring events have provided employers with a unique opportunity to hire employees without having to leave their homes.  
Since the advent of virtual recruitment and up until its widespread use, it remained an integral part of the recruitment process. 
How a virtual hiring event works
This type of hiring event starts with using virtual hiring platforms. These platforms serve as mediums between employers and job seekers around the globe. 
Top reputable virtual hiring platforms include Zoom, Brazen, Premier Virtual, and Indeed. They provide powerful recruiting tools and everything you need to host a virtual hiring event. 
Employers must consider the particular criteria that best meet their needs because each one may differ in terms of its qualities. These platforms are also very beneficial in outsourcing individuals from other parts of the world. 
Disadvantages of a virtual hiring event
Similar to the varying hiring methods, drawbacks in terms of virtual hiring events are unavoidable. Here are a few disadvantages you may consider:
Informality
Although online career fairs may offer a convenient solution, they might as well invite the element of informality. 
As communication mode can be in the form of email, video conferencing, and instant messages, this may sometimes lead to miscommunication between employers and candidates. 
Miscommunication is not the only problem in terms of informality. One of the obvious issues here can also be the dress code. Job seekers might be too at ease with remote hiring to remember to maintain appropriate grooming standards.
Attracts unwanted candidates
Virtual hiring events' accessibility function could occasionally be problematic. Since everything is done online, firms can draw applicants who aren't interested in the position they are offering. 
To handle this issue, employers must adhere to tight criteria when it comes to the application screening procedure.

Technical problems
Although virtual hiring events may seem convenient, employers should also consider that not all applicants can access high-speed internet connections. 
In addition, there is also the possibility that both employers and employees may experience technical difficulties. Audio problems and software glitches are two examples that may interfere with the process. 
To address these problems, employers should prepare a backup plan for the event to proceed smoothly.
Advantages of a virtual hiring event
It is truly surprising how virtual hiring events have irrevocably transformed the world of recruitment. 
Let us delve into how this hiring method highly benefits businesses and job seekers worldwide:
Cost-efficiency
Hiring talents and job-seeking can be troublesome, especially for those trying to minimize associated costs during the process. 
One of the most recognized benefits of virtual recruitment is its cost-effectiveness. Not only that it helps reduce costly travel expenses but also eliminates the need for lodging and other related costs.
Moreover, this will allow applicants who reside in different countries to attend the event without having to travel.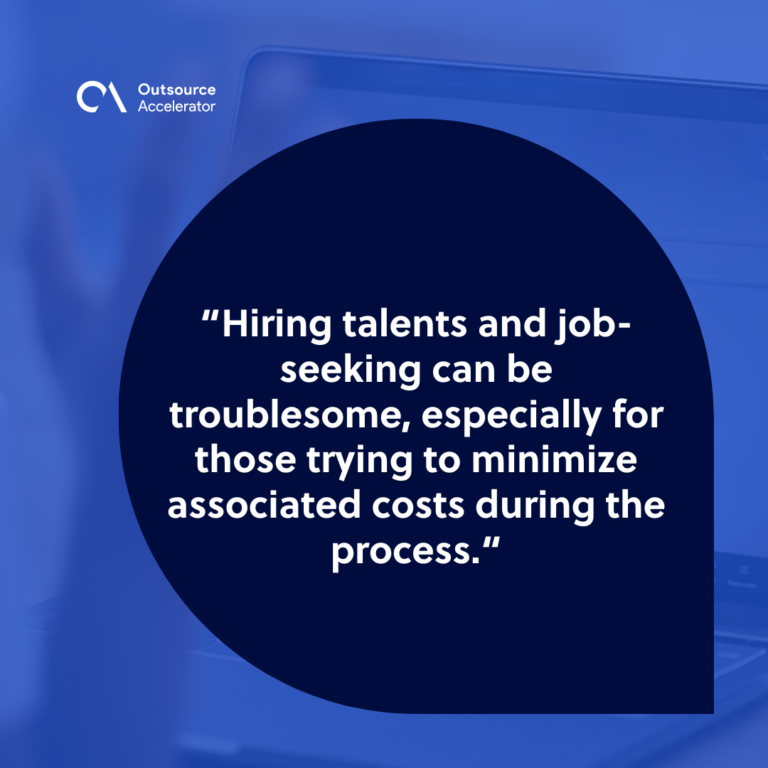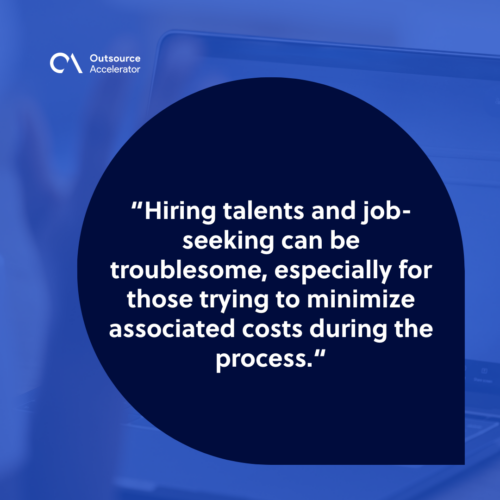 A higher number of participants
One of the distinguishing qualities of a virtual hiring event is its capacity to draw potential participants. It is now possible to outsource talent from other regions of the world without subjecting them to grueling procedures and physical recruitment. 
Employer branding
The relevance of a virtual hiring event to employer branding is undeniable as it provide an opportunity to promote their brands in the competitive market. 
Strong employer branding also promotes inclusivity in a way that diverse backgrounds and different geographic locations can be given equal opportunities. 
In that case, your brand will be able to gain a competitive advantage and reach a wider audience. 
New level of experience
Virtual hiring events are considered as cutting-edge and disruptive forces in the talent acquisition industry. They revolutionize the way people conduct their job searches and how businesses interact with potential workers.
This new level of experience could be advantageous and motivational to the majority of talents.
Hassle-free
Online recruiting events give participants the flexibility of taking part from any location with the use of an internet connection. 
Job seekers may easily engage with potential employers, attend interviews, and research career options without the common challenges associated with traditional in-person events. 
Accessibility
Equal participation and opportunity for all individuals regardless of their locations can be made possible through the help of virtual events. 
Talented individuals with physical and cognitive disabilities can also participate through the provision of available assistive technologies. 
Moreover, the whole recruitment can be conducted anytime and anywhere. 
Steps in organizing a virtual hiring event
If you are an employer who is interested in conducting a virtual hiring event, the following steps must be considered:
Identify your objectives
If you want to hold virtual hiring events with the greatest chance of success, goals, and objectives must be determined first.  
Goals could range from attracting a diverse talent pool to enhancing your company's brand. 
Choose an appropriate platform
Once your goals have been established, consider what platform you will require to achieve them. 
Some platforms cater to larger audiences. Some enable you to communicate through chats, conduct webinars, share files, and a lot more features. 
Start by determining your needs. This will assist you in choosing the best platform for your requirements. Always check whether your chosen platform possesses the features needed for your event. 
Set date and time
Your target audience's availability should be taken into account when choosing a date and time.
Be careful to plan and ensure it can be done at a time convenient for you as the employer and your target audience. 
Accomplish necessary preparations
Necessary preparations must also be conducted. These are inclusive of technical setup, remote equipment, registration process, security measures, rehearsals as well and backup plans. 
Host the event
Event hosting is considered the highlight of the whole hiring process. Here, a certain platform is utilized to conduct interviews, training, onboarding, or orientation to multiple participants.
Creating an interactive, informative, and welcoming environment should be prioritized during the process. 
When an organization's goals, mission, and vision are addressed in the hosting itself, it gives a lasting positive impression to the audience. 
Follow up on qualified candidates
To demonstrate your commitment to the candidates, following up with qualified applicants is critical. 
In terms of piquing their interest further, additional information about your organization and job roles should also be provided.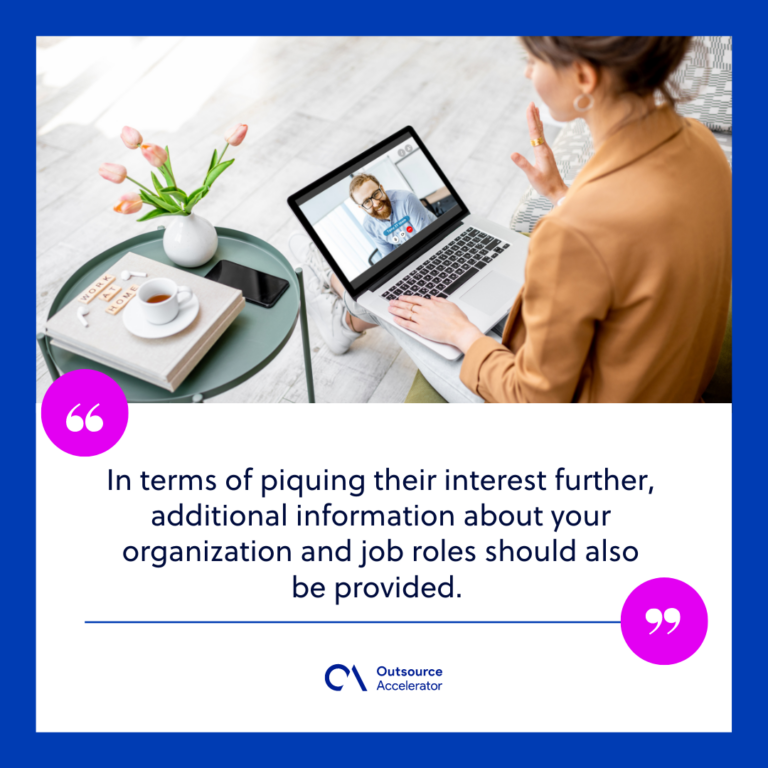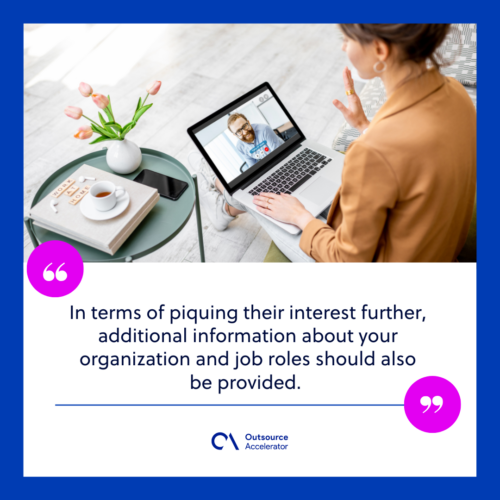 Virtual hiring event: Key points to remember
Overall, when conducting a virtual hiring event, organizations take into consider the following:
Virtual hiring events are one of the effective ways where an organization's brand can be showcased.

Venue rentals, travel, accommodation, or physical materials can be lowered or eliminated through the help of virtual hiring events.

Diverse audiences are given equal opportunities as assistive technologies are offered in the said event.

Engagement through interactive features is enhanced, which enables employers to reach a wider audience.

For both

job seekers

and companies, participating in or arranging a virtual hiring event may be a transformative experience.

To establish what you need to accomplish through the event, whether filling particular job roles, expanding your talent pool, or strengthening your employer branding, clear objectives must be first defined.

Defining your purpose will guide your event planning wherein resources can be allocated effectively.

The right virtual event platform that enables you to create a seamless and engaging experience is crucial and must be carefully selected.

Your goals must be aligned with your chosen platforms. They provide features that facilitate meaningful interactions. 

Engagement strategies must be properly executed to make the most of the

virtual hiring

events. 

A company's overall reputation and consumer trust can be enhanced through positive associations.




To keep participants involved and informed about your organization, interactive sessions,

webinars

, and networking must be carefully planned. 

A positive impression and meaningful connections can be experienced by both employers and candidates when feedback is provided after the event.