8 best online learning platforms in 2024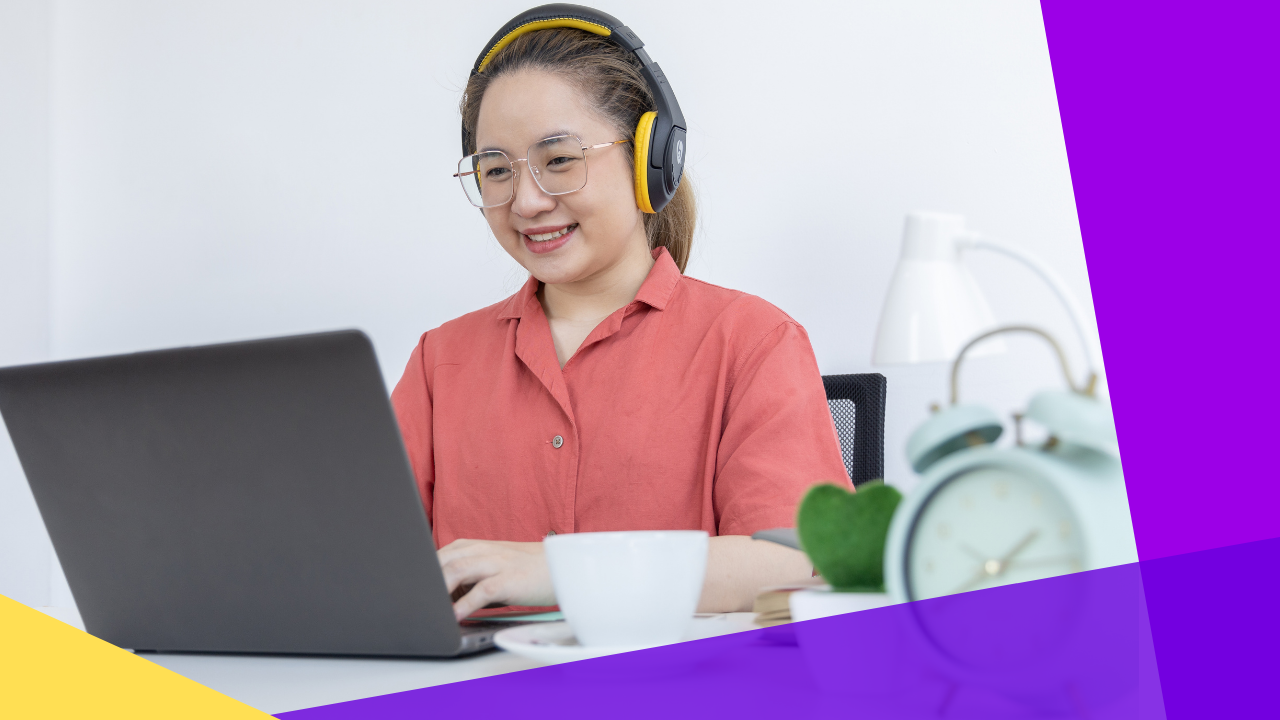 Technological innovations play a huge role in continuously shaping the entire business industry. Organizations, at the same time, should keep up with the ever-changing tech trends to augment their business landscapes.
In terms of employee development and training, human resource personnel can incorporate today's technologies in their talent management strategies. Online learning platforms can help employees polish their skills with various training courses for their professional growth. 
Significance of online learning platforms in today's digital age
The events of the past few years pushed the global business sector to adapt to a digitalized environment. A work-from-home setup has been largely adopted so organizations can keep up collaboration and smooth operations.
However, online learning is not a new trend. Even before the pandemic hit, online learning was already emerging. In fact, statistics show that 77% of US companies were already utilizing e-learning in 2017.
Besides remote work tools, online learning platforms prove to be more relevant than ever in the new digital era. Not only do these learning tools cater to students, but they also serve a purpose for adult professionals. They support employees from onboarding to training and other forms of learning purposes.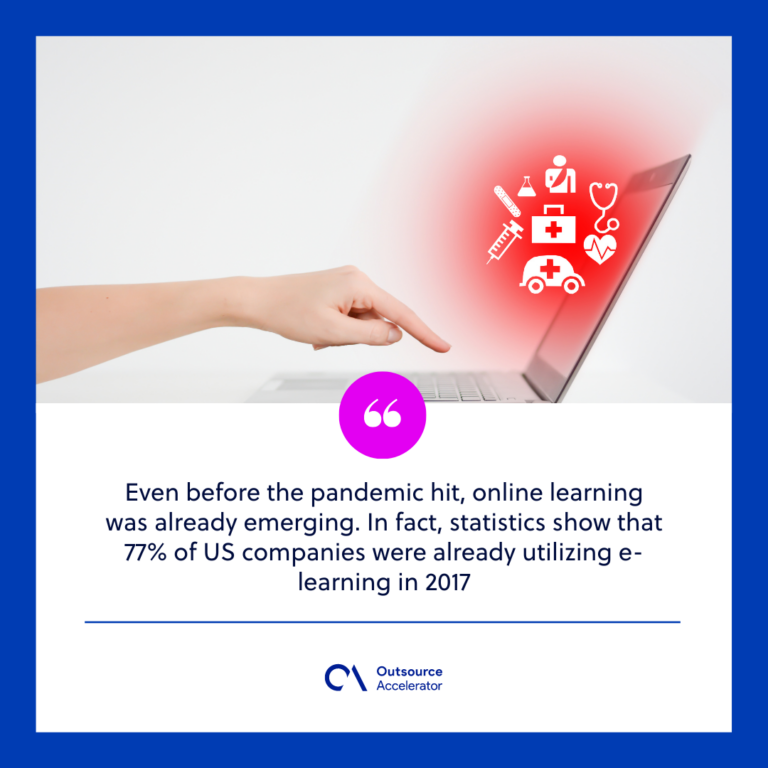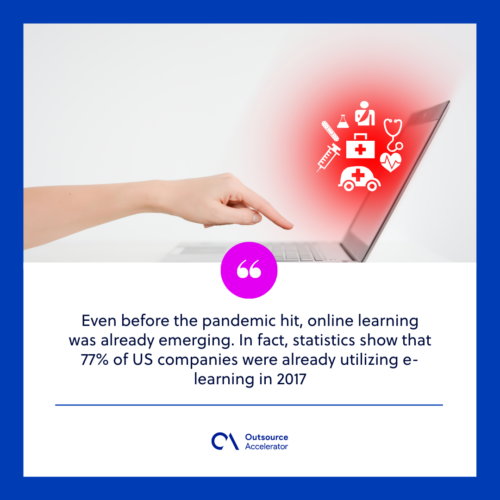 Online learning platforms are one-stop resources encompassing self-contained tools and activities like lectures, quizzes, and interactions between mentors and learners. 
Some online learning platforms offer degree programs or certifications, while others are solely for online learning courses. 
5 key advantages of online learning platforms for the company
Online learning platforms are beneficial to employers for the following reasons: 
Cost-saving
Traditionally, employers have to allot money on trainer fees, employees' time, training rooms, food, transportation, and other training materials needed for employee learning. 
But by utilizing digital means, organizations can save huge amounts of the company budget through online learning platforms. 
Continued employee access to resources 
Online learning platforms are accessible whenever and wherever. Employers can provide their staff access to learning resources as they need them. Compared to traditional face-to-face learning, remote employees can take any course training as they work from various locations. 
Enabled global collaboration
Online learning platforms are also beneficial for companies with a global workforce. Through online learning, organizations can support their employees' professional development across the globe. 
Further, staff leaders from different countries or departments can work collaboratively in creating these online learning materials.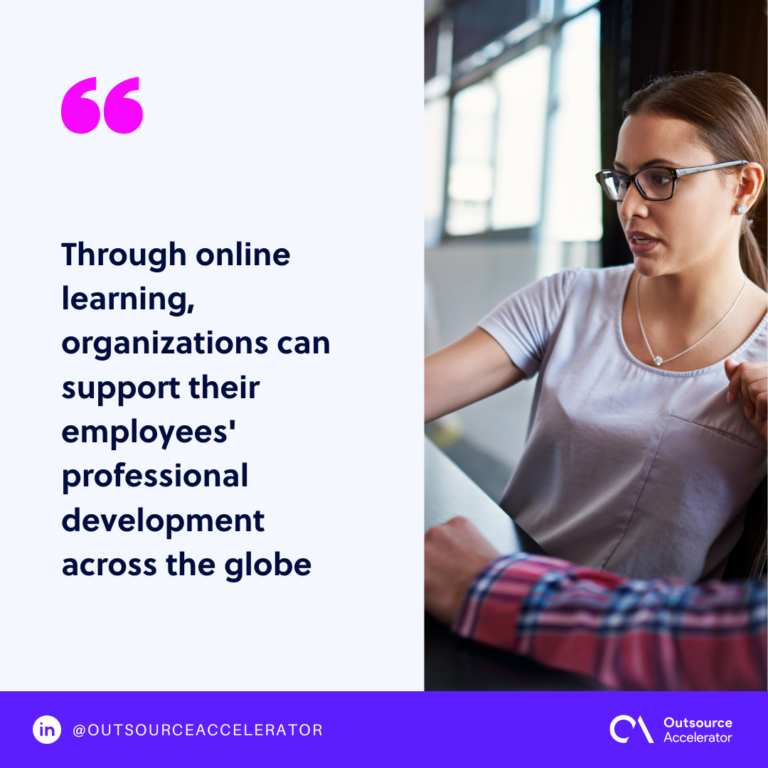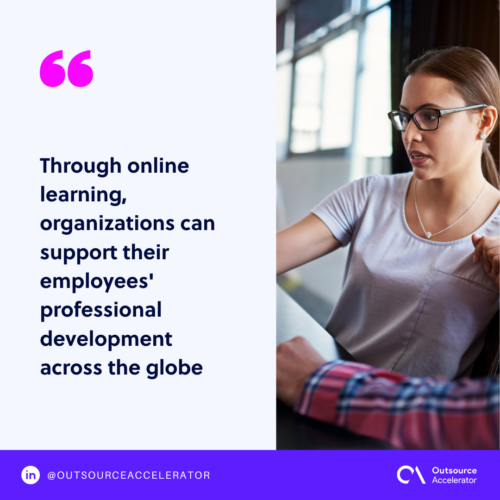 Employee retention
Today's workforce seeks a type of working environment that fits their remote work lifestyle. In terms of training, workers can go through these online learning platforms at their own pace and time. 
Thus, this also helps in boosting employees' morale. In turn, staff will be highly motivated to perform at their best and stay in the company. 
Consistent training quality and standardization
Employers are ensured of the same standards of training on online learning platforms. In face-to-face training, not all instructors will provide the same instructional materials or level of quality training for each batch of employees. 
Online training platforms provide employees with consistent, high-quality training that they need and deserve. 
3 key advantages of online learning platforms for the employees
As for the employees, these online learning platforms give them the following perks:
Lead to employee success 
The entire business industry in today's modern world is very fast-paced. To keep up with the technological trends, employees need to continuously hone their professional skills. 
Online learning platforms include a wide variety of training programs and courses. Whether it is to help employees learn new skills or enhance their areas of expertise, they aim to foster their professional growth. 
Allow self-paced learning
Employees do not need to compromise their day jobs in taking training courses through online learning platforms. They can learn during their lunch breaks, after working hours, or in their free time. 
Improve employee soft skills
Online learning platforms can be utilized via webinars, video conferencing, or instructional videos. Through interactive virtual learning, employees can still engage with instructors and other staff members online.
This allows them to learn new things while also enhancing their communication and tech skills.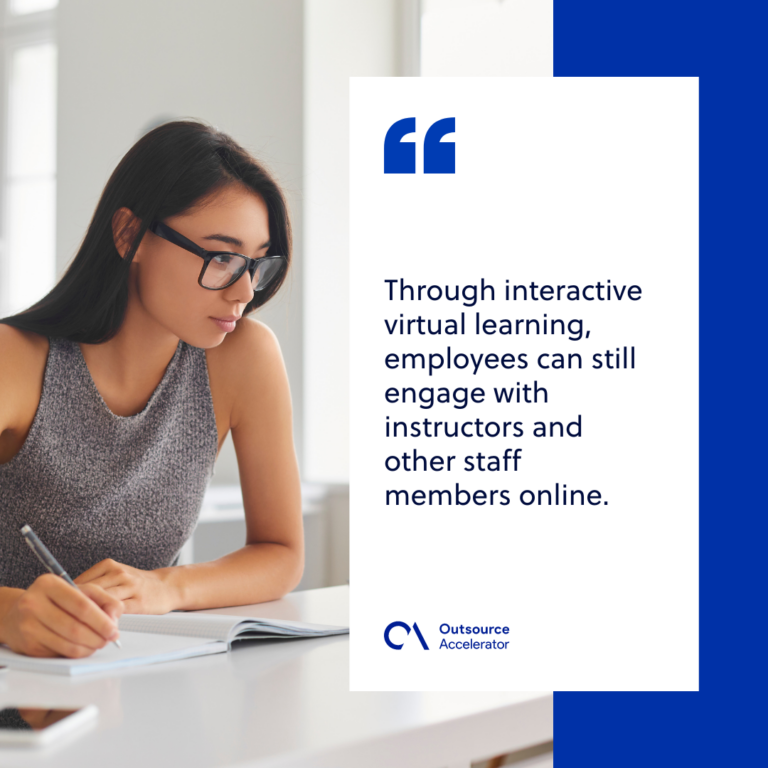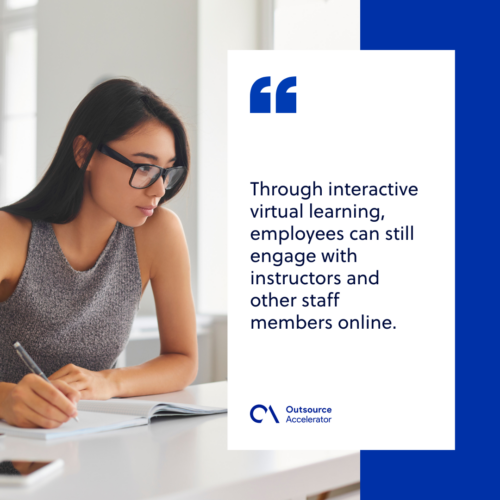 List of the best online learning platforms in 2024
8 best online learning platforms in 2024
Below, we've listed the top 8 online learning platforms that organizations can utilize in 2024. These platforms are not only for business professionals but also for students and even retirees and anyone looking to upgrade their skills.
Udemy has over 183,000 online video courses for both working professionals and students. They also update the website with different types of additional video courses every month. 
Among Udemy's famous professional categories are marketing, design, software development, business, and Information Technology (IT). This online learning platform also has courses for personal development, lifestyle, music, photography, and even fitness.
Organizations can use different types of formats for their Udemy courses. Instructors incorporate multimedia lectures with a mix of video presentations, audio, and other types of text. They can also include reading materials, quizzes, and other collaborative activities on each online course. 
Lifetime access to each Udemy specific course ranges from $11 to over $200. 
MasterClass is an online learning platform perfect for professionals in the writing, music, acting, and cooking industries. 
Its online courses typically have over 20 lessons and are instructed by some of the renowned personalities in specific industries. Examples of famous MasterClass instructors are Gordon Ramsey, Anna Wintour, and Shonda Rhimes. 
MasterClass courses are video-based, which are also associated with class discussions, workbooks, or direct lectures.
The platform operates via subscription, starting at $15 per month. Professionals that avail of the monthly subscription can take as many courses as they want within the month. 
Unlike other online learning platforms, Skillshare's online courses are less formal and are more focused on the creative field. A lot of its offered courses are aimed towards film, photography, animation, visual arts, writing, and interior design. 
Besides video lessons, Skillshare's training courses usually involve assignments so learners can also practice what they have learned. A class can range from 20 minutes to several hours. 
Skillshare is priced at $32 per month. One whole year subscription costs $168, which is valued at around $14 per month. 
Udacity is an online learning platform that is centered around working professionals in the information technology (IT) sector. It is known for offering a "coding boot camp" style of training programs. 
Udacity's training courses are focused on artificial intelligence (AI), programming and development, cloud computing, data science, and the like. 
Each class is typically held in real time with professional instructors and career coaches. It also involves real-world applications, hands-on activities, and individual code-review sessions. 
Udacity's training courses start at $399 monthly. 
Compared to other online learning platforms, Coursera offers academic courses from various universities and academic institutions. 
This online learning platform has partnered with over 200 universities around the world to offer courses for professional development. Workers can get certifications or actual online degrees by completing online courses on Coursera. 
Coursera's courses are priced individually, starting at $30 monthly. With Coursera Plus, users are also given unlimited access to over 3,000 courses each year for $399. 
Pluralsight is one of the online learning platforms that cater to professionals in the IT industry. Examples of its featured courses are cybersecurity, data science, software development, and Javascript. 
Although Pluralsight provides individual courses, learners are encouraged to take its "Paths" course collections. Each Path has specially selected courses for a specific area of specialty. Pluralsight currently has 7,500 classes for various paths. 
Pricing starts at $29 each month for a personal plan. It also offers a premium plan worth $499 per year.  
Edx was founded by MIT and Harvard University. It has also partnered with some of the renowned universities to offer real college courses, micro degree programs, and professional degree certifications. 
Its online courses are performed by real college professors, with every class involving real-time lectures, discussions, reading materials, and quizzes. 
Compared to other online learning platforms, most of the courses offered in Edx are for free. For professionals that opt for formal verification, they may avail of the verification certificate which costs $49 for each class. 
Moodle LMS is an open-source online learning platform that organizations can utilize for free. It offers a range of features for instructors such as text editor and multiple-choice questions. It also supports third-party cloud-based providers like Dropbox, in terms of assignment submissions. 
Moodle LMS currently has a record of over 200 million users across the globe.