The thriving offshore outsourcing industry is a natural consequence of the extraordinary rise of globalization. As the world became functionally smaller, companies realized that jobs could be done for a fraction of the price overseas, so instead of hiring from home, they turned to offshore labor.
Employers were previously limited to their local catchment area when looking for staff, but now, with the advent of online communications, remote work, and globalised workforces they have realised that they can employ highly qualified staff from across the world.  And they are up to 70% cheaper!
Pandemic creates tough climate for businesses
The pandemic has had a big impact on the way that the world works.  Initially it sent workers home – and businesses had to adjust.  Now, it seems that workers have grown comfortable  with their remote lifestyles, and don't want to come back to the office. And once again, the businesses are having to adapt.
Employees seem to have mastered the art of work/life balance, and they're choosing to work remotely over coming back to the office. 
"I think the pandemic has changed my mindset in a way, like I really value my time now," Jonathan Caballero, a software developer, says to an NPR article about why employees are resigning during the pandemic. Employees are now demanding to work from home and are generally calling more of the shots.
Meanwhile employers are having to adjust to the pandemic's 'new normal', try and keep their business afloat, while at the same time losing control over their own employees – and having to pay higher and higher salaries.
Not only are salaries high, but the total all-in cost of an employee keeps rising. According to the U.S Small Business Association, the total cost of employing someone costs around 1.25 to 1.4 times the salary. Businesses are struggling to make ends meet under the current conditions.
With offshore staffing, businesses are realising that if people aren't coming into the office, then there is an opportunity for businesses to explore hiring staff overseas – for much cheaper than at home.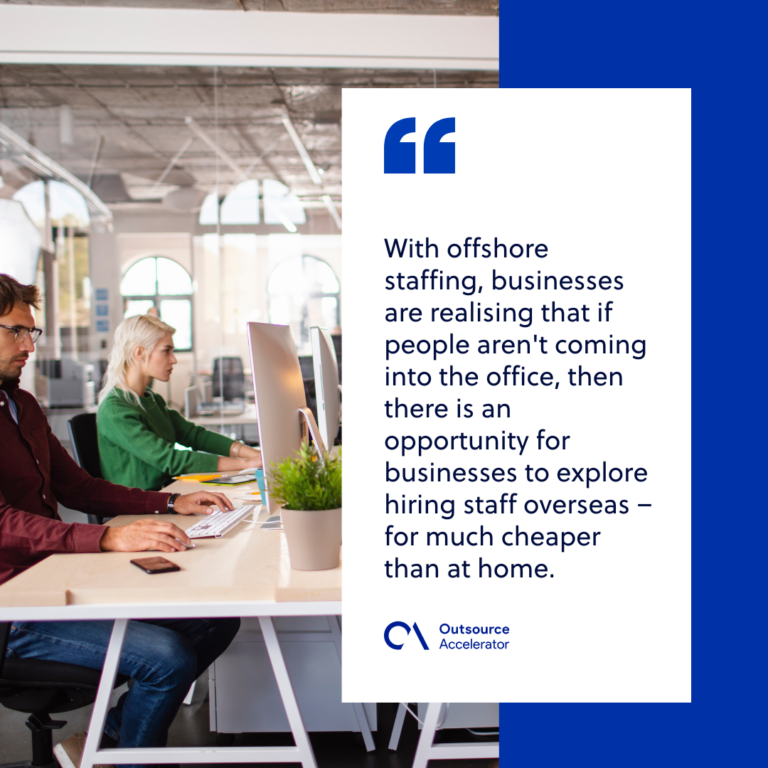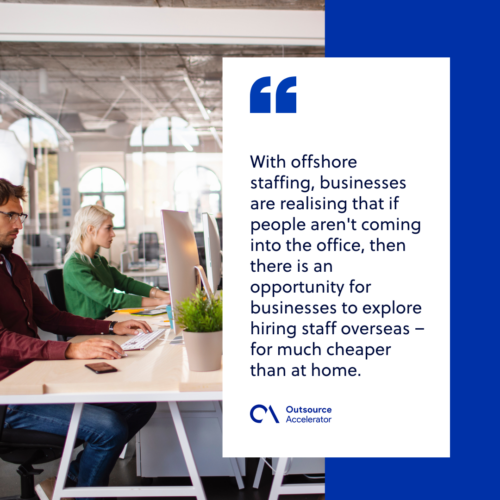 Skilled workers are available – for a fraction of the price
Despite the pandemic ravaging the economy, skilled employees are now in more demand than ever. Many employers only look locally for their staff, and so they see only a very limited supply and high costs.
The difficulty of recruiting and acquiring staff is magnified when lesser-known companies, in smaller lesser-known cities, are trying to attract talent, compared to the bigger companies in bigger cities.
In reality, there are millions of highly skilled, qualified, and competent workers just waiting to be part of the workforce. Highly skilled, professional talent, including accountants, developers, marketers, designers, architects and analysts are abundant, accessible overseas – and often for a fraction of the cost of a local employee. 
One of the benefits of offshore outsourcing is that employers can choose from millions of applicants – and salaries for professional graduates can start at around $500 per month.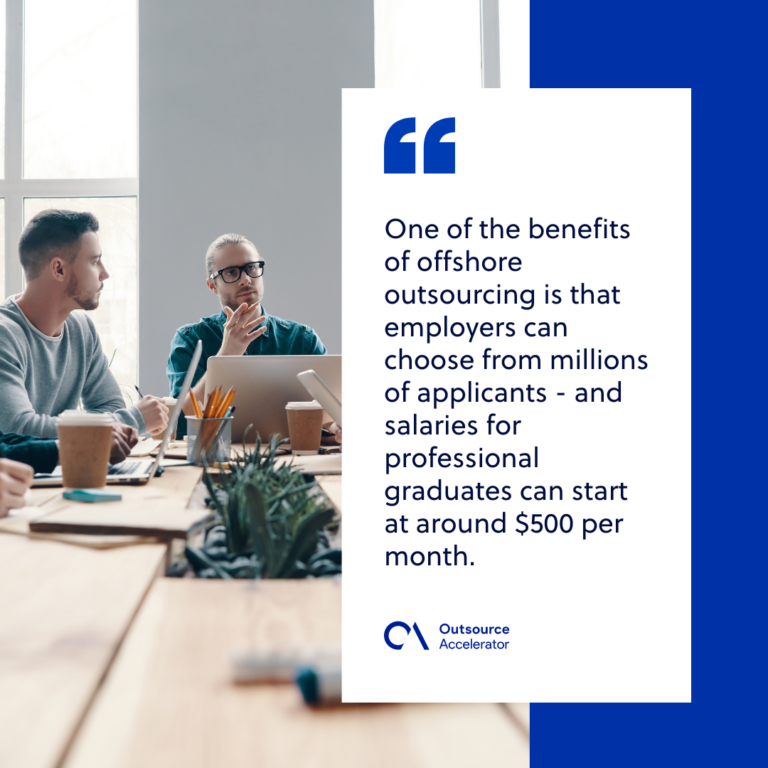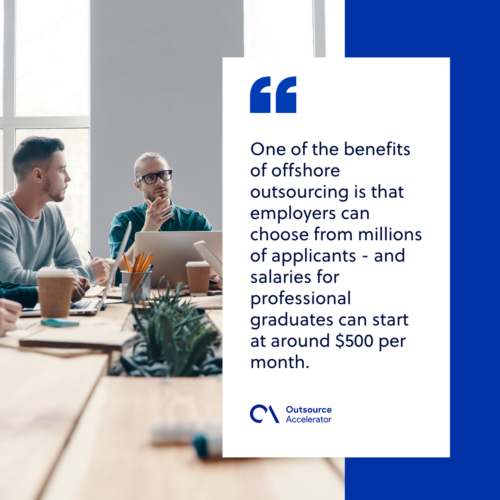 Access worldwide talent with offshore outsourcing
Offshore staffing is not necessarily for everyone.  There may be some downsides to outsourcing that might not resonate with some employers.
 For example, the offshore team will need to work remotely, and the operations might have to evolve a bit to accommodate a different team structure. But the vast majority of businesses find that these are easy adjustments to make, for the incredible benefits that they get.
When comparing the cost to hire an offshore worker to a local employee, businesses can save as much as 70% on their staffing costs – and this includes full employment, a-grade facilities and hardware, account management and support.
In the Philippines alone, there is a population of 110 million English-speaking people, and 700,000 new college graduates each year.  You can find highly skilled professionals across almost any sector and role.  
The opportunity for business is incredible.  Companies can now expand their talent pool beyond their geographical boundaries.  They can potentially access the best candidates out of a global talent pool of over 7 billion people globally—all thanks to offshore outsourcing.