25 types of IT services you can outsource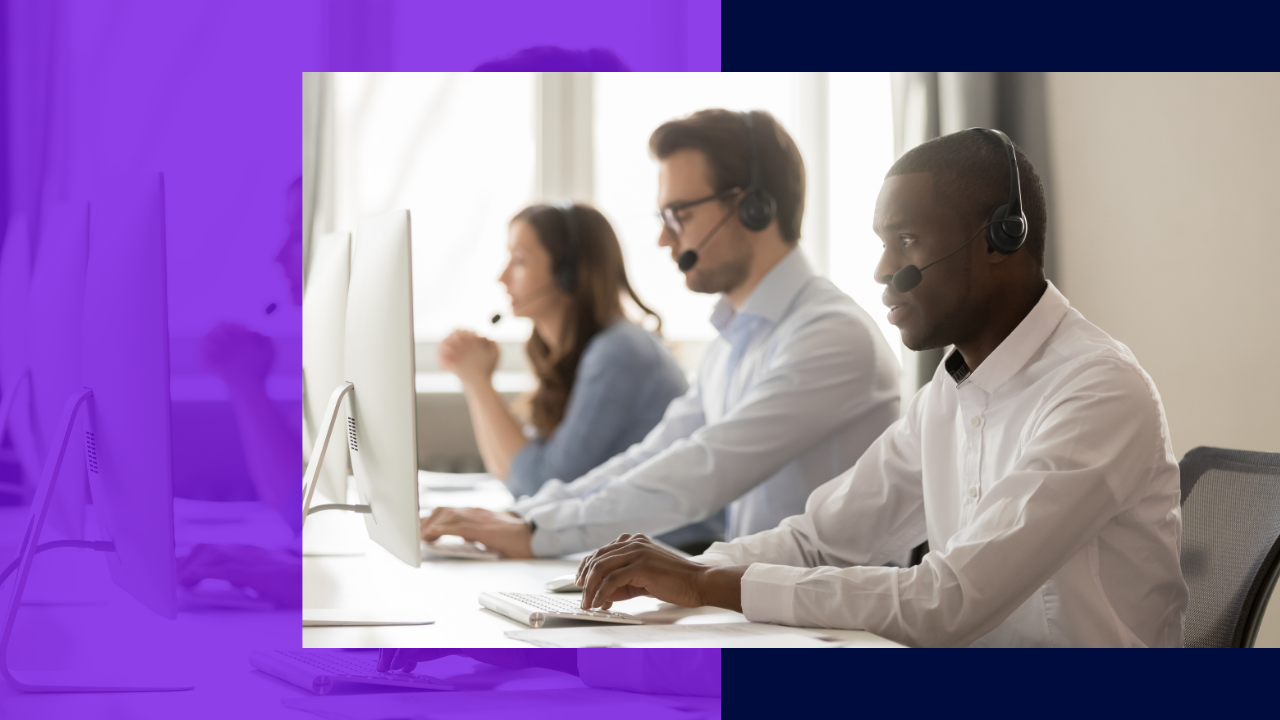 Successful companies have integrated IT support services. For your company to function at its full capacity, frequent system maintenance and updates are essential.
Using information technology, we are better equipped to face the technical challenges we may encounter daily. Thanks to technological advancements, solutions are now available for boosting growth and exchanging data. 
Different types of IT services aim to make things easier for employees by addressing numerous issues inside the company.
What is an IT service?
Information technology (IT) services use business and technological knowledge to help firms create, manage, and optimize their information and business processes. 
There are three major types of IT services: 
Business process services

Application services

Infrastructure services
IT services can either be in-house or outsourced, as in business process outsourcing (BPO) or application outsourcing.
Many Philippines-based BPO companies, such as MVP Asia Pacific, offer quality IT services outsourcing at competitive rates.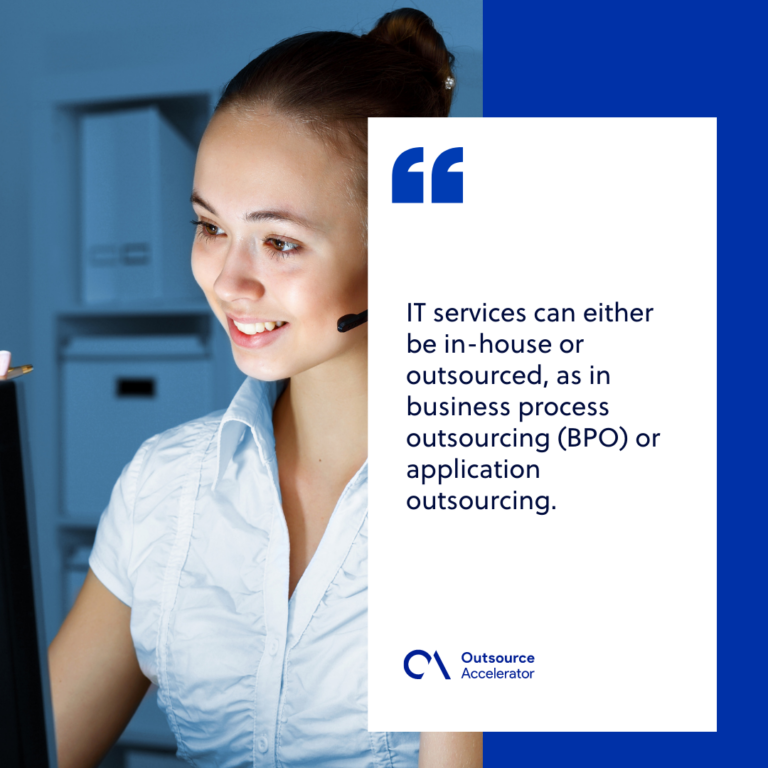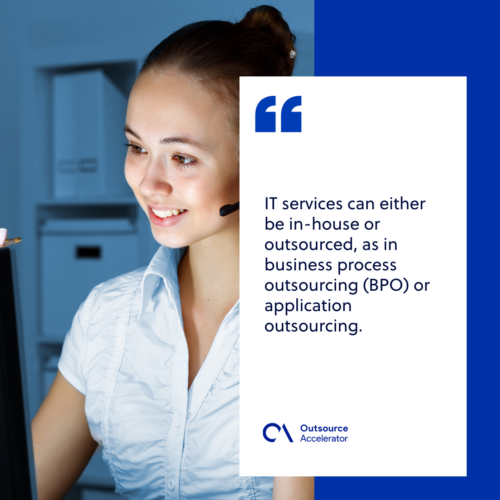 How IT services help business
As technology advances, organizations increasingly rely on IT services and systems for assistance. IT service providers give the tools that a company would need to upgrade, including storage, network security, and help desk.
Below, we discuss the benefits of acquiring different types of IT services:
Identifying and solving difficult technical issues
IT services implement advanced and precise solutions for complicated issues that affect the company's internal system. They also aid enterprises in studying and collating data, evaluating information, and planning scalability. 
Intelligent apps, such as mind-mapping software, collaboration platforms, and automated procedures, are used by IT experts to make work more efficient and organized.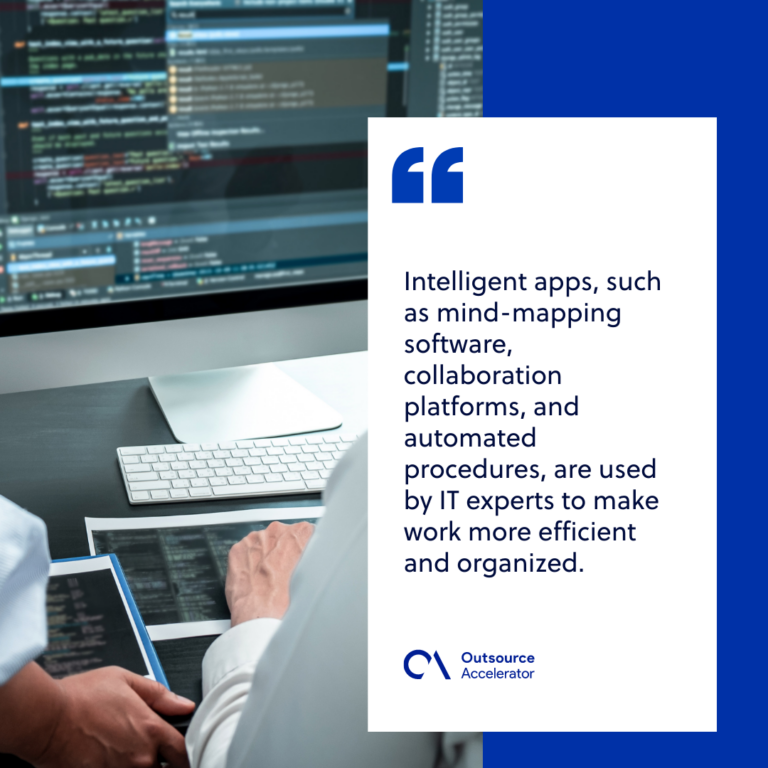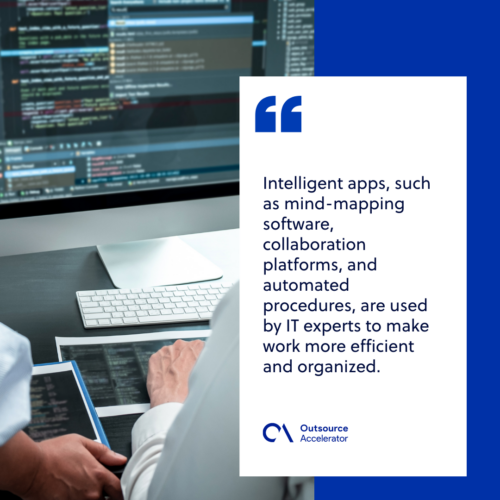 Protection from computer viruses and malware
IT support services protect the company's computer system from a wide range of viruses and other internet threats. IT professionals combine conventional antivirus management with other security measures to ensure that your devices are well-protected.
They also update and maintain systems to prevent unknown data access and operation threats.
Extensive system monitoring
Companies that provide their consumers with online services require a competent IT system that monitors the entire process. Comprehensive monitoring includes service quality and the data safety of customers.
Besides digital assistance, different IT services can also help firms with manufacturing facilities, improving quality control, and logistical planning. With data analysis, they can do internal audits to keep better control of everyday business operations.
Enhanced customer service
Companies that receive a high volume of calls and inquiries require assistance from IT experts if ever there are technical issues. Besides that, IT professionals know how to make processes quicker and more efficient in handling customer complaints.
IT service companies can provide experienced IT experts who deal with different clients every day. They are knowledgeable in technical aspects and can explain them in simple terms to customers.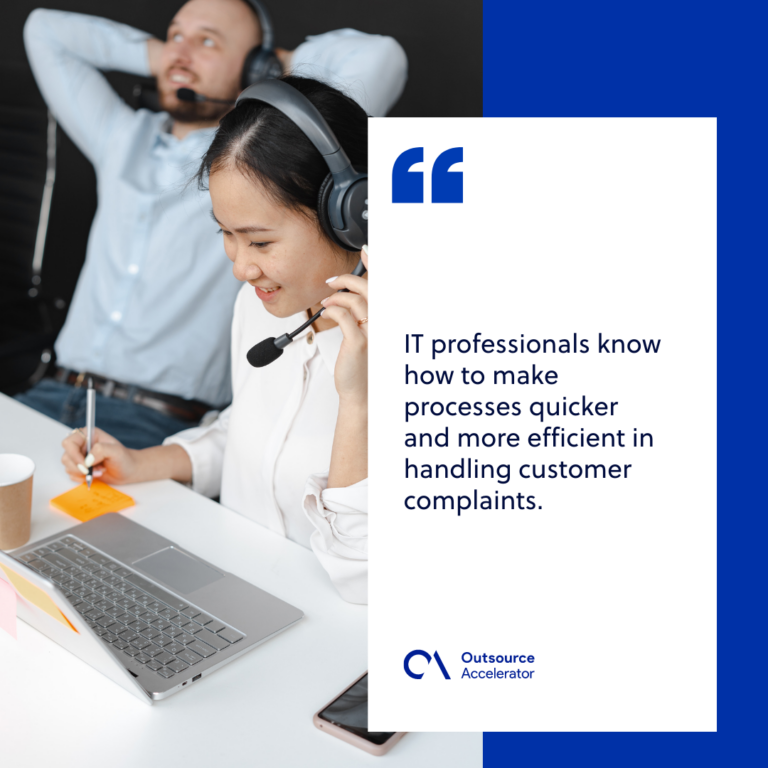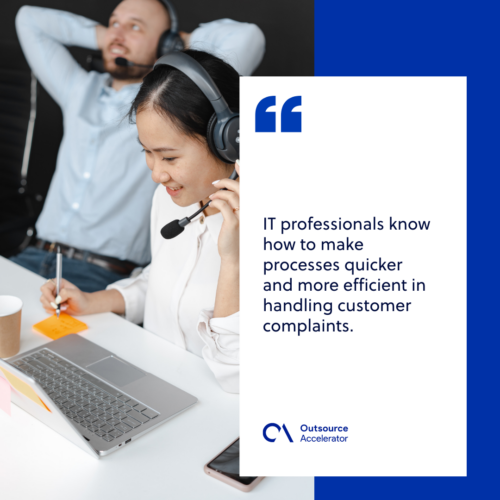 List of different types of IT services
25 types of IT services you can outsource
The use of IT service outsourcing promotes productivity by automating processes and decreasing expenses. It also provides control, increases security, and improves contract negotiating conditions.
Network security
Every firm is concerned about cybersecurity these days. IT service companies respond to this by offering services that identify and respond to potential security issues.
Artificial intelligence
Today, artificial intelligence (AI) is implemented by a large number of companies. The latest IT outsourcing strategies consider the influence of AI to be competitive.
Network configuration
The process of assigning network configurations, policies, flows, and controls is known as network configuration. This is a crucial function as it enhances the network traffic in the organization and boosts the security and stability of your system. 
Cloud services
A cloud service is anything provided by a third party over the internet, such as infrastructure, platforms, or software. This can be accessed using only a computer, operating system, and internet or virtual private network connectivity (VPN).
Data backup
Data backup services give businesses the security they need to keep all of their information safe. Independent software and IT service providers provide third-party data backup and recovery services.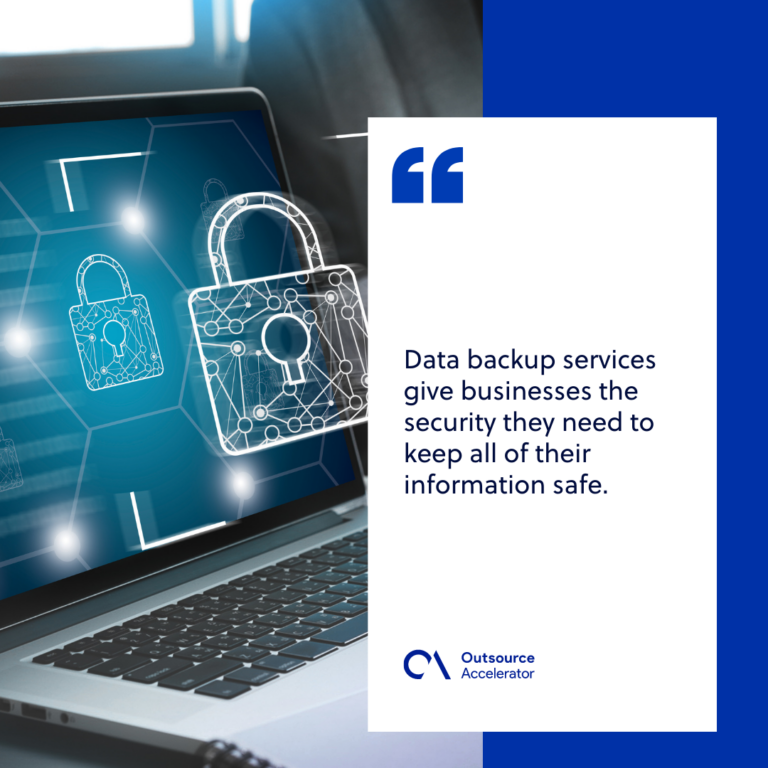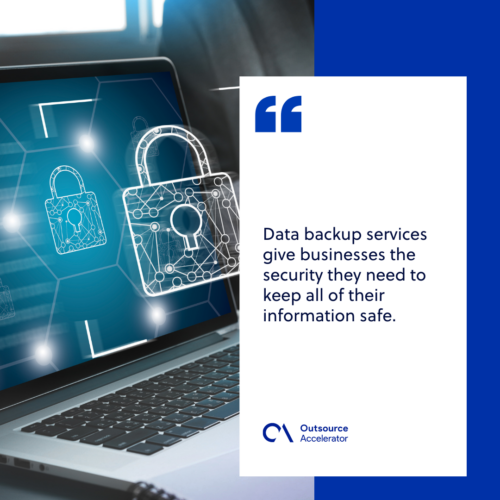 Email marketing
IT service providers can also help develop an email marketing strategy to communicate with current and new customers. This is through IT and AI-powered tools that help streamline processes.
Web design
A web design service helps you with a variety of design tasks that contribute to your website's overall strength. IT services concerned with this task can develop multimedia presentations to set your business apart from the competition.
Animation
With excellent IT services, you can carry out your creative concepts more effectively. Animation functions benefit greatly from advanced IT infrastructure, especially automation, in order to run systems and applications more efficiently.
When you outsource a part of your animation project to a third party, you're engaging in animation outsourcing. 
IT repair service
In the case of equipment failure or malfunction, nobody else but IT repair experts can resolve the issues. IT service providers offer servicing, refurbishing, modification, and restoration to ensure that your business infrastructures run smoothly.
Social media consulting
Many organizations rely on social media consulting as a strong IT service. The IT service provider is in charge of the client's social media accounts and sources.
Social media consulting aims to get as many as possible visitors and convert them into long-term customers.
IT consulting
IT consulting assists clients in integrating their technology plans into their overall business process or goals. Services such as strategic and architectural guidance, and operational and execution planning support a client's IT activities.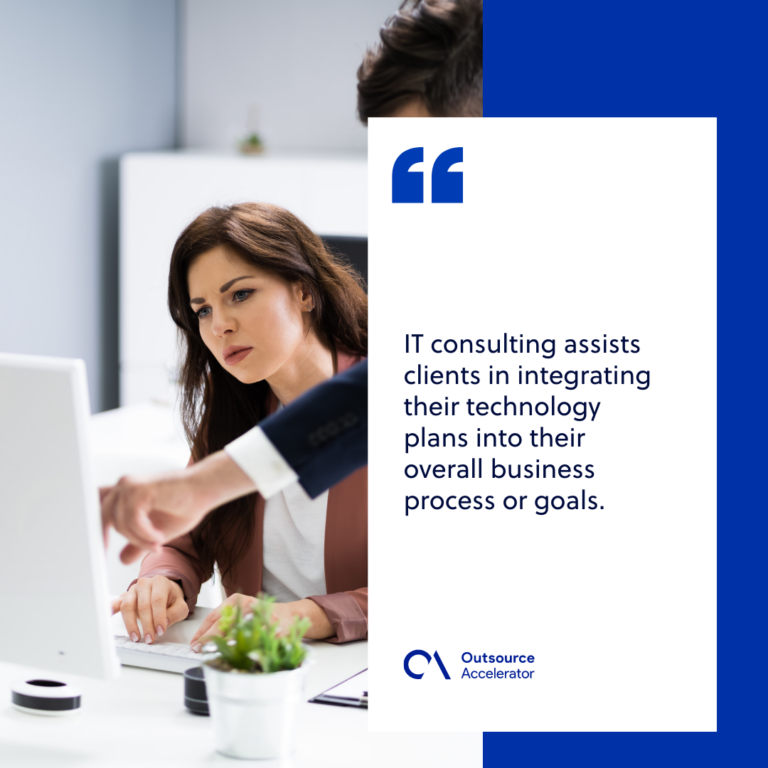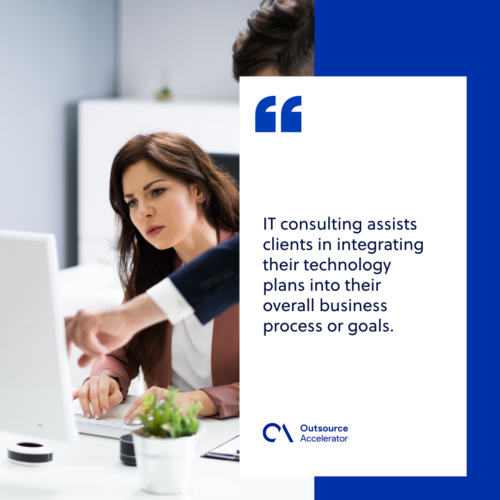 Data storage
With the help of IT service providers, businesses can host their data on their own servers. While storing client data, they also come up with strategies and approaches for making accessing that data as convenient as possible.
Software support
Businesses that heavily rely on software programs can greatly benefit from software support from IT service experts. They can help not only with installation and maintenance but also with troubleshooting and repairs.
Voice over internet protocol (VoIP)    
VoIP refers to the technology of transmitting voice over the internet. Especially for call centers, it is a worthwhile investment because VoIP is far less expensive than traditional phone lines. 
Data visualization
Data visualization is the process of visually representing numerical or numerical-like information. IT service providers use tools that let them see patterns in the data through charts, maps, and graphs more easily.
Data analysis
Businesses can use data analysis to collect, organize, and understand information concerning different sectors of the organization. This method also provides actionable information while eliminating the costs of developing analytics solutions.
Data collection and analytics
The collection of data is crucial in making business decisions. Once completed, you can then make logical sense of large amounts of unstructured data. 
Using data analytics, companies may turn unstructured business data into useful insights for strategic decision-making.
Business process services
Business process services are specific business operations not part of an organization's core strengths. These can be outsourced to other providers with the required specialization. This provides businesses with more flexibility in terms of managing their money and operations.
APIs
API services (application programming interface) provide software with instructions on how to interface with a system in order to retrieve and alter data contained there.
Third-party application integration is made easier with the use of service APIs, and performance issues in third-party applications can be overcome with their use.
Data synchronization
Consistency is maintained by data synchronization, which is the process of syncing data across several devices and automatically updating changes among them.
Companies that provide IT services have easy-to-use solutions for avoiding tedious procedures, resulting in synchronized data throughout the system.
End-user device management  
Most companies utilize end-user device management in their business. In order to help your organization succeed, you can implement an end-user device management strategy that includes complete endpoint services.
Knowledge management
Knowledge and information are applied to many different uses by organizations. Knowledge management is the term used to describe this process. Taking a multidisciplinary approach implies the use of all relevant knowledge to achieve organizational goals.
Data entry
Data entry professionals use computers and data processing tools to enter data into a database or documentation platform. It's possible that a data entry job's duties will include transcription of audio or phone recordings.
Technology training
The state of technology and software is always changing. You may improve the efficiency of your staff by teaching them how to use the most recent versions of these technologies.
Many IT services provide training for business teams on how to use technology resources and capabilities. An IT staff can come in and train your company's personnel on how to use different software tools and applications to handle these issues.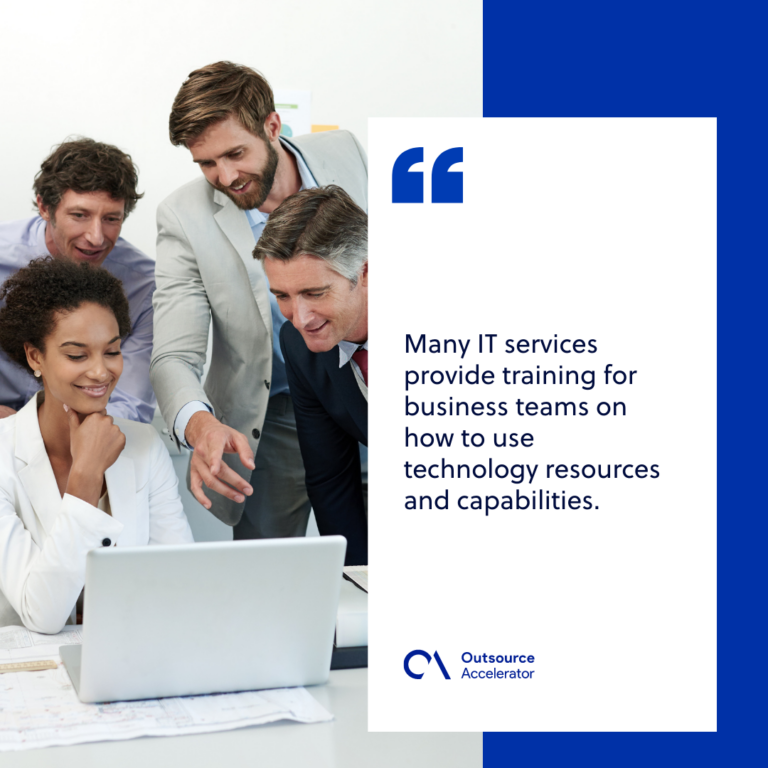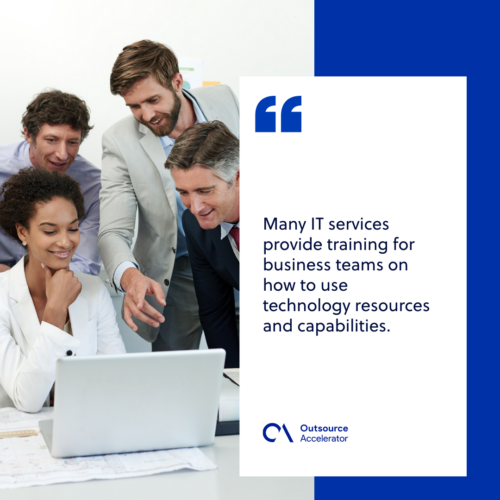 Internet-based communications
Your company's information technology (IT) service providers set up internet-based communications. They also look after the programs' hardware and software. They can even create your own communications program if necessary, depending on your company's requirements.
Many BPO firms, such as Outsourced, have talented software developers that can provide this service.