Should you consider outsourcing IT services to the Philippines?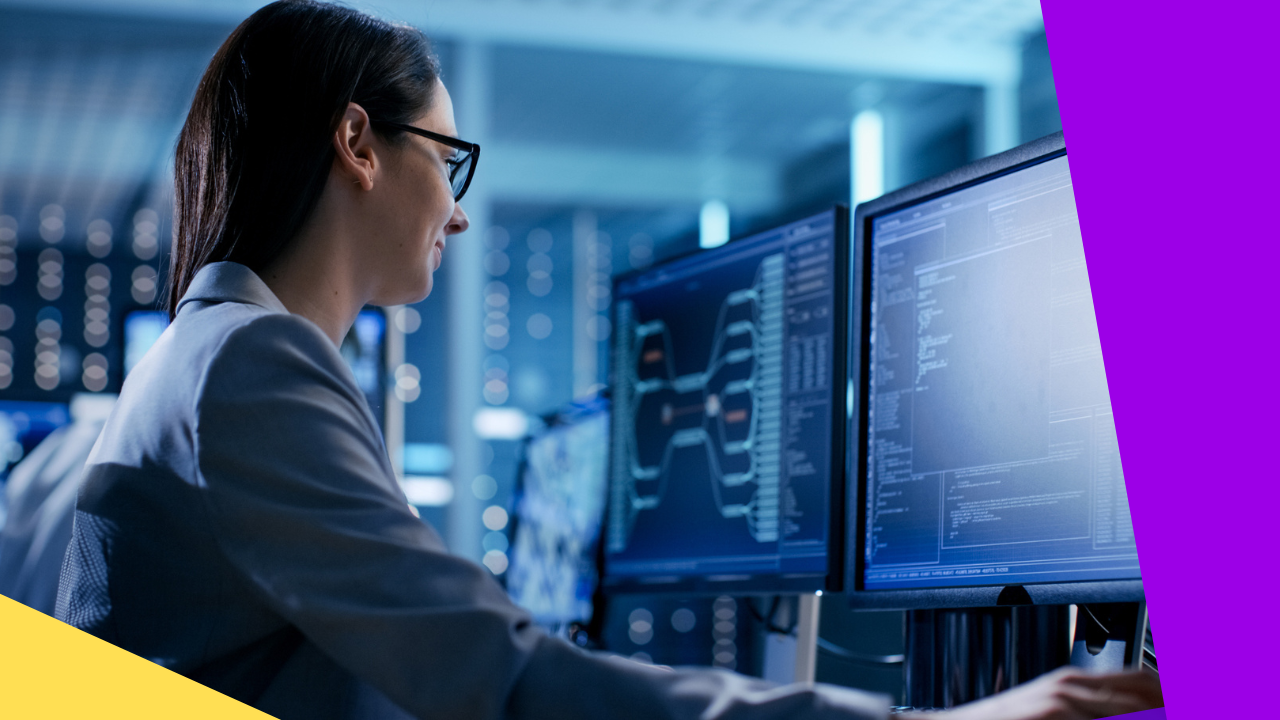 The outsourcing industry has revolutionized the world of business.
From customer support, creative services, and real estate cold calling to email marketing – companies can now outsource almost every business function.
Although many companies worldwide outsource various business processes, outsourcing IT services remains one of the most common practices.
What are IT services?
IT – short for information technology – services are among the most vital aspects of modern companies.
In the modern workplace, almost every operation relies on IT services in one way or another.
Just by looking at the number of computers, databases, and physical and cloud servers used in many offices, you can get an idea of how IT-reliant many business operations have become.
Even business aspects that aren't inherently technological in nature, such as accounting and HR functions, become IT-dependent when fully or partially automated.
However, despite integrating IT-related processes with these business functions, they aren't technically IT services.
IT services are those that enable businesses to access and operate technical tools they use in performing their daily tasks and operations.
Below are some services that fall under this category.
Cloud services
Cloud services are third-party-hosted platforms, software, or infrastructure that other users can access through the internet.
Cloud services replace a company's need for on-premise servers at little cost.
Moreover, these services provide companies with easy-to-use and easy-to-scale immediate access to resources that only require a stable internet connection.
Network and data security services
These services provide companies' networks with protection against unauthorized access.
Aside from unauthorized access protection, network and data security services also set up firewalls, install antivirus software, and perform regular network checkups.
These preventive measures are necessary, especially with companies that handle sensitive client information.
Software development
Software development pertains to the development of customized software to fulfill specific business functions.
For example, a company may task its IT team to create software for automating functions that are specific to their company only.
Hardware installation and maintenance
Installation, maintenance, and repair of hardware are among the routine functions of an IT team.
Thus, in-house or outsourced IT service staff is vital in today's business environment, where most companies carry out their functions using computers and software.
These IT teams oversee the proper installation, configuration, and routine maintenance of the company's tech equipment.
What are the reasons for outsourcing IT services?
Companies have many varied reasons for outsourcing IT services.
Chief among these reasons is, of course, reducing operational costs.
The cost-reduction benefits, as well as the other reasons for outsourcing IT services, are briefly discussed below.
Reduces operational costs
As mentioned above, outsourcing IT services – or any other business process – drastically reduces operational costs for the outsourcer.
Aside from reducing labor costs by partnering with offshore outsourcing companies like MVP Asia Pacific, outsourcers can save on costs they would otherwise have to shoulder — from purchasing equipment, leading industry technology, and hiring and training new employees.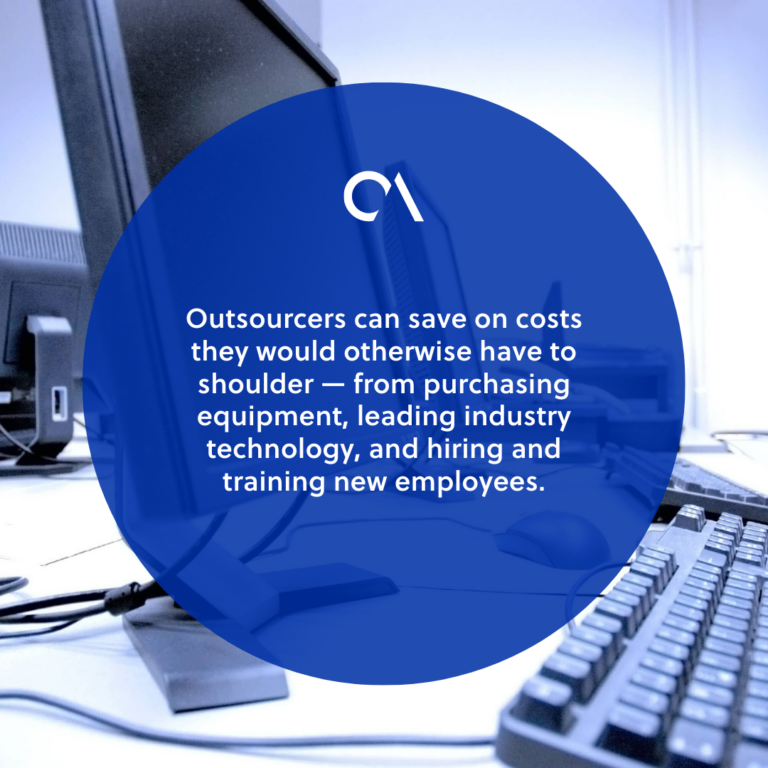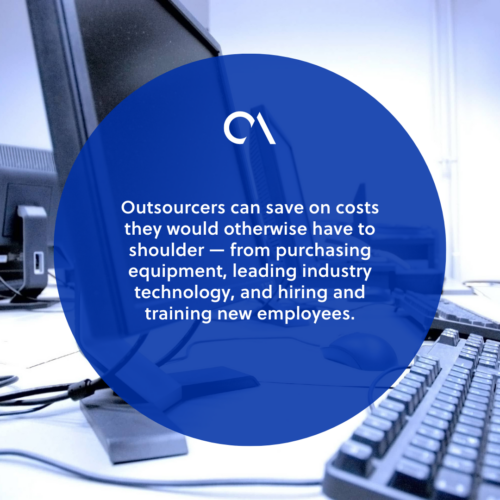 Access to experienced and highly skilled experts
Outsourcing IT services give outsourcers access to their outsourcing partners' human resources.
More often than not, these human resources include talented IT specialists with years of field experience.
Access to these IT veterans provides the outsourcers the benefit of their accumulated knowledge and experience.
With a team of experienced IT experts, your company is unlikely to encounter issues they haven't already resolved in the past.
Reduces risks and increases security
Delegating your business's IT processes to outsourcing companies mitigates the risks in executing these processes.
Because these companies employ experienced field specialists, they'll know the risks associated with particular processes and how to avoid them.
Moreover, outsourcing companies often have sophisticated network and data security systems. This added level of security ensures that your company and your client's data and other sensitive information are well protected.
Why is the Philippines a good choice for outsourcing IT services?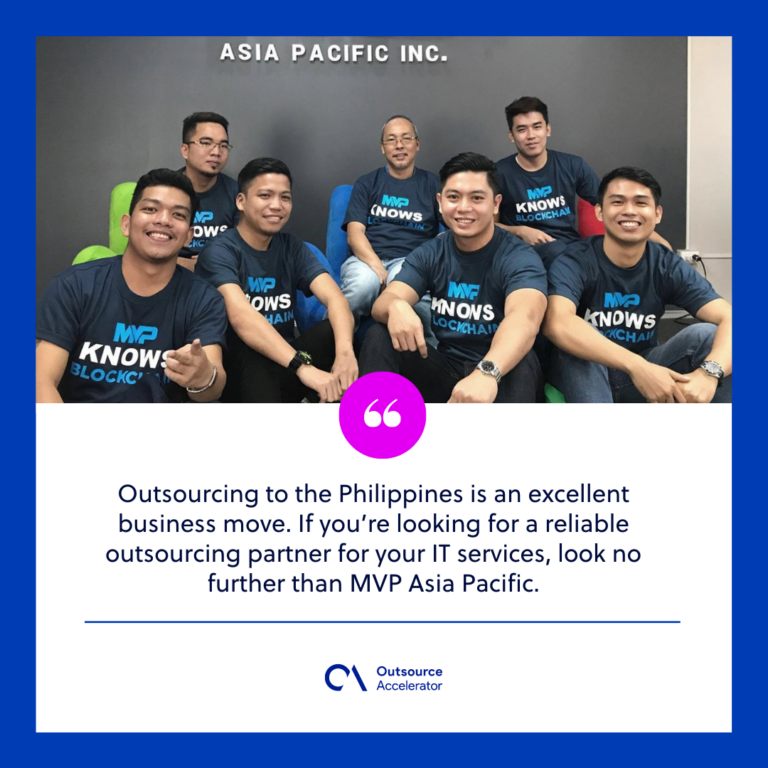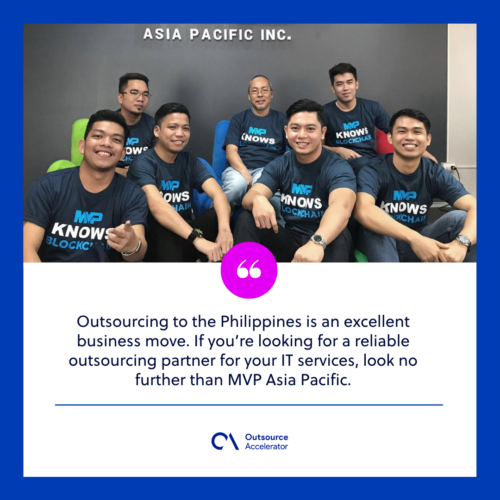 When it comes to outsourcing, the Philippines is a top destination globally.
Foreign companies – primarily those based in the US, the UK, and Australia – choose to outsource to the Philippines for various reasons.
Among these reasons are:
Cheap labor costs

Diverse and talented workforce

Cultural compatibility

English proficiency

Proven track record in the BPO industry

Government support

Neutral accent
Why you should partner with MVP Asia Pacific when outsourcing IT services
Though outsourcing to the Philippines is a good business move by itself, it can be even better when you partner with the right outsourcing company.
If you're looking for a reliable outsourcing partner for your IT services, look no further than MVP Asia Pacific.
MVP offers its clients IT support and solutions that can cope with the fast-changing nature of internet technology.
Aside from giving clients access to its team of experts, MVP assures them of top-notch cybersecurity measures.
MVP's tech team conducts in-depth auditing to better understand its client's IT environment. After this audit, the client will be given a comprehensive report with recommendations on how they can improve their cybersecurity and bring it up to standard.