Automation and outsourcing: How will automation affect the global outsourcing industry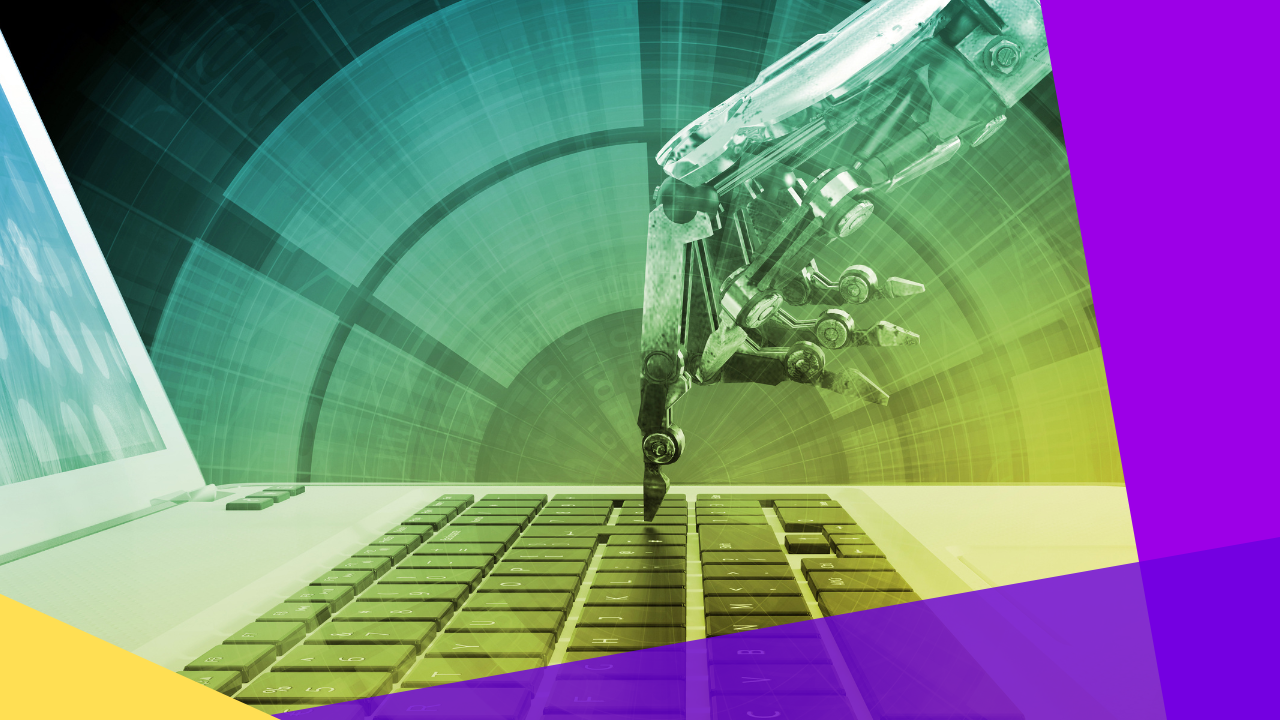 Over the past years, robotic process automation (RPA) and artificial intelligence (AI) have changed the global economy. It has eradicated basic work such as telephony and telegram. The threat of automation has even loomed in the outsourcing industry. 
The increasing availability of online automation tools made it easier to collaborate, manage workload, and even attend to customers after hours. Thus, sparking projections of affecting the industry in a few years.
Yet, the question still lies on whether it will totally eradicate outsourcing jobs or simply improve it. Lloyd Ernst, CEO of Cloudstaff, shares his insight in this episode of the Outsource Accelerator podcast.
How automation affects several aspects
Thanks to technology, every aspect of our lives is fueled by endless possibilities. It breaks barriers in connecting, interacting, and transacting with people and businesses around the world. 
Digitalization and automation broke the traditional ways in all sectors, even in the business process outsourcing industry. However, this advancement brings both advantages and downsides as well.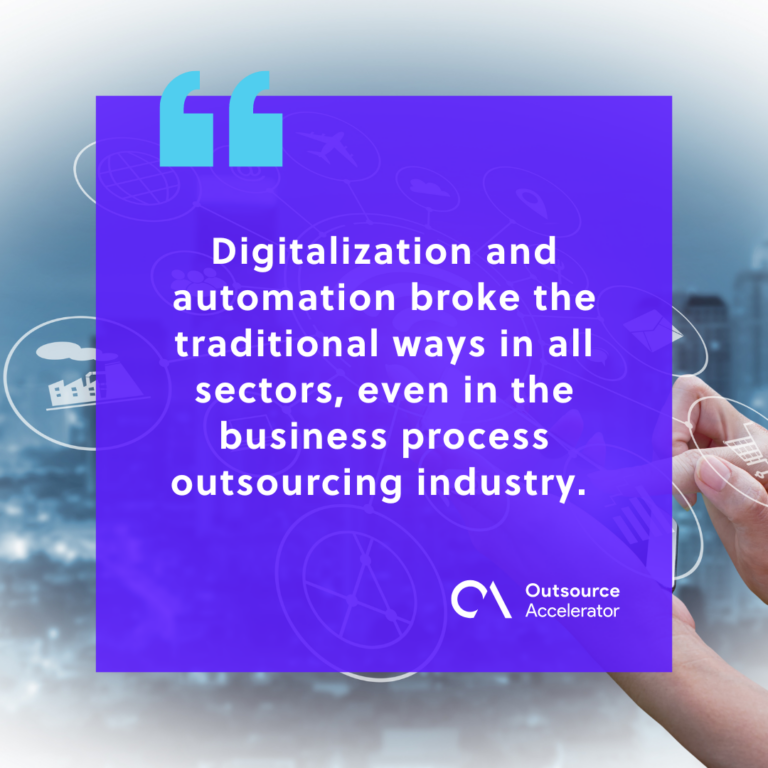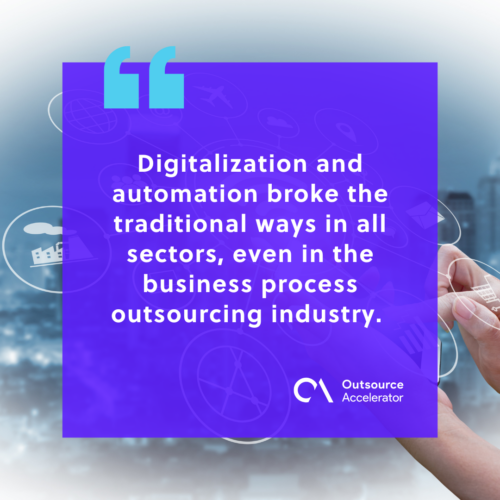 Work collaboration
Teams find it difficult to collaborate remotely decades ago. Everything has to be written, typed and printed, with hard copies of files to be sent via telegrams and mail. 
These days, several tools for document processing and storage can be used to share and record volumes of documents to different persons.
With this, work collaboration has become easier, with processes getting streamlined and adaptable to a digitalized environment.
Employment
While it made work collaboration better, automation brought a double-edged sword in terms of employment. This 2017 McKinsey report detailed the projected jobs that could be made and those that will be lost by 2030.
It has even projected that as repetitive and single-task work are continuously replaced with robotics, only highly-skilled jobs will become available. 
On the bright side, this gives the opportunity for them to upskill, develop their talents, and learn new crafts to become more qualified for jobs in the future.
Outsourcing
Automation posed both advantages and downsides in the global outsourcing industry. Although the threat of eradicating repetitive and non-core work loomed in the developed countries, outsourcing and technological advancements brought benefits to offshoring countries such as the Philippines, India, and Vietnam.
The industry has been aware of the threat of automation ever since it started. To outweigh this, BPOs have been innovating and adapting to new ways of working, including adapting to remote work and moving to cloud.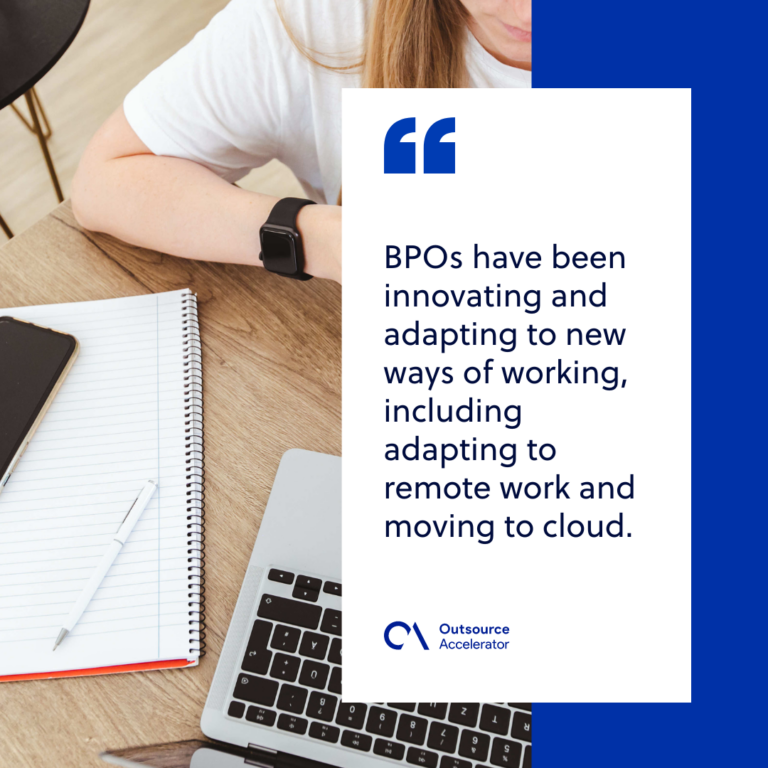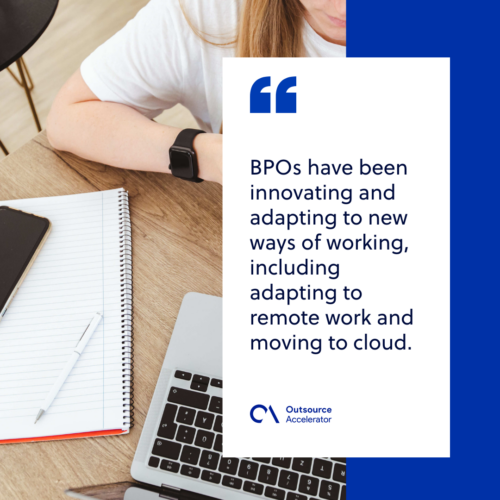 Automation and the future of outsourcing
As the world moves toward a more advanced global market, BPOs continue to adapt automation and AI into their operations.
Cloudstaff, for instance, has been investing into this technology for years now to make their staff work more efficiently.
As for the future of outsourcing, Lloyd does not see the human part of business getting replaced; rather, their work will be "upgraded" with the move. 
For him, companies should "augment agents and technology" in order for them to make better decisions with their customers. 
In addition, automation can even bring more advantages such as:
Increased overall productivity

Effective training and onboarding of employees

Stronger branding, and

Better work environment for employees
Cloudstaff's move to the future of work
Working remotely since the pandemic, Cloudstaff still plans to bring the majority (60%) of its employees to the office. They have been working on several measures to adapt into having a hybrid workforce and making sure their customers and staff are comfortable with the setup.
As part of their measure to innovate, the company plans to create a university for its staff. This aims to encourage them to develop additional skill sets at work and upgrade their current skills.
Check out their website for inquiries on hiring offshore staff and listen to Lloyd's podcast episode here.