Top 7 reasons to outsource in the Philippines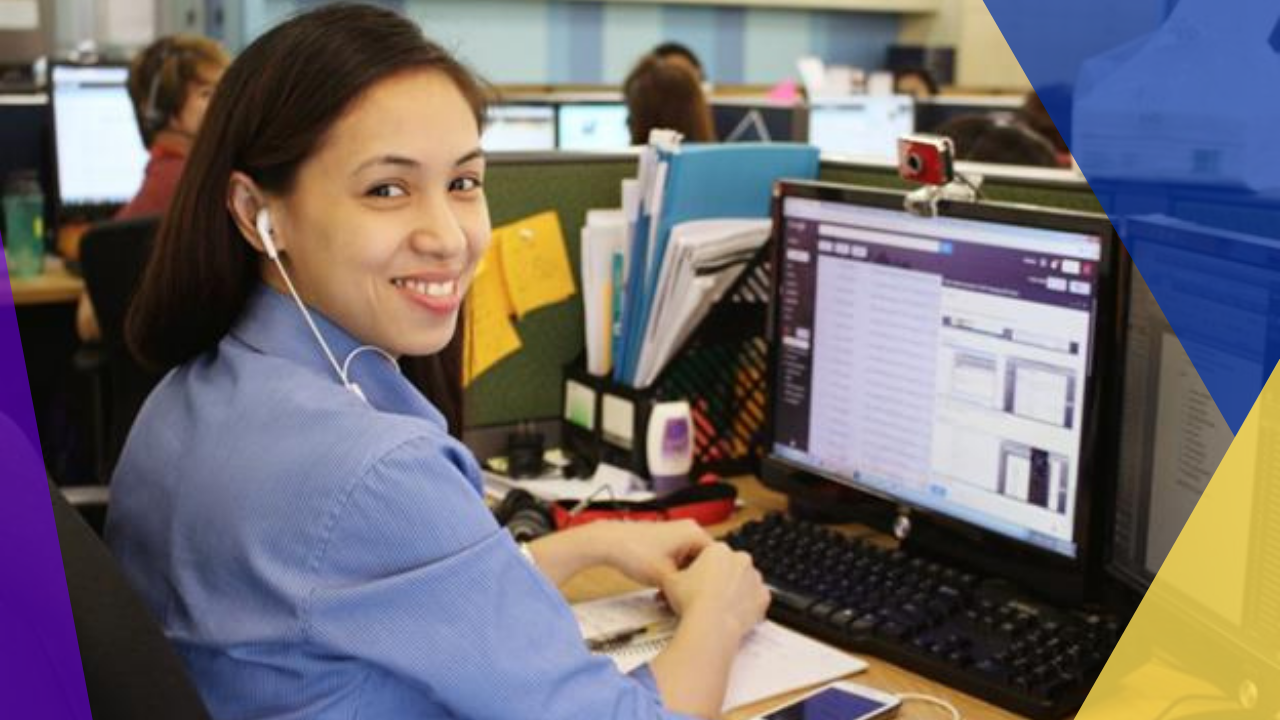 The Philippines is a small country located in Southeast Asia. It is an archipelago composed of almost 8,000 islands lined with white sand beaches, breathtaking landscapes, and scrumptious cuisine.   
These are just a few of the things that the Philippines has to offer. The country is also highly renowned because of its people. Filipinos are recognized to be hospitable, hard- working, well-educated, and highly-skilled individuals. 
On top of that, this tiny nation has also been one of the top outsourcing destinations around the world.  
In this article, we'll give you a quick overview of the outsourcing industry in the Philippines. Why has the country been the outsourcing capital of the world for decades now? And lastly, we'll outline seven reasons why global companies should outsource in the Philippines. 
The outsourcing sector in the Philippines
Outsourcing, particularly the BPO sector, has been continuously flourishing in the country for years now. It is among the top industry contributors in the Philippine economy, providing over 30 billion to the economy every year. 
In addition, it is also among the leading job sources of the working population in the country. A large number of Filipino employees are employed in the BPO sector, especially in the call center field. 
Nexford University believes that the BPO industry in the Philippines will continue to grow at eight to 10 percent in the coming years.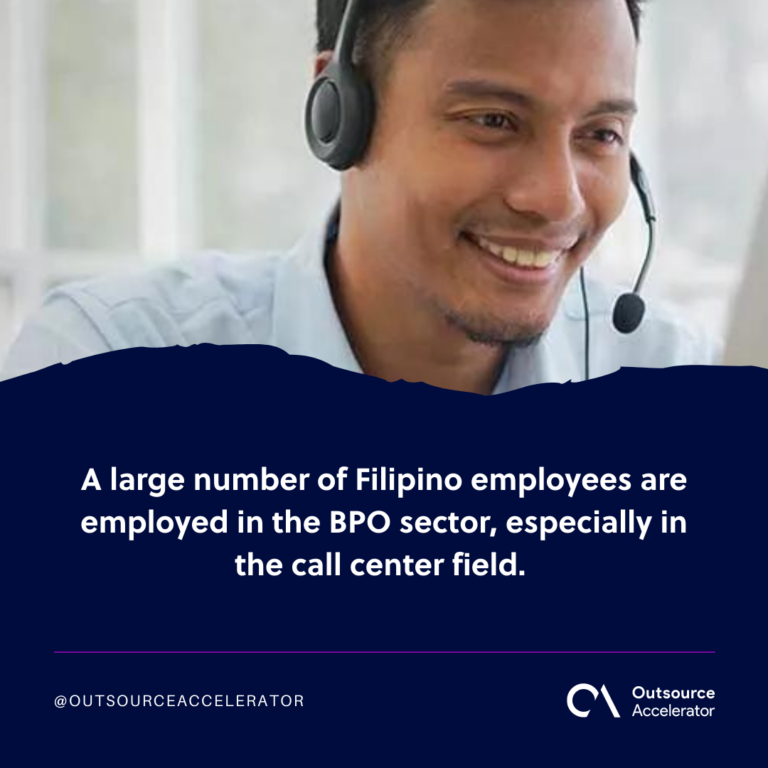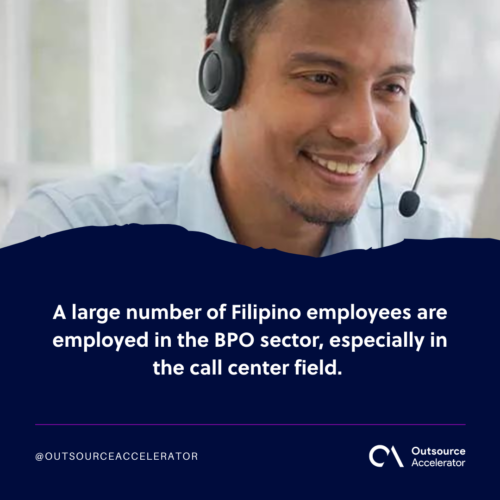 Top 7 reasons to outsource in the Philippines
Companies of all shapes and sizes are choosing to outsource in the Philippines for the following reasons: 
1. Filipinos are known to be very good English speakers
Majority of Filipinos can speak English well. If you happen to visit the country, public utility drivers, street vendors, and waiters are capable of Basic English conversation. BPO companies  have been expanding and hiring more Filipinos who are equally qualified just like the native speakers. 
Accuracy for pronunciation, articulation, grammar and neutral accent are the foundations of creating a winning team in the country without spending too much.
And this is mainly why Foreign companies, offshore call center services in the Philippines.
2. Cost-efficient
As a business, you need to be wise and spend your resources wisely. Global companies outsource in the Philippines as they are able to save more than 50% of their overhead costs. 
By outsourcing to the Philippines, a business can save up to five folds of their expenses while providing the same service to their customers. 
But this does not mean that BPO companies are paying a low rate in the country. On the contrary, BPO employees are enjoying an above minimum salary. And that is not just it, they are also given lots of benefits like – health insurance, life insurance, two days off, movie incentive, quarterly bonuses and a lot more. 
People who work in BPO companies are living a comfortable life and can provide a better future for their family compared to other industries.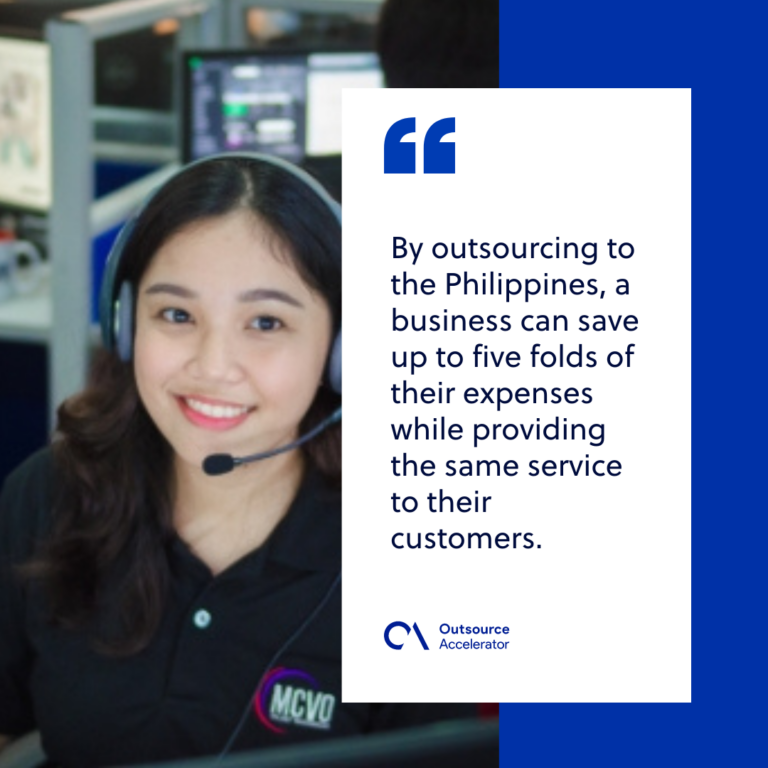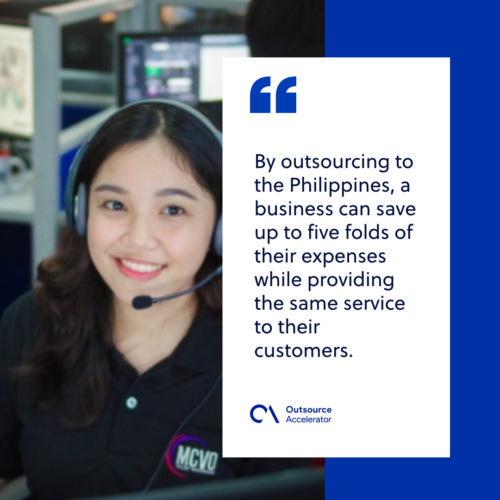 3. Flexibility 
Your business runs with the help of different individuals with different skill sets. Filipinos are flexible in terms of skill sets, working hours, and roles. 
Companies are given the opportunity to hire individuals that can work on several tasks that are usually done by different people. 
Filipinos are always willing to learn new skills, are always game to take training and aim for self-improvement. It is evident in BPO industries where there are consistent up skill training and agents are always happy to learn.
4. Expertise
As a business owner, wouldn't it be nice to have the top performing individuals as a part of your team? 
The Filipino population is composed of talented individuals in a different sector. Among the most sought after outsourcing expertise in the country IT roles, contact center, creatives, marketing, and human resource.  
Professionals in the Philippines are now investing in learning skills through courses online like Udemy, coursera and Lynda.com. These are just a few of the websites where people can learn a skill for free or with a minimal fee. 
You can get an equally satisfactory job yet way cheaper compared to the team that you will have at home.
5. Work Attitude
Filipinos are known to be very hardworking people. They are always determined to give their best and they value their job so much. 
Aside from their awesome work ethics, they are a pack of fast learners and talented individuals. 
On top of that, BPO employees in the Philippines are willing to work graveyard shifts. This is one great advantage for foreign companies with time-zone differences. It gives them the opportunity to have their daily operations up and running over extended hours, in many cases up to 24 hours.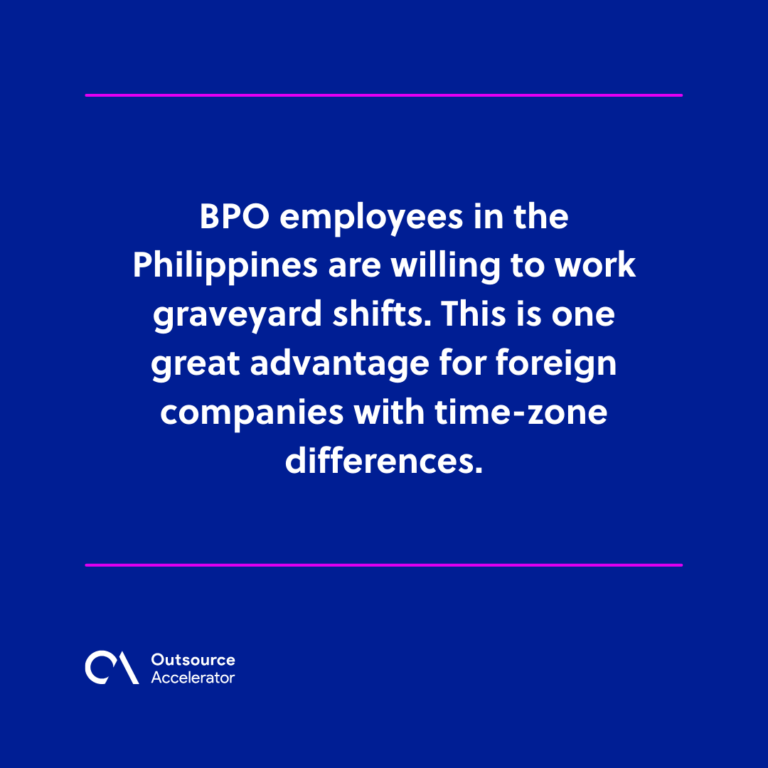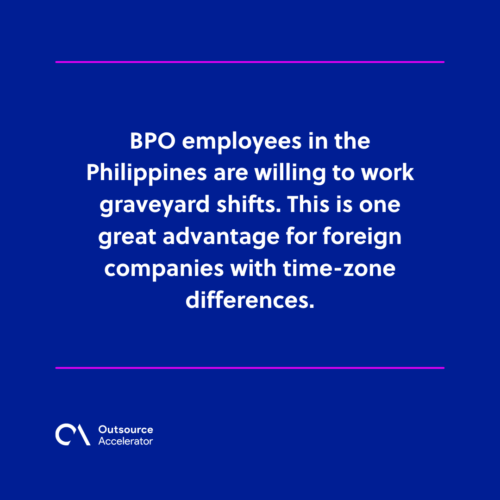 6. 100% support from the government. 
The Philippine government has its full support on the BPO industry in the country and this is very evident in their laws.
The government encourages more foreign investors to be in the country as it helps provide jobs to the people. At the same time, it helps in the business development of the country. 
The government also exerts effort in allowing BPO companies to have a partnership with universities to hire fresh talents.
7. Workforce availability
The Philippines has a wide talent pool of young and seasoned experts. Global companies that outsource in the Philippines are able to fill-in talent gaps and fulfill specific roles that are required in their teams. 
These are just some of the great advantages that you can get from outsourcing to the Philippines. There are still a lot of things, great things for you to discover and learn as you work with the Filipinos. 
Outsourcing in the country has drastically increased since 2015. Whether you're a start-up business or an established one, you can start a team in the Philippines to help you grow your business.