Definition
What is animation outsourcing?
Animation outsourcing occurs when you delegate a portion of a project to an outside entity. Several components of the animation pipeline are typically outsourced through a labor contract.
Animation is increasingly being outsourced. Animation firms in other nations have created many low-budget American animated productions since the mid-1960s. Animation outsourcing keeps animation production costs down.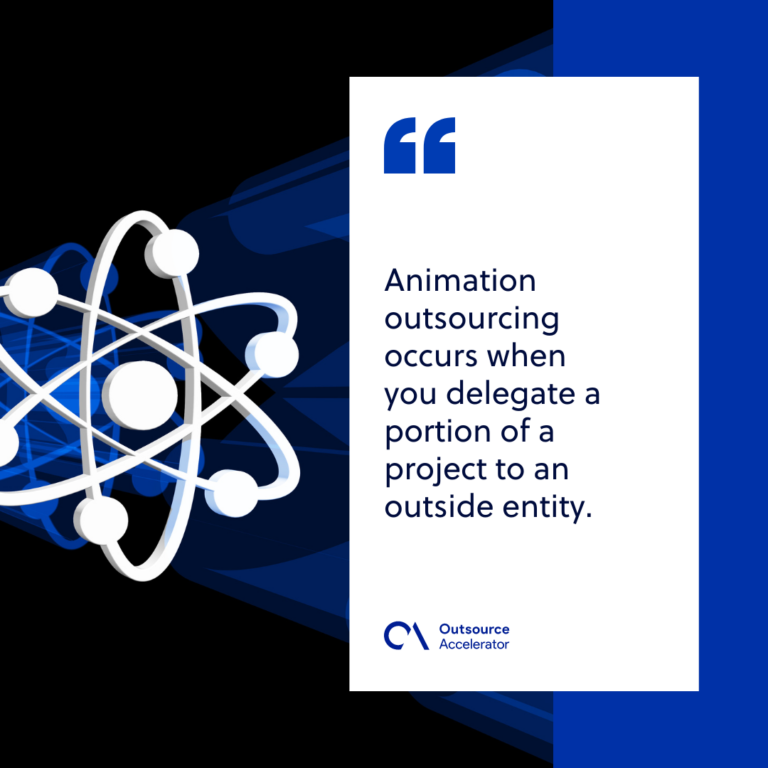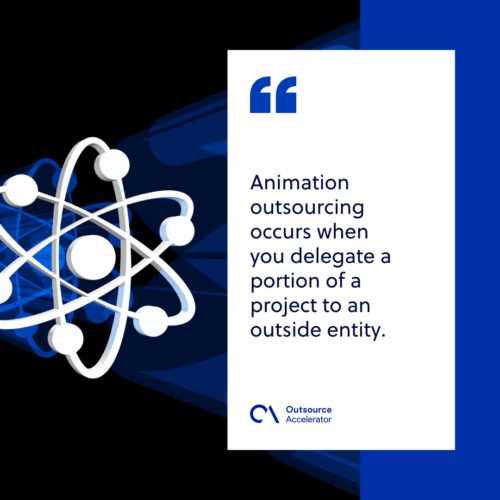 Animation services you can outsource
Here are the common animation services you can outsource:
Visual effects (VFX)
Outsourced visual effects artists may enhance your animation, short films, or motion pictures with special visual effects. VFX specialists have a lot of expertise in visual effects design and have worked with many different filmmakers, studios, and advertising agencies.
2D animation
A 2D animation is a set of images that are displayed sequentially at a rapid rate. Moving images are created as a result of this. Animators can make animations for films, television shows, e-learning sites, video games, and other media.
3D animation
3D animation is the process of making photorealistic 3D animations in the form of animated videos. These videos visually portray the configuration, assembly, and inner workings of a product. 
A 3D Animator transforms concept drawings into three-dimensional animations using computer-generated models and CGI tools. They may be asked to develop animation and visual effects for film movies, television shows, video games, commercials, and websites, among other things.
3D animation rendering
Business owners can substantially minimize the time it takes to go from idea to digital conception by outsourcing photorealistic architectural renderings or any other realistic 3D renders, therefore avoiding many of the drawbacks of traditional approaches.
Rotoscoping
Within the VFX workflow, rotoscoping is a must. Rotoscoping is employed in practically every action or animation scene, allowing effects to be composited onto various backgrounds, although time-consuming and often tiresome.
Flash Animation
Outsource Animation Works is a professional flash animation firm that can handle all of your animation demands, such as:
Flash Logo Designing

Flash Website Designing

Flash opening for Websites

Scheming Corporate appearance

Custom Flash Animation

Animated Flash Banners

Product Domes

Flash Animation with Sounds and Special Effects
Storyboards
The first step in creating a fantastic video or animation production is to develop a high-quality storyboard. Outsourced can supply you with storyboard artists to collaborate on any project at an inexpensive rate with a high-quality result, making your job easier and your costs lower.
Stop Motion Animation
Stop motion animation is an animated filmmaking method in which objects are physically changed in minute increments every individual captured frame so that they appear to move or change independently when the sequence is played back.
Forensic Animation
Through audio-visual recreations of occurrences or accidents, forensic animation assists investigators. In addition, investigators utilize forensic animation to help them graphically communicate complicated concepts.
Music Video Animation
An animated music video, sometimes known as an AMV, is a broad area that refers to various video arts. These can be music videos with artist-drawn animations or music videos set to cartoon footage.
Engineering Animation
Animation engineering is writing programs to make the animals in a video game move and morph into reality. Outsourcing animation businesses have the necessary abilities and ability to fulfill all of your engineering animation needs on time.