Freelancing statistics: Uncovering fresh insights on the gig economy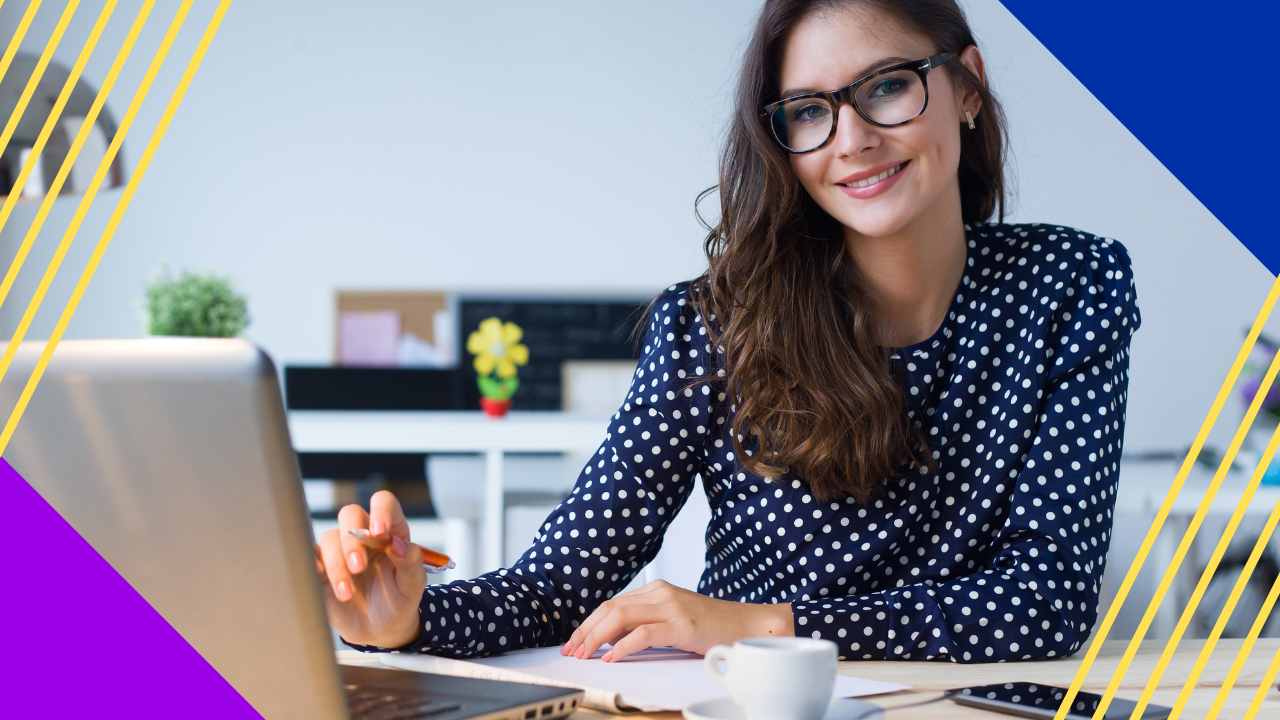 Workers are now venturing into the freelancing industry, and the statistics surrounding this growing trend are fascinating.
More full-time employees are turning to freelancing for several reasons, whether for better work-life balance or better income. The two past two years of layoffs and resignations have further driven the industry's growth.
According to studies, almost half of the global workforce are freelancers – around 1.57 billion in 2021. Meanwhile, more businesses are hiring freelancers for short-term and project-based functions.
The increase in freelancing is a huge shift from the traditional 9-5 job, and it is important to understand the statistics behind this trend.
This article explores the freelancing statistics in 2023 and how it shapes the future of employment.
Freelancing statistics 2023
"Around 1.57 billion people around the world are freelancers."

– Source: International Labour Organization

"The global freelancing market is estimated to be worth over $1 trillion, with a comprehensive annual growth rate (CAGR) of 15%."

– Source: Orbis Research

"73% of workers in the US alone want to either start freelancing or continue their freelance work."

– Source: Fiverr

"There are around 26.9 million freelancers in Europe as of 2021."

– Source: Statista

"60% of Asian freelancers engage in traditional work on a per-project or contract basis with employers."

– Source: Payoneer

"Accounting is one of the most sought-out skills (45%) among freelancers today."

– Source: Upwork

"The demand for freelance designers is expected to grow by 23% in 2031."

-Source: US Bureau of Labor Statistics

"50% of Gen Z respondents in the US alone participate in freelancing, while 44% are millennials."

– Source: Statista

"More than 50% of freelancers in the US are female."

– Source: Zippia

"The website Freelancer.com has as many as 800,000 registered Filipino users."

-Source: Outsource Accelerator
An overview of global freelancing in 2023
The global freelancing market is estimated to be worth over $1 trillion, with a comprehensive annual growth rate (CAGR) of 15%. The majority of freelancers come from the United States, India, Brazil, and the United Kingdom.
The growth of global freelancing has been driven by several factors, such as the following.
The rise of the gig economy. It made it easier for people to find freelance work through online platforms.
The demand for specialized skills and services. Businesses affected by resignations in the past years have turned to freelancers to address their skill gaps and project needs.
The need for cost-effective solutions. With the worsening global inflation, organizations look for more cost-effective ways to run their operations, including hiring freelancers.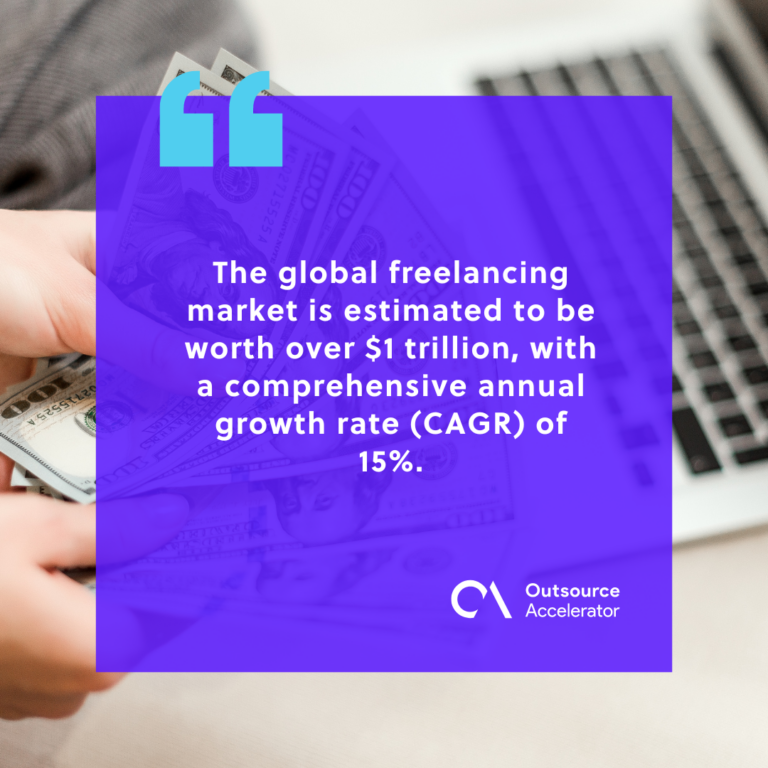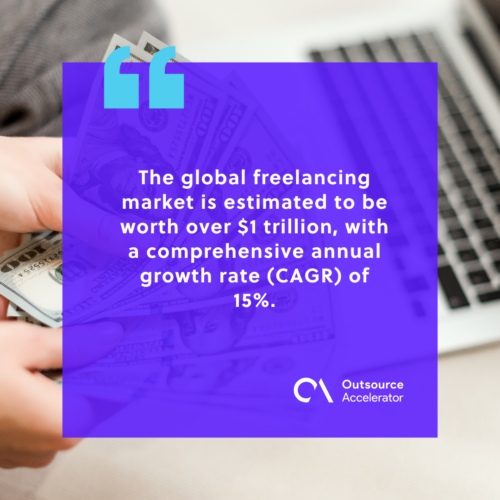 Freelancing statistics you need to know
As the demand for freelancers continues to grow, it's important to understand the current state of the industry at hand.
Here are some of the freelancing statistics and insights everyone should know in 2023.
Global freelancing statistics: Regional differences in freelancing
There are significant regional differences in the prevalence of freelancing. These can be attributed to a variety of factors, including the technology used by freelancers, the cost of living in a location, and cultural attitudes toward freelancing.
The Americas
Freelancing in North and South America, while both increasing, are adversely different in terms of demand and nature.
In North America, the demand for freelance work is higher, and the types of jobs available tend to be more specialized and higher-paying.
Recent data from Fiverr stated that 73% of workers in the US alone want to either start freelancing or continue their freelance work.
The freelancing situation in Canada is even different from its neighboring country. Employees looking to work as freelancers should get work permits and certifications depending on their area and the role they will apply for.
Meanwhile, South America's freelancing positions are more generalized and lower in rates.
This is a good advantage for companies wanting to try nearshoring short-term projects in a more cost-efficient way.
Europe
Freelancing in Europe is on the rise. However, unlike in other regions, it is fueled mostly by personal choice instead of constraints.
Freelancers in the region are considered self-employed residents. Based on reports by Statista, there are around 26.9 million freelancers in Europe as of 2021, gradually lower than in previous years.
More European companies and employees slowly realize the relevance of freelancing in the new ways of work in the region.
Asia
Freelancing in Asia is becoming increasingly popular as the region continues to develop and expand its digital economy.
Alongside outsourcing, freelancing has become an alternative way for businesses to hire workers in Asian countries, with most freelancers coming from India and the Philippines.
Payoneer released a report on the Philippine freelance market alongside local FinTech company GCash. It revealed that while 60% of freelancers engage in traditional work on a per-project or contract basis with employers, 35% now engage more in content creation.
Meanwhile, India has one of the highest freelance workforces in the world, next to the US, with over 15 million freelancers. Its power in infrastructure and tech-related roles are some of the highlights of its viability for freelance work.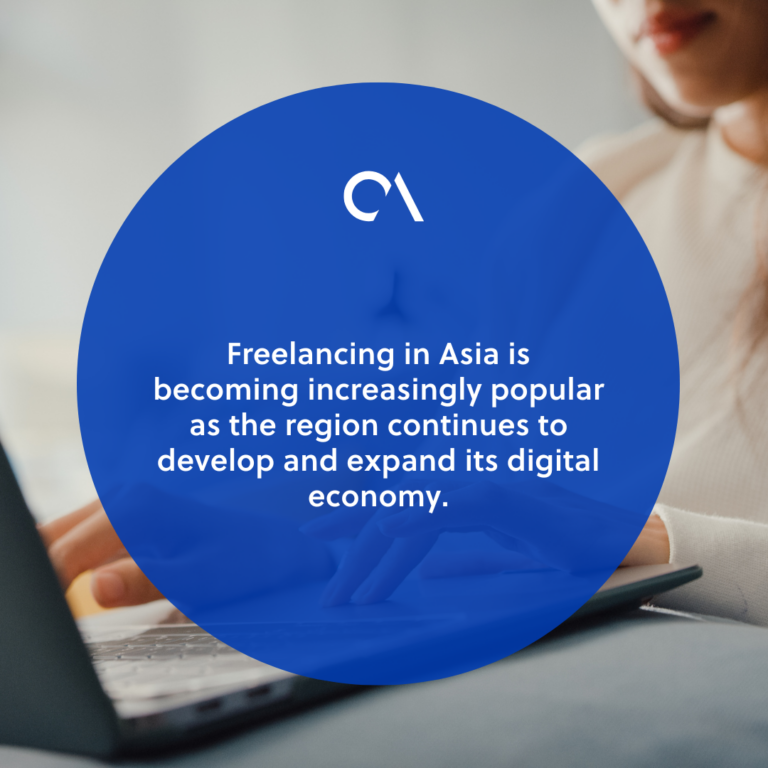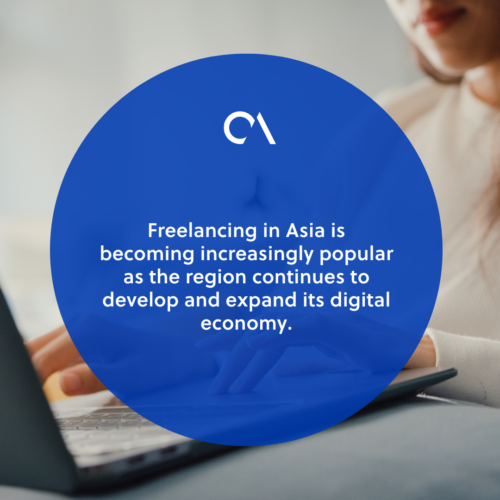 Freelancing by industry: the most in-demand roles
According to the latest data by Upwork, the most in-demand roles in 2023 will be in the technology, marketing, customer service, accounting, and creative industries.
Technology
The increasing demand for developers, designers, and other tech-related roles makes the sector more in demand for freelancing.
According to a recent survey, the demand for software developers is expected to grow by 25% by 2031, projected at a faster pace than most occupations.
Marketing
Marketing is also expected to be in demand in 2023. This is due to the increasing demand for digital marketing professionals, such as SEO specialists, content writers, and social media managers.
Despite the existence of AI-generated content, specifically for writing and images, businesses still look for human skills to check and manage their content.
Customer service
Hiring freelance customer service representatives can be a great way to provide customer service without the overhead costs associated with hiring full-time employees
Freelance customer service representatives can be hired on a project basis, allowing businesses to scale their operations as needed.
Another option is to hire a virtual customer support assistant to manage their customer service functions.
Accounting
Freelance accountants are in high demand, offering a cost-effective solution for specialized accounting services. They can provide a wide range of services, from bookkeeping and tax preparation to financial analysis and consulting.
At the same time, accounting is one of the most sought-out skills (45%) among freelancers today, according to a survey by Upwork.
Creative
The creative industry is expected to be popular for freelancers and clients in 2023.
Like in tech-related work, the demand for designers is expected to grow by 23% in 2031, faster than in other roles. With the age of content creation and social media, video editors, videographers, and other related functions might spike in demand worldwide.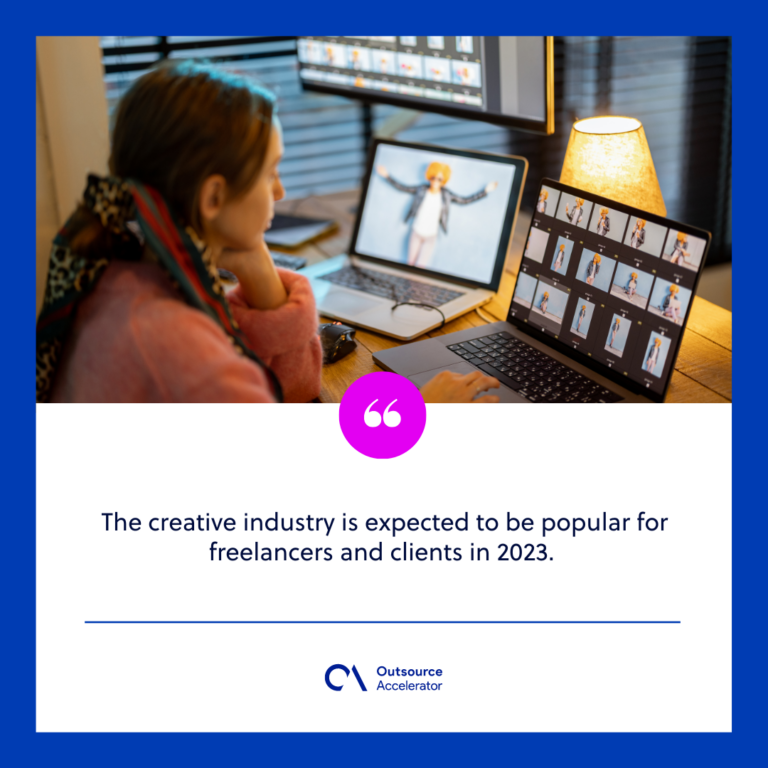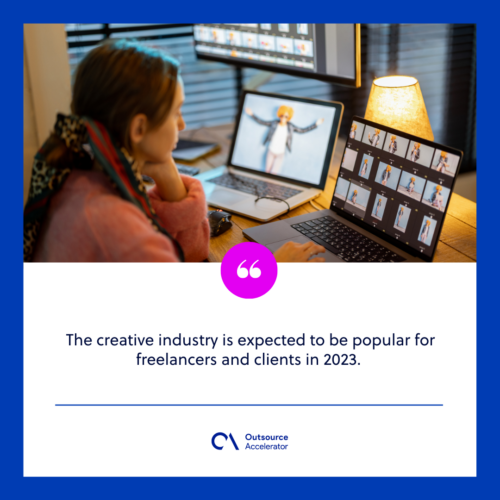 Benefits of freelancing in 2023
Recent findings revealed that more workers don't feel like traditional employment "is a safe bet anymore."
In fact, 68% of independent workers felt more secure working independently. Among the considered independent workers are the:
Freelance workforce
Independent contractors from various platforms
Self-employed individuals who started their businesses
Freelancing offers a number of benefits, including the ability to work from anywhere, the freedom to choose your own hours, and the potential to earn more money than a traditional job.
Here are some of the benefits that freelancers enjoy – and could enjoy – in 2023.
Flexibility
One of the main reasons employees choose freelancing is its flexibility. Employees can work from anywhere without worrying about traveling to work and leaving their families behind.
Increased income
Freelancing also helps employees earn more, whether through full-time gigs or part-time work. Based on statistics, around 45% of employees in the US have side gigs to earn additional income.
This is also a great opportunity for employees to get through inflation, shown through their confidence in increased income.
Professional development
More freelance marketplaces are said to prioritize freelancer success through investment in intelligent solutions through their platform.
Aside from third-party collaboration tools and systems, freelancers can now use the same platforms to manage their work, monitor their progress, and develop their skills and ethics professionally.
Other benefits for employers
Freelancing does not just benefit employees. Employers and hiring managers can also maximize their gains from hiring freelancers with the following benefits.
Cost savings. Employers can save on costs by hiring freelancers, especially those from low-cost countries such as the Philippines, India, and Latin America.
On-demand services. Clients can hire freelancers based on the demand or volume of workload they need to delegate.
Wide range of skillsets and expertise. More workers with higher expertise and educational background are venturing into freelancing. This diversity allows employers to hire a more comprehensive range of expertise they need more flexibly.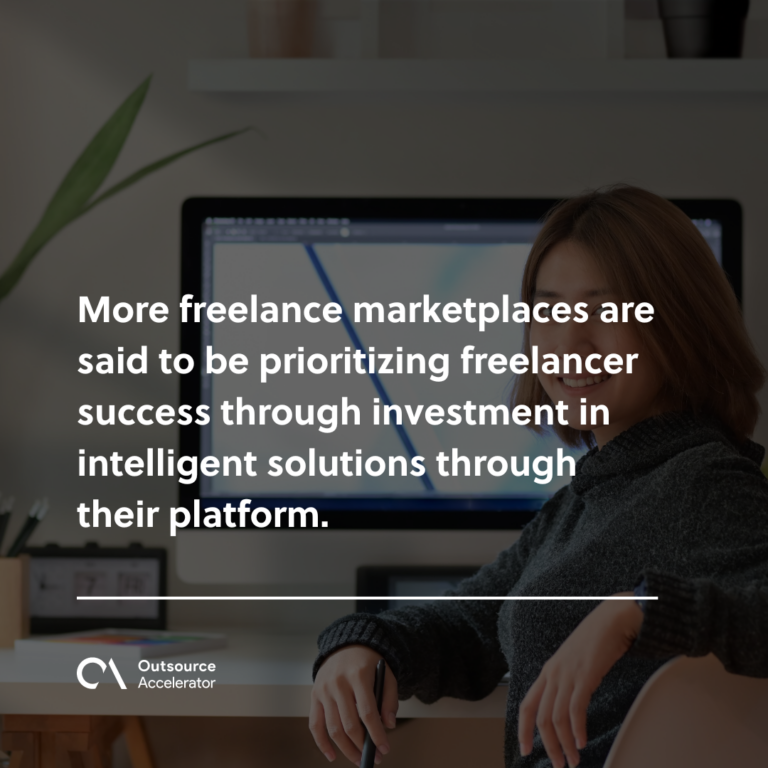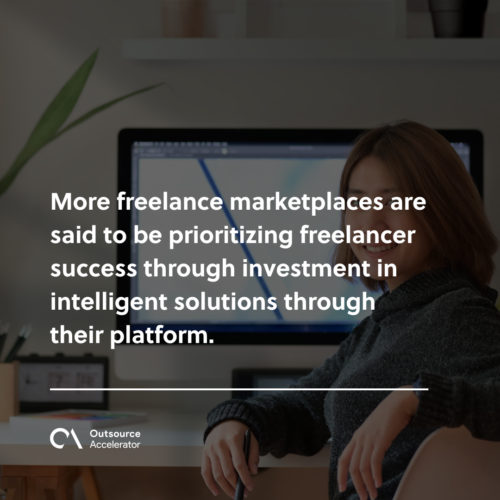 How the freelancing statistics reflect the future of freelancing
The freelancing statistics show that freelancing is on the rise and is here to stay.
It is clear that freelancing is becoming an increasingly popular way to make a living, and it is likely that this trend will continue in the future. As more people become aware of the benefits of freelancing, the number of freelancers will likely continue to grow.
However, the gig economy, where freelancers are classified, is only one of the new ways of work that companies should consider.
The industry's mostly decentralized nature is one of the disadvantages of freelancing. Most freelancers are not covered with the same benefits and perks that full-time employees get.
Another disadvantage is that some freelancers still work below their client's expectations. Especially in most locations, disruptions can still occur in connection or hardware issues affecting their productivity.
With this, businesses can outsource their work to BPOs or small firms for better quality and experience.