Definition
What is the gig economy?
The gig economy is a free market system in which firms hire independent contractors and freelancers instead of full-time workers for short-term commitments.
A gig economy challenges the traditional economy of full-time workers who frequently focus on their professional growth.
Workers, companies, and customers benefit from the gig economy by making jobs more adaptable and increasing the demand for flexible lifestyles.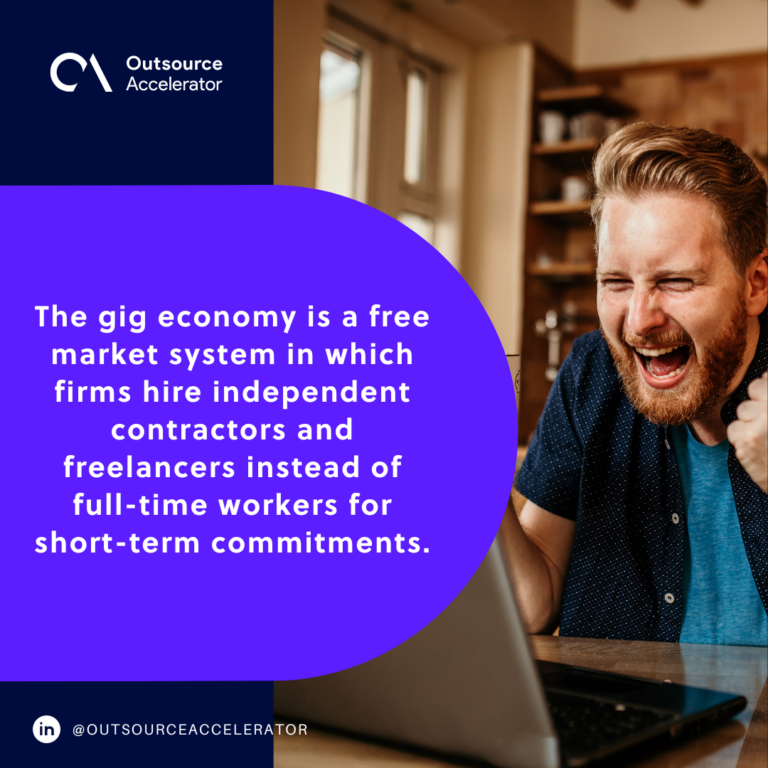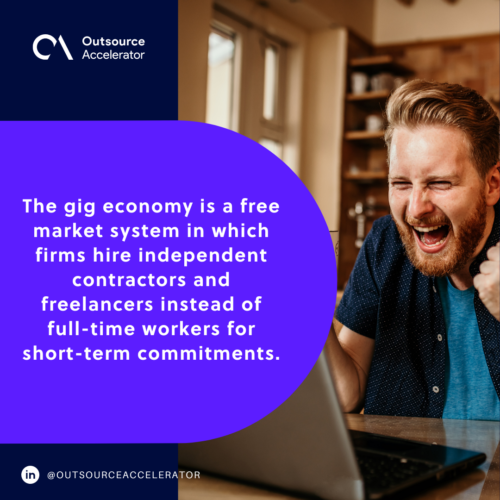 The pros and cons of gig economy
Just like any other work, participating in the gig economy has advantages and disadvantages. Here are some pros and cons to consider. 
Pros of working in the gig economy
Flexibility
The most common benefit of gig working is flexibility. You can dictate when you work — on weekends, only at night, or for one hour each week if you prefer.
You also get to choose where you work, which clients to work with, and even set your preferred service rates. 
Try something new
Some employees turn to gig working as a way to support their families. Others see it as a means to try out a new role or job function. 
Being a gig worker allows you to explore a hobby and determine whether it is more than a passing interest without compromising your primary source of income.
Cons of working in the gig economy
Lack of benefits
Once you're in the industry for yourself, it's up to you to provide the benefits and resources involved in running the business. 
Yes, you have the freedom to choose when you work and when you don't, but the fact is that if you don't work, you don't get paid. 
Unlike a full-time employee, you'll have to get your health insurance and other mandated premiums.
Burnout
Not everyone can work multiple jobs or during odd hours. As flexible as gig work is, it can also be exhausting and stressful for the uninitiated.
Industries that hire remote freelancers and gig economy jobs
Here are some career categories and jobs you can do remotely in this gig economy.
Computer & IT
The computer & IT category consists of various careers. Postings include a wide range of topics, from computer maintenance to internet security.
Freelance computer & IT jobs include:
Information Security Engineer

Network Analyst

Database Administrator
Writing
Writers provide a wide range of written content for different audiences. This includes everything from executive reports to blog articles and web material.
Freelance writing jobs include:
Content Writer

Resume Writer

Copywriter
Software development
Software developers create and test the software that powers computers, applications, and even interactive games on the internet.
Freelance software development jobs include:
Software Developers

Game Engineer

User Interface Designer
Accounting and Finance
Accounting and finance careers cover all aspects of finance. Accounting payables and receivables, tax return preparation, and financial forecasting are all possible positions.
Freelance accounting and finance jobs include:
Financial Specialist

Payment Processing

Accounting Assistant
Administrative
Administrative specialists assist executives by handling incoming and outgoing communications, project management, and trip planning.
Freelance administrative jobs include:
Virtual Assistant

Web research

Design Administrative Assistant