A comprehensive guide to outsource to Brazil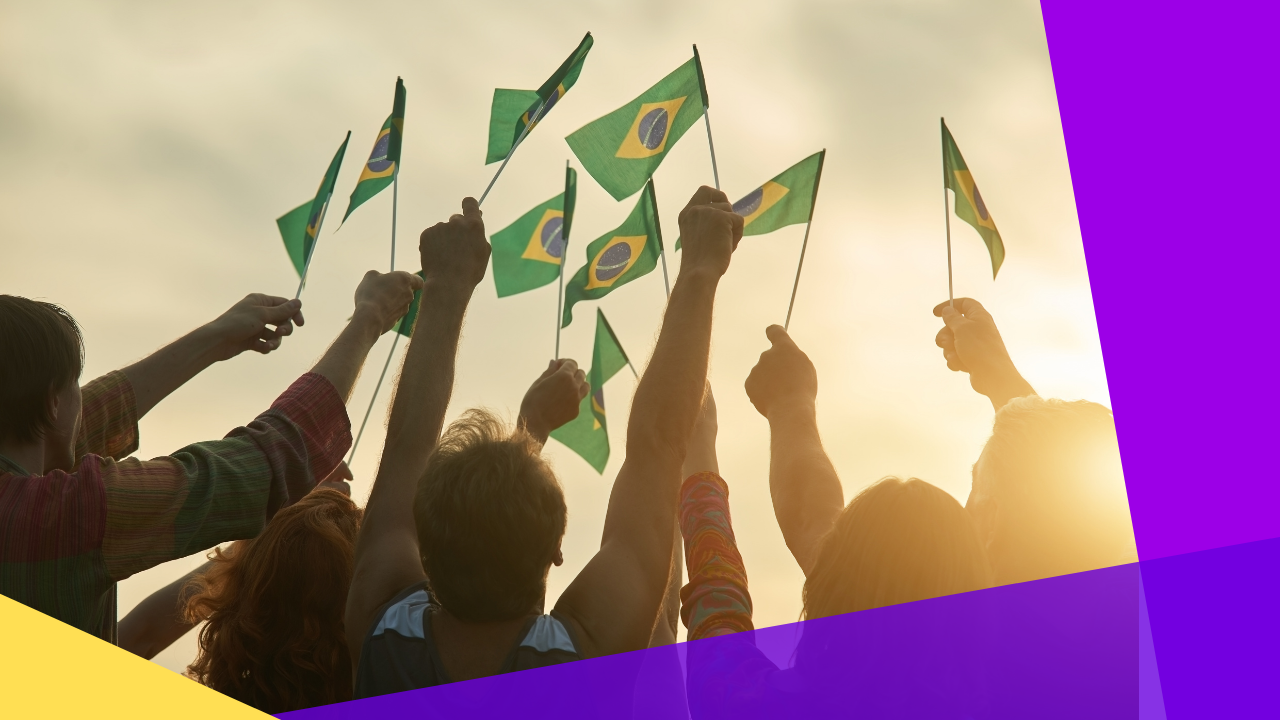 Majority of global businesses are getting fond of hiring remote employees and outsourced workers from lower-cost countries. In just a few decades, several outsourcing destinations around the world continue to gain popularity for businesses of all sizes. One of the rising business strategies is outsourcing to Brazil.
Brazil is one of the world's up-and-coming outsourcing destinations. The country slowly picked its pace from the late 2000s until today, accomplishing its aim to compete with India in outsourcing. 
The Brazilian outsourcing industry is still young. It still has an opportunity to expand and become as popular as the leading outsourcing countries today. 
Despite a few slowdowns until recently, companies still prefer to outsource to Brazil for its cultural compatibility and cost-effectiveness.
Get to know the country, its outsourcing climate, and why companies should outsource to Brazil in this comprehensive guide.
Quick overview on outsourcing to Brazil
Brazil has first established itself as a primary location for call center operations for the past decade. The country's economy and its call center operations even grew amid the global financial crisis in 2008.
From the start, Brazil has aimed to compete with India in offshoring. The country has since mixed and matched the economic features of China and India in terms of doing business. 
The country first managed to move its ranking from tenth to fifth top offshoring destination in a span of two years (2005-2007). In this era, the shift from "traditional" locations has started.
In 2010, six Brazilian cities made it to Tholons' Top 100 Outsourcing Cities: São Paulo, Curitiba, Rio de Janeiro, Brasilia, Recife, and Campinas. São Paulo then led the top Latin American outsourcing destination two years later.
Over time, Brazil managed to make it to the top 3 in Tholons Digital Nations in 2018, next to India and the Philippines, and has occupied the list ever since. However, it slipped its ranking during the pandemic.
Despite this, the country continues to be a viable outsourcing destination for software development and call center services.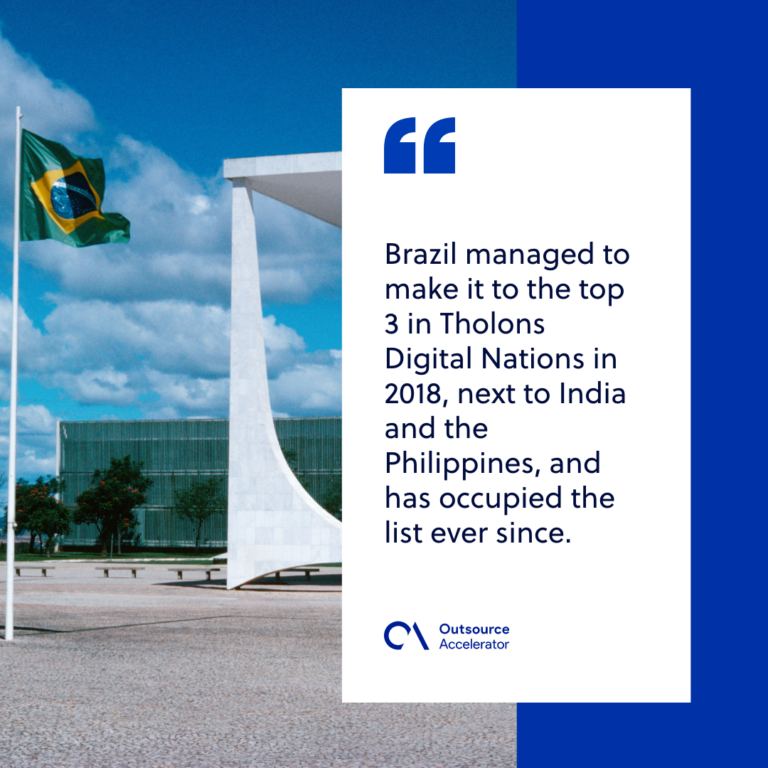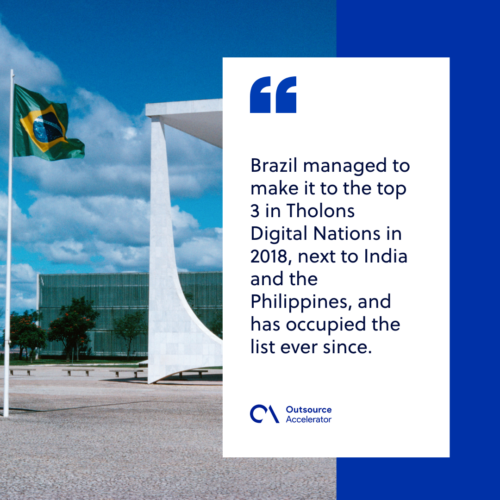 Brazil fast facts
BRICS

. Brazil is one of the founding countries of

BRICS (Brazil, Russia, India, China, and South Africa)

in 2001. Originally "the big four," these are countries projected to dominate the world economy by 2050.

Language

. Most people confuse Brazil among its Spanish-speaking neighbors. In fact, it is the only Latin American country that speaks Portuguese.

Connection with Japan

. Brazil has a

long-time trading connection

with Japan, starting in 1908. Not only that, it is home to the largest Japanese community outside Japan.

Largest carnival

. The country holds one of the

largest carnivals

in the world every March, drawing millions of participants. 

Coffee

. Brazil is the largest

producer of coffee

in the world since the 1840s.

English proficiency

. The country ranks 53rd out of 100 countries in

EF English Proficiency

. 
Why do companies outsource to Brazil?
One of the major factors in Brazil's outsourcing climate is its geographic location. Despite having a six-hour travel time on average, the country is only an hour ahead of the US. 
It is also a perfect delivery center base, being the largest country in South America.
Aside from this, companies choose to outsource to Brazil.
A growing quality workforce
The Coursera Global Skills Index in 2019 listed Brazil as one of the "up and coming" Latin American countries with high-skills potential – thanks to the country's policy changes.
Brazil produces millions of quality workforce that graduate from top universities across the country each year. In 2020, the Brazilian labor force was reported at almost 100 million. 
Despite being lower than the previous years, this still demonstrates ample growth of workers willing to provide the best service for a business.
Impressive infrastructures
One of the benefits when you outsource to Brazil is the infrastructure. It has around 90 technology parks and 35 accelerators nationwide that's built within the last decade. 
The country also boasts a high density of research centers, tech companies, and institutes. Some of them are located in Brazil's Silicon Valley in Campinas.
All of these efforts are the result of implementing "Lei do Bem (Law of Good)," which provides tax incentives to companies that work on research and development and technological innovations.
Low costs and increased profits
Companies that outsource to Brazil get a vast amount of savings and maximized profits due to their low cost of living.
Statistics show that the cost of living in Brazil is around 53.4% lower than in the US on average. However, the costs may still vary based on the region and city that companies decide to invest in. Some of the largest cities in Brazil including Rio de Janeiro are said to have the highest costs. 
This still seems advantageous for outsourcing clients in the US and Europe since the average wage is still lower than in developed countries.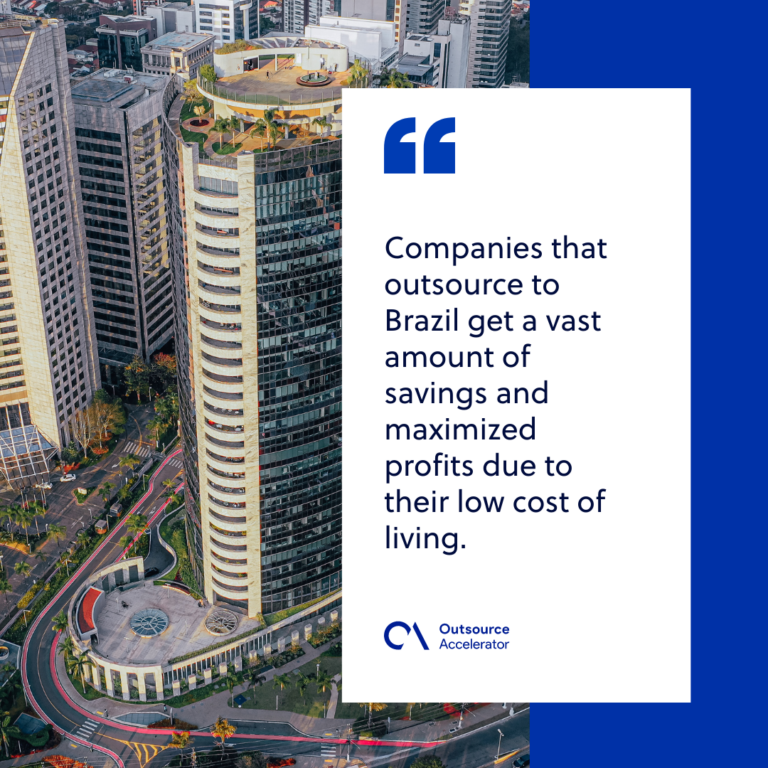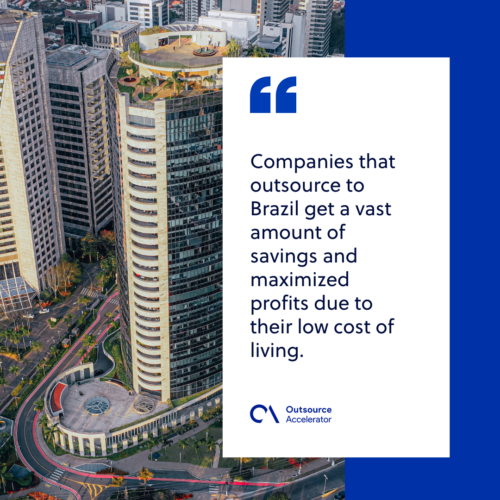 Suitable laws and regulations
Despite outsourcing for decades, Brazil has just started to outsource in 2017 with its breakthrough Outsourcing law. Other than this, its political and economic climate remains stable and growing.
The World Bank's Political Stability Index in 2019 placed Brazil in a better position than in India and the Philippines. The government even takes extra measures to strengthen the country's business ecosystem and boost its outsourcing industry.
Not only that, it even regulates strict data protection to both local and foreign entities investing in the country through the General Personal Data Protection Act (LGPD).
Exceptional team collaboration
Companies that outsource to Brazil can assure a smoother collaboration with their remote teams.
As mentioned, Brazil is only up to four hours ahead of the United States. This makes it easier for US clients to reach out either through phone or communication tools such as Zoom since they technically work within their clients' office hours.
What's more, Brazilian graduates are taught to communicate in English starting from their youth. With this, communication won't be a difficult thing for both the client and the outsourcing team.
Lastly, future workers are taught about the work culture in the US. This is why the country is culturally compatible with the US.
Services to outsource to Brazil
IT and software development
Primarily, Brazil is known for software development and IT outsourcing. As mentioned, the government supports the flourishing technology and research companies in the country, whether local or international.
The IT industry in the country was valued at US$1.28 billion in 2020, slightly lower than the last two years. Despite this, the country still recorded an influx of outsourced work due to its exceptional infrastructure.
In Curitiba, for instance, clients can hire talents with professional experience in several fields such as Python, IoT, and system migrations and integrations.
Contact center services
Another in-demand service to outsource to Brazil is contact center services. Some of the largest call center companies in Latin America and the world have established their operations in Brazil, with most of them having the largest workforce in the country.
In return, contact centers contribute largely to improving the country's economy and their citizens' lives better. 
Brazil is an ideal location for English and bilingual contact centers in different areas, from inbound and outbound calling to telesales and lead generation.
Manufacturing
Lastly, Brazil can compete with China and other destinations when it comes to outsourced manufacturing. 
Raw material for several products costs lower in the country compared to the US. With this, high-quality OEM companies have been in demand for years now. They also don't have to worry about heft fees and taxes in exporting their goods thanks to the Information Technology Law of 2001.
Not only multinational companies that established shops in the country have enjoyed the advantages of manufacturing their products in the country. Businesses such as Kodak and Lucent even took advantage of this by contract manufacturing.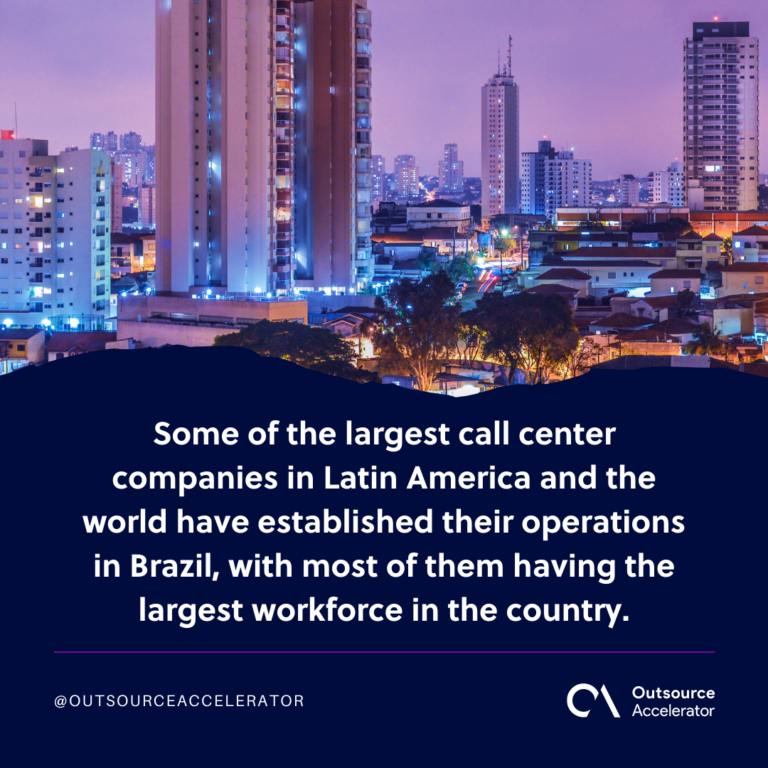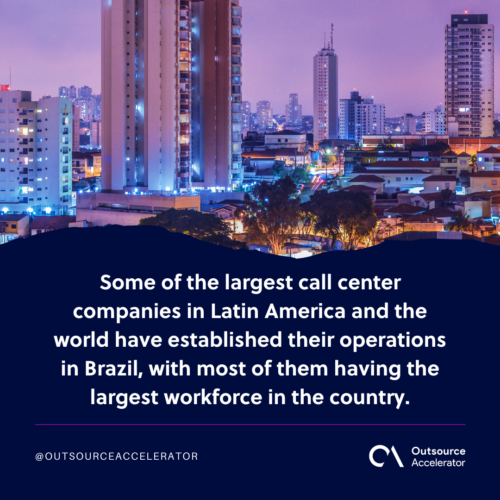 Brazil's outsourcing competitors
1. Puerto Rico
Puerto Rico has become a viable nearshoring/onshoring destination for most US companies. Being a territory of the United States, the Commonwealth is fully aware and follows US laws and regulations.
The Commonwealth ranked 74th in Tholons outsourcing destinations in 2016 and jumped to 47th the following year. 
2. China
China is one of Brazil's closest competitors in outsourcing manufacturing services. The country is contracted by leading technology companies including Apple and Samsung. 
However, Brazil takes its edge over China when it comes to English proficiency. China still has a long way to go in developing English proficiency, especially in the workplace to make them more conducive for contact centers and other services.
3. El Salvador
Lastly, El Salvador edges over Brazil in terms of years. The country's industry is almost two decades old now and continues to be known for customer service and software development.
Among the advantages of outsourcing to El Salvador include 50-60% cheaper costs and better cultural affinity to developed countries.
Top BPO companies in Brazil
BPO companies in Brazil can help you connect to your customers, communicate with them effectively, and provide the best product fit for their needs. Here are some of the top BPO companies you can hire in the country.
Aidey provides flexible and cost-effective solutions for customer service, technical service, and back-office functions. 
Growth.Lat offers project-based services for companies aiming to enter the Latin American market.
One of the largest business process service providers in the world, Conduent assists both government and private companies in providing top services to customers.
Neobpo combines several aspects in development such as CX, UX, and design thinking to give the best client experience possible.
Central 24 Horas blends hardware and software properties to create innovations and solutions meeting their clients' expectations in speed, flexibility, and integration capacity.
Is it good to outsource to Brazil?
Despite the great advantages listed below, businesses can still encounter a few disadvantages when they outsource to Brazil. This includes:
Taxes

.

Taxation in Brazil

can be quite confusing at times, especially for foreign investors.

Language barrier

. Language barriers can still exist in outsourcing teams, especially for those confusing them with their neighboring nations.

Changing regulations

. Laws and regulations in Brazil can change all of a sudden. That's why companies must keep updated with them from time to time.
Like in other outsourcing destinations, it takes investment in effort and minimal resources when clients outsource to the country. Some of them, in return, try to take advice from experts and third-party consultants.
Outsource Accelerator, the world's leading outsourcing marketplace and advisory can help with this challenge. We have over 5,000 articles and 350+ podcast episodes so clients can learn more about outsourcing beforehand. 
What's more, we list over 2,500 BPO companies in our comprehensive directory, so companies can contact their preferred BPOs directly. 
In the end, there's no harm in trying to outsource to countries such as Brazil. It might even help them scale and meet their needs in the future.