Top 15 recruitment firms in South Africa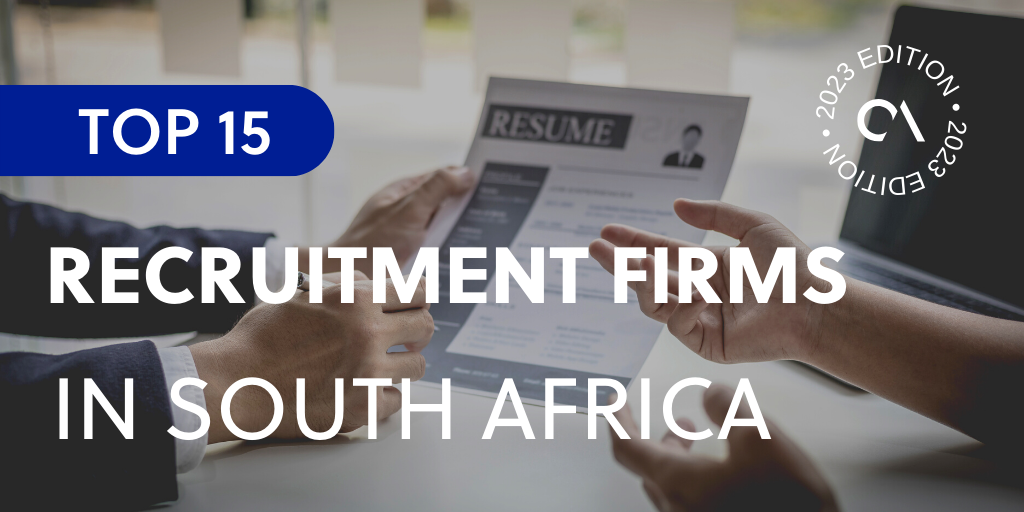 List of recruitment firms in South Africa
Recruiting the right talent is crucial for any business to thrive and succeed in a competitive market.
Recognizing the difficulties in local staffing, firms opt to outsource recruitment processes to offshore providers. These providers offer an all-in dedicated team, training, and winning tools for their work.
South Africa, with its growing economy and diverse industries, has a multitude of recruitment firms offering their services to help companies find the best candidates. 
Check out the top recruitment firms in South Africa below.

Trends that shape recruitment today
Recruitment practices have evolved significantly in recent years, influenced by several key trends.
Let's take a look at the trends that are currently shaping the recruitment landscape worldwide.
Technology-driven hiring processes
Recruitment firms are leveraging technology to streamline hiring processes and improve candidate sourcing.
Apart from the evolving recruitment tools and strategies, recruiters now use artificial intelligence and data analytics to identify and attract top talent efficiently.
Diversity and inclusion
Diversity and inclusion have become integral to recruitment strategies. Companies increasingly recognize the value of building diverse teams and creating an inclusive work environment.
Recruitment firms in South Africa are actively helping organizations achieve workplace diversity. They implement strategies to attract candidates from various backgrounds and promote fair hiring practices.
Remote work opportunities
Remote work is now a staple for the majority of businesses, making it a highly sought-after perk for job seekers.
Recruitment firms are assisting companies in redefining their hiring policies to accommodate remote work arrangements. This trend opens up opportunities for employers and job seekers, as geographical limitations are no longer a barrier to finding the right fit.
How does outsourcing recruitment in South Africa help you
South Africa is now a popular destination for professional services and co-managed solutions. Along with higher roles, clients tap the country for collaborative recruitment and workforce management.
Let's explore three key benefits of outsourcing recruitment services in South Africa:
Access to extensive networks and specialized expertise
Recruitment firms in South Africa have a vast network of professionals across various industries and job functions. 
Outsourcing recruitment allows employers access to this extensive network and pool of qualified candidates. Additionally, they can tap a fresh talent market in a demographic or location they have not considered before.
Time and cost savings
Partnering with a recruitment firm can save businesses valuable time and resources.
Recruitment firms handle the end-to-end hiring process, including sourcing, screening, and interviewing candidates.
This allows internal HR teams to focus on other strategic initiatives. Moreover, recruitment firms have established processes and tools to streamline recruitment, reducing time-to-fill and associated costs.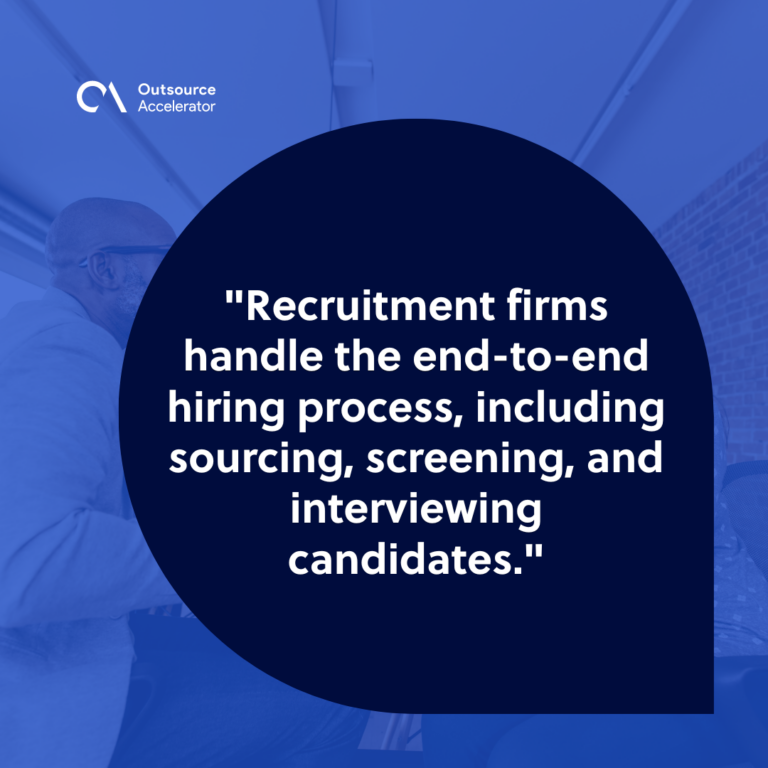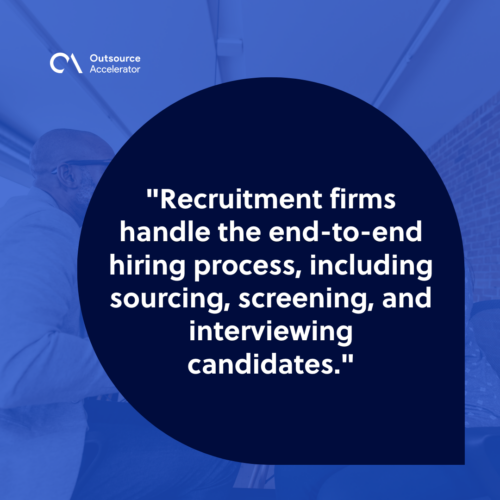 Increased candidate quality and fit
Recruitment firms have the expertise and resources to identify and attract high-quality candidates. They utilize comprehensive evaluations to ensure a close fit between candidates and job requirements.
Global outsourcing lists
Outsource Accelerator is the world's leading outsourcing marketplace and advisory. We list over 3,000 BPO firms located across the globe in our global directory, and we provide detailed information, price guides, and reviews.
Whether you're a solopreneur, SME owner, or corporate executive, we can help you find the most suitable outsourcing provider for your business.
Explore our outsourcing directory now. You may also check out our other lists of top recruitment companies per country here:
Top 15 recruitment firms in South Africa
Now, let's dive into the top 15 recruitment firms in South Africa, each offering unique value and expertise in connecting businesses with top-tier talent.
Michael Page South Africa is a leading recruitment firm with a global presence. It specializes in various sectors, including finance, engineering, marketing, and technology.
With a strong focus on delivering personalized service, Michael Page South Africa has built a reputation for finding exceptional client candidates.
Medipath Recruitment focuses specifically on the healthcare industry in South Africa. It assists in recruiting healthcare professionals for hospitals, clinics, and other medical facilities. 
With an extensive network and industry knowledge, Medipath Recruitment ensures that healthcare organizations find highly skilled professionals to meet their staffing needs.
SciTech Placements is a specialized firm that caters to the science, technology, engineering, and mathematics (STEM) sectors. Its expertise lies in identifying and placing top talent in these specialized fields, helping clients find skilled professionals for critical roles.
Key Recruitment Group offers recruitment solutions across various industries, including finance, IT, sales, and engineering. It has a proven track record of successfully connecting businesses with top talent in South Africa.
Key Recruitment Group focuses on building long-term relationships and delivering tailored staffing solutions.
Quest Staffing Solutions is a prominent recruitment firm that provides flexible staffing solutions to businesses in South Africa. The firm specializes in various sectors, such as contact centers, logistics, and retail.
With a focus on matching the right candidate to the right job, Quest Staffing Solutions helps clients find temporary and permanent staff efficiently.
WHP Consulting offers recruitment solutions primarily in the engineering, construction, and property sectors.
It aids businesses in finding qualified professionals for positions ranging from entry-level to executive roles.
WHP Consulting's in-depth industry knowledge allows them to identify and place candidates fit for their roles effectively.
Sandi Crowther Recruitment has been a trusted South African recruitment industry player for over three decades. It provides recruitment services across various sectors, including administration, sales, finance, and marketing.
Sandi Crowther Recruitment prides itself on its high-touch approach and personalized service.
Surgo specializes in recruiting candidates for positions in the healthcare, e-commerce, and technology industries. It works with its clients to fill roles ranging from virtual reception to food delivery and support for ride-hailing apps.
Surgo's extensive network and expertise in recruitment ensure that clients have access to a wide range of qualified professionals.
CA Financial Appointments focuses on accounting and finance recruitment, connecting businesses with qualified professionals in these fields.
This recruitment firm thoroughly understands the financial industry and assists companies in finding candidates with the necessary skills and experience.
CA Financial Appointments aids organizations in building proficient finance teams.
JorDan HR is a specialized recruitment firm focusing on high-demand IT, finance, and engineering industries. It provides tailored recruitment solutions to assist businesses in finding top talent for critical roles.
JorDan HR's comprehensive screening and assessment process ensures clients receive candidates who meet their specific requirements.
Dante Personnel offers recruitment services across various legal, finance, administration, and engineering sectors.
With a wide range of industry knowledge, it is adept at identifying and placing candidates in roles that align with their skills and career goals. Dante Personnel's personalized approach ensures a positive match between clients and candidates.
AltGen specializes in clean energy and sustainability recruitment, focusing on roles in the renewable energy and green technology sectors. It helps companies find skilled professionals dedicated to driving environmental change.
AltGen contributes to the growth of the clean energy industry by connecting businesses with talented individuals passionate about sustainability.
Communicate Recruitment is a specialist recruitment agency based in South Africa focusing on finance, IT, engineering, and freight industries. The firm connects job seekers with exciting career opportunities and helps companies find top talent.
What sets Communicate Recruitment apart is its commitment to delivering quality service to candidates and clients.
Its recruiters support the applicants and clients throughout the process, from screening to hiring and onboarding.
e-Merge is a reputable company that connects exceptional talent with top tech employers in South Africa and other countries.
With a track record of over 20 years, e-Merge has established itself as a leading provider of high-caliber IT professionals in the country.
e-Merge prides itself on its ability to match ambitious clients with extraordinary candidates and have built a strong reputation for their quality recruitment services.
Redline Recruitment is a boutique specialist agency that opened in 2005.
The firm places candidates in permanent, contract, temporary, and freelance roles within their specialized recruitment fields. It provides staffing in various verticals, such as finance, marketing, procurement, and administration.
With over 2,500 successful candidate placements since its establishment, Redline Recruitment creates long-lasting relationships between clients and candidates.