Definition
What is technical support?
Technical support is the range of services provided by technology companies to customers that involve resolving network issues and providing technical support.
Technical support can be provided internally by a company that develops its own software for internal use.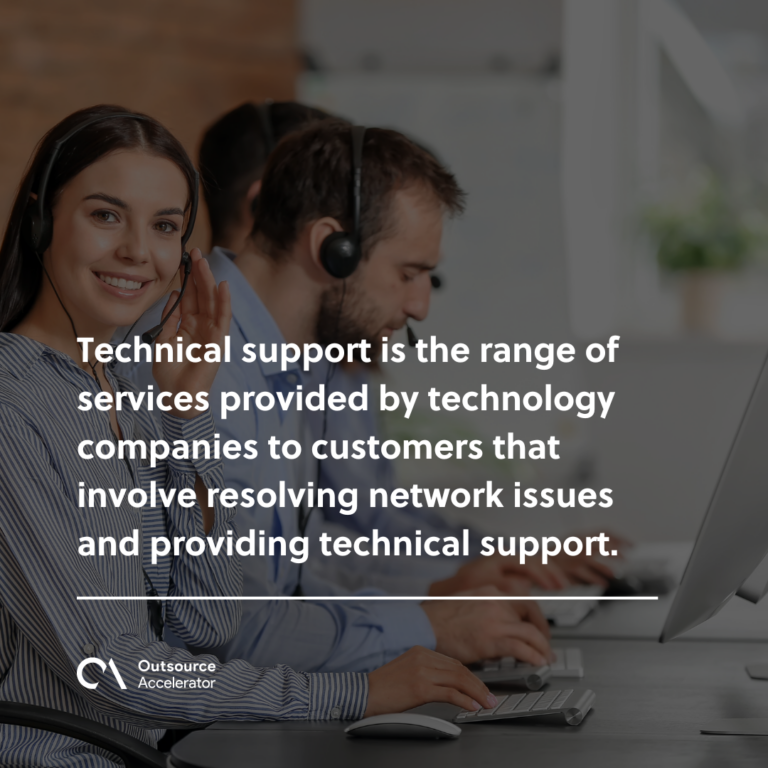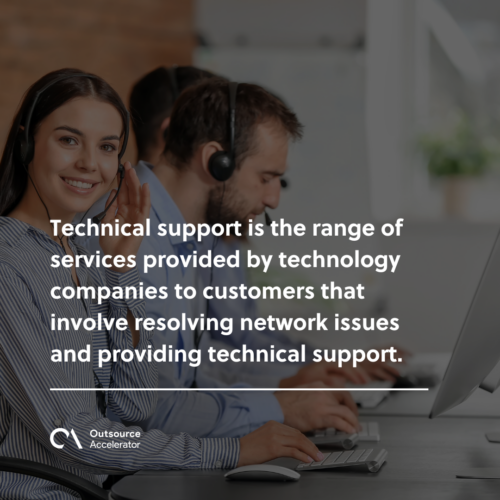 Technical support is often divided into three tiers:
Tier 1
Tickets are for frequently occurring issues or issues that can be resolved using a self-serve knowledge base with some help from the agent.
Tier 2
Tickets are for more in-depth technical support questions that may take up a larger portion of an agent's time and effort.
Tier 3
Tickets are those that require technical knowledge of the product in question and can sometimes be handled by members of the development team.
Technical support position
As mentioned above, technical support position is employed by an organization to supervise and maintain its computer hardware and software systems. Their abilities are an advantage to the organization, as they aid in troubleshooting technical issues with client accounts.
Technical Support will also assist with the integration of computer applications by identifying and resolving network issues.
Typically, professionals with this title begin their careers in IT as entry-level employees or support specialists, although the most prevalent tech support role is technical support engineer.
A high school completion may pass as a requirement, but a bachelor's degree in computer science, information technology, or a closely related field is most preferable.
Additionally, accreditation in industry-specific networks or operating systems is sometimes required by businesses.
People with a solid background in technical support fundamentals and a positive approach on problem-solving typically perform well in the technical support position.
Benefits of outsourcing technical support
A successful technical support team requires people with an aptitude for technology, clear communication skills, and the technical knowledge to understand and address customers' concerns without being present in person.
Here are some benefits of outsourcing technical support:
Cost-effective outsourcing service
Outsourcing technical support can save you a lot of time and effort. In addition, your company may save a lot of money each year by not having to set up a full technical support department and paying for professional services with minimal training fees.
Enhanced customer satisfaction 
When you outsource technical support for your company, you'll witness that they're focused on customers. To be competitive and relevant in the industry, genuine satisfaction is necessary.
Technical support puts in a lot of effort to ensure that you are satisfied with their services, and it shows in their skills.
Excellent quality service 
When compared to what you could get from in-house technical support, third-party BPO companies usually provide better service.
Additionally, they make it their mission to stay updated on new technologies, systems, trends, or challenges, and they are extremely competent at what they do.
Outsourcing companies make sure that their staff are extremely competent at what they do in their job.
Convenient 
Businesses find it convenient to outsource tech support. They save on time and expense by relying on outsourced technical support or similar role.
Organizations wouldn't also need to spend on training, compensation, benefits, and any other common problems of recruiting suitable employees such as outsourced technical support engineers with hands on experience.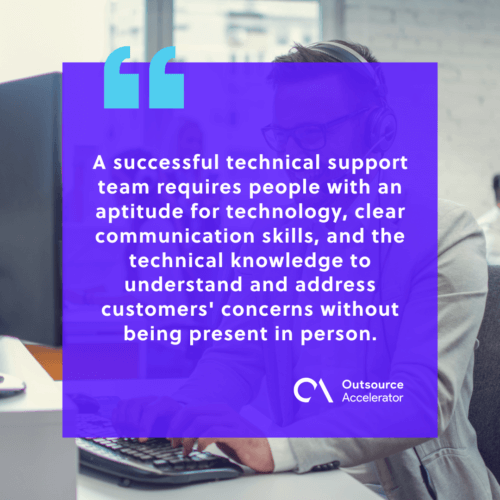 Responsibilities of technical support
Here are some responsibilities that you can delegate to your technical support team:
Complete thorough reports detailing technical support requests and the measures taken to address them.
As the first point of contact for any system-related either network issues or technical problems raised by customers and employees.
Organize and file warranty and instructional manual paperwork for computer hardware and software.
Keep a running track of any needed system updates, and the date they were completed.
As a hands on help desk that helps clients with troubleshooting hardware problems.
Meet with customers in-person to evaluate, debug, and diagnose, and resolve hardware issues.
Resolve any technical issues that may have arisen as a result of network issues.
Customer service vs technical support: What's the difference?
Technical support is primarily responsible for resolving technical issues. These issues are perceived or actual problems in the product or service for which customers are seeking support.
Customer service concentrates on the client's experience and it does not always have to be technical.
Further, customer care professionals can be more proactive in providing client assistance and initiating contact.
Outsource Accelerator provides you access to professional outsourcing companies from the Philippines starting from $6 per hour, where you can save up to 70% on staffing costs. We make it easier for clients to learn about, and engage with outsourcing technical support specialists.