Subject Matter Expert (SME)
Definition
Definition of Subject Matter Expert (SME)
A subject matter expert or SME is an essential intelligence provider within a business, most commonly in a call center.
They have highly specialized knowledge of a specific task, procedure, department, operation, technology, system, material, or equipment.
While many subject matter experts focus on a specific business area, some are cross-trained in multiple related functions.
SMEs in different disciplines also serve as expert witnesses in court trials and other legal proceedings with their insights.
A subject matter expert must be capable of sharing their expertise with other stakeholders. He should know how to solve specific problems encountered by a certain team. This knowledge is vital to any business because it gives a strategic advantage.
How do subject matter experts work
A subject matter expert ensures that every piece of information is correct and accurate. Each deliverable should meet the needs of the stakeholders, regulations, and best practices of a company.
More so, subject matter experts take years of continuing education to master their fields of specialization. This makes them capable of handling and training a particular job and its teams.
Some of the common examples of the subject matter expert functions are the following:
Software development. In software development, SMEs provide information on what should be built. They have deep knowledge of the technicalities of creating a website or software and are asked to review and approve work.
Engineering.

A subject matter expert

in engineering and architecture, meanwhile, can help solve problems in implementing new building technologies and concepts.

SMEs

can be consulted for different property development aspects, including compliance and other legal actions.
Customer support.

The subject matter expert in customer support is

responsible for writing and updating the training materials of a team. These materials are used as their source of information regarding the company, its products, and its customers.
Marketing. A company's marketing team can also leverage SMEs in different aspects. For instance, they can hire

a subject matter expert

to develop social media strategies.
Other subject matter expert responsibilities include the following:
Primary source of information

. The subject matter expert's primary responsibility is to serve as a repository of authoritative data. Each team member is aware that they can consult you for answers and insight.

Separate pertinent information

. SMEs gather the information that will be advantageous to the project or organization.

Review objectives for learning and development.

Subject matter experts can aid in the formulation of objective statements that are crystal obvious. For instance, by the end of the training, employees should have a firm grip on the concepts or have honed their primary skills.
Benefits of subject matter experts in the call centers
Having an internal subject matter expert has a huge benefit for any call center company. The creation of internal SMEs has significant benefits for businesses, call center workers, and consumers who need knowledge and assistance.
Small to medium-sized companies in a consumer contact center will support managers and supervisors when it comes to preparation, coping with scaling orders, and helping to transfer expertise to other staff members.
A subject matter expert also allows managers to devote more time to coaching and working with agents. With this, team members can focus on small and medium-sized enterprises for issues relevant to their area of expertise.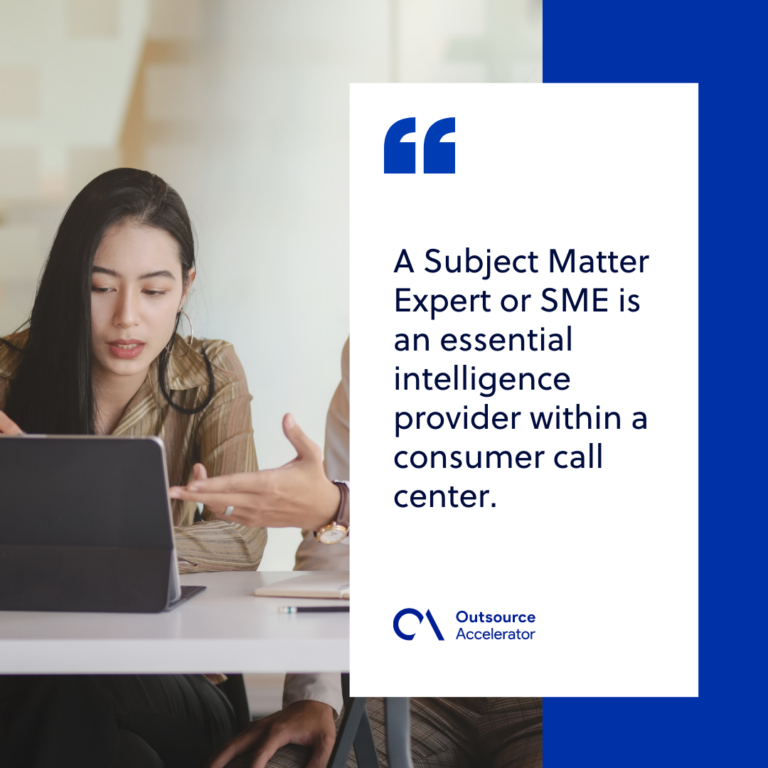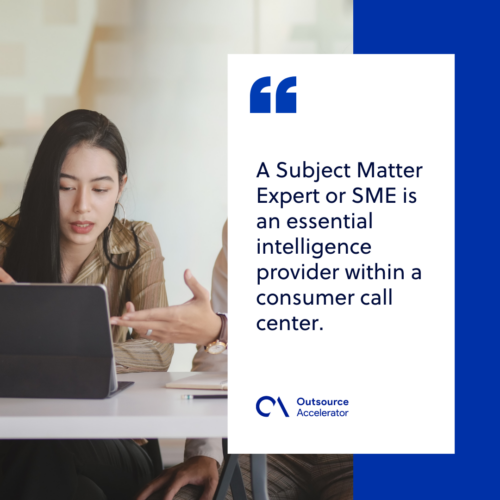 How to become a subject matter expert (SME)
There's a high demand right now for subject matter experts in different industries. With this, becoming a subject matter expert is a great job opportunity for employees looking to apply their expertise in a particular area.
Professionals should have the following skills and characteristics to become exceptional subject matter experts.
Bread expertise in a specific subject
Professionals should broaden their knowledge in their fields and become an authority on a particular subject to become subject matter experts.
Analytical skills
SMEs can put their specialized knowledge to good use with good analytical skills. A subject matter expert should know how to gather relevant data and analyze them according to the company's standards and regulations.
Effective communication
An excellent subject matter expert should be able to communicate properly with other professionals, such as the marketing team and human resources. 
They should be able to exchange insights and talk effectively regardless of their knowledge of a topic. They should be able to explain complex ideas and terms in a way their other team members can understand better.
 While we're on the topic of subject matter experts, Outsource Accelerator Founder and outsourcing leader Derek Gallimore recently published Inside Outsourcing: The Book. Check out the overview and the book review here.