Definition
What is professional outsourcing?
Professional Outsourcing is the practice of contracting to individual specialists or professionals to handle multiple, small tasks without the intention of outsourcing an entire function. Another term for professional outsourcing is body shopping.
There are times when a business has its own processes well-established and streamlined that there are small tasks or projects that fall by the wayside due to resources already being allocated. 
In those cases, companies have the option to contract those small tasks and side-projects to professionals outside the organization who can work on the tasks independently. Successful tasks or projects that show great potential can then be re-integrated into the company or be further built out with an outsourced team.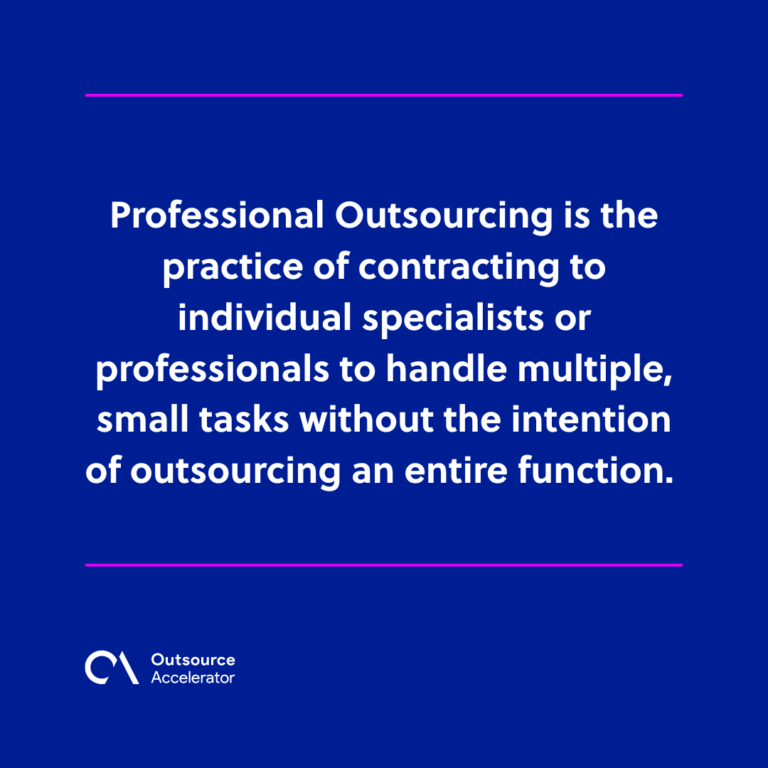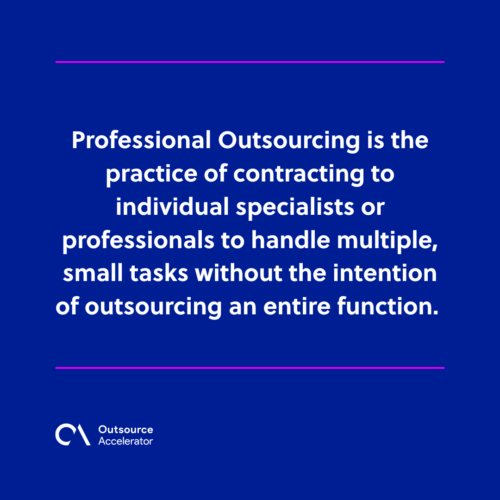 Professional outsourcing services
In other cases, for immediate needs (quickly taking advantage of business opportunities, problems in fulfilling a current order) businesses will outsource to professionals on a short-to-medium-term basis. 
In both cases, there is a need for professionals who can handle a surge in workload without unduly stressing the internal resources of the company.
Outsource Accelerator provides you access to professional outsourcing companies from the Philippines starting from $6 per hour, where you can save up to 70% on staffing costs. We make it easier for clients to learn about, and engage with business process outsourcing.
Outsourced services definition
Outsourcing is the process of contracting a third party to execute services or manufacture goods that would otherwise be conducted in-house by the company's own workers and personnel.
Outsourcing is a cost-cutting strategy used by businesses and influences a wide range of professions, from customer service to manufacturing to the back office.
Most commonly outsourced services
Here are some areas of your organization where outsourcing may help.
IT
IT solutions for your company are likely to be at the center of everything you do. After all, there are very few aspects of a business that aren't filtered through IT in the modern environment.
As a result, you must make certain that it continues to work efficiently.  One of the best ways to guarantee that your IT is always at the highest possible quality is to be able to contact top IT providers.
That way, you can be confident that everything is working correctly without having to spend a lot of time and energy maintaining it.
Marketing
Marketing is one of the most important components of any company. However, especially in the digital era, marketing is frequently far more complicated than many business owners expect. Being able to outsource your marketing is highly useful as a result.
Understanding how to promote a firm in the current day requires a great deal of knowledge and skill, from SEO to B2B to social media. It's something that third-party organizations can provide in ways that you might not be able to.
Accounting and bookkeeping
Every corporate organization needs this as a basic requirement. The process of documenting daily company activities helps the organization save money while also increasing efficiency and effectiveness.
It will also assist in reducing the workload of various companies, allowing the employer and employees to focus more on the firm's core purpose.
When you don't have an accountant, this function of accounting and bookkeeping can be outsourced to experts for better results.
Customer service
Customer service is a vital aspect of every business that contributes significantly to its success. Customers' feedback is required by small and large businesses to maintain consumer satisfaction. 
Greater customer satisfaction retains and expands the client base, resulting in increased revenue. Every corporate organization's only aim is to create a chain of good occurrences.
Companies do not take customer service lightly since it is the foundation of every business. It also determines how far companies have progressed. If you need a professional touch, this role can be outsourced to reputable customer care professionals.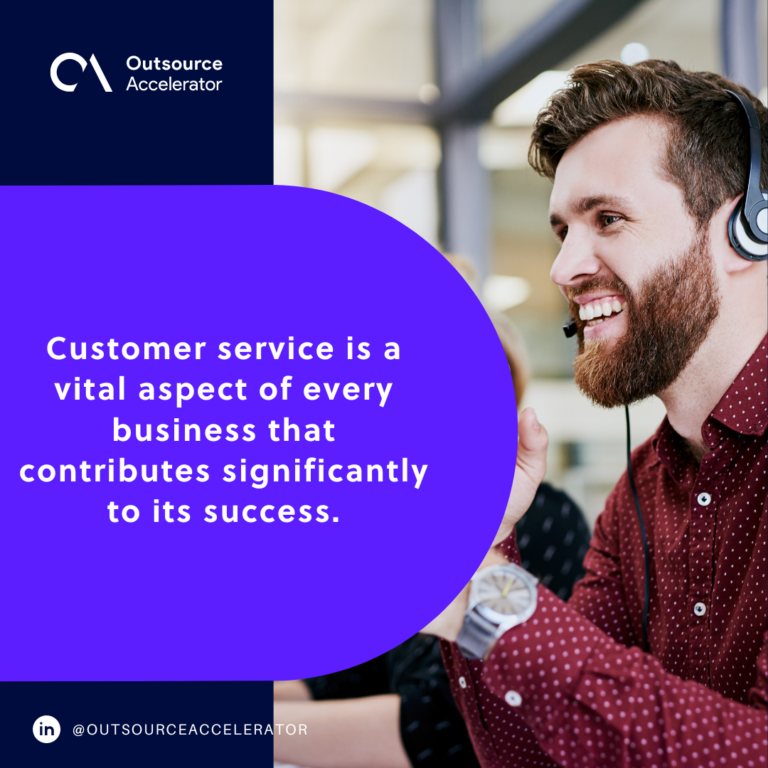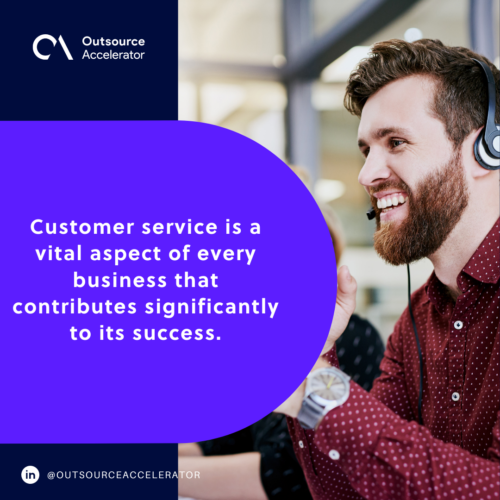 Advantages of professional outsourcing
Outsourcing professional jobs have various benefits, including:
Significant cost reductions
Companies only have to pay for the services they acquire, they won't have to pay extra for benefits and incentives since they are outsourced.
Reduces on overhead expenses
Companies don't have to worry about overhead expenses like additional office space, office supplies, and computer sets when they recruit an outside business or a freelancer to perform professional services. 
Talent access on a global scale
Assume your workplace is in a remote town where you don't have access to a top lawyer, accountant, or IT professional. As an employer, you have to recruit the best member of the team and give them the freedom to work from places they want to. It will also help increase their productivity.
Four reasons outsourcing could benefit your business
To understand why outsourcing could be a good idea for your company, businesses must first understand why other businesses do it.
Here are some of the reasons why companies outsource for their staffing needs.
Increase your growth rate
Companies that are growing frequently discover that they would benefit from having additional personnel, but cannot afford the costs of employing and sustaining more full-time employees. This limits the company's development potential and reduces the progress it has achieved.
Further, outsourcing work is a great method to ensure that your firm maintains consistent development while keeping the core of your team focused on internal duties because it is less expensive than building an in-house staff. 
Maintain your adaptability
Companies can't demand the same level of employees throughout the year. However,  outsourcing allows you to be more flexible. Without the financial commitment of recruiting in-house employees – which might take years to pay off –  your company can staff up ahead of a peak season. 
Companies can switch back to an all-in-house staff after you've made it through a busy season. Further, businesses can scale their outsourcing needs with the help of an established outsourcing agency.
Maintain company focus
Outsourcing allows focusing on your company's most key internal responsibilities. There are two advantages to outsourcing customer service. 
To begin, you give continuous customer service to your clients. Second, you free up your internal team members to focus on their jobs, allowing your company to function more smoothly and improve your return on investment.
Outsourcing businesses are a useful tool, and the image they portray is beneficial. You can expect professional outsourcing companies to represent your company with the greatest level of quality. 
Small businesses are frequently unable to deliver large-scale customer service. This part of your business might be outsourced to offer your firm a more professional appearance.
Improved brand loyalty 
A well-trained customer service team, supported by professional management, will provide your customers with the kind of service that will keep them coming back. 
Further, your clients will feel cared for and valued as a result of the professional services provided by an outsourcing company.