Definition
What is Global Outsourcing?
Global outsourcing refers to the process of contracting a third-party service provider overseas to delegate a certain business process. Companies in the West either outsource a task, project, or even an entire department to countries such as the Philippines and India. 
However, unlike traditional business process outsourcing, global outsourcing involves tapping multiple countries at once for specific forms of service. For instance, a single client may either outsource IT services to India, customer service to the Philippines, web development to Brazil, and so on.
This certain method brings certain benefits to clients, such as better risk mitigation, flexibility in operations, and better innovation.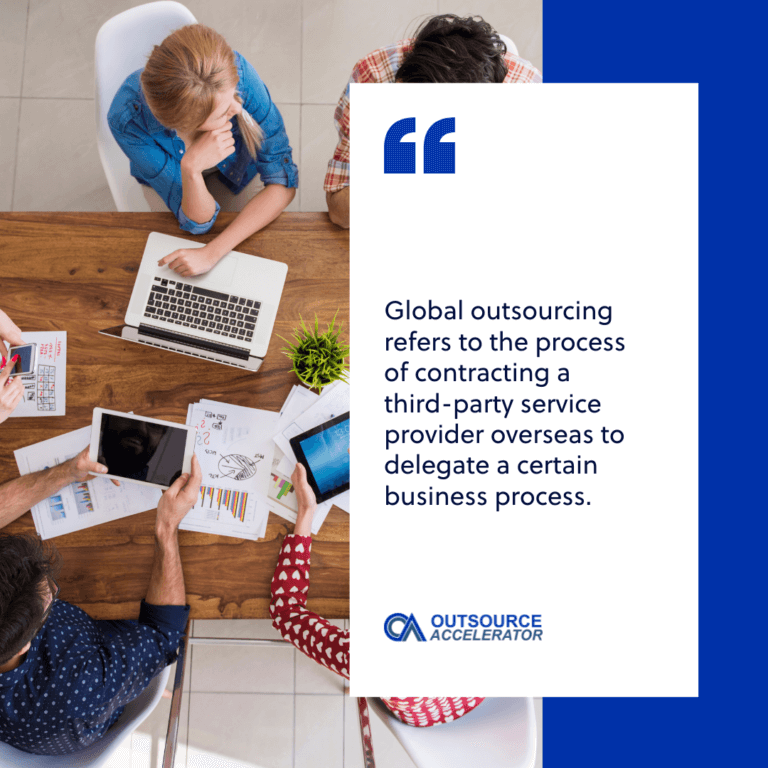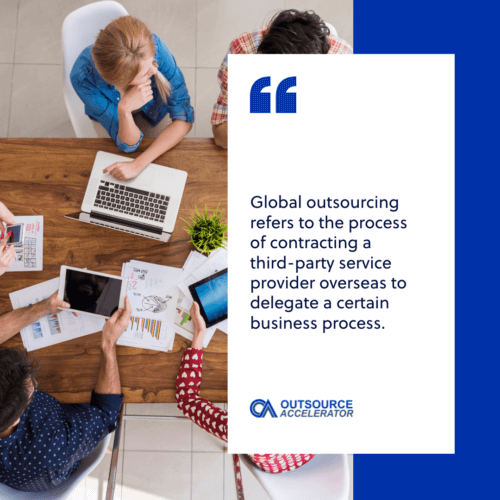 Global outsourcing strategy
Global outsourcing service providers use the global delivery model (GDM) to break down several assets and functions of a business. Then, they divide it into several locations and geographies. As a result, a certain provider may manage several functions from different locations. 
This helps in maximizing the strengths used in the business process, such as customer service. Each team can also focus on a certain aspect assigned to them. For instance, the team assigned to do live chats don't have to pick up calls, since it is delegated to another team.
Global outsourcing examples
Global outsourcing has been prevalent in small and large companies for years. Most of them distributed non-core activities to keep up with their demand and to expand their market. Some good examples of companies doing global outsourcing include:
Google. For years now, the company has been outsourcing virtual assistant work, IT, web development, and other tasks to several offshore countries, including India and the Philippines.
Amazon. Amazon's customer service and inventory management are also outsourced in several countries to optimize shipping and support around the globe.
Alibaba. Started with outsourcing development to the United States, the company has outsourced several services to other countries as well to optimize their website.