Surprising work-from-home statistics of 2024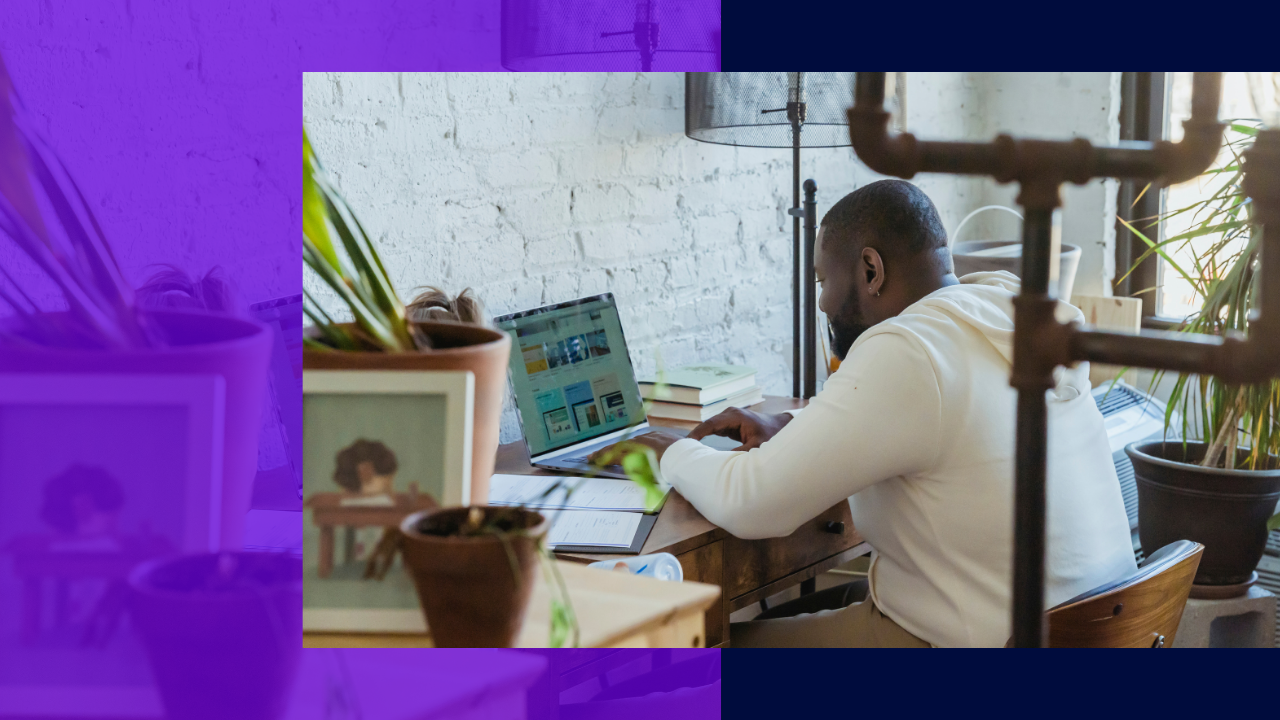 The pandemic brought massive changes to the world in all aspects. It emphasized the importance of healthcare and response, as well as the need for a flexible workplace.
Being around for years now, the work-from-home practice became the only way for businesses to continue their operations and prevent disruptions. It proved to companies that some of their functions can be done out of the office without affecting work productivity and costs.
Employees, more so, directly experienced benefits. Work-from-home gave them more time to be with their families and manage their time better. This caused employee expectations to change over time.
Despite the vaccine rollouts and business reopenings, everyone expects to continue working from home, whether as a full or hybrid setup. Know more about the surprising work from home statistics that will further shape global businesses in this article.
Work-from-home statistics: Navigating the new normal
Working from home changed the perspective of global companies in the workplace. Employers slowly learned that they don't need a concrete office to maintain the productivity of their teams.
As a result, companies became more comfortable with remote working. In a survey conducted by LinkedIn, more than half of their respondents (55%) believe that remote work will be effective for their industry.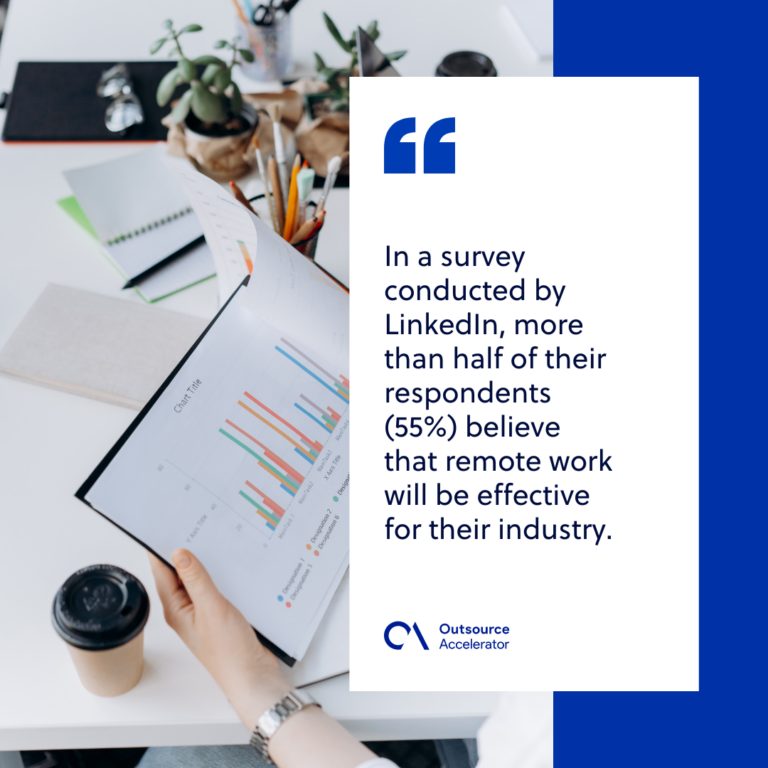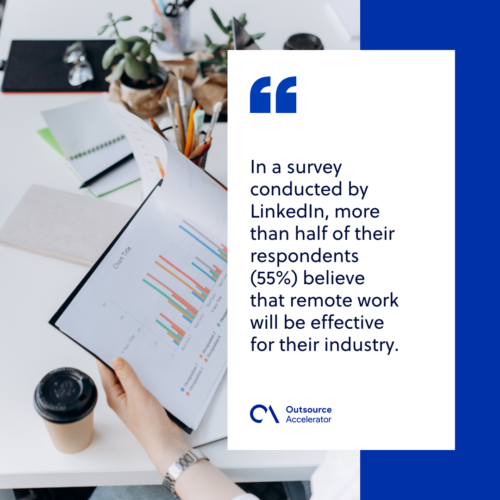 This confidence is even higher in digitally inclined fields such as software and media. However, more conservative industries such as healthcare and retail are still polarized with the idea
Even employees have seen the benefits of working from home. A survey by FlexJobs revealed that 58% of workers want a fully-remote work setup while 39% prefer a hybrid model. Employees are even eager to quit their jobs once their employers revoke remote work.
Philippine work-from-home statistics and trends
Being a popular destination for outsourced and freelance workers, the Philippines is already aware of remote work even pre-pandemic.
More than half of Filipino workers (52%) have been working from home for years now, based on a study joined by JobStreet. It spiked to 85% during the COVID-19 pandemic as part of their flexible work arrangements.
While the setup took its toll on employees' mental health, roughly half (49%) still prefer staying remote.
The Philippines, along with its Southeast Asian neighbors, still look forward to remote working long-term.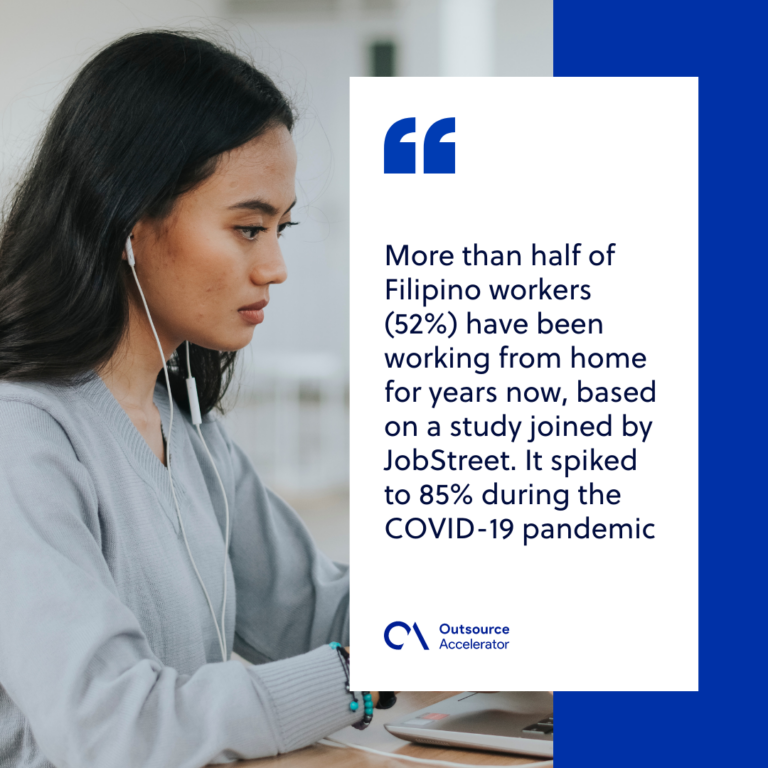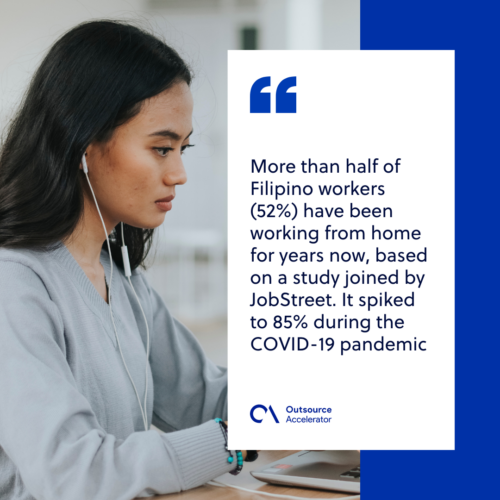 Below are other remote work statistics and trends everyone should know about.
Benefits and challenges of work-from-home for Filipinos
Filipinos benefit from working from home through the following.
Less travel time. Filipinos spend hours of travel to and from work, further affecting their welfare. Working from home eases them from this burden since they only need a computer and internet connection to work.
Better productivity. Workers enjoy increased productivity at work, especially those in the creative and design industry. Saving time from hassle commutes, employees spend more time focusing on their workload and unleashing their creativity in return.
Work-life balance. Most importantly, Filipinos can have a better work-life balance when working from home. They get to care for their families better since they are around more.
However, working from home in the Philippines brought some of the challenges faced by employees worldwide.
The Philippines has one of the slowest internet connections in the world, based on Ookla's 2020 assessment. The unstable connection in the country has made it difficult to collaborate in real-time and work properly.
What's more, working from home brought a negative impact on employees' mental health. With everyone stuck at home, the line between work and life has blurred. This caused employees to work longer hours and experience burnout.
In line with this, many remote workers experienced Zoom fatigue due to the constant video calls they did daily.
Remote work as the new normal?
Working from home can be a double-edged sword even for an offshoring destination such as the Philippines. Studies show mixed reactions about remote working and how it should be done.
The latest studies show that Filipinos now want more options for working. Based on the survey commissioned by Cisco, 66% of employees "want to travel less," while 83% have included exercise in their WFH routines.
A separate survey by JLL Construction, meanwhile, states otherwise. Out of their 3,300 respondents, only 38% felt they were productive at home.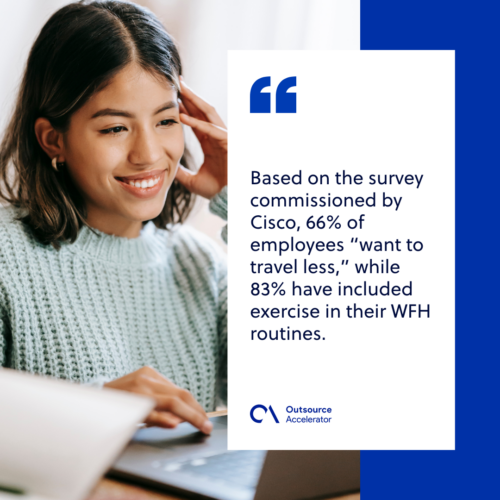 Working from home in the BPO industry
Being an essential industry, BPOs in the country were forced to implement a flexible work setup during the pandemic. Nowadays, industry leaders look forward to a more remote-friendly future.
Outsourcing companies have seen a spike in productivity up to 40% while working from home. Absences declined at the same rate since employees could take care of their families better. At the same time, they saved as much as 20% on costs of utilities and other expenses.
These advantages made experts look forward to the new normal in outsourcing. The industry continues to implement a 70-30 hybrid work until 2024 as a business continuity strategy.
Meanwhile, the government is continuously urged to rethink the off-site work cap set for PEZA-registered companies. Currently, registered businesses are allowed to have up to 75% of their workforce deployed remotely until March 31, 2023.
Global work-from-home statistics you need to know
Companies around the globe are bracing for massive changes in running their business and the way they work. Even employee expectations have changed, slowly navigating towards more flexibility and a better work environment for teams.
The latest State of Remote Work released by Owl Labs revealed that one in three employees in the US would quit their jobs if their employers didn't let them work remotely anymore. With this, businesses had to "rethink their workspaces" if they wanted to retain their employees.
In Europe, meanwhile, the majority of companies lean more toward establishing hybrid work and exploring other policies. This includes having "core working hours" and a four-day workweek.
These statistics only show that remote work, especially working from home, is here to stay. Moreover, below are other global work-from-home statistics everyone needs to know.
Working from home and employment
Working from home became a huge factor for companies to find better talents from different locations.
In Europe, more than half (56%) of surveyed leaders realized that access to talent pools and better productivity would make them more profitable.
Hiring work-from-home employees would also mean businesses won't have to be limited to their locations or home countries in looking for talent.
However, not all businesses are compatible with remote working. Global Workplace Analytics estimated that only around 56% of US companies are compatible with remote work, as predicted by 75 million employees working from home.
Other advantages of working from home
Along with savings and an expanded talent pool, working from home brings other advantages such as:
Good for the environment
Per the US Environmental Protection Agency (EPA), the majority of employees either commute or drive to and from their offices. This accounts for around 59% of carbon emissions.
Working from home reduces cars on the road, thus decreasing the emission brought by it. This is also favorable to workers concerned about the environment.
Better employment opportunities
Working from home even reduces biases and discrimination against applicants. Since employers will solely rely on the skills and competency of an employee, discrimination on gender, race and other aspects will be prevented.
Fewer traffic jams
The global economy loses billions of dollars yearly due to traffic jams. In the US alone, traffic jams cost $305 billion in 2017.
Working from home reduces these traffic jams gradually. In 2020, TomTom recorded around 387 cities reduced traffic congestion, further preventing losses from businesses and the economy in general.
Remote companies in 2024
Global companies, especially tech startups, have announced their plans to either go fully remote or hybrid. This includes the following businesses.
Google
The tech company announced in December 2020 that it would test a "flexible workweek" instead of fully going back to the office. So far, Google has implemented measures to make flexible working great for their teams.
Dropbox
Dropbox is one of the first companies to announce its remote working plans. The file-hosting service company announced in October 2020 that it would go "virtual first" with its permanent work-from-home plans.
In addition, the company launched "Dropbox Studios," where employees can collaborate with their teams when needed.
Spotify
Music streaming company Spotify announced its "Work from Anywhere" program in February 2021. Recognizing that "one desk doesn't fit all," the program gives Spotify employees the freedom to work from home, in the office, or a combination of both.
HubSpot
The customer relations management company boasts its "remote-ish" work pre-pandemic, with 10% of employees already working remotely.
Aiming to evolve and adapt to the new normal, HubSpot released its "new vision for work" which gives employees three options:
Work in the office for three or more days
Flexible work
Full work-from-home
Salesforce
Among the companies listed, Salesforce is among the few workplaces testing flex work due to its employees' preference. Around 80% of its workers wanted to "maintain a connection to a physical office" along with working from home.
With this, the company decided to switch permanently to three work options: office-based, remote, and flex work.
Currently, the company works on the second phase of its Success from Anywhere program, where teams are encouraged to collaborate in an office.
Is working from home becoming permanent?
Working from home is here to stay whether everyone likes it or not. Most businesses expect WFH setups to triple after the pandemic, given that almost half of jobs can be done at home.
The given work-from-home statistics have brought to light most of the advantages and challenges companies would face with this strategy.
However, keep in mind that remote and hybrid working would only work once they plan and act properly on adapting this.
Companies that are still hesitant or cannot afford to go fully remote still have another option: outsourcing their functions. Through this, they can hire remote employees co-managed by reliable providers that will ensure quality services for them.
All in all, companies should not be afraid to apply work-from-home as their strategy, especially in the new normal.