20 Proven ways for boosting workplace productivity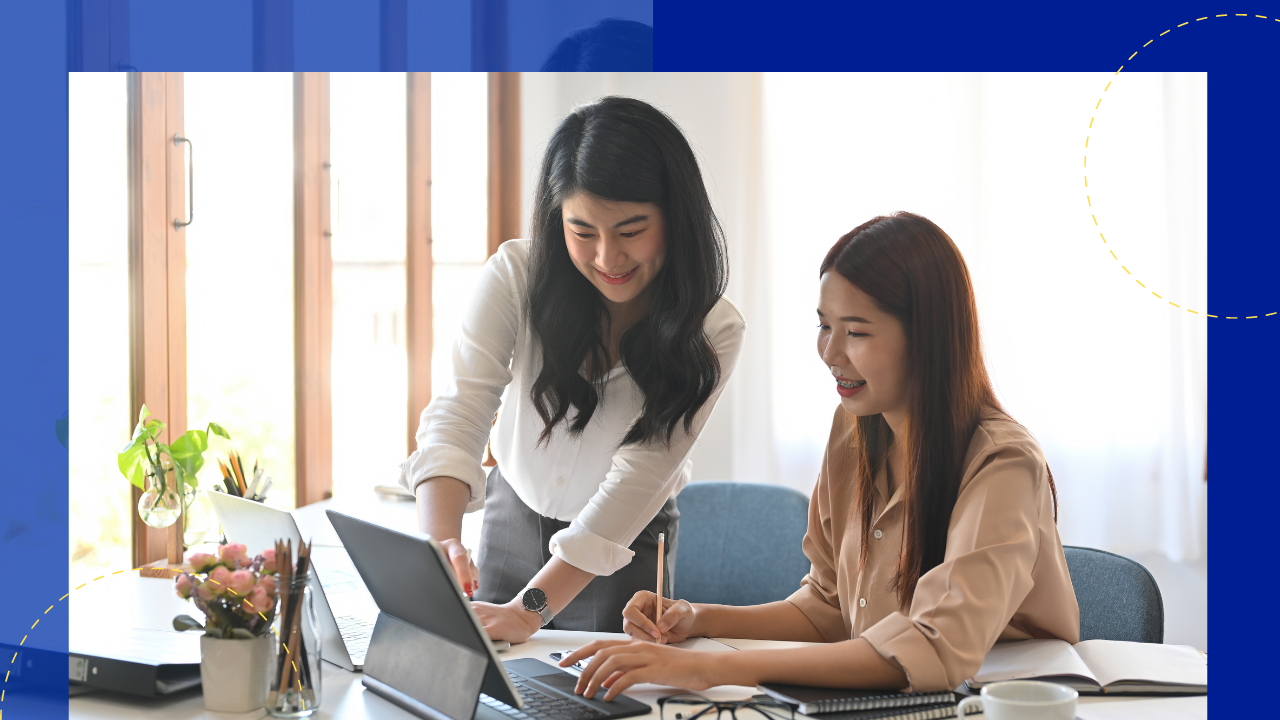 Productivity plays a crucial role in the operation. It helps get tasks done to keep the business going. Improving workplace productivity depends on the setting of the teams a company has.
There are several differences in improving the productivity of an in-house workforce and remote staff. They have to consider the location, office setting, and the current work conditions when
Companies with outsourced teams, meanwhile, can let their business process outsourcing company control their employees on their behalf. The BPO, in return, will take care of the strategies in improving productivity.
This article tackles several factors that affect productivity in the workplace and the different ways to increase it. These can be applied to any types of employee setting, whether in-house, remote, or outsourced.
Factors that affect workplace productivity
Several factors can have an impact on the productivity of the entire workplace. These include:
Temperature changes.

Both indoor and outdoor temperatures can affect an in-house employee's mood and performance. For instance, sunny days can boost their energy and productivity while rainy or cloudy days can do otherwise.

Employee health and satisfaction.

Happy and healthy employees tend to be high-performing. They pay more attention to their work and do their tasks better. 
Location. Companies running a distributed workforce have remote workers from a different city or country. Maintaining their productivity and satisfaction may not be easy since there are other factors included with the differences in location.

Communication and engagement.

High-performing in-house employees engage more in a company and are free to communicate their insights. Having an offshore workforce, meanwhile, requires constant communication and engagement to keep them on track.

Tools and equipment.

To fulfil their tasks, employees should have adequate tools and equipment to use. Inadequate tools or lack of one can affect their efficiency and the quality of their output.  

Distractions. Social media and streaming platforms are some of the most common distractions for employees. A short break can be prolonged when browsing Facebook or watching a new episode of a series.

Roles and duties.

An employee's duties and responsibilities impact their productivity the most. A role should be matched to an employee's skill set to make them more efficient and be realistic enough to accomplish. 
Businesses should focus on improving work productivity if they want to improve their operation and services. Here are some ways they can do to increase it.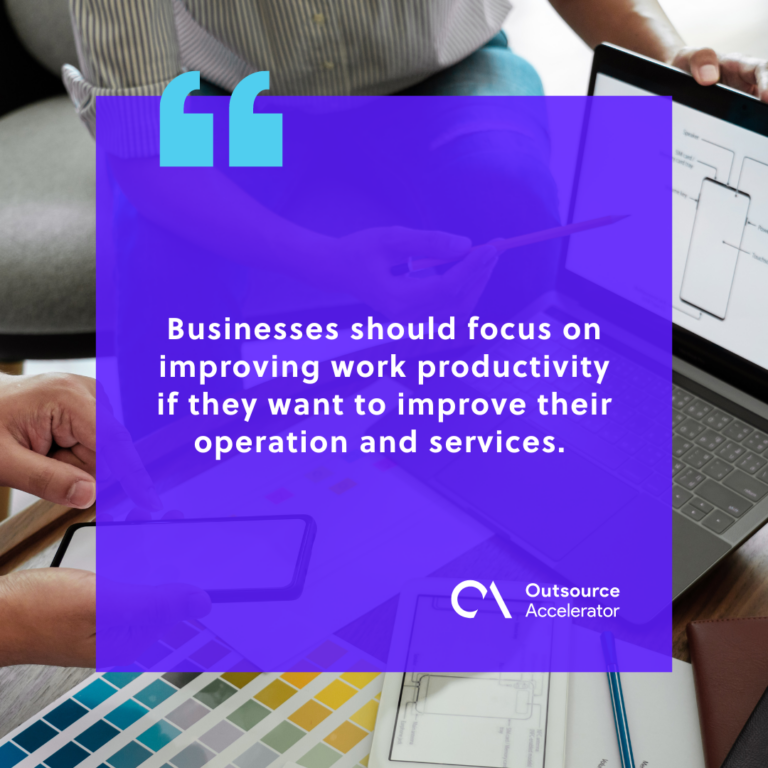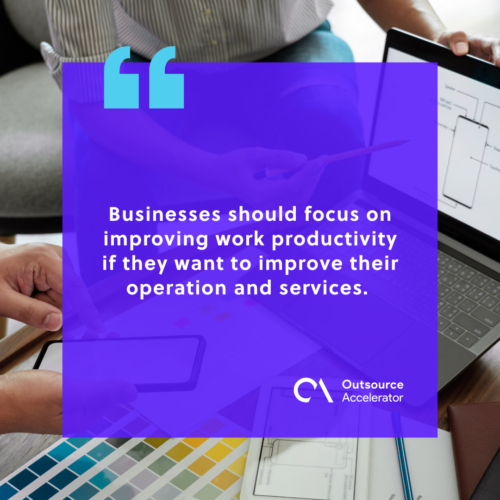 1. Review objectives
Businesses must review their goals and objectives according to the SMART method. These objectives can affect how realistic the set tasks can be. Ideal goals and objectives should fit the culture of the company and the capacity of its employees.
If they find a goal to be unrealistic or unattainable within five years, for instance, then they should revise or replace it. 
2. Set realistic tasks
After reviewing the objectives, they should also review and the tasks of each employee. Review their KPIs and determine whether it is achievable enough for their roles. Avoid delegating too many tasks at once unless they are doable for a specific period.
Don't delegate tasks that are beyond their expertise. For instance, not all graphic designers can do complex web development. At the same time, don't assign fewer tasks than they can do. It may cause them to underperform. 
3. Instil task responsibility 
Come up with an agreement with the employee that any tasks they work on are their responsibilities. Therefore, they should be responsible for finishing it on their own. Also, discourage plagiarising or copying of work to prevent further problems on the company's part.
If needed, employees can ask their team leaders or their coworkers whether they get confused about their tasks. 
4. Gamify tasks
Another effective way of improving employees' productivity is through gamification. Employers can gamify tasks that have a specific quota or measurable output. For instance, in call centres, they use gamification to help employees reach the number of issues that should be resolved weekly or monthly.
Those who reach their quotas or have the highest ratings for the week usually receive rewards such as cash prize or gift certificates they can use in different establishments.
5. Regulate breaks
High-performing employees take regular breaks. With this, employers should encourage their employees to take short breaks every 90 minutes to refresh their minds and regain their energy. One of the techniques they can use is the Pomodoro Technique, which consists of 10-minute breaks every hour or two.
However, they should impose rules on breaks and lunchtimes to prevent employees from abusing it.
6. Regularly ask for updates
Team leaders should ask for updates on their teams' tasks in real-time. They can send personal messages to each employee or approach them in their desks. Guide them whenever they get confused in a specific task and open communication lines to let them reach out when needed.
However, they should set a limit for asking and give their employees time to work on their own. The aim of asking is to keep them updated on their workload and see if they experience difficulties in the process, not to micromanage them.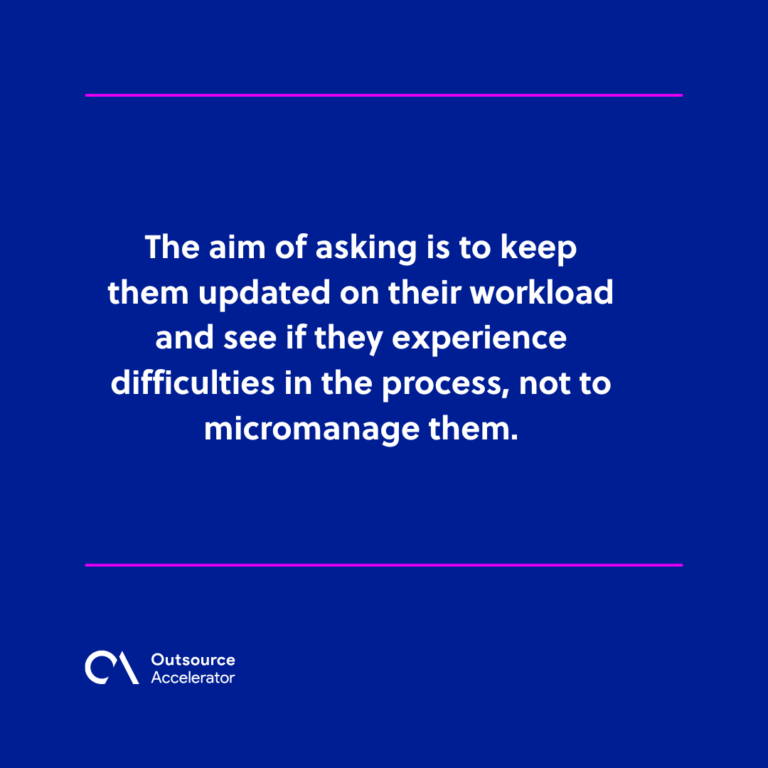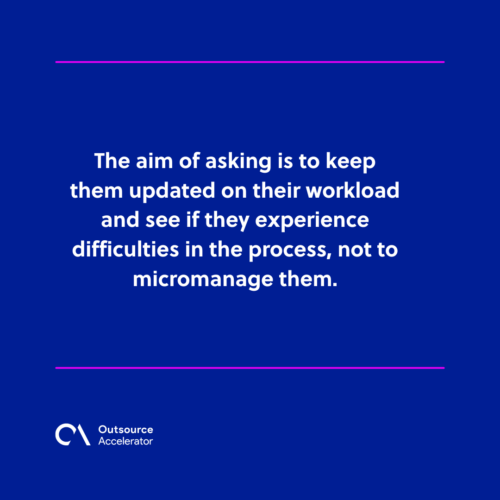 7. Give flexibility in working
Both the team leader and employees can arrange their work set up to give them a flexible work condition. They can agree to have remote work for specific days to help the employee when a task doesn't require physical presence. Deadlines can also be extended to give employees time to work on it.
This allows them to work freely, removes the pressure to the employee, and lets them accomplish their work more creatively and efficiently.
8. Boost employees' morale
Several ways can be done to improve an employee's morale. One is through work appreciation. They can praise them for a good job through incentives or recognitions.
Another is through giving them a bigger task they can work on. This is to show that they are reliable enough to have a bigger responsibility.
More importantly, employees should be treated with respect and dignity. Just because they have a lower position does not mean they should be looked down.
Getting along well with them and treating them as equal boosts their morale a lot and makes them retain with the company longer.
9. Avoid multitasking
Multitasking affects everyone's productivity, from the employees to the managers. Research shows that multitasking tends to slow down an employee's performance. As a result, they don't accomplish any task at all. This is the reason employers should discourage doing several tasks at once.
Create a to-do list of their tasks and help them set their priorities accordingly. They can start on the small tasks first then move to bigger ones later. Whatever they prioritise depends on them.
Further, to avoid getting overwhelmed, it's also recommended to hire offshore staff from BPO providers like Cloudstaff. These remote staff can make your work days much easier and organized — increasing your workplace productivity.
10. Avoid micromanagement
Micromanagement is another productivity buster for employees. While screen monitoring is good in tracking their progress, micromanagement does otherwise. It removes the freedom of the employees and decreases their motivation.
Employers should learn that their employees are not robots. Instead, both parties can talk about proper monitoring and tracking their progress for transparency and reporting. Building trust is important when working to 
11. Shorten meetings if needed
According to a study, meetings take up to 31 hours in a month. Long meetings tend to wear down the employees' momentum in working, causing them to leave a task unaccomplished. With this, managers are encouraged to lessen meetings up to whenever an urgent matter arises. This helps employees be more efficient and accomplish more tasks – therefore improving the office's overall workplace productivity.
Offshore employees should be personally informed beforehand about their video conferences to prevent schedule conflicts.
After the meeting, the manager should also reach out to their employees personally to ask their feedback and if they have questions about the topics covered.
Conversations like this help them engage more with the operations of the company and prevent them from getting left behind.
12. Manage distractions
Social media and video streaming can be a great distraction when working, whether in the office or remotely.
However, banning it is equally negative. As a solution, they can impose rules on the use of these sites while working and encourage them to take breaks. Give employees a short time to browse these sites and relieve their stress for a while.
For remote employees, they can use screen monitoring tools to check their activities online. It logs every website and software they use, including streaming and social media sites.
To manage distractions and avoid procrastination, team leaders can help their coworkers set their priorities and work with easier tasks first. They can apply the two-minute rule, where employees can start working on tasks that only takes up to two minutes.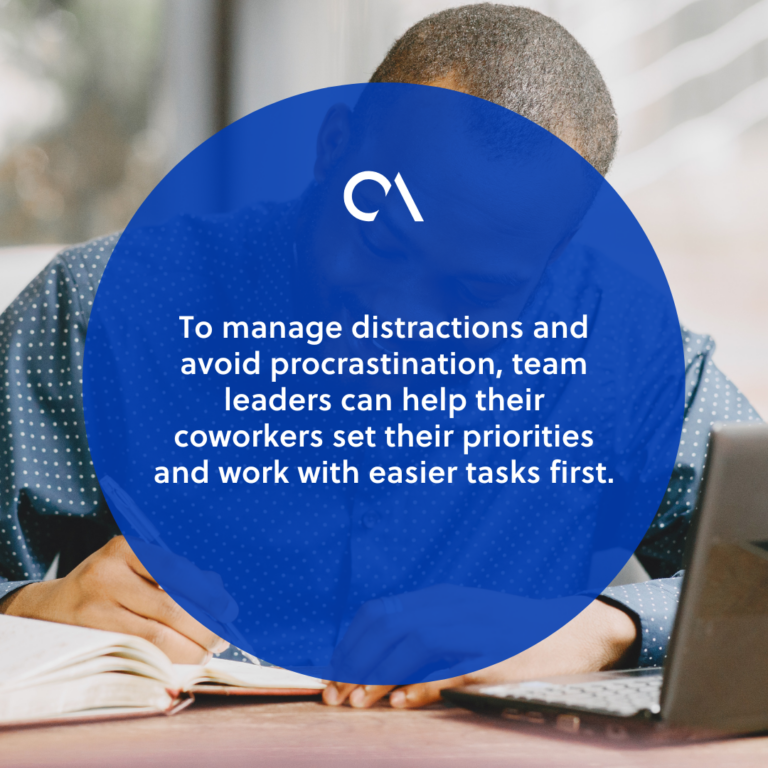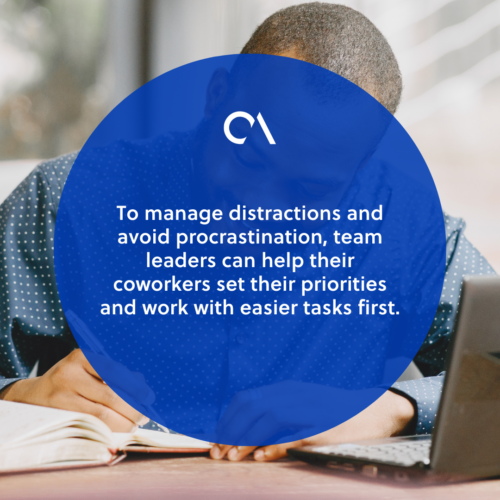 13. Encourage skill development
Employees also need to grow with the company as their years add. Invest in their training and development to improve their skills and expertise.
Provide online courses and modules for both remote and in-house employees. Partner with institutions to give them scholarships for short courses relevant to their work.
Developing their skills help them to grow personally and professionally. This also increases their morale and self-esteem to voice out their feedback and suggestions for a project.
14. Change roles periodically
Employees who work on the same repetitive tasks tend to experience burnout. Try to assign a different task they can work on to increase their involvement within the company. 
Change their roles once in a while so they can see their work from a different perspective. This also adds to their appreciation for their role and their coworkers. Small teams can do this weekly to give all employees the chance to experience being in a different role.
15. Practice effective communication 
Effective communication is important in dealing with coworkers and external clients. It helps both in-house and remote employees communicate their expectations, feedback, and other struggles in working.
In an outsourcing setting, communication helps both the business and the BPO company to come up with ways on how they can improve their services and make their team more efficient.
Employees can practise communicating effectively through training, talking with their coworkers, and being proactive in meetings, to name a few.
16. Use proper tools
Provided tools and equipment can impact an employee's performance. Some functions should go to a proper channel to avoid confusion and mismanagement.
Messages through emails alone can be time and energy-consuming. Task management through messaging tools causes disorganization and confusion. 
Use project management software to organise their weekly tasks and enhance workplace productivity. Use screen monitoring software to monitor their performance and check their activities.
Communication tools, meanwhile, help them communicate within internal teams. Use technology properly to make work easier and better.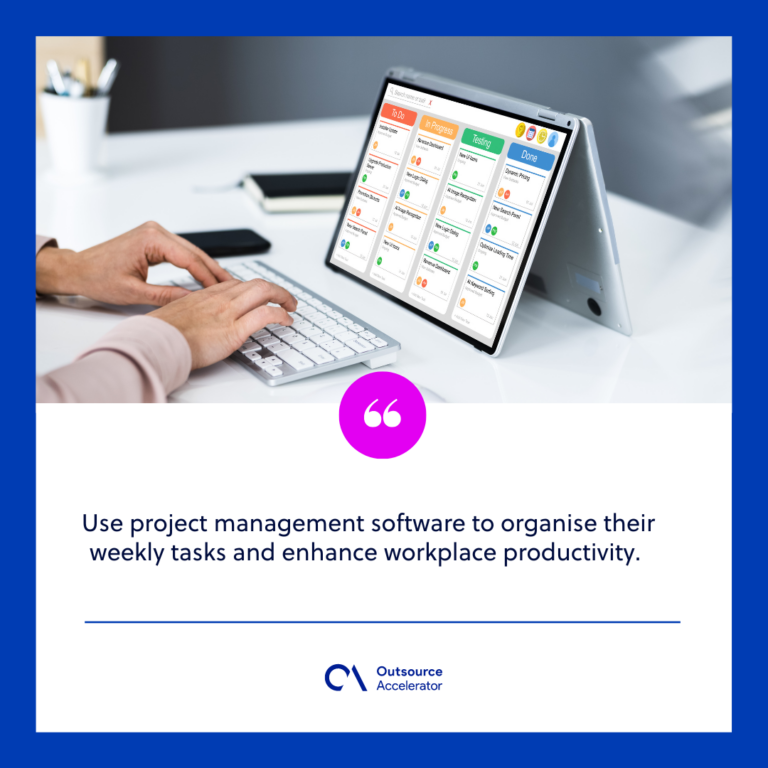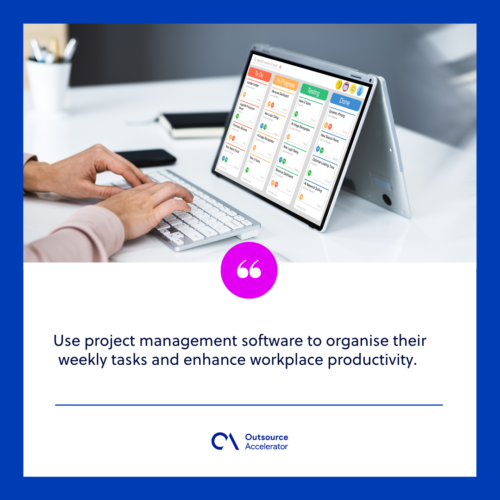 17. Encourage employee engagement
A workday should not solely compose of eight hours of pure workload. Employers should also encourage engagement between employees through small chats and water cooler talks once in a while. This can help employees shake off the stresses when working.
Engagement is also important when running an offshore team since remote employees tend to dissociate with the company more when they don't constantly engage. 
18. Improve workplace environment
Room temperature, office set up, and the company culture affects the employees' performance. Setting up an ideal workspace for in-house employees to make them feel comfortable when working.
Employers can choose what type fits for their employees, whether an open office or a cubicle one. They should also organise a "spic and span" drive to encourage them to clean up their workspaces.
Building a company culture is also important in maintaining a strong bond between teams. Let in-house and remote employees get to know each other and collaborate.
Set up a company team building to establish teamwork and improve workplace productivity.
19. Consider employees' health
Healthy employees are more productive and than their average counterparts. This is why employers are encouraged to look out at their employees' health by organising activities such as yoga and Zumba at least once a week.
Most companies for instance, especially in the BPO industry, hold an annual physical exam for their employees to ensure that they are healthy. These companies also increase their health benefits over time and encourage them to take on a healthy diet to prevent having diseases. 
20. Maintain employee satisfaction
Lastly, there's nothing more effective in improving productivity in the workplace than through maintaining employee satisfaction.
Though salary increases and additional benefits are important, only 12% percent of employees leave for it. Rather, employees stay when they know they are appreciated and treated well in the company.
This is why employers should listen to them and appreciate the work they do.  Taking care of employees' welfare helps retain their loyalty, know their purpose in working, and contribute more of their skills and knowledge.