Happy employees!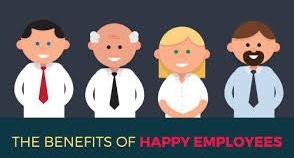 Performance on the job is one area to investigate when identifying happy employees. Typically, a happy employee completes necessary duties and responsibilities with little direction. He seeks out additional responsibilities and continuously meet objectives. Happy and content employees receive job satisfaction and personal fulfillment from completing necessary tasks. While job performance represents an important part of identifying a happy employee, managers should consider other identifying characteristics of a happy employee.
Happiness encourages creativity
Happy employees are more accurate and have better analytical abilities.
Happy employees are better at handling adversity.
Happy employees equal lower costs
Happy employees are better at sealing the deal
Happy employees provide better service
Happy employees are more productive
Happy employees stay
Happy employees can be a part of a branding strategy and boost sales
Therefore, give praise openly, set goals appropriate to the work and always take your employees' needs seriously. By respecting and listening to your staff, you'll be giving them the motivational push they need to stay loyal and committed to the company's goals. And when you have a happy and productive workforce that is eager to contribute, your company can weather any economic storm.