Full-time Equivalent (FTE)
Definition
Full-time equivalent (FTE) definition
Full-time equivalent (FTE) refers to the unit of measurement used to indicate the workload of a call center agent. The employer uses FTE to track the agent's involvement in a project or organization.
FTE can standardize wages by demonstrating the equivalent salary of part-time agents based on working full-time. For part-time workers, determining the pro-rata is by changing their working hours with the help of FTE.
Importance of full-time equivalent
Full-time equivalent is crucial for accounting purposes because it determines the wages and the calculation of company expenses to pay the employees. FTE helps the employer to develop an understanding of the performance and effectiveness of the part-time employee. 
It also plays a vital role in monitoring part-time employees since they are generally paid less and do not receive the same benefits as full-time workers.
How to calculate the full-time equivalent 
Many BPO companies are using the full-time equivalent (FTE) calculation for various purposes. The calculated data is useful for benchmarking revenues or earnings per employee.
Converting the hourly wages by part-time employees into full-time equivalents may be beneficial in evaluating these metrics.
To calculate the full-time equivalent, determine the employee's scheduled hours and then divide it by the employer's hours for a full-time workweek.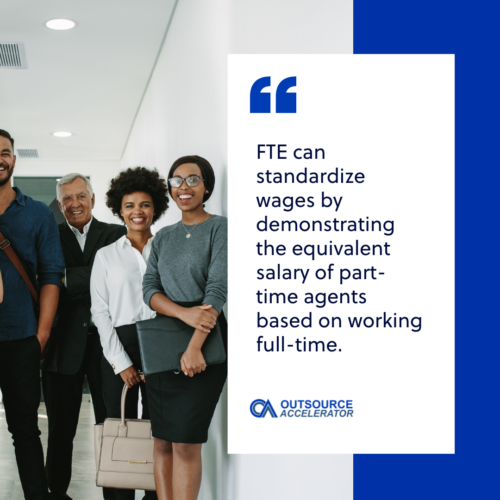 FTE payroll
FTEs are most widely used by companies to determine their employees' workload and payroll. If the company has part-time employees, this helps determine if the hours they work add up to the same number of hours worked by full-time staff.
For payroll purposes and determining wages, the full-time equivalent assists in calculating salaries. The FTE of a full-time employee is the baseline of a part-time employee's pay.
For example, if a full-time employee's salary is US$100,000, a part-timer that works in the same role 20 hours per week with a 0.5 FTE value would make US$50,000 in their payroll. Another part-timer who works for 30 hours per week with a 0.75 FTE would earn US$75,000.