Typical cost of outsourcing payroll: How much should you spend?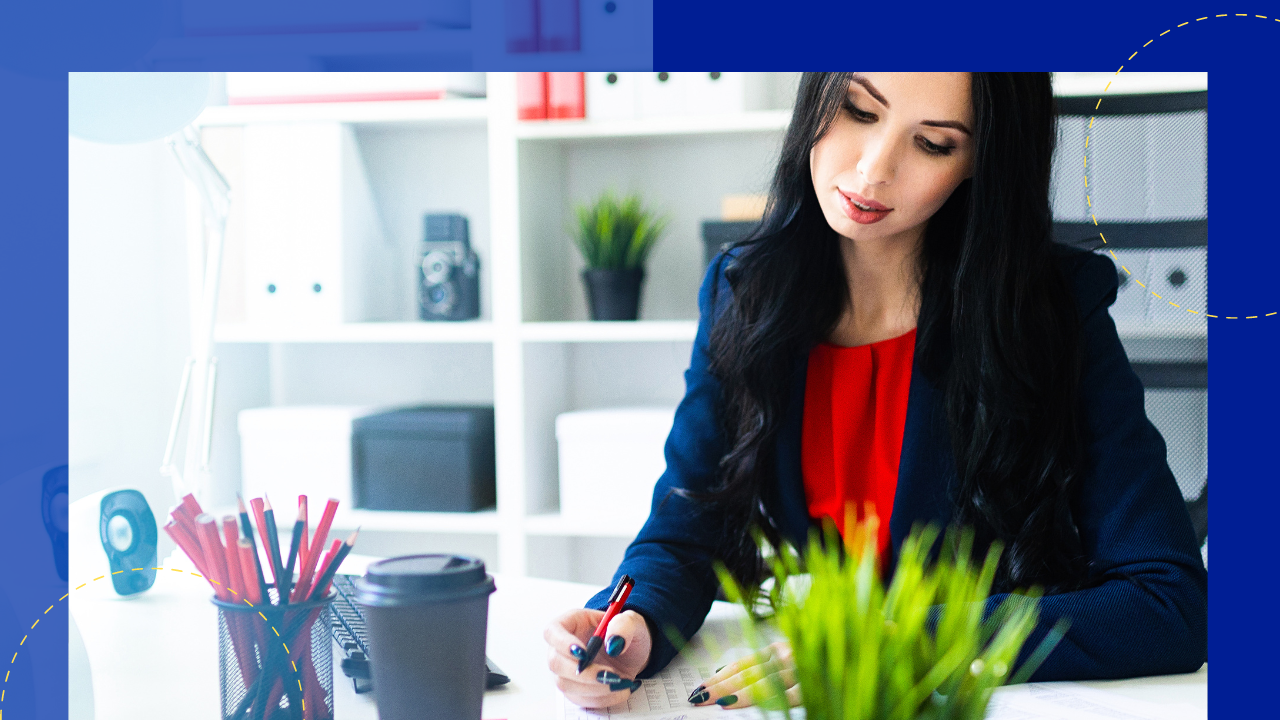 The typical cost of outsourcing payroll in 2023 (2)
Typical cost of outsourcing payroll
A number of BPOs specializing in outsourcing payroll services already market themselves toward SMEs, and due to the high level of competition, offer some reasonable rates. 
Prices can range from around US$20 to $100 per month, but what is common all throughout is that the pricing model typically charges per employee or per check, on top of the base accounting fee.
The company should then conscientiously monitor all the additional costs that may add up, such as for auxiliary services and for each new employee that the company might gain in the future
That said, several things can determine the basic cost of outsourcing your payroll. 
Among the primary factors are:
The total number of employees in the company 

How often the employees are paid (be it once a month or twice a month) 

How many employees reside in more than one state

The need to do direct deposit; and 

Any additional tax filing services your company needs.
Off the bat, it is wise to ask for a price quote from your potential services provider. 
They should be able to offer you a project proposal that caters to the size of your company and your price point. From this initial contact, you will also be able to gauge their level of knowledge about your industry, state and federal tax laws, and the like.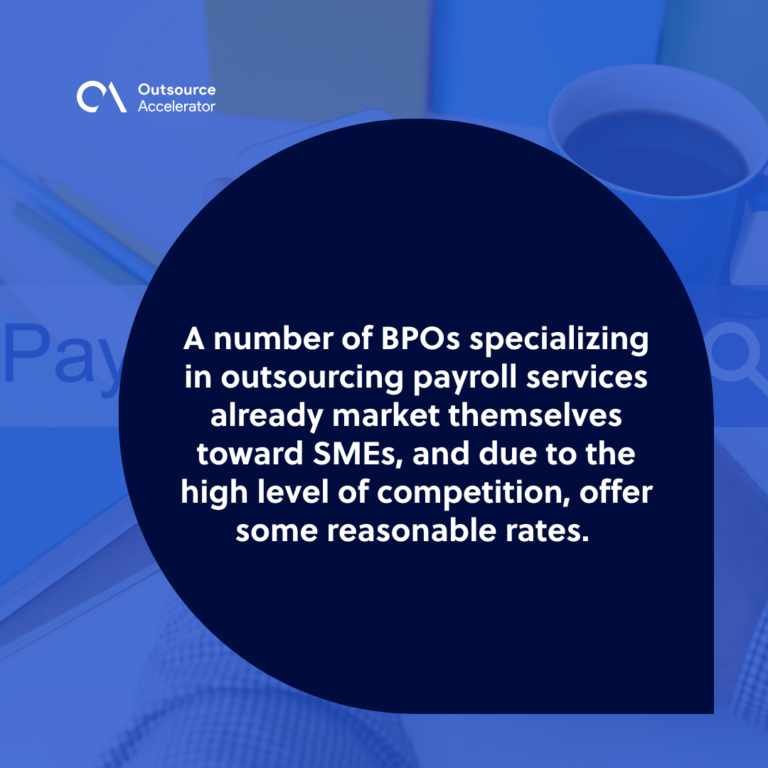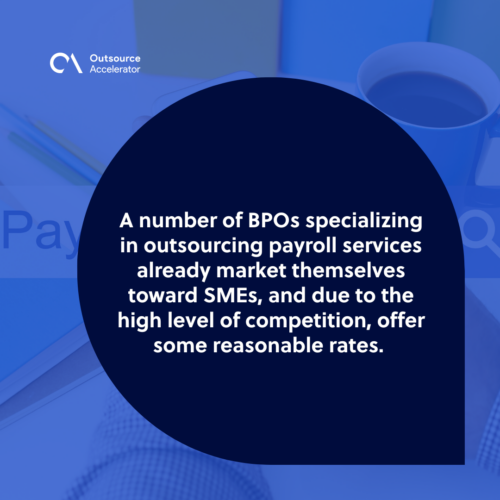 Salary comparison for professionals
To give you an idea of how much a business saves by outsourcing payroll, here's a look at how much average professionals in the Philippines, US, Canada, and Australia earn every year:
| | | | | | |
| --- | --- | --- | --- | --- | --- |
| Job Title | Annual PH Salary in USD | Annual US Salary in USD | Annual CA Salary in USD | Annual AUS Salary in USD | Annual UK Salary in USD |
| Human Resource Assistant |  $                  3,254 |  $                39,124 |  $                29,685 |  $                34,027 |  $                26,428 |
| Human Resource Manager |  $                  9,069 |  $                64,476 |  $                59,778 |  $                62,690 |  $                46,398 |
| Payroll Analyst |  $                  5,664 |  $                55,184 |  $                42,801 |  $                62,808 |  $                45,503 |
| Payroll Manager |  $                13,321 |  $                64,035 |  $                51,870 |  $                72,517 |  $                40,338 |
| Payroll Specialist |  $                  5,482 |  $                46,858 |  $                41,221 |  $                59,707 |  $                35,703 |
| Payroll Supervisor |  $                  7,900 |  $                58,764 |  $                52,338 |  $                60,040 |  $                34,246 |
| |  1 USD=53.44 PHP | |  1 USD=1.31 CAD |  1 USD=1.35 AUD |  1 USD=0.76 GBP |
Companies stand to maximize their savings should they choose to outsource to countries with a lower cost of labor than their own. 
Service providers operating in the Philippines may be expected to offer more affordable rates compared to companies based in Australia, Canada, and the US due to the lower labor cost and cost of living. 
At the same time, Philippine-based companies have easy access to a well-educated workforce—and outsourcing payroll professionals. Alongside a pool of experienced experts that are quite familiar with various outsourcing payroll standards and systems too. 
This means that their clients can expect high-quality service for a fraction of the original cost.
That being said, outsourcing payroll and HR activities will pay off in the long run. There's no doubt that outsourcing is a costly and tedious process but when done right, its benefits and advantages will shine through in time.
Outsourcing work activities may save your company and here's why
Loading off extra responsibilities and workload to external service providers is always a good way to remain efficient and productive in the workplace. 
By doing so, the core members of the company can focus more on their responsibilities rather than on additional tasks. Some businesses tend to pile on extra tasks on their internal staff due to budget reasons, risking a higher chance of burnout and unproductive phases.
Outsourcing any business process to BPO companies or even freelancers and independent contractors will allow the core team to be more flexible and hyper-focused.
There are a lot of ways to keep the internal team productive and focused, a handful of them usually boil down to properly delegating tasks and acquiring more help when things get head-to-head.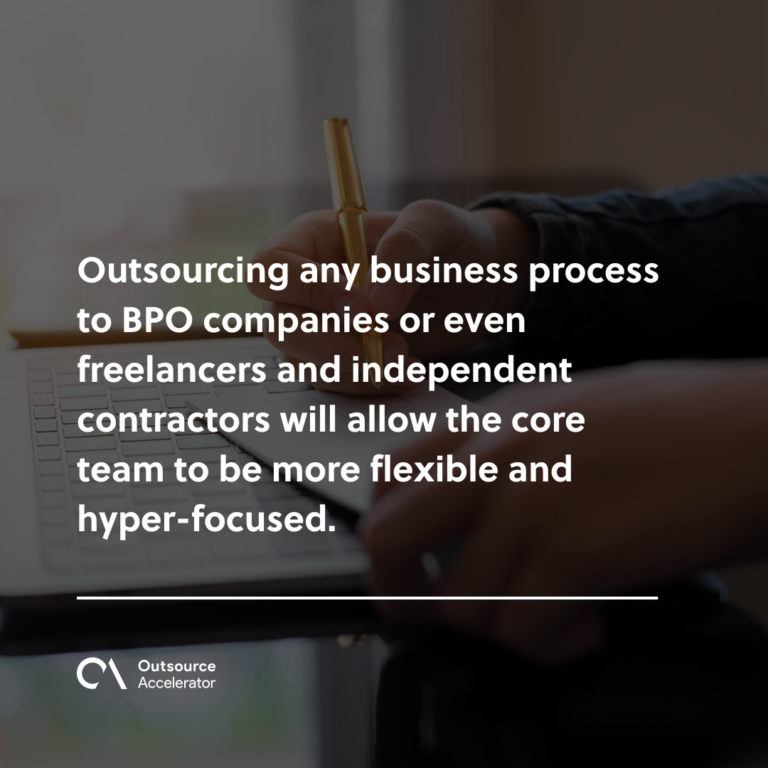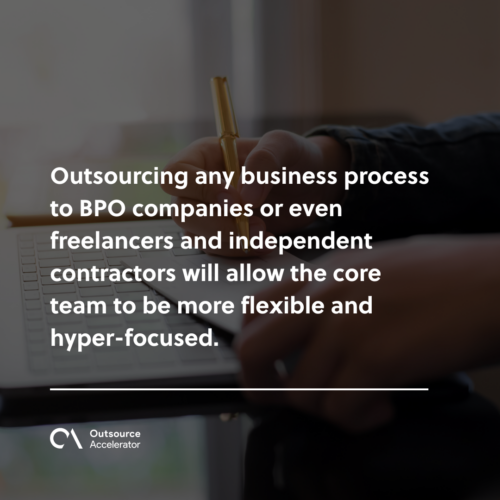 While hiring outside help isn't particularly easy, there are companies that will help businesses get the talent they need. Some opt for mass internal hiring and some opt for outsourcing and partnering with RPOs.
Both are valid ways to welcome new talents.
Outsourcing work responsibilities will not only benefit businesses but also the worldwide talent pool. 
When a company decides to outsource, they open up their doors to a multitude of professionals and subject matter experts from all over the world. They provide them an opportunity to showcase their talents and be a part of the workforce.