Your comprehensive guide to successfully outsource web development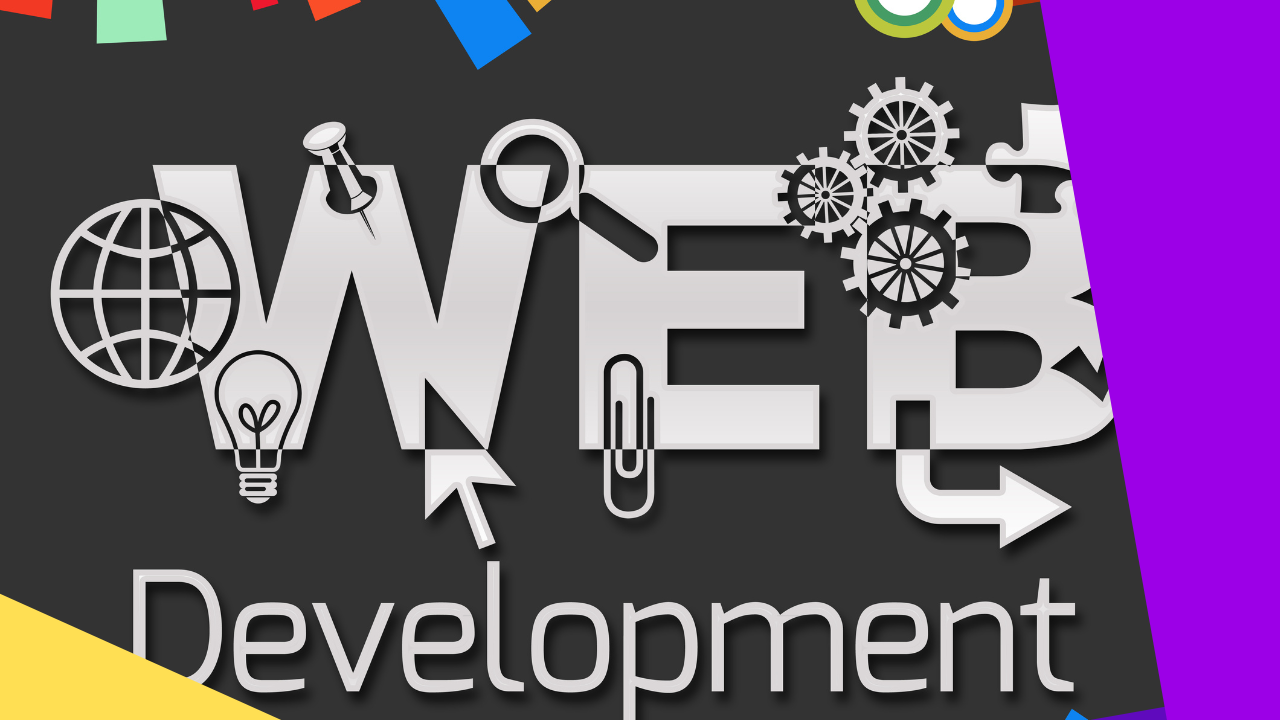 Website development is crucial to any business. Our digitally-driven world has transformed everyone to be reliant on the internet and technology. This is why companies outsource web development.
From staying connected to our loved ones, booking appointments, virtual check-ups, to buying nearly anything online. We can pretty much do almost anything with just a few clicks online.
Everyone is on the web these days, this is why it is a must for businesses to be visible and accessible online. Now how can you do that?
To start, you need to have your own website. 
However, building your own website is not that easy-peasy. It is a kind of project that cannot be done overnight. More so, it should be handled by people with the right skills, knowledge and expertise. 
A lot of companies today opt to outsource web development to IT professionals in the Business Process Outsourcing (BPO) industry. As a matter of fact, IT-related roles are among the top outsourced services globally.
In 2019, the global IT outsourcing services reached a total revenue amounting to 92.5 billion USD. 
What is web development?
Website development refers to the overall processes involved in building a website for hosting through the internet or intranet. It revolves around the specific activities, updates and operations performed to build, manage and maintain a website. 
Web development is divided into the front-end, meaning the "user-interface" and the back-end, which refers to the server side. 
Web developers make use of different coding languages to create a striking website that is fully functional, and offers an excellent user experience. The demand for web developers is also continuously increasing and is expected to grow as more companies are set to invest more on their websites. 
Businesses of all types and sizes at present rely on their websites for several reasons. You can use your own site to showcase your products and services, reach a wider audience, and procure sales. 
Basically, your website serves as an alternative to your physical store.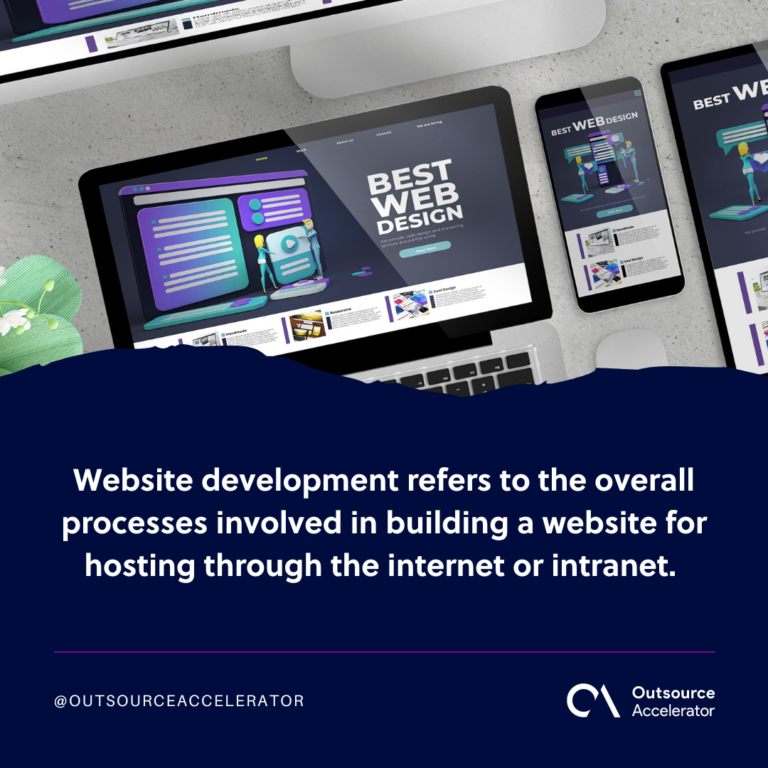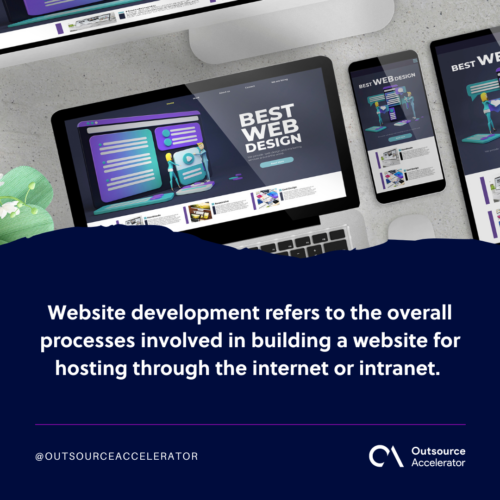 Outsource web development – definition
Outsourcing your web development means that you are hiring a third party to handle your web development tasks or project. 
Outsourcing in general, has always been a strategic way for business owners like you to save time and money. At the same time, take full advantage of such services without sacrificing the quality of work or output. 
Outsource web development: BPO vs freelancers 
In terms of searching for a reliable web development outsourcing provider, you have two options for it. You can either partner with an outsourcing company or hire a freelancer: 
Outsourcing companies typically have teams of IT specialists that can handle your web development from start to finish. Besides your web development process, you can also have the same outsourcing company to handle your site's maintenance and support. 
Note that you also have the option to nearshore – outsource to a country that is within close proximity to your geographical location. Another option is to offshore – outsource to another country that is far away from you.
A lot foreign companies choose to offshore to developing countries like the Philippines and India as it is more cost-effective and efficient. 
Freelancers, on the other hand, are ideal if you have minimal web development tasks. Some of these simple tasks may include troubleshooting or updating your website. 
There are various online platforms where you can hire a freelance web developer. Upwork and Fiverr are two of the most popular online freelance platforms today. 
Why do companies outsource web development?
There are various reasons as to why more and more companies are choosing to outsource their web development process. By outsourcing, you can take full advantage of the following:  
Greater affordability
Outsourcing your web development is way more affordable than hiring your own in-house web development team.
Besides individual salaries, you will also be required to provide your team with the proper technologies and tools. This also includes enough office space and other resources needed to perform their roles. 
Outsourcing companies can already provide you with a team of IT professionals that can deliver quality output on your desired time. 
Easier access to seasoned global talents
Aside from affordability, a lot of foreign companies offshore their web development usually to fill-in skill gaps. Like for example companies from the US or UK commonly offshore IT services to India.
India and the Philippines are two strong powerhouses in terms of the BPO industry. India, per se, has been known to have an abundant talent pool of highly-skilled IT experts.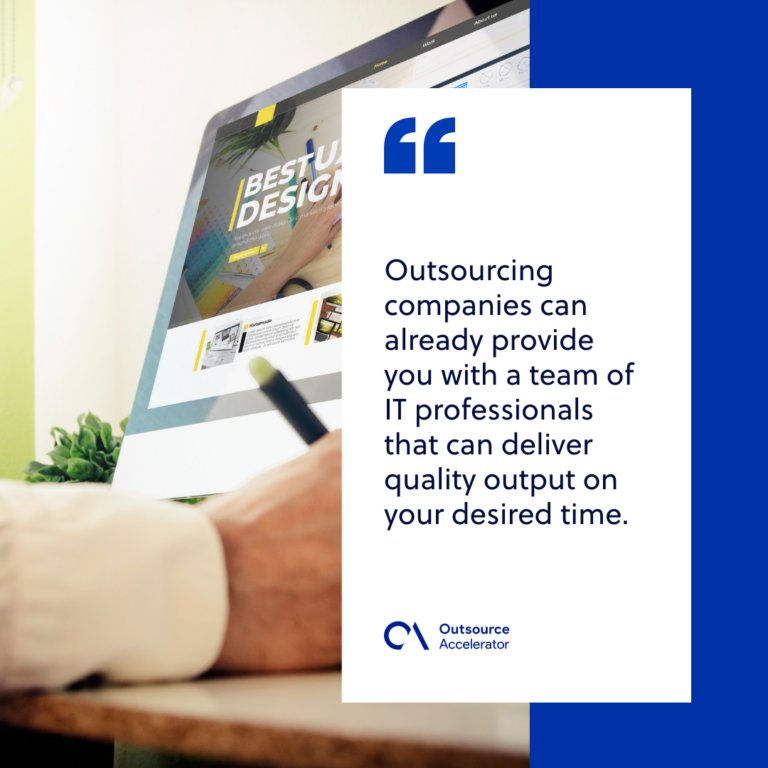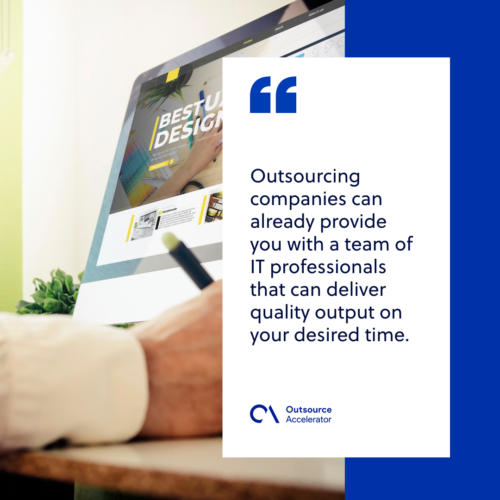 Business focus
Your website or app development, if done in-house, will eat up so much of your employees' time. It will also demand more of your attention as you will need to regularly monitor your project's progress.  
When you outsource web development, you will have more time to focus on scaling your business. Outsourcing providers also have QAs that will ensure you receive an output that meets all your requirements. 
Save more time 
Working with an outsourcing company is pretty straightforward. All you need to do is clearly discuss all your project requirements. The rest will be taken care of by your outsourced web development teams. 
And since you will be hiring experienced IT specialists, it is more likely that your project will be completed even before your timeline. Especially with offshoring, you can leverage the time-zone differences in extending your work cycle. 
Help mitigate risks
Since you will be working with experienced IT specialists, you can be certain that they know and understand your needs.
More so, if in case something goes wrong, it is their responsibility to rectify the matter before handing over the finished product. 
Strong IT infrastructure
Outsourcing providers always make sure that they are up-to-date with the latest tools and technology. Web development outsourcing companies provide developers with a strong IT infrastructure so they can deliver top-notch outputs for clients. 
On top of that, outsourcing companies also provide developers with regular training and seminars. This is to continuously improve their skills and knowledge, at the same time to keep them updated with the latest trends. 
How to outsource web development the right way
Here we have listed three tips to help you outsource web development successfully: 
Set clear and realistic goals 
You have to clearly define your goals and objectives before anything else. Do you need a website or an app? What kind of product that aims to simplify people's lives or is it focused on your CRM? 
No matter what kind of web development process you need, you have to set a clear vision. You also need to have realistic expectations on your web development project. 
Choose a reliable and trustworthy outsourcing provider
Of course you need to choose the best web development outsourcing partner. In evaluating your options, do not forget to look through their previous projects. Another option is to check the reviews of their previous clients and see what they have to say.
Check their industry background and see if they have enough experience to handle your project. You may also request for their portfolios, see if their kind of work is appropriate to your kind of industry. 
Communication is the key
Once you've chosen your outsourcing provider and the project has commenced, know that it doesn't stop there. You have to maintain constant communication with your outsourced staff. 
Treat them as an extension of your own in-house employee as they technically are still working for you. 
Proper communication and professionalism is the key to a successful outsourcing partnership. Choose an outsourcing provider that listens, at the same time can provide valuable insights to your type of project.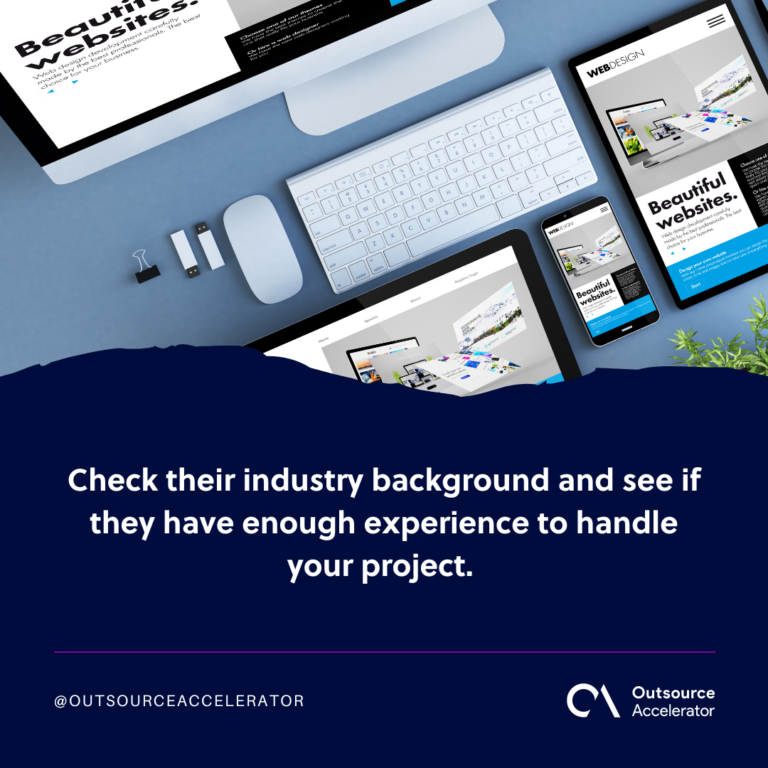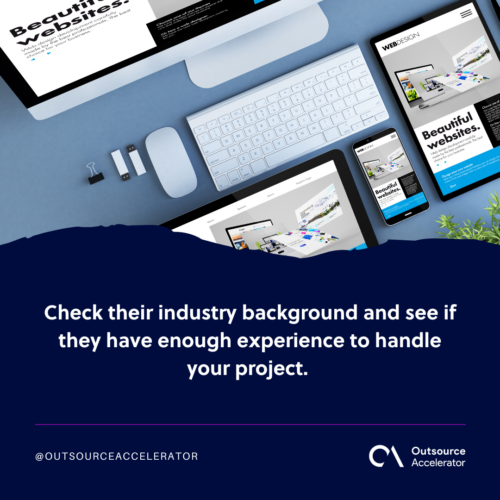 Top five multinational web development outsourcing providers
In this last part, we have outlined five of the top multinational web development outsourcing companies in the Philippines: 
Microsourcing 
Microsourcing is among the well-known BPO companies in the Philippines. Apart from specializing in web development services, it also offers several outsourcing roles to support different companies. 
Cloudstaff
Cloudstaff helps companies source out competent IT specialists for your web development team. This outsourcing company has been serving various multinational clients since 2005 and software development is one of its featured services. 
MVP Asia Pacific
MVP Asia Pacific helps organizations build their offshore team that will serve as an extension of their internal team. Their IT outsourcing services include software and web development, cyber security, UX and UI user testing and game development. 
ASW Global
AS White Global is an Australian outsourcing company that specializes in offshore staffing solutions. This international outsourcing company has over 40+ years of industry experience.
Their IT services involve programming, front and back end development, design engineering, and more. They also support other business roles in finance and accounting, legal services, healthcare, and more. 
HireSmart Staff
HireSmart Staff provides companies with virtual employees that fits their standards and business requirements. Clients have the option to be invested in the hiring process from the initial steps to the onboarding process. 
Companies that outsource in the Philippines are able to save up 70% of their overall costs. To widen the scope of your search, you can browse through our TOP 40 BPO companies in the Philippines!