---
---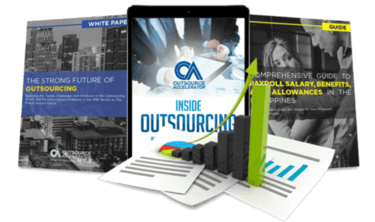 Outsource the right way, the first time
Get up to speed in outsourcing with this all-in-one tool kit
GET YOUR FREE TOOLKIT

PARTNER

PRO
About HireSmart Staff
Better Hires = Better Results. At HireSmart Staff, we do outsourcing differently. New to outsourcing? We will help you every step of the way to get the right people for your position. Because we want our clients to have amazing results, we emphasize rigorous screening criteria and curate only the top candidates for them. Our Strategic Matching System allows our clients to have better results because we get them better hires.
We are a work-from-home solution providing full-time dedicated staff. Allowing our workers the advantage of working from their private high-tech home office enables us to attract better candidates. We redirect the infrastructure costs to them in the form of salary while still providing the benefits they have come to expect.
With over decades of experience in hiring and staffing, we offer the best blend of performance and cost savings for our clients.
What HireSmart Staff offers its clients
We are a custom recruiter & staffing agency. We specialize in Administration, Customer Service, Marketing Support, & Sales Support. By understanding the unique characteristics for each of these positions, we can easily match candidates to the position they are best suited.
How HireSmart Staff outshines the competition
Our Strategic Matching System allows for a 98.7% success rate for our placements. We believe in using a combination of analytics and mentorship to give our clients the best possible results.
HireSmart Staff company structure
A US & Filipino partnership provides the best of both worlds. The US Partners have over 60 years experience running multiple multi-million dollar companies while our Filipino Partner has been outsourcing for a decade. Together they bring their world experiences for a better outsourcing solution.
Sample highlight service offering of HireSmart Staff
Our Strategic Matching System is at the core of our service. In addition, we provide support for onboarding and other tools and resources to ensure you have success. Whether you need 1 hire or more, we can help.
A few metrics about HireSmart Staff
Services offered by HireSmart Staff
HireSmart Staff news, podcast and articles
The Source
Virtual teams are efficient for every business. They present companies with the option of working…