Top 6 roles you can offload to your virtual employee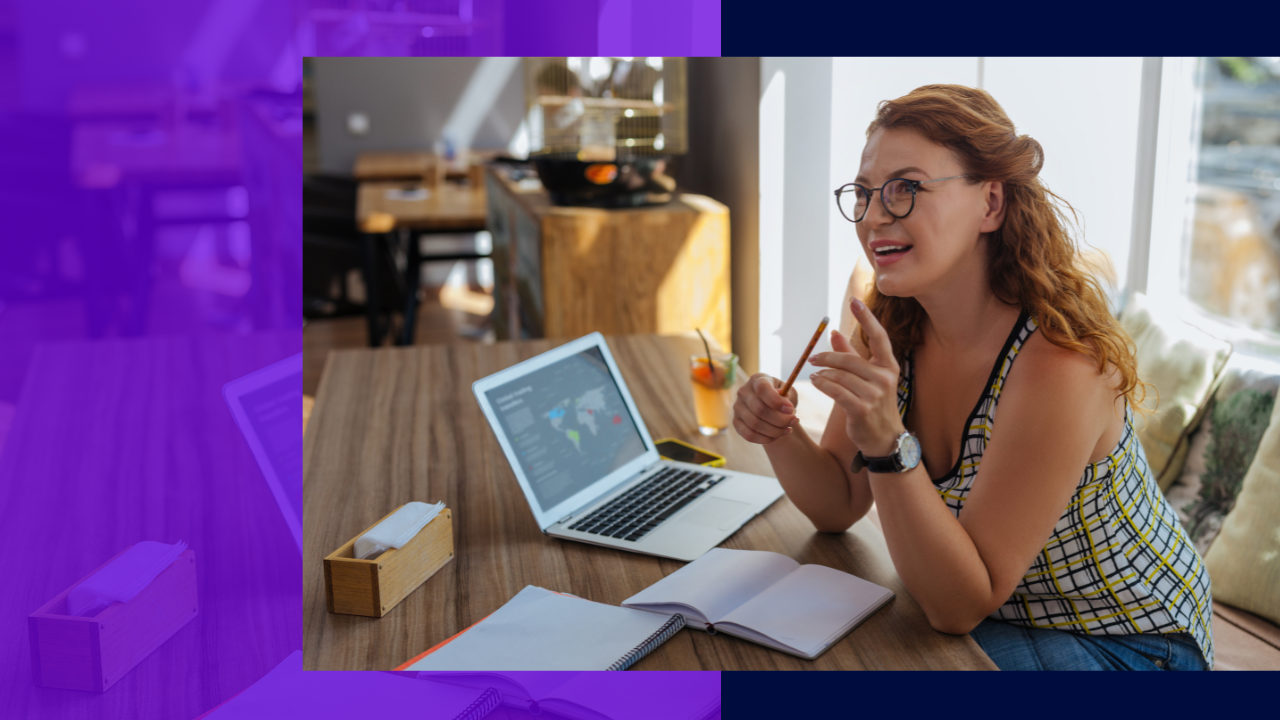 Some organizations are struggling to manage their business and need outside help to take on new projects. Thanks to the help of technology, you can now take advantage of virtual employees to help your team perform tasks for your company.
You can choose the roles to delegate to your remote employees. This would mean that everyone's workday could revolve around utilizing their best skills.
This is also a good option to get more tasks done in a cost-efficient manner.
What is a virtual employee?
Virtual employees are skilled professionals that work remotely with your business in either a full-time or part-time capacity. They can handle any type of work, ranging from simple typing services to roles that require specialized knowledge and experience.
They can be new graduates who are searching for a career or veterans in the industry who are looking for side jobs to market their professional skills. 
A virtual workforce is an option for businesses that need an expert opinion for a specific project or those that need to load off tasks. This is so the company's in-house employees can handle more high-value or critical work.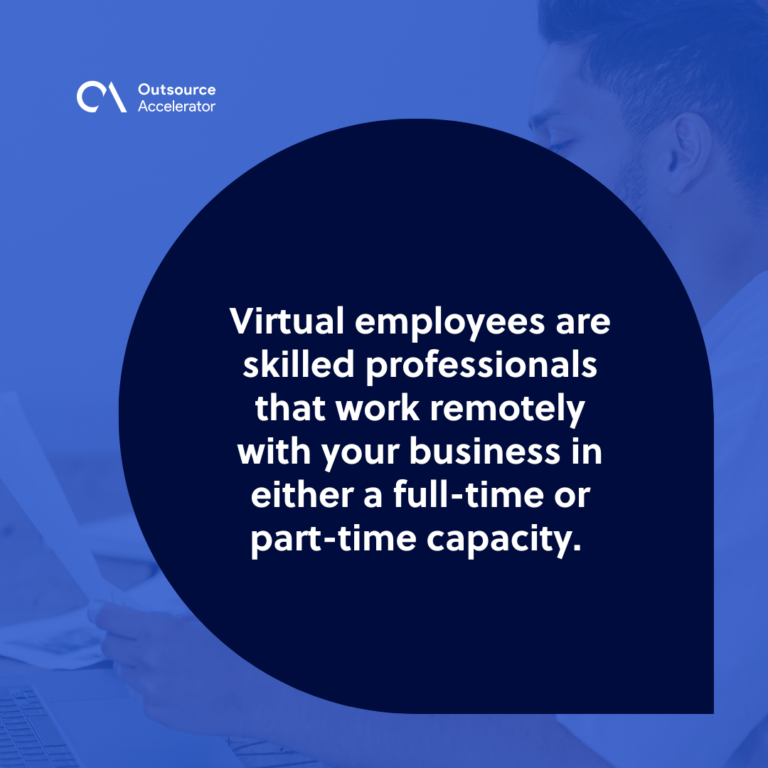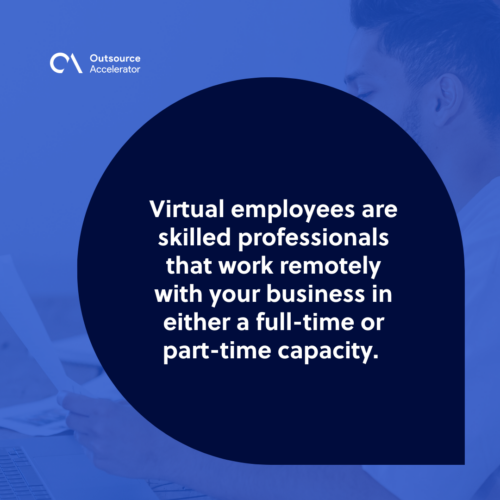 What are the tasks that you can give to a virtual employee?
Employing a remote staff can help increase your company's productivity. Moreover, they are a great alternative to an in-house staff because you do not need to worry about the additional office space and resources.
Virtual employees can do various tasks in your business. Here are some roles that you can confidently offload to them:
Customer service
Customer service agents mainly handle the complaints or concerns of shoppers. Hiring virtual employees to chat with your audience online or over the phone would help increase your company's response rate.
Because remote employees are focusing on customer care, there is an assurance that a clients' message will not be ignored while other team members are focusing on their main tasks. 
Sales support
If you are running a start-up company or a small business, the expertise of your in-house staff may be limited only to what is essential to your company's core competencies. 
A virtual employee can lend you a hand in tasks such as sales management. Through this method, you can have access to a professional who will be able to make calls to your clients, talk to them, and expertly lead them to closing deals.
Marketing support
An efficient marketing strategy determines the perception of your brand in the marketplace. Some virtual employees can also perform various marketing tasks such as ad design, content creation, or social media posting.
Because they are usually filled with skilled individuals, they can help you develop creative ideas and strategies you may not have thought of to promote your brand's products and services.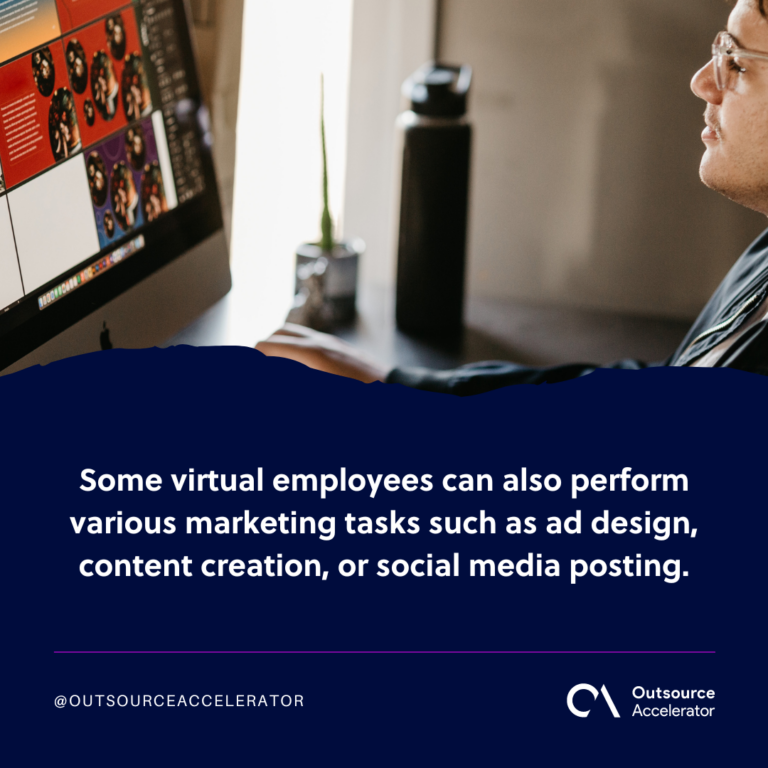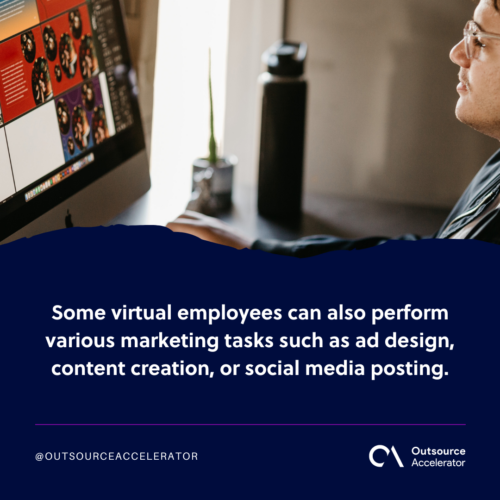 Administrative tasks
Administrative tasks are crucial jobs that have to be performed to keep your business running every day. This may include scheduling, travel arrangements, data entry, typing, preparing letters and memos, and liaising with teams and units.
Because they are usually not core business activities, this is the most common role to delegate to a virtual employee. Remote staff will help you save time and ensure that your business is keeping up with day-to-day tasks.
Accounting
Accounting tasks include many financial services such as bookkeeping, invoicing, accounts payable and receivable. These tasks also involve creating financial reports, analysis, and planning. 
A professional virtual accountant can manage all the processes and compliance standards your company needs to meet every day or month. This saves you money without worrying about hiring an in-house professional to handle your company's finances.
Introducing HireSmart Staff
There are many options in hiring a virtual employee. Often, you can reach out to an outsourcing company to help you search for a remote worker who fits what your company needs.
HireSmart Staff could do this for you. With the help of their amazing team, they place top candidates from various industries through their proven hiring process to find your ideal remote team. 
HireSmart has helped hundreds of businesses by hiring individuals around the globe. Providing companies an edge over their industry competitors. 
Contact HireSmart Staff now and let them help you find your next hire!