Effective tips on managing your virtual team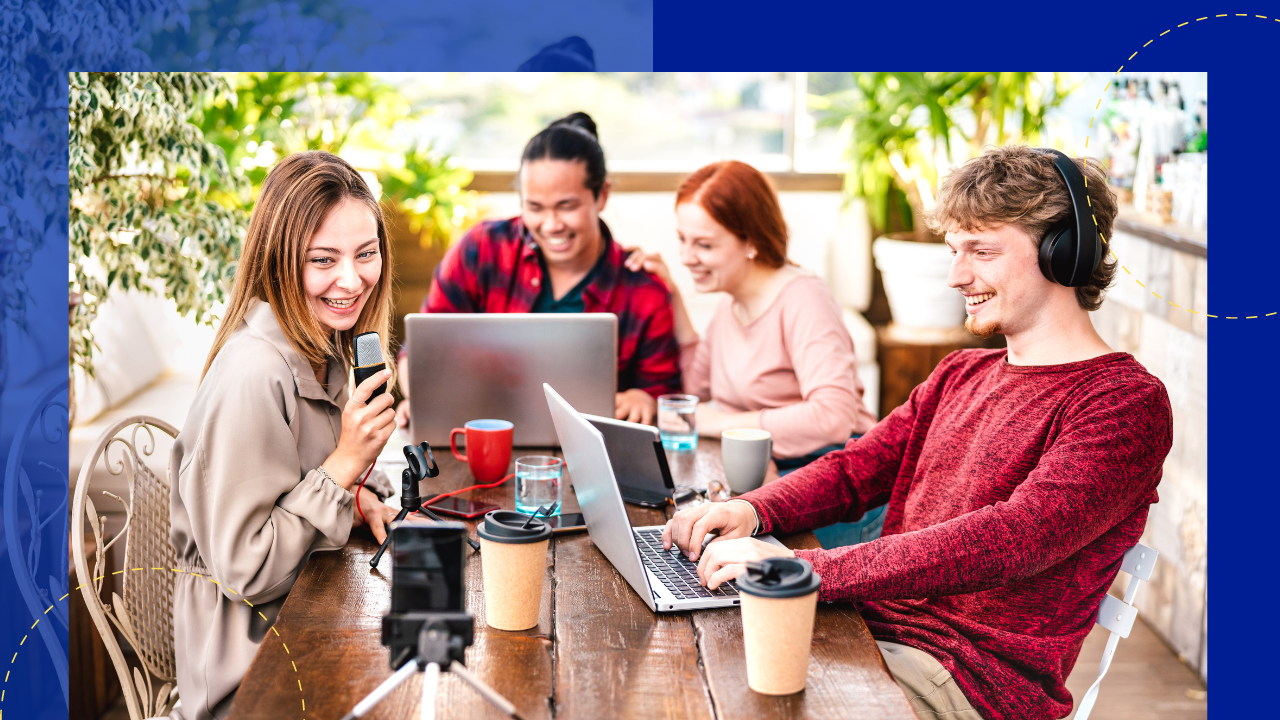 Due to the COVID-19 pandemic, businesses have to adjust their structures to remain productive while working from remote locations. This allowed the boost in the presence of virtual teams in most industries.
The internet has also helped organizations to spread their reach everywhere. Companies can now explore different opportunities, create a diverse team, and widen their audience through the help of their remote employees located across the globe.
What is a virtual team?
A virtual team is a group of people who work together online. They collaborate from different locations using various communication platforms such as email, online chatting, video calls, and voice conferencing services.
Since virtual teams are often scattered throughout various locations without personal contact, effective communication is important to the success of the team and their projects.
How can a virtual team help your business?
There are a lot of benefits a virtual team can contribute to a growing business. These advantages can then lead to improved productivity and performance of the employees. 
One of the major benefits of a remote team is the chance to work anywhere, as long as there is an available internet connection and line of communication. This allows companies to save rent costs for office spaces. 
Employees do not need to commute every day which helps them save time, money, and the effort of waking up early to ride the public transport on time.
Remote teams further promote a flexible work-life balance for every staff. Working as part of a virtual team gives you the ability to rely on your own schedule compared to working in offices.
Additionally, through cultivating a remote working environment in the company, business owners can gain access to the right people with experiences, skills, and attitudes fit for their brand.
Especially in these times, having a virtual staff puts health and safety as the top priority of every organization. This eliminates the need to worry about the potential health and safety risks since everyone does not see each other personally.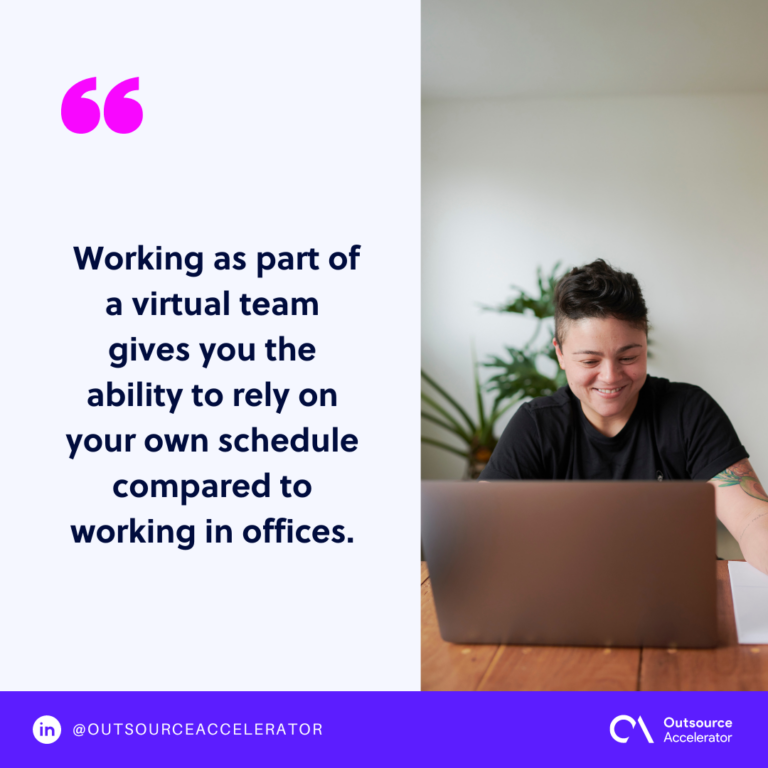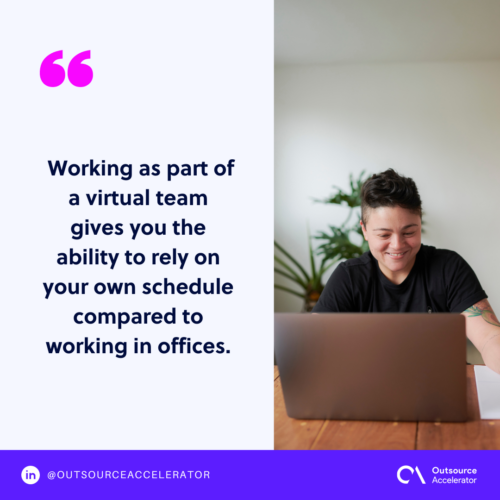 How to efficiently manage your virtual team?
Virtual employees can be challenging to manage because there is a need to create a corporate culture despite its remote nature.
That's why we have compiled several tips to effectively lead your virtual team.
Establish a definitive structure in your team
The first thing that you should do with your virtual team is to establish a work structure that is similar to an in-office team. This will help you easily assign deadlines, track progress, and guide your remote staff.
Setting a standard can help your virtual staff finish their tasks at an acceptable time. By creating a definitive work structure, the team can collaborate easily with almost all their questions already answered. 
Communicate regularly
Developing an effective communication system ensures a successful virtual team. To do this, you have to pick a messaging style and platform that works best for your teammates.
Video conferences and regular calls are more effective in avoiding misunderstandings as you can hear their voices and read their tones. You can also use other channels such as chat, email, and messaging to stay in contact with each other.
Be available for your team
Regardless of the time zone, it is ideal to have at least three to four hours a day of overlapping shifts for all your team members.
Even if some employees do not need assistance on their tasks, being online at the same time brings the team closer. It also allows you to immediately solve some problems that may arise.
Clarify their tasks and deadlines
For your virtual team to deliver great results, it is crucial to clarify their tasks and give examples of what the final result should look like. This will offer them the freedom to execute the project without (or at least a few) mistakes.
You could also utilize project management tools to keep track of everyone's deadlines. With its help, you can receive alerts and reminders for deadlines, as well as an overview of everyone's workload. 
Recognize and reward your employees
Make sure to set up reward systems to keep your team motivated and to know the members who can be entrusted with more responsibilities. There are available cloud-based employee recognition platforms you can use to reward your team on the go. 
Some of them are designed like social media accounts where everyone can view your posts. You could be operating in a different location away from your remote, but you can recognize their great outputs in just one click.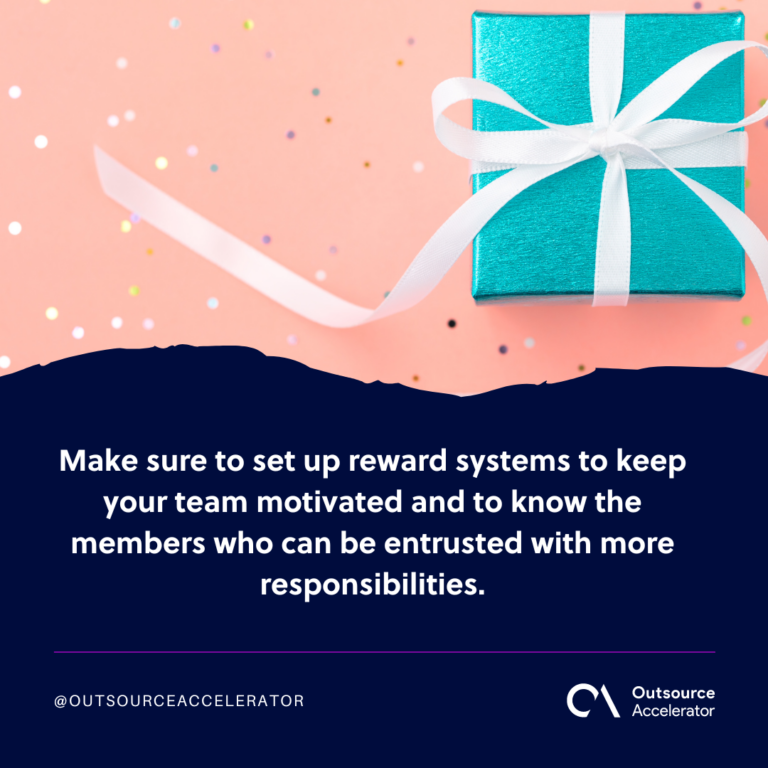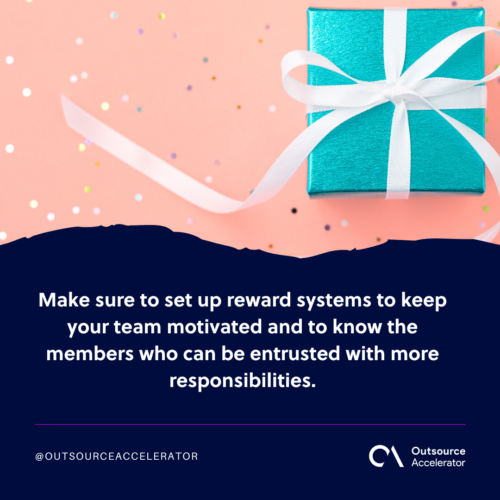 Get to know HireSmart Staff's virtual team
Even though remote work increased its reach last year, it is still considered a new territory for most companies. Every manager has to adjust and find the right formula to successfully lead their employees.
HireSmart Staff is here to help. With their expertise in handling a remote workforce and virtual staff, they can provide your business with talented employees in a number of different industries.
Since its launch, HireSmart has helped many clients expand their workforce and be more profitable through the use of virtual employees. They guarantee a proven recruitment process to match your company with highly skilled professionals in your field.
Partner with HireSmart Staff now and gain access to a successful virtual team.