Definition
What is a virtual team?
A virtual team is a community of people who work together online. Virtual team members collaborate from different geographical locations using communication technologies such as email, online chatting, and video or voice conferencing services.
Virtual teams are often dispersed, with remote employees operating from various parts of the city, state, or world. Trust and effective communication are critical to the success of a virtual team since there is no face-to-face contact.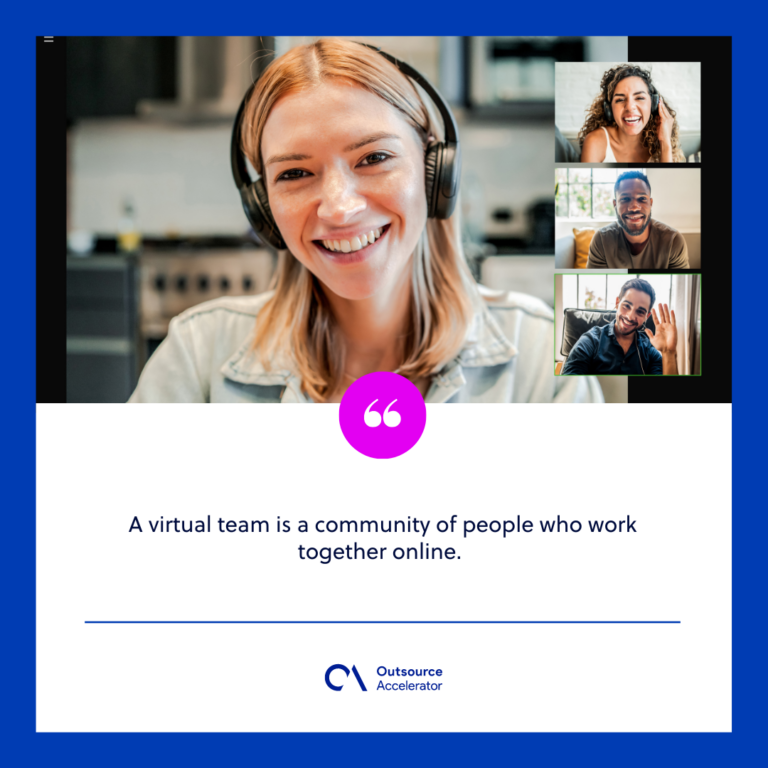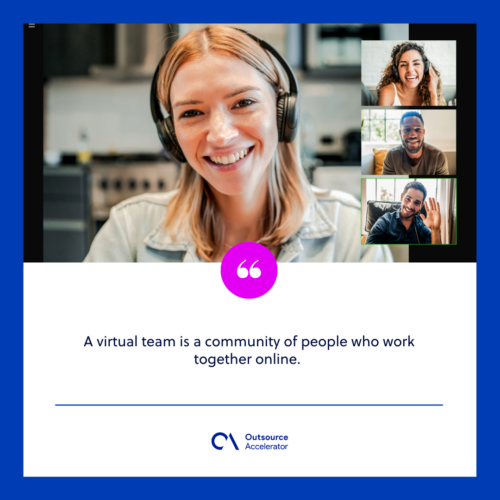 Different forms of virtual teams
Virtual teams are not all the same. There are various virtual teams based on the members' length of engagement, objectives, priorities, and tasks.
Networked teams 
Networked teams are for cross-functional professionals who have come together to share their experiences and information on a particular subject. Consulting firms and technology companies are familiar with networked teams. 
In networked teams, once old members accomplish their tasks new members will join the team to move the project to the next phase. The networked team will dissolve after completing all project milestones and objectives.
Parallel teams
Members of the same company form parallel teams to create guidelines for a process or system. Parallel teams are usually organized for a limited period, but the structure is stable since members stay together until the target is achieved.
The main duty of parallel teams is to evaluate a process or an issue and make recommendations. They are particularly useful in different companies that need a broader perspective.  
Product development teams
Product development teams are made up of professionals from all over the world who work together to complete a particular objective, such as creating a new product, data system, or operational process.
The team members are explicitly assigned specific tasks and operate individually to achieve the end goal.  
Production teams
Production teams are made up of members with the same or interrelated roles who work together daily. Its members are assigned to specific tasks and operate independently. 
The construction of a project or a virtual production team comprises subject matter experts from all over the world who have been brought together to complete a particular objective, such as creating a new product, information system, or organizational method.
Service teams
The most basic model of service teams is made up of people from different time zones who work independently. Team members are from other geographic locations and, though each member operates individually, they all work together to complete tasks. 
Management teams
Management teams are made up of employees from the same company who work in different parts of the country. Members of management teams generally discuss corporate-level plans.
They can work together under one roof, but they form a virtual team in separate locations. These apply to almost every company that has offices all over the world.
Action teams
Action teams are formed for a brief period. Their primary task is to respond to urgent issues. Members of an action team are assembled to provide an immediate answer to a concern, and they disperse until the case is resolved.
How to create a successful virtual team
Since a corporate culture develops digitally, virtual teams can be challenging to manage. Many companies use virtual teams to foster progress, cut overhead costs, and solve problems faster.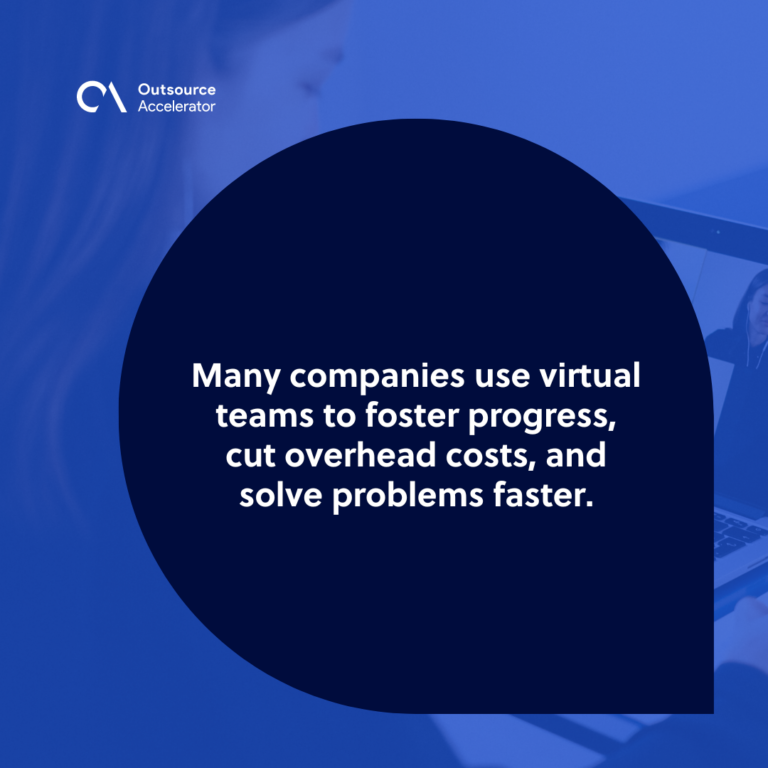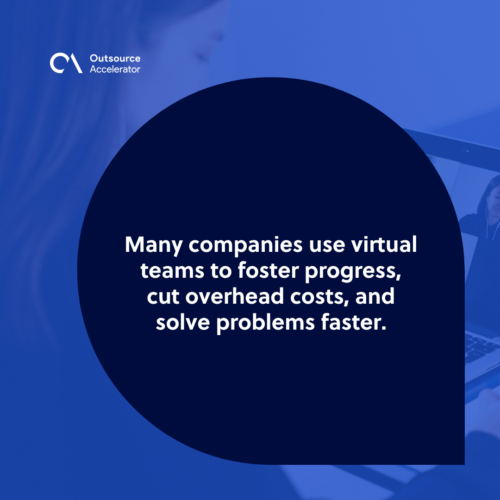 Develop work processes
Different people approach tasks in various ways. Setting expectations can help cut down the time it takes to get the desired result. By establishing protocols and establishing repeatable work processes, the team will have fewer concerns and have a better idea of how long such activities take.
Find the right team
Your starting point should be the composition of your team. You won't get far unless you hire and train people suited to working in virtual teams, group them appropriately, and divide their work accordingly.
Here are things to consider to successfully create your virtual team:
People
Perform behavioral interviews and personality tests when putting together a team to ensure that your team members possess all your ideal attributes.
Size
Maintain inclusive collaboration as you expand your team. When team members feel less accountable for their performance, they put in less effort. This becomes obvious when you have more than four or five members.
Roles
Ensure everybody on your team has the right responsibility and amount of work. This is crucial to performing your role as a supervisor.
Define objectives and guidelines
Specific rules for team interaction are essential. Setting uniform instructions and regulations minimize uncertainty and increase confidence in social groups, resulting in increased productivity.
Make use of project management software
Project management software will help you monitor your project and meet deadlines. They also prompt alerts and reminders and give you a regular, weekly, or monthly summary of what needs to be completed.