Outsourcing to Metro Manila: A comprehensive guide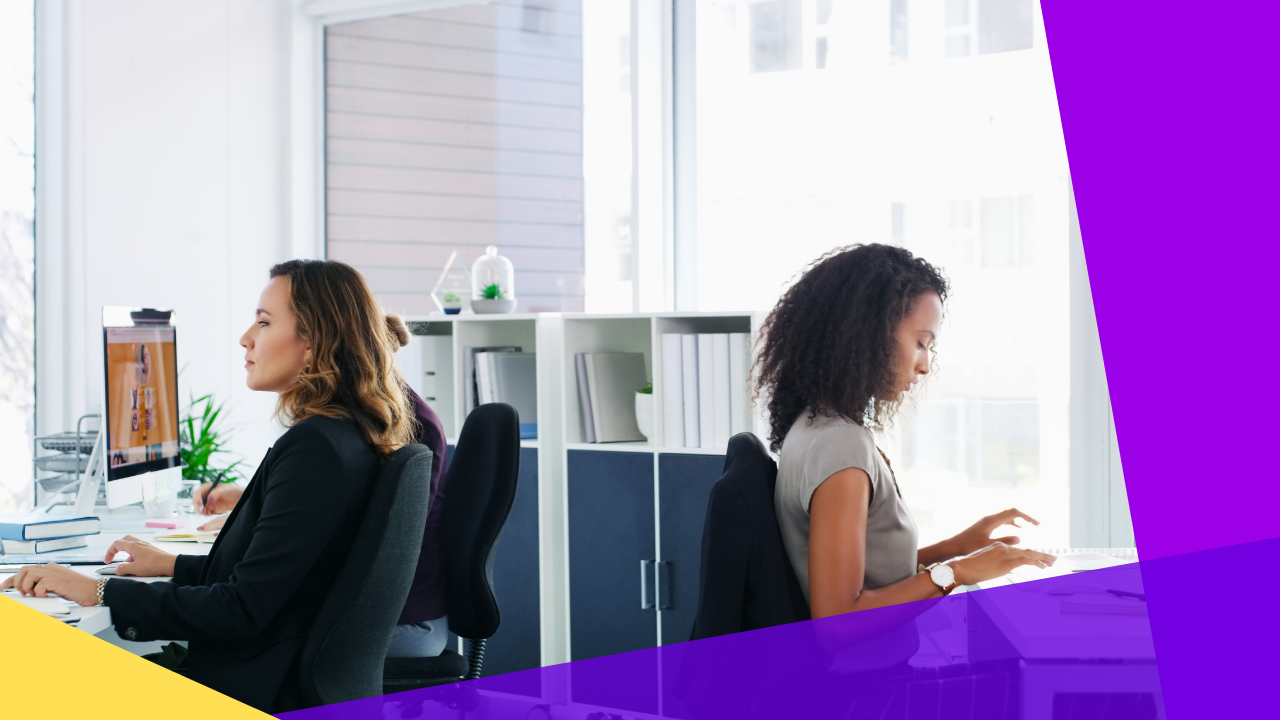 The Philippine outsourcing industry has established itself as one of the global powerhouses in the world, next to India. Through the decades, locations such as Manila helped showcase Filipino professionalism through offshore services.
Ranked 8th in Tholons Super Cities 2021, Metro Manila remains one of the top outsourcing cities in the country for its vast offerings and reliability. This comprehensive guide tells you everything to know when companies outsource to Metro Manila. 
Metro Manila's contribution to Philippine outsourcing
Metro Manila has contributed a lot to the growth of Philippine outsourcing today. Being the birthplace of Philippine outsourcing operations, it became the cradle for the operations of many BPO companies.
One of them is eTelecare Global Solutions, the Philippines' first call center in 2000. From then on, several other BPOs have popped up and expanded operations into other cities and provinces in the Philippines.
Along with Cebu, Metro Manila slowly rose in the Tholons rankings over the years. It ranked 8th in the 2008 and 2009 Tholons surveys, jumped to 4th by 2010 and 2012, then 3rd in 2013. The inclusion of seven cities, including Manila, established the Philippines' renown in global outsourcing.
Despite the rise of Next Wave Cities, companies still preferred Metro Manila as an outsourcing location. It even made its way into Jones Lang LaSalle's (JLL) Global Top 30 hubs for property activity with its demand for offices.
During the pandemic, outsourcing in Metro Manila continues to thrive from both remote and onsite work arrangements. Eastwood City in Quezon City became a top preferred location during lockdowns with its ability to operate at a limited capacity.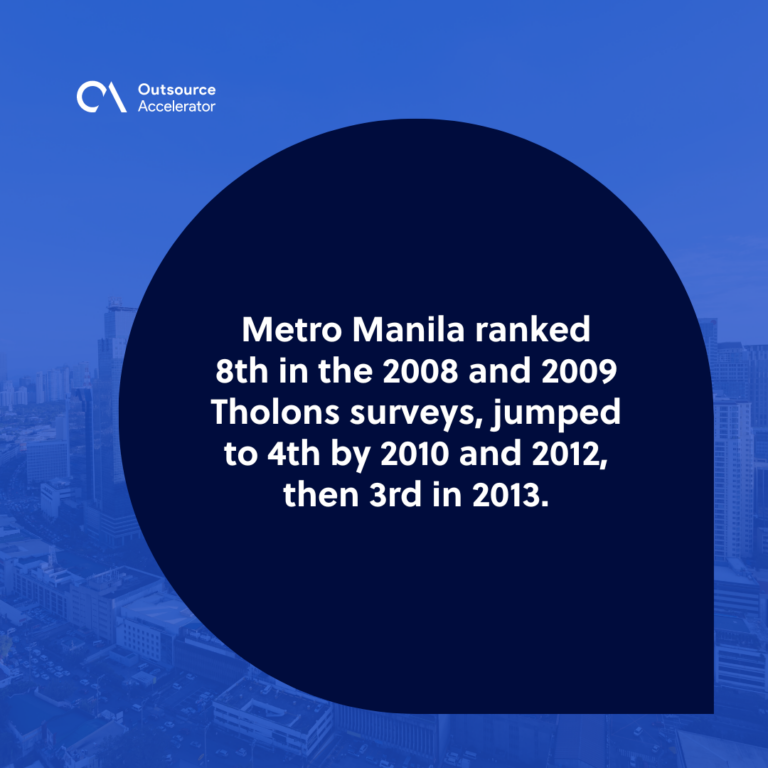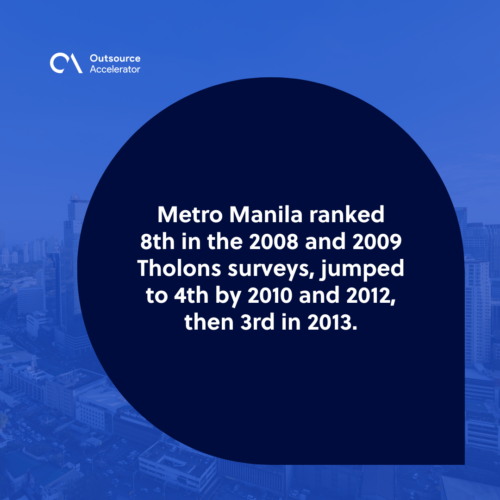 How Metro Manila fares as an outsourcing destination
More companies continue to explore other outsourcing cities in the Philippines with their cheaper costs and quality services. However, Metro Manila still fares well in terms of its business climate, popularity, and accessibility to other countries.
Let's take a look at the characteristics that make Metro Manila a viable outsourcing destination.
Metro Manila statistics
Region: National Capital Region (NCR)

Tholons 2021 ranking: #8

2021 population: 14,406,059

Regional employment rate: 93.5%

Literacy rate: 99.3%

Local BPO organization:

BPO Services Association (BSA/U)
Central business districts
Metro Manila gets an abundant share of central business districts (CBDs) among other destinations. Located in urban centers, they are the hotbeds of local and foreign businesses in the country.
Some of the most popular CBDs in the Metro are the following.
Ortigas Center
Ortigas Center is shared by three cities: Quezon City, Mandaluyong City, and Pasig City. It is considered one of the most important central business districts in Metro Manila.
Started as a financial center in the 1960s, Ortigas Center housed the Benpres Building and the Meralco Building. The Tektite Tower, meanwhile, used to hold the trading floors of the Philippine Stock Exchange (PSE).
Ortigas Center is already a "mini-city" in itself, with more than 100 hectares of residential, commercial, and technological zones.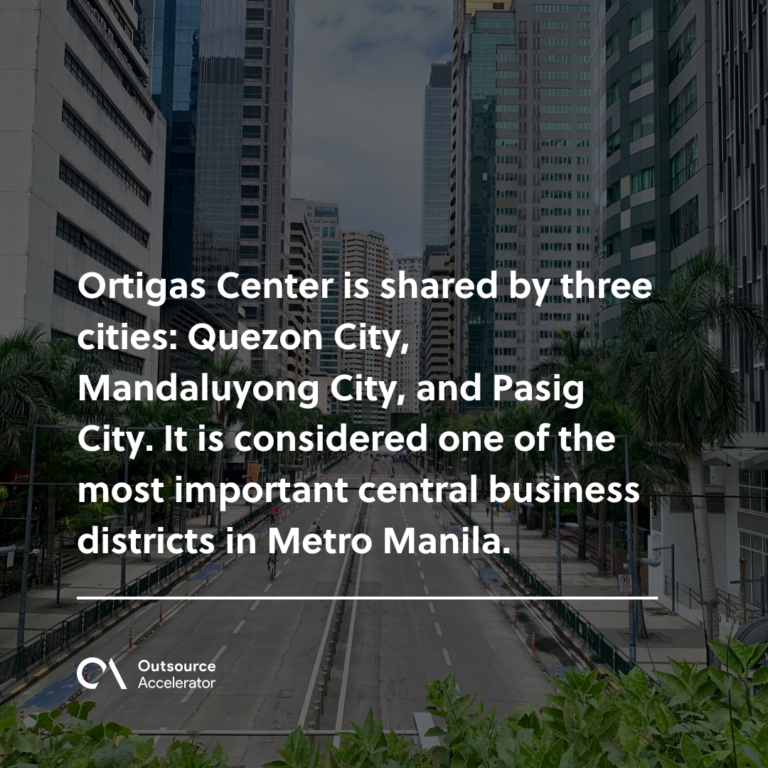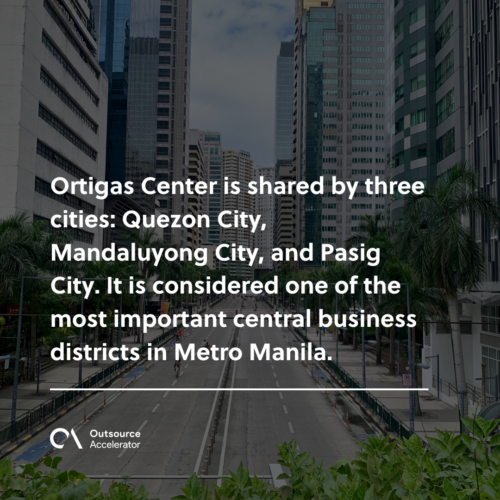 Makati CBD
Makati CBD remains the top business district in the country since the 1950s. It houses 40% of the top 1,000 local and multinational companies in the country, around 400 banks, and over 1,000 BPOs.
Makati CBD features a mixture of residential, commercial, and entertainment hubs to bring "the ultimate urban experience" for residents and businesses. Aside from this, the CBD houses some of the most prestigious schools and institutions in the country.
Bonifacio Global City (BGC)
Once a military base, Bonifacio Global City (BGC) flourishes as a financial and commercial center at the heart of Taguig City.
Developed in part by Ayala Land, BGC houses a mixture of residential spaces, office buildings, parks, and leisure centers. One of the CBD's highlights is its accessibility, being bordered by two major roads in the Metro: EDSA and C5.
BGC appeals more to young professionals and entrepreneurs looking for a perfect balance of work, leisure, and relaxation.
Triangle Park
Located in Quezon City, Triangle Park is a fast-developing 250-hectare business district north of Metro Manila.
Triangle Park is one of the city's business districts, alongside Eastwood City in Libis and Araneta City in Cubao. It connects the prime business locations from North and East Triangle and major TV networks to government institutions near Quezon Memorial Circle.
Being continuously developed and redeveloped, Triangle Park is poised to become Metro Manila's transportation hub with the construction of the Grand Central Station.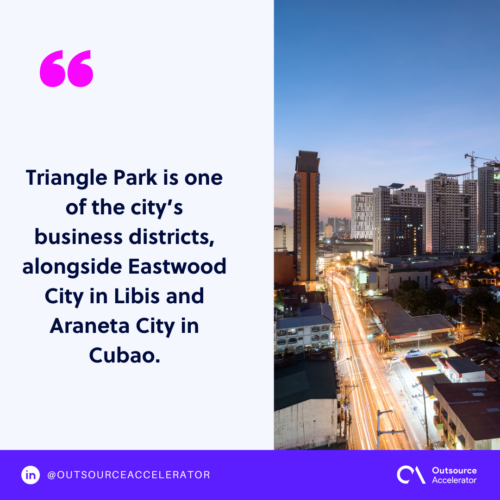 Filinvest City
Filinvest City is located in Alabang, Muntinlupa, a southern city of Metro Manila. Compared to most CBDs, it is designed to be a "green business district" complete with walkable streets, green spaces, and eco-centric zones.
Lately, Filinvest City and Alabang have become the next ideal location for investors and businesses. Seen as a gateway to Metro Manila, it is accessible via major roads in and out of NCR, including the South Luzon Expressway and C5.
Aside from its green features, office rates in Filinvest City are even lower compared to other business districts listed.
Infrastructures
Admittedly, Metro Manila has one of the worst traffic congestions in the world. It is still the fourth most congested city despite having a 25% drop during the pandemic. Yet, the future still looks bright with the current infrastructure developments in the Metro. 
Starting with the Roadmap for Transportation Infrastructure Development, the government aimed to improve infrastructures in NCR and solve interlinked problems on transportation and land use.
Build, Build, Build projects further pushed this development by investing trillions of pesos for roads, bridges, and transportation systems.
In the future, everyone can expect a more connected and accessible Metro Manila.
Reasons to outsource to Metro Manila
While companies are increasingly moving to provinces, Metro Manila is still one of the ideal outsourcing locations in the Philippines. Global businesses still choose to outsource to Metro Manila for the following reasons.
A young, vibrant workforce
Having a youth population of 19.8 million, the Philippines records a youth labor participation rate of 37.4%, according to the Philippine Statistics Authority.
Metro Manila produces a vast amount of young and vibrant Filipino professionals each year. The majority of these young workers have an impressive grasp of the English language and a globalized culture, thanks to technological advancements.
These advantages make it easier for remote Filipino workers to work with global companies.
Top expertise
The region houses the top universities in the country such as the University of the Philippines, Ateneo de Manila, and De La Salle University. These universities produce workers equipped with expertise and licenses in their fields. 
With this, companies have the opportunity to work with employees with top expertise in accounting, design, and other roles in a more cost-effective way.
Favorable policies
The Philippine Economic Zone Authority and the IT & Business Process Association of the Philippines (IBPAP) have started establishing the Next Wave Cities for outsourcing in the country. Yet, their policies make it more favorable for Metro Manila in terms of its popularity.
For one, the move to expand to other locations only shows that companies will have more options for outsourced services outside of the Metro.
Despite the increased cost of living, hiring an outsourced team in the city is still cost-efficient compared to hiring in-house. An average BPO worker earns as much as US$500 a month, above the usual minimum wage in Metro Manila.
Established outsourcing industry
BPOs in the city are already well-established providers in the industry. They have decades of experience outsourcing their services to developed countries, especially the US and UK. 
Most industry experts from large firms even create small firms and continue to share their expertise. Large-scale firms, meanwhile, expand their operations to other locations in and out of the Metro to provide better services.
With this, companies can ensure that their functions are handled by providers with vast knowledge and guarantee in taking care of their clients.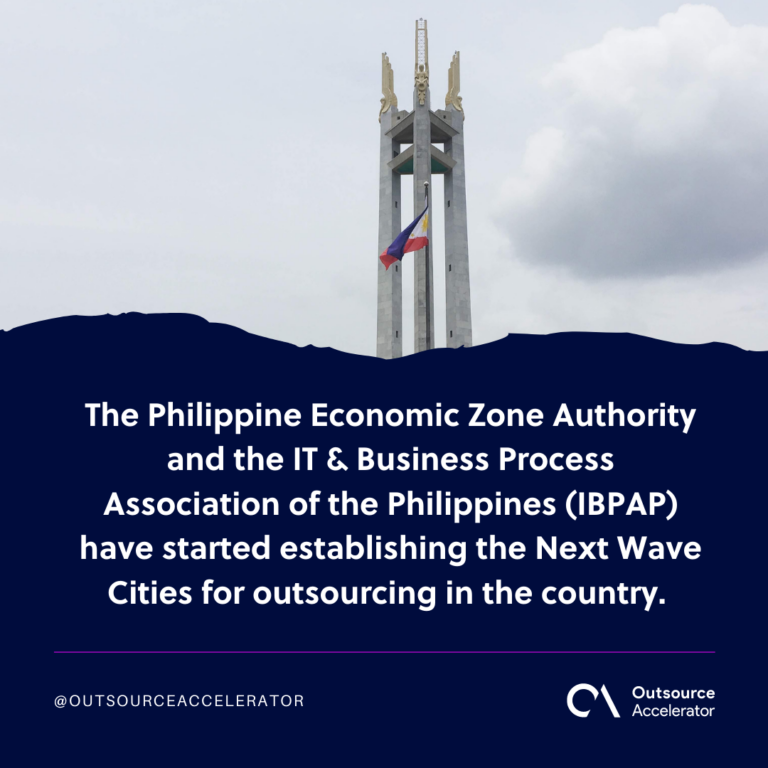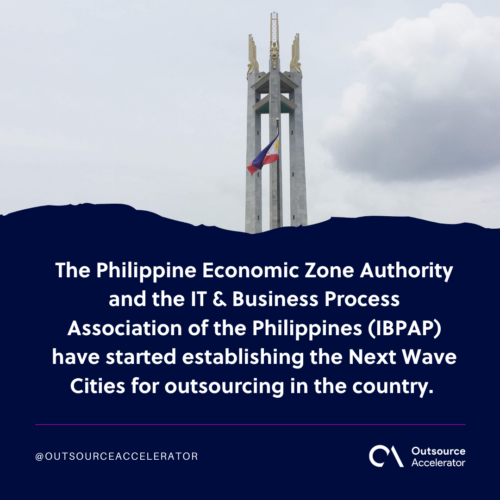 Top roles to outsource to Metro Manila
First known for its call center services, the Metro has since expanded its offering to back-office and professional roles. Here are some of the top functions that companies outsource to Metro Manila.
Customer support
Primarily, customer support is one of the top choices for roles to outsource to Metro Manila. Aside from their expertise, customer support teams in the city provide an excellent level of care and empathy on each call to improve customer experience further.
Data entry
Next to support services, more companies outsource data entry services to Manila. Data entry firms in the city offer superior infrastructures and internet connections that can handle volumes of data processed daily.
They also ensure that their operations undergo proper HIPAA and GDPR compliance, especially in handling sensitive information.
Accounting
The Philippines has one of the most established accounting professions in Asia, only preceded by Japan and India. 
The country also produces thousands of accountants entering the workforce yearly. The majority of these accountants come from top universities and institutions in Metro Manila and earn their licenses with flying colors.
With this, the city is an ideal hotspot for outsourced accounting services. Companies can hire highly qualified virtual accountants to take care of their books better and cost-efficiently.
Creative services
Lastly, creative services outsourcing has slowly gained popularity in the Philippines, particularly in Metro Manila.
Per the Creative Economy Council of the Philippines (CECP), the majority of freelance professionals nowadays work in creative services. Young Filipino entrepreneurs even build their own creative firms as a way to serve their clients better.
Indeed, companies can find an abundance of graphic designers, web developers, and content writers when they outsource their services to the city.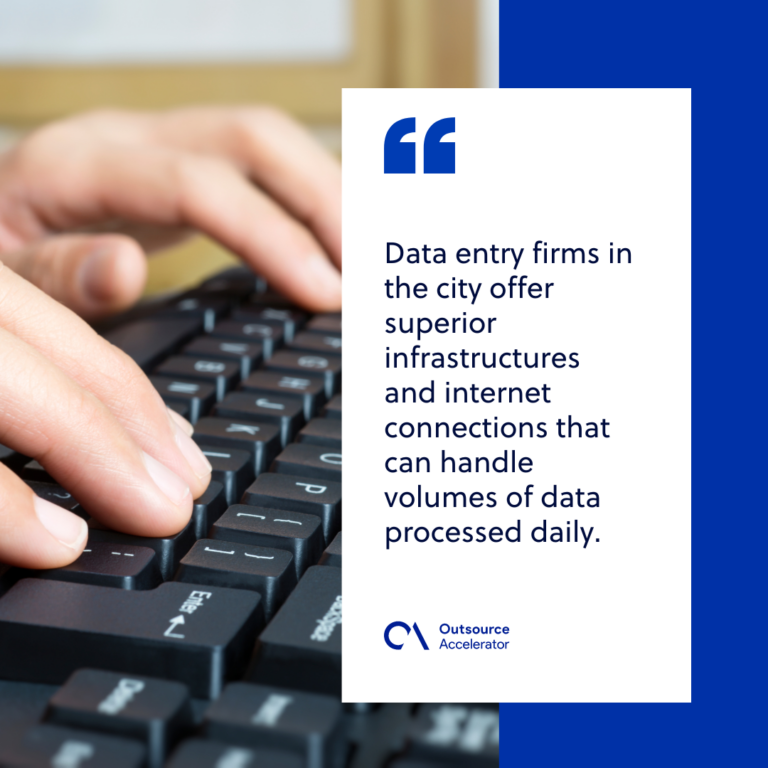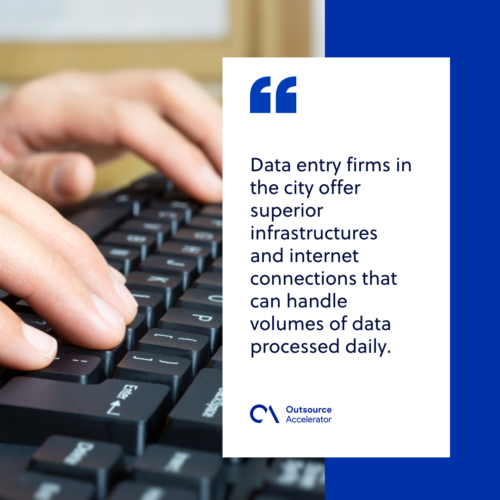 BPO companies in Metro Manila
The city shares a good amount of established BPO companies that contributed to the thriving outsourcing industry today. Some of the top BPO companies in Metro Manila include the following. 
One of the established BPOs in the country, Teleperformance started its Philippine operations in 1996. It has grown to become one of the most preferred contact center companies in the country, offering high-value specialized services to its customers.
Today, the majority of Teleperformance sites are spread across seven cities in Metro Manila, including its first office in Taguig City.
Accenture is one of the oldest BPOs in Metro Manila, with its Global Resource Center established in 1992. 
The company pioneered software development and shared services outsourcing in the country. Today, they are known for offering technology, high-value consulting, and customer service solutions to leading global companies.
With its Philippine office established in 2003, VXI Global Solutions is one of the top telemarketing companies today. It is most known for offering multilingual support and call center services that encourage global businesses to outsource to Metro Manila.
The company has around 20,000 employees spread across Metro Manila, Pampanga, and Davao. This includes its headquarters in Makati.
One of the largest BPOs in the world, Sitel opened its Philippine office in 2000 and has expanded its operations into four locations: Metro Manila, Tarlac, Baguio, and Palawan. It has five sites across the Metro, including in Quezon City and Pasig City.
Sitel has recently acquired Sykes, one of the first BPOs to establish operations in the country. This aims to improve their offerings and strengthen customer experience (CX) worldwide.
The first startup unicorn in the Philippines, TaskUs started as a virtual assistant company at the heart of Makati City. The company provides "next-generation outsourcing" to help high-growth companies grow their brand.
TaskUs now has thousands of seats in Metro Manila spread across three locations: Taguig City, Quezon City, and Pasig City.
Outsourcing to Metro Manila: Is it worth it?
Whether a company is new to outsourcing or has tried it before, it will always be worth it to outsource to Metro Manila.
BPO companies in the Metro provide tons of services and options for clients looking to delegate their services to the Philippines. With their expertise and reliability, clients can be sure to improve their functions and profitability in no time.
However, to ensure having quality services, businesses should look for a suitable service provider that will suit their needs. Hiring a qualified provider can be made easier with the help of a reliable advisory company such as Outsource Accelerator.
Being the largest outsourcing marketplace in the world, Outsource Accelerator lists thousands of BPO companies worldwide. Many of them run operations in Metro Manila.